Fulfilling Fantasies: Contemporary Chicago Drag Works at Hokin Gallery
Visual artist, performer, and curator Kelly Boner has appropriately given herself the title of 'Bubblepop Electric Creative Powerhouse' with her own aesthetic and drag influences stemming from eclectic sources ranging…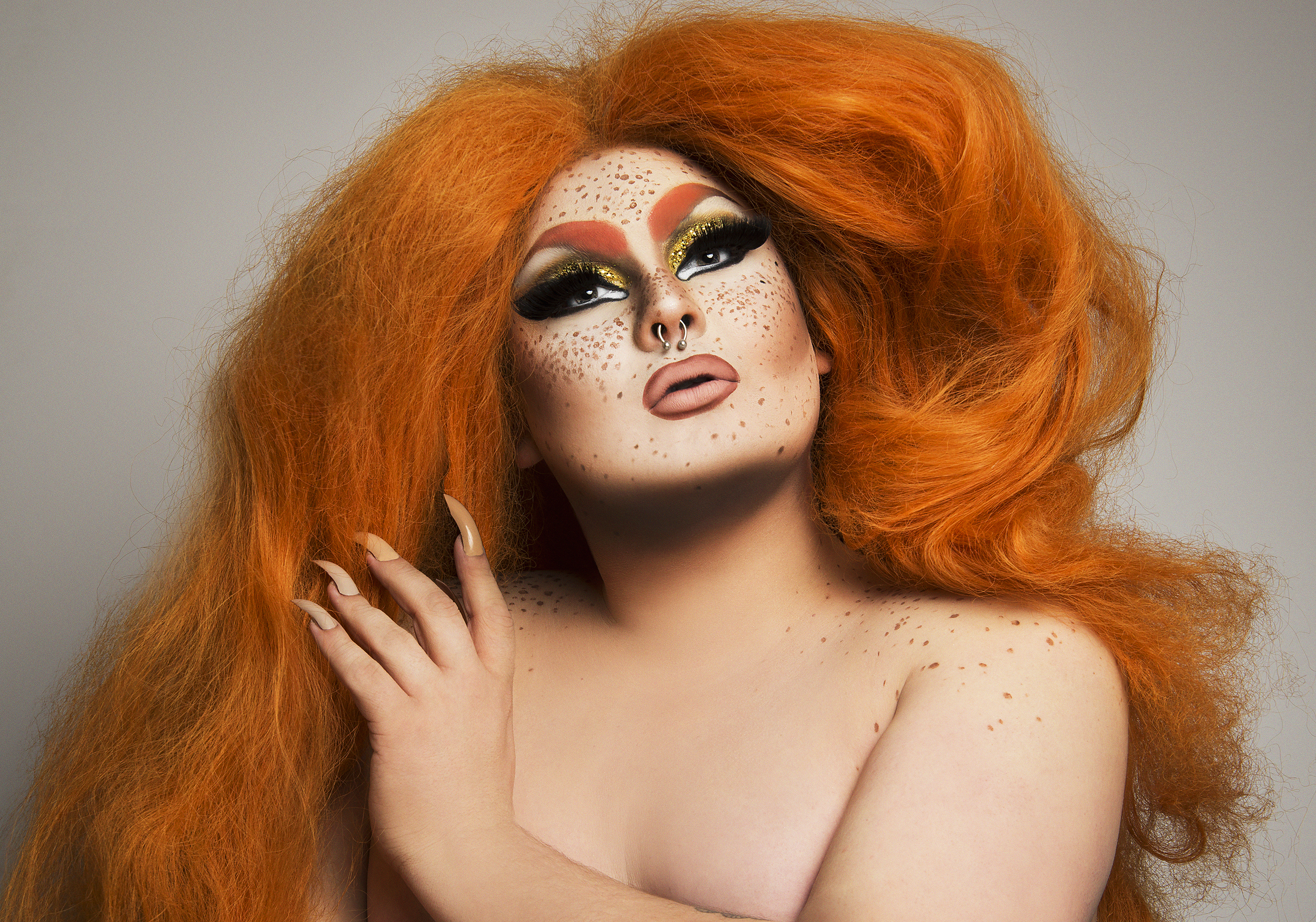 Visual artist, performer, and curator Kelly Boner has appropriately given herself the title of 'Bubblepop Electric Creative Powerhouse' with her own aesthetic and drag influences stemming from eclectic sources ranging from Georgia O'Keefe to anime. Boner's curatorial project and exhibition Fulfilled Fantasies: Contemporary Drag Works, currently at Hokin Gallery at Columbia College, features photography where the image-making process is a collaboration between the photographer and subject. With both the photographer's eye and the creative vision of the performer forming the final photograph, together they create a cocktail of colorful illusion, flawless execution, and original looks that capture a personality and/or character fully. In this interview, Kelly Boner discusses the endless and diverse talent in Chicago's drag scene, the importance of representing it in non-traditional spaces, and the ways in which gender can be "both a prison and a palace."
This interview has been edited for length and clarity.
Christina Nafziger: Let's begin with your own artistic practice. Can you tell me a bit about your practice as a performer and drag queen? What attracted you to this kind of creative expression?
Kelly Boner: While I would love to be simply called a drag queen, I need to make the distinction that I am an assigned female at birth (AFAB) drag queen, meaning that I'm a cis woman who performs a heightened version of femininity and character on stage. There are a number of AFAB drag queens in Chicago, and I think this particular terminology is the most accurate and least diminishing of the linguistic options that we have. Other terms include faux queen (the name that many AFAB drag performers used in 1970s San Francisco), hyper queen, and the disputed bio queen that many performers feel is outdated or transphobic, myself included.
The debate about linguistics aside, I view drag as the ultimate form of creative expression, which is what attracted me to it. True artists should have a strong vision of a world that they would like to see, create, or inhabit, and I think a particularly strong drag queen is able to create not only the illusion of a form of gender, but also present a character from their creative fantasy. I like to think of myself as the Georgia O'Keefe of Chicago drag, since many of my original looks and concepts are heavily influenced by the American southwest and desert iconography. As a performer, I mostly select nostalgic songs that I want to evoke a kind of dreamy memory; but I perform less than I put together looks and photoshoots. Luckily, drag has evolved to allow for both kinds of artists: those who work more on the side of makeup and costume versus the more prolific performance artists, as well as those wunderkind who can do both equally well.
CN: Currently studying at Columbia College, what is your academic background? What is your main area of research and how did it lead you to your thesis exhibition Fulfilled Fantasies: Contemporary Chicago Drag Works?
KB: I graduated from Oberlin College in Ohio with a BA in Studio Art in 2009; I then worked a job in higher administration at Northwestern University until returning to get my Master's in Arts Management at Columbia College (I'll graduate in May 2019). In the ten-year interim, I was the frontwoman for a band with my brother, the Beauty 2s, and turned to drag as a combination of my studio art practice and my performance experience in the band. My current degree is a business management degree with a focus in the arts generally, although I came to the program with the desire to learn ways I could create more opportunities for Chicago drag performers and bring more resources into the community. The gallery show was a culmination of that desire, because the more drag can inhabit non-traditional spaces, the more opportunities will arise (in theory).
CN: Tell me about the work included in Fulfilled Fantasies. Exclusively showcasing photography, would you say the exhibition features work that is primarily documentary, or perhaps there is a mix of styles, including conceptual work as well?
KB: There are a number of drag photographers who I was unable to include in this exhibit because of my space constraints, so I looked pretty deeply at the distinction between the photographers I prioritized as compared to the ones I was unable to include. Some of it was circumstantial (i.e. I only learned of their work after the show was set), but the criteria that came to the forefront was that the photographers I chose were conceptual collaborators in creating the works featured in the show. That is to say, none of these images are documentary—they are all created in partnership with the drag performer who is featured, and both the photographer and the performer brought an equal level of creativity to the production of the final image. I wanted to show works where the photographer's eye was clearly present, and you couldn't look at any one image in the show and mistake it for the work of someone else in the room.
CN: As the themes in Fulfilled Fantasies center around performance, has there been or will there be any on or off-site performances in conjunction with the exhibition?
KB: The exhibition is only up for a month, which limits us in how many programs we can run, but we had an on-site makeup tutorial on March 21 from 7-9 p.m. in the evening in the lecture hall attached to the gallery; Lucy Stoole and Valentine Addams painted their faces while answering questions from the attendees about their makeup artistry and their drag practice. We have already had a "Waffle Wednesday Drag Brunch" featuring student queen Vanta Black, where we emulated a drag brunch with drag trivia and bingo at a student event. Both of these programs were co-sponsored with Columbia's department of Student Diversity Equity and Inclusion. Our last event will be a Columbia student drag show on April 1 as part of the closing night for the exhibition. I did not include current Columbia students as photographic subjects in the gallery, so this felt like an effective way to bridge the gap between the Chicago drag community featured in the gallery and the students practicing drag at the school.
CN: Being heavily involved with Chicago drag yourself, how does having a first-hand experience performing affect your perspective as a curator? Did it influence or change any aspects of the exhibition in ways you did not expect?
KB: It was a challenge as curator to make sure that I exhibited a matrix of drag performers that I felt represented Chicago drag without it becoming a showcase of my friends and my connections in the scene. There was always a small part of my mind that was calculating the demographics of the show and whether I hit an accurate cross section of the drag community in Chicago. I am still debating internally whether the show is a success in this way; I think it represents the diversity of contemporary Chicago drag quite well, but also might not show much of the history leading to this particular moment for the drag community. Even the idea of what constitutes the "Chicago drag community" has become muddied for me as I realize the scope of performers and artists who work in and around drag and gender in this city is much larger than I could have possibly imagined. But part of this show was also shedding light on the visual artists who work within Chicago drag; on that front, I think the range of who was featured was perhaps more successful.
The one part of the show that ended up being a total surprise for me were the works by James Kinser and Niki Grangruth; they were the only artists in the show of whom I didn't have some form of prior knowledge before I began curating the exhibition. In this way, I was happy that I stayed open to learning about new artists and not keeping myself with the narrow confines of what work I already knew; if I expanded the show in the future I would push myself to do more studio visits and talk to more people to get an even bigger picture of what work is out there.
CN: Has performing as a drag queen altered your perception and definition of gender and gender performativity, or did your outlook on these topics influence you to become an AFAB drag queen?
KB: I studied feminist theory in undergrad and have been interested in the nature of gender as one of the fundamental shaping forces for any human being in the context of Western society, and the ways in which gender can be both a prison and palace. Which is to say: some persons transgress gender norms, and they are brutally punished and/or murdered (trans women of color being the primary targets of this kind of gendered violence). Meanwhile, a man in a business suit and tie only has to perform a very specific set of gendered aspects in order to become wildly successful in the corporate world. I think an understanding of how gender is performed is becoming more central to conversations about identity in America, although perhaps I live in a queer bubble and I'm being hopelessly naïve—either way, I view the businessman in a suit and tie in the corporate boardroom as performing a kind of drag that has its own strict parameters in the same way I view a queen with a two foot tall wig and 12 inch heels as following a very specific form of drag.
I'm digressing—all of this is to say that my understanding of gender as performance is what ultimately drew me to drag. Of course actively participating in the community as a drag queen has informed my views on gender and its performance in the same way pursuing any art form over time will alter your views on what that art form is. My pre-existing knowledge and my current art practice feed back and forth.
CN: What aspect/s of local drag do you feel are unique to Chicago?
KB: Chicago has the huge advantage of being big enough that there can be many kinds of drag and a huge number of performers who experiment and play with participating in drag, while also being small enough that there is a centralized geographic element to it. I think that mix is what makes Chicago such a rich playground for drag queens, and frankly less alienating than having to try to make it in drag in say, Manhattan or Los Angeles.
CN: How did you come up with the title of 'Bubblepop Electric Creative Powerhouse' for yourself, as stated on your website, and how does it describe you and/or what you do?
KB: I have to shamelessly admit that Bubblepop Electric is the name of a song on Gwen Stefani's first solo album Love Angel Music Baby. I grew up listening to Gwen Stefani and loving her particular aesthetic (and most major pop stars realistically are performing their own version of AFAB drag). But I pulled that name, Bubblepop Electric, because I think it points of a sense of effervescence, joy, and excitement that both pervades my work and also inspires it. As "they" say, you should dress for the job you want, so I took it a step further and gave myself the title I want. I'm a creative powerhouse in the sense that no one project or idea can define what I do, but I'm out here doing whatever I can get my paws on.
CN: Who are some of your biggest inspirations artistically?
KB: This answer is really only the briefest overview—Georgia O'Keefe, as mentioned previously, is a huge inspiration to me from the fine art side. I also adore Laurie Simmons and Cindy Sherman. There are a number of hypercontemporary artists on Instagram who inspire me endlessly; lately my favorite is Parker Day. Of drag queens, I find Sasha Velour's incredibly strong vision endlessly inspiring. Locally, my roommate Valentine Addams has shaped, formed, and inspired my drag in countless ways, particularly since she taught me the fundamentals of drag makeup. Through Valentine, I've found a whole new inspirational treasure trove in various animes and fantasy movies that give me makeup and hair ideas. My current favorite anime is My Hero Academia.
The exhibition Fulfilling Fantasies: Contemporary Chicago Drag Works will be on view at Hokin Gallery, located at 623 S. Wabash Ave., Chicago, until April 1st. 
Featured Image: A portrait of Valentine Addams. Addams has bright orange hair, exaggerated  orange eyebrows, and freckles. Her face is tilted up in a determined and confident expression while one hand gracefully  touches her hair. The photo was featured in the exhibition Fulfilling Fantasies: Contemporary Chicago Drag Works. Photo by Adam Ouahmane.

---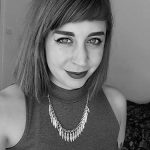 Christina Nafziger is an arts writer with a background working in curation, arts administration, and community outreach. Earning her M.A. in Contemporary Art Theory from Goldsmiths University of London, her area of research focuses on performativity within the image, virtual identity, and cyborg theory.