The Lineup: Chicago Archives + Artists Festival, Art Design Chicago Edition
A look at the complete lineup for the Chicago Archives + Artists Festival: Art Design Chicago Edition at Read/Write Library on July 13-14th.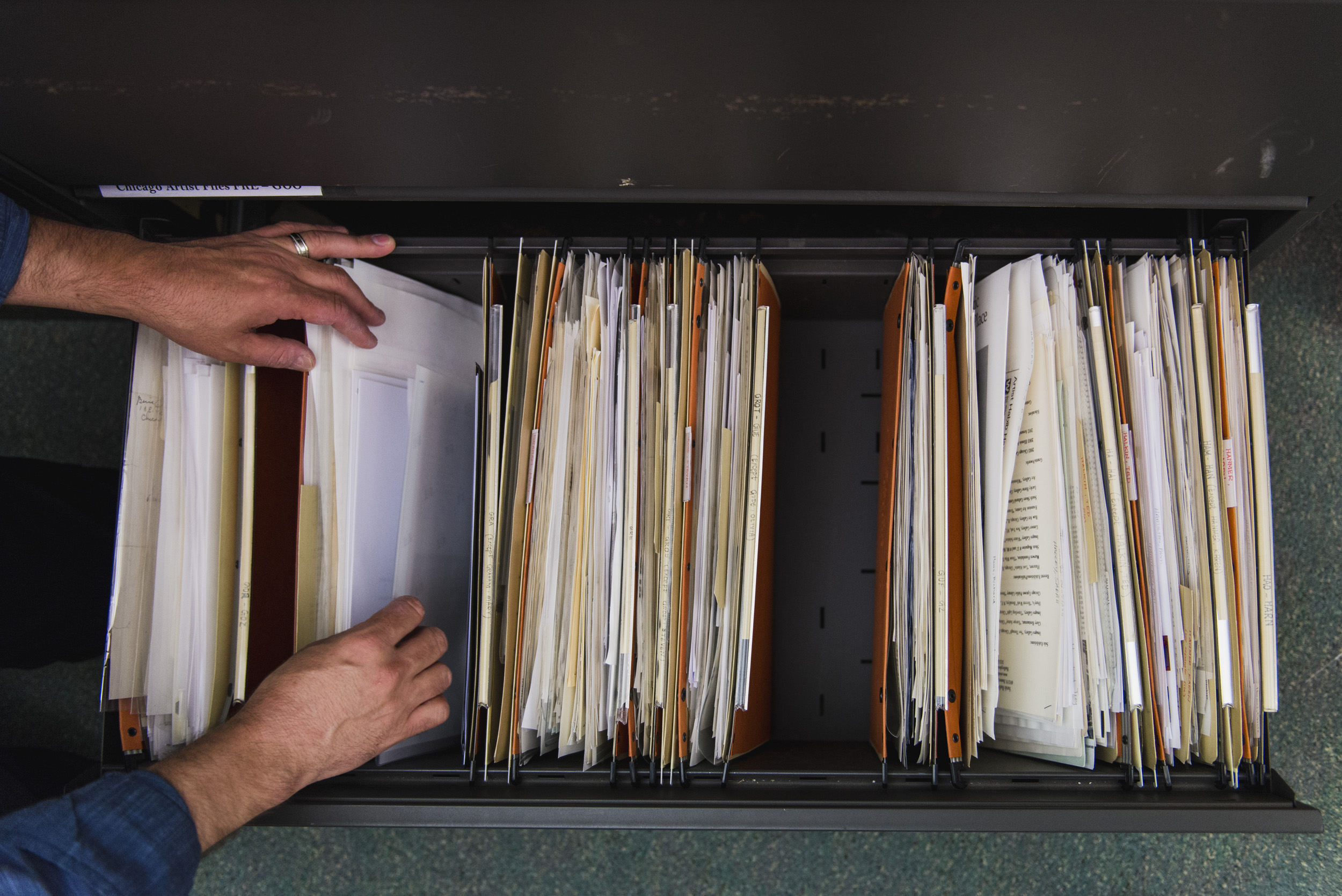 July 13th + 14th, 2018
at Read/Write Library (914 N California)
>>Learn all about the Festival
>> RSVP on Eventbrite
>>Volunteer for the Festival
>>What we mean when we say Get Archived
Sixty Inches From Center brings you the second Chicago Archives + Artists Festival: Art Design Chicago Edition, a two-day gathering at Read/Write Library that focuses on legacy preservation and archive nurturing for Chicago's artists, curators, and cultural producers working in art and design. Learn more about the festival here.
Below is the full schedule of workshops, discussions, film screenings and performances you can expect to see throughout the event. Everything takes place in Humboldt Park at Read/Write Library.
>>>Festival Schedule <<<
FRIDAY
Remixing the Zine
with Sky Cubacub, Marc Fischer, and Darryl DeAngelo Terrell
6pm – 9pm
To kick off the festival, each artist will reveal the zines, publications and projects produced and commissioned for the festival and talk about their experiences working in the archives of the Chicago History Museum, Harold Washington Library, and Read/Write Library. Complimentary copies of the artists' publications will be available for all attendees. After the discussion, we will be blessed with a performance of archive-inspired sounds and visuals by artist AJ McClenon.
More info…
SATURDAY
DIY Archiving + Consultations
with Alex Wieder of LATITUDE
11am – 6pm; Consultations 12pm – 3pm
Throughout the day artists, curators and cultural producers will have the chance to drop off materials or create an artist file for the Chicago Artist Files at Harold Washington Library and get a selection of ephemera digitized with the help of Alex Wieder of LATITUDE. Limited slots available. RSVP recommended. Or sign up for one on one consultations at this link. More info…
_
Chicago Zine History
with Oscar Arriola
11am – 12pm
For this workshop, Oscar Arriola one of the co-founders of Zine Mercado (happening again this year on July 22nd!) will give a lesson in the city's long history with the art form and the range of different types and design styles that can be used through examples within his vast personal collection of Chicago Zines. More info…
_
Archive Roll Call: A Rapid-Fire Resource Session
with Sixty Inches From Center
12pm – 1pm
Presented and compiled by Sixty Inches From Center, the Archive Roll Call is a rapid-fire resource session that will go down the list of local and regional repositories and resources that are specifically welcoming to the histories and cultures of people of color, and along the spectrum of race, gender, nationality and ability. More info…
_
Wait, What's a Wikipedia?: An Edit-a-thon Training for Chicago Culture
with Mckensie Mack of Art + Feminism
1pm – 3pm
During this edit-a-thon, we invite lovers and amateur caretakers of Chicago's art and culture to take history into their own hands with McKensie Mack from Art + Feminism who will lead a workshop on how to improve upon or start a new page for a Chicago artist, artist-run space, curator, or cultural producer on Wikipedia. You must bring a laptop for this one! More info…
_
Artists + Archives Roundtable
with Emilio Rojas, H. Melt, Huong Ngo, Ivan Lozano, Samantha Hill, Mel Leverich (Leather Archives & Museum), Analu Lopez (Newberry Library), Dan Erdman (Media Burn), Nell Taylor (Read/Write Library). Moderated by Kate Hadley Toftness.
2pm – 3pm
When given direct and generous access to archives, artists have found new ways to re-contextualize, interpret, and breathe new life into historic materials. For this discussion we will give the floor to visual artists, curators, writers, and arts educators who are using archives as a launching point for their research-based and archive-centered practices, and the archivists who work with them. More info…
_
Taking Control of Your Records
with Lucy Parsons Labs, Jose Luis Benavides (Illinois Deaths in Custody Project and Lulu en  El Jardín), Rodney Freeman (Project Backup Foundation), and Alex V. Hernandez (Block Club Chicago, 90 Days/90Voices, and Sixty Inches From Center). Moderated by Jennifer Patiño Cervantes.
3pm – 4pm
Speakers will discuss the role that records play in their work and touch on the ways that  preservation, access, and digital security can be used as a form of resistance in the face of historical erasure and the targeting/marginalization of our communities. This session will introduce you to strategies and resources that you can use to start taking control of your own records. More info…
_
Creating New Knowledge
with Meg Duguid (Artist, The Visualist, Curator at Columbia College Chicago), Angela Ford (The Obsidian Collection), Ivan Lozano and Gonzalo Reyes Rodriguez (Archives + Futures Podcast), Dr. Amy Mooney (Say It with Pictures) and Michal Raz Russo (Never a Lovely So Real). Moderated by Tempestt Hazel.
5pm – 6pm
This panel hands the microphone over to curators, artists, and scholars who have taken the work of archive-building into their own hands and gives them the opportunity to discuss the projects, exhibitions, and initiatives that have emerged from their work and research. More info…
_
South Side Home Movie Project: Artist Resource Screening + Festival Wind Down with WHPK
with Sabrina Craig and Candace Ming
followed by Sasha No Disco and Jared Brown
7pm – 10pm
Sabrina Craig and Candace Ming of the South Side Home Movie Project, a five-part initiative to collect, preserve, digitize, exhibit, and research home movies made by residents of Chicago's South Side neighborhoods, will host a screening and discussion designed to introduce Humboldt Park neighbors and artists from across the city to the resources of this unique visual archive of South Side history. After the screening, Sasha No Disco and Jared Brown will close out the festival by spinning vinyl from the legendary collection of WHPK (88.5FM) (a.k.a. The Pride of the South Side). More info…
_
Featured Image by Ryan Edmund.
This iteration of the Chicago Archives + Artists Festival is part of Art Design Chicago, an initiative of the Terra Foundation for American Art exploring Chicago's art and design legacy, with presenting partner The Richard H. Driehaus Foundation. Sixty Inches From Center is funded by the Terra Foundation for American Art and The Richard H. Driehaus Foundation. Learn more at artdesignchicago.org.