EXPO CHICAGO // An Interview with Tony Karman
This week, the art world's glitterati will descend upon Chicago for a new contemporary art fair: Expo Chicago, The International Exposition of Contemporary/Modern Art & Design. Occupying Navy Pier's colossal…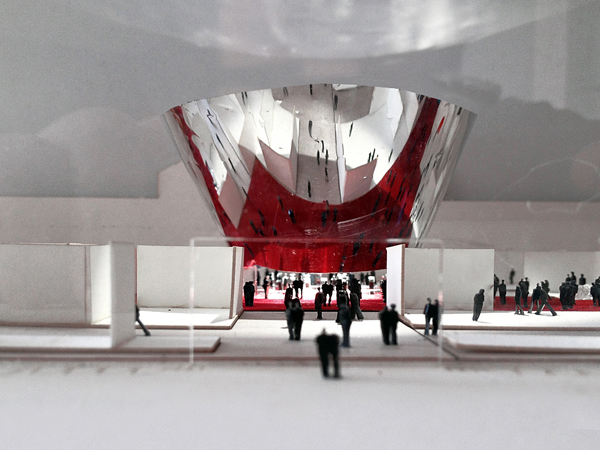 This week, the art world's glitterati will descend upon Chicago for a new contemporary art fair: Expo Chicago, The International Exposition of Contemporary/Modern Art & Design. Occupying Navy Pier's colossal Festival Hall, the fair showcases a selection of top tier galleries—capped at 100—from around the globe. Also included are EXPOSURE, a section comprising younger galleries; IN/SITU, a presentation of large-scale installations and site-specific and performative works; the conclusion of /Dialogues, a series of panel discussions and conversations; and a VIP Program.
Designed by the architecture studio of luminary Jeanne Gang, the fair's floor plan mimics Chicago's grid system, boasting gallery-lined streets that allow visitors to view everything in sequence without losing their way, as well as a diagonal avenue on which visitors can view select exhibits and installations. Hanging from the hall's high ceilings are mammoth mirrored cones.
While many may be curious as to whether Chicago can live up to the challenge of hosting such an event, some involved in the lively local art scene have a separate concern: Can the fair get out-of-town collectors to patronize Chicago's talented artists, to venture beyond Navy Pier and see all that this city has to offer? However, as easy as it is to be skeptical of such an undertaking, especially with the demise of Art Chicago last year, Expo Chicago looks promising.
For one thing, Tony Karman, the fair's President and Director and man with a vision, actually listens to what the local art community has to say, adding programming that directly reflects community suggestions to better bridge the gap between the peripheral art scene and the ostensibly distant universe of art trade shows. Unsurprising it is, then, that the exposition has so much support. This may very well be the art fair that rightfully represents and shows the city off to the world. Expo Chicago is something to get excited about.
I sat down with Karman for a preview of the fair. What follows below is our conversation.
Expo Chicago runs from Thursday, September 20, through Sunday, September 23, with a Vernissage opening night preview on Wednesday, September 19.
Jenny Lam: First of all, how are you?
Tony Karman: Oh very well. We're in good shape!
JL: Hectic?
TK: Good-hectic.
JL: Since this is the inaugural exposition, how will Expo Chicago distinguish itself from the more established international art fairs such as Art Basel?
TK: I think the city is, most importantly, the differentiation point. We have a great legacy in Chicago for an extraordinary international contemporary and modern art fair for 21 years. Beginning in 1979, Chicago was the preeminent art fair city in North and South America, so there's a great legacy to build upon.
But in this case, I think our differentiation is the date, which is a great time for the international art community to open up a contemporary and modern fair in America.
Our differentiation point is going back to Navy Pier, the venue that was, in fact, built for it. Festival Hall was really established based on the strength of the original fair, which was called the Chicago International Art Exposition.
And then the other differentiation point is—and I'm very public about saying this—quality, not quantity. Although we share many galleries that do Basel, I would expect that the quality of the fair continue to shape and grow. Obviously we're very proud of the list as it was presented, and I would venture to say that a good deal of the international art world—dealers, collectors, art enthusiasts—are actually coming for all the right reasons to check us out.
JL: Is that emphasis on quality and not quantity the reason why you're limiting the list of exhibitors to 100?
TK: Yes. I limited the list to 100 stands. Now, if you do the math, several galleries partnered and then we added the Exposure section of galleries five years and younger, we have seventeen galleries there. For the main fair, I limited it to 100 stands. But I did that for two reasons. One, to make sure the quality level was high; and two, I'd rather take the long-term approach on this fair and make sure we provide a greater opportunity for the exhibitors to do well.
I think that, ultimately, any fair is great at not only on how respectful you are of the artwork that's being presented and building a venue that reflects that, but also providing as much an opportunity for art exhibitors, art dealers, participants, to actually see who they want to see and sell artwork to those clients.
JL: How are you striking a balance between shining a light on local artists and dealers and bringing in the international crowd?
TK: You know, I've always believed that the exposition should serve the greater ecosystem of the arts community in Chicago. And by that ecosystem I really mean the schools, the institutions, the galleries, the artists that are here. There are twelve galleries from Chicago participating in the fair. If we do our job right, the attendees—the patrons that come and visit our city—will get out to explore all of what's happening in our institutions and our galleries. I want to make sure that we serve that broader community as well as we possibly can. We're encouraging patrons to take that step to explore. We're providing shuttles Thursday, Friday, and Saturday to both gallery districts and the MCA. Those are ways that we can provide a greater opportunity for art enthusiasts to explore.
JL: When I think of art in Chicago, the first thing that comes to mind is its more alternative art scene, which, in my experience, is very vibrant. Are you striking a balance between that kind of experimentation that is characteristic of our city—like we're seeing with the MDW fair—and the more established galleries?
TK: Yeah, you know, I think that the MDW fair, with the apartment gallery scene… that's a vibrant, vibrant voice in our city, and I think that's extraordinary. I know that there are a number of galleries that are opening and have opened because it's the beginning of the season, but they're also doing a number of special events to take advantage of that activity. I think any great fair activates the broader community in ways that allow everyone to benefit.
I think that it's important—let me speak to the artists in our city—that the artists in our city find ways to take advantage of this as well. There's a whole host of individuals we believe will be coming and may not have been: curators from regional museums, collectors from the greater Midwest, collectors from the coast, curators from around the world. I think that, once the buzz continues, they're going to be, just through that wonderful communal network, exposed to a lot of what's happening in our scene. And I'm extremely hopeful that what happens is that everyone benefits: the alternative gallery scene, the gallery scene, the artists, through connections, whether it's a party, whether it's an event, whether it's someone coming into a space, whether it's at Navy Pier. When you bring that energy together, you can't help but know that you're fostering something in the future.
JL: How would you compare what Rahm Emmanuel has done so far in terms of advocating for the arts versus what Richard Daley did?
TK: You know, I think that there hasn't been a mayor in our city that hasn't recognized the value of the arts. Mayor Daley was extraordinary. Not only in Millennium Park, but we have a great legacy of support for institutions in the arts. Stepping a little bit before, [there's] Mayor Harold Washington; it was under Mayor Washington that the first Cultural Plan was executed. And I think that spoke volumes to that mayoral commitment.
To respond to the current, under Mayor Emmanuel, the revision of that Cultural Plan—the one that was done thirty years ago—was just announced and presented, and you see a mayor that really understands the role of the arts, not only in education, which we see now that's instituted back into schools [with] arts education, but also what the role of the institutions, galleries, performing arts, and theatre does for our city to really burnish a great international reputation. It's obvious that Mayor Emmanuel understands not only the importance of this fair, but we're one small cog in an extraordinary collection of institutions and events and organizations that says to the world, "Hey, come to our city; we understand what the arts are, and we understand what a vibrant cultural city can be."
JL: You yourself are a veteran in the world of art fairs. But what I love is that you started off as a security guard at the Chicago International Art Exposition back in the 80s.
TK: That I did!
JL: How did—or does—that affect your love of art, and what from that early experience did you bring to this new endeavor?
TK: You know, in college my degree was Fine Arts and Literature. I always did production in college, for concerts. So when I moved here, it was, one, an opportunity to be a part of something extraordinary, something that I would hope to replicate with Expo Chicago, because it was an immediately clear that it was important to the world; and, two, I had made myself indispensable to hopefully take advantage of that production side of me, and that want and yearning to make sure that it's time to put on another event.
I love what events can do, not only for myself because I love to see what one can create, but just the extraordinary amount of support, efforts, partnerships, and presentation that form that nucleus that ultimately results in something, and the something of an Expo Chicago, if you move to this year, is an amazing generator.
For me, I didn't expect, thirty years ago, to be doing this. It was not a part of my life charter. "Gee, I hope I can someday do an art fair!" But it's a fascinating time for me because I can use much of my past in ways that can benefit this fair. My role in the performing arts community, or in the city, or having a company that did sponsorship in marketing, or… all of those things really can be brought to bear in this moment. I've never missed an art fair in Chicago, I've been involved in many of them, and I think that this is my chance to glean a bit from all of that and start a new chapter.
JL: Speaking of your involvement in Chicago's art fairs, you used to be the Vice President and Director of Art Chicago. How will Expo Chicago differ from Art Chicago?
TK: I think that it differs by virtue of time, it differs by virtue of location, it differs by an extraordinary selection committee, an extraordinary inaugural year exhibitors list… all of those things. I think that I'm grateful for the support of our institutions, the Museum of Contemporary Art, the Art Institute, the Smart Museum, the [Renaissance Society], all—I could go through the whole list—our top collectors in the city that are civic leaders, are business leaders, Mayor Emmanuel, that recognize that this was important, that this was something that should be supported.
And I think that, rather than say it differs, I think this is just a new chapter, and we're the beneficiaries of a great deal of hope, because obviously you're interviewing me prior to; and post-hope, a long want and yearning for our city to host a fair every year.
JL: If someone wants to know why or how Chicago is a world class city, what would you say to that person?
TK: Oh, unequivocally! Look what we have. We have institutions that are respected throughout the world. We have a city that is unmatched in its beauty and its layout. Numerous corporations are based here. This is a world class city in every way.
It's also a world class city in the way the makeup of the fabric of the city is represented. I don't know of many cities that you can go and literally travel the world like you can do on Devon or Pilsen. You can find every wonderful ethnicity in the world with a pocket of newly fresh immigrants. I'm Greek; my family came here in the turn of the century. I think Chicago has an extraordinary blend, an extraordinary fabric, and I think it's the people in the city that make up what you just said about being world class.
I've been grateful to be an ambassador for the city, as well as this project, for over fifteen months. And there is not a city in the world that doesn't respond positively to what is happening, specifically now in our art world, to what is happening at the MCA, with a curator core that is on fire; to the Art Institute, with a curator core and exhibitions that are beyond notable, with the Lichtenstein [exhibition] that just took place and others announced; the Renaissance Society for its long legacy of support… It goes on and on and on.
In our world, Chicago means something, and the support for Expo Chicago means that the world recognizes that. The response that we're getting is really due to the extraordinary aspects of our city.
For more information about Expo Chicago, visit www.expochicago.com.
Jenny Lam blogs at Artists on the Lam and tweets at @TheJennyLam.