El Sol Sale Para Todxs: A Conversation with Galia Basail
Video and installation artist Galia Basail speaks about her pop-up exhibition and her wider curatorial practice, inclusivity, and communities in Chicago and Mexico.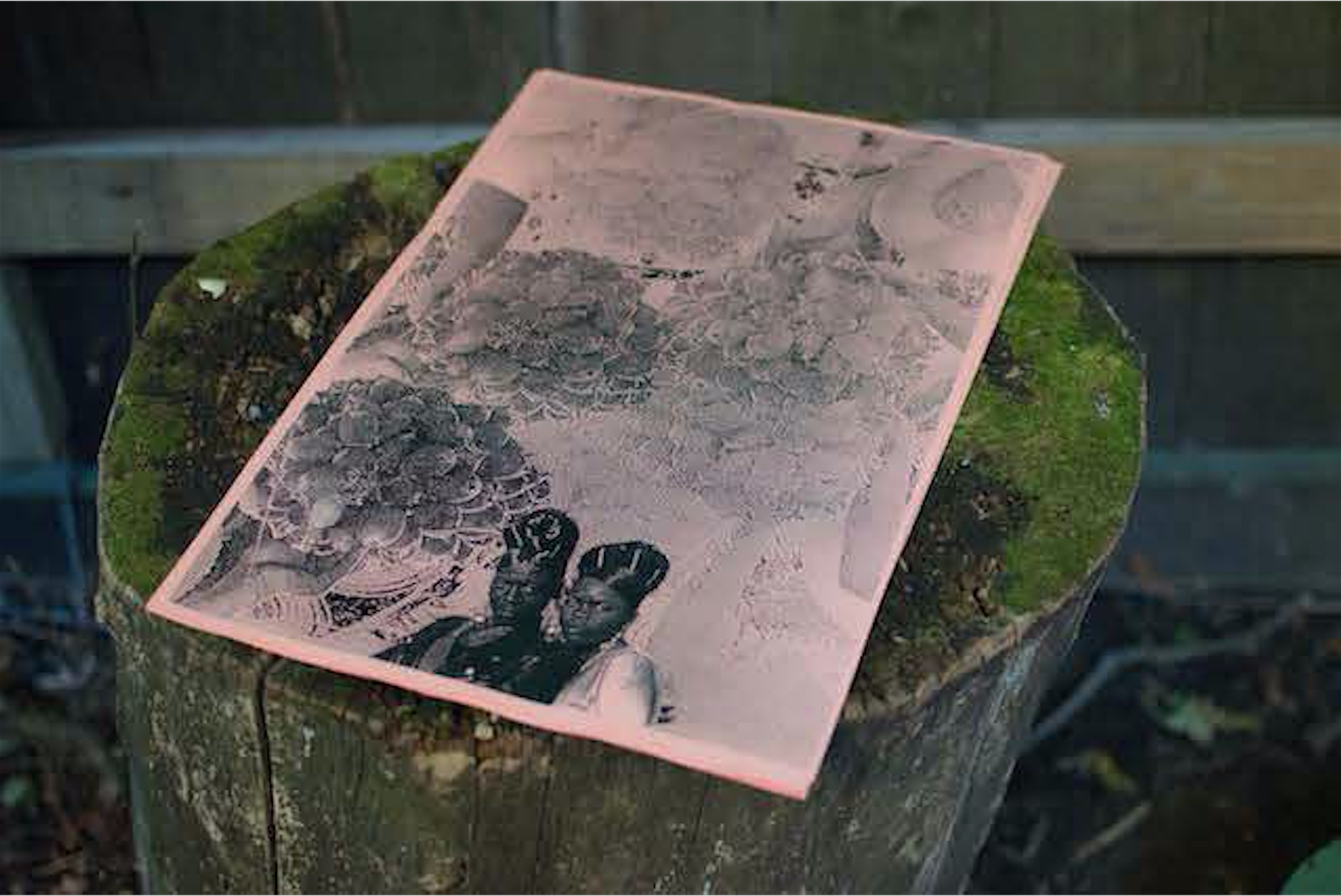 I recently sat down with local video and installation artist Galia Basail to speak about her pop-up exhibition, which brought together artists from around the country. We also spoke about her curatorial practice, inclusivity, and community in Chicago and Mexico.
Annette LePique: Hi Galia, thank you so much for speaking with me today!
Galia Basail: Thanks for coming over!
AL: While I know the El Sol Sale Para Todxs pop up you organized ended a little while ago, could you speak a little about what spurred its creation?
GB: Sure, so the pop up took place in my grandmother's house, where we are sitting right now. As a space the house is intimately connected to my family's heritage. We've lived here since the 1970s. My grandmother is first generation, she was raised on the southside of Chicago but her parents are from Tabasco, Mexico. My grandfather is German and Irish and also first generation, raised in Cicero. My dad is from Mexico City and all of his relatives live throughout the country so in a sense I have two families in two separate countries. You can get a sense of this duality from the family art collection. While much of the work in the collection originates from different parts of Mexico we also have many Midwest Latinx artists represented. It was my intent to replicate that merging of culture and community in the pop up.
AL: That's awesome! How did you begin organizing the show's conceptual framework?
GB: Once I returned to Chicago from Mexico City I started reaching out to people after forming the concept for an outdoor show and began setting up initial meetings between the artists and myself. It started falling into place when we found wild similarities in the works, such as how Nicholas Kinsella formed the shape of a basketball by bending steel and how Joe Clark cast wax forms that mimic outdated cellphones in bronze. These two works and a handful of others strive to challenge the conventions of objects outside of a capitalist market. In many ways the artists are also speaking about intersectionality and the challenges of cultural and ethnic identity as seen in Portrait of Sofía in Winter by André Filipek. André's piece works to confront the consumption of Latinxs in the USA and why they are considered a homogenous society by using cultural signifiers that have a lot of agency like Colombian actress Sofía Vergara and Abuelita Mexican hot chocolate.
AL: Do you think that your curatorial practice intertwines with your studio practice?
GB: As a video and installation artist I find the work I make is often collaborative; one of my past projects involved interviewing people on the street in Mexico City. The process of compiling images, linking them together, translated well to curatorial work as I was linking people together for El Sol. Once the artists and their ideas began taking shape, the show itself functioned as a microcosm of community. Each of us placed trust in one another.
AL: Speaking of the show, from where did the title originate?
GB: I'll show you the image that inspired the title! My grandmother has a photograph from a photographer based in Mexico City by the name of Enrique Segarra. He's in his nineties and has been selling his work for years at El Bazaar Sábado. He prices his photographs very generously, at around 1,000 pesos (a little over 50 USD). In the photograph a man is standing in front of a cantina that's advertising the popular Mexican beer, Sol. Sol is ubiquitous to Mexico, it's been around forever. "El Sol" is also a bit of a double entendre as it is the word for sun in Spanish. The sun is a symbol highly representative of the energy of Mexico and its indigenous cultures. I thought this duality was lovely as the photograph's title, El Sol Sale Para Todos, can then mean both "a beer for everyone" and "the sun shines on everyone."
AL: That's lovely! May I also ask what inspired you to include the "x" in the installation's title?
GB: As you know in Spanish every word has a gender. For example, the word "amigos" ends with an "o" which means it's considered a masculine word. The idea that a word can be masculine or feminine is powerful because language permeates one's existence. This is potentially problematic because language then is a tool that can be used to exclude and alienate folks who do not identify as a masculine or feminine. In response folks have begun to utilize the letter "x" as a means by which to express inclusion, that this word is for everyone. What's extremely interesting about this is that when words like "Latinx" are expressed in Spanish, we do not pronounce the x but the linguistic change and intent remain. So by adding the "x" to todos I wanted to open up the installation's community to all communities.

GB: Sure, while I spent my childhood in Mexico I grew up in Chicago but decided to move back after college when I was in a bit of a creative rut. One of the things I immediately found interesting about Mexico was the relationship that strangers have with one another in an urban environment. It's funny because while many people are struggling due to disenfranchisement and general governmental malfeasance, people will say hello to you. If someone bumps into you they will apologize.
AL: That's very interesting, what are some other differences and similarities?
GB: Mexico is quite similar to America in the idea that both are "patchwork quilts," neither country fits into a tight homogenous structure. In Mexico many indigenous people are oppressed by systems of racism and classism.
AL: That's very similar to America.
GB: Yes. There's also little class mobility for indigenous people which has created an uphill battle for activists who are trying to preserve their culture.
AL: Speaking of activism, how do you navigate the intricacies and difficulties of social practice within the current political climates of America and Mexico?
GB: While Mexico does have serious problems, skewed and racist reporting contributes to our issues. We are depicted as monsters from those who've only seen Mexico from a heavily guarded condominium. These sorts of people then never see the cooperative, collaborative systems that define a place like Mexico City.
AL: How would you describe these systems? Are they akin to the exchange economies in Detroit? The organizations that people form to care for one another in response to larger governmental failures?
GB: I'd say so, the example that comes to mind are some of the city's mercados. The mercados are self run markets that circumvent the governmental system of taxation and create an opportunity for commerce between providers and consumers, with no middle man. The environment that the vendors create allows for bargaining and results in more equitable transactions. Also, there is an amazing variety of items for sale; from candles that ward off bad spirits to the best tomatoes you will ever eat. It's funny because the food sold at the mercados is extraordinarily fresh and affordable but in a place like Chicago the idea of fresh, accessible produce is an expensive trend. I was so affected by the model of the mercados that I consciously shaped the event in their image.

AL: Could you speak a bit about what was available at the shop? What publications you chose for the pop up?
GB: Sure, one of them, GenderFail, is a publishing and curatorial project that represents the perspectives of queer, trans people, and people of color. We had a few of their posters and zines at the sale. We also included publishers across the Midwest; Cineviews is an experimental publication about film based in Milwaukee, and Sick Muse is connected to the Chicago DIY music scene.  
AL: Were there any performers or musicians the day of the pop up?
GB: Yes, Chicago performer Plus Sign did an acapella rap the day of the event and DJ Makamena spun records all day and night. I'm so excited to further branch out into Chicago's music scenes in the near future. Also, food and drink played a role the day of the event. Two collaborative groups, Ado-Meki Quinn and PI I ok came together to build a modular structure held together by woodworking clamps that functioned as a mini espresso bar (titled Breve Café) featuring a bouquet of appetizer skewers. There were also house cocktails mixed by Tony DelesDernier and homemade empanadas served throughout the evening.
AL: That's exciting! Upon reflection, do you think you'll do another event soon?
GB: Definitely. While I'm still sussing out the direction I want to take with my curatorial practice I trust that things will work out as I continue to meet new people and help facilitate communities. I feel as though the show accomplished what I wanted to achieve as a collective by bringing sunshine and community in the pop up, and I can't wait to do it again.

Click on the link for a look at all of the work shown at El Sol: http://galiabasail.com/el-sol-sale-para-todxs
Featured Image: Janelle Miller, "Sun Song," 2 editions of 25 on colored paper, Collage on laser print, 11″x17″, photo credit Galia Basail

---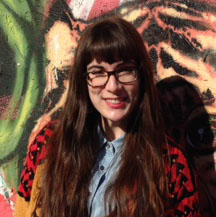 Annette LePique is a Chicago-based art historian and writer. She received her M.A. from the School of the Art Institute of Chicago in Modern and Contemporary Art History. She presented her research on gender, performativity and new media at Concordia University's 2015 Constellations Clusters Networks Conference in Montreal.