Dead Gorgeous Goddesses: Sofia Moreno's Sentimental Archeology
Noa/h Fields reflects on Sofia Moreno's exhibit Sentimental Archeology through musings, conversation, and poetry.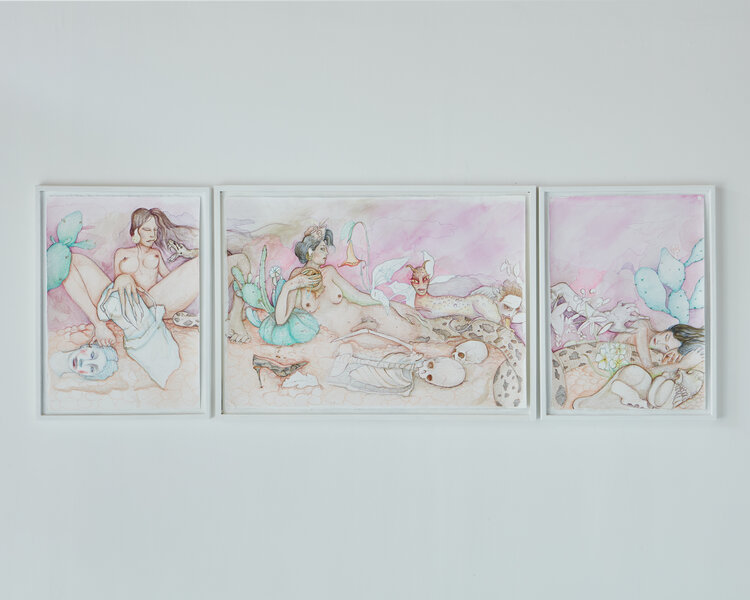 Featured image: An installation view of a triptych drawing by Sofia Moreno at the exhibition Sentimental Archeology, an Auto-Glorification Memorial. The drawings show three trans bodies in a desert landscape with cacti, skeletons, snakes in a pink atmosphere. Image by Ian Vecchiotti, courtesy of Hans Gallery.
I make sure to arrive early to Sofia Moreno's opening to give myself proper time to take in all the intimate details, without social distraction. I'm the first person to show up at Hans Gallery. I know it will be an event, an occasion that will bring out many of my queer and trans artist friends. Beer and champagne will be on hand, as will assembled looks to the nines. And of course, the doyenne of the party herself, back in Chicago from Mexico for the first time in the quarantine. 
When I first walk into the small industrial gallery, I imagine I am walking into an archeological excavation site. The one-room gallery's intimate size somehow expands to make space for a desert portal through history. Perhaps it's the glamorous cadaver popping out of a mound of dirt, or it's the time-traveling sketches of Aztec and Mayan goddesses in contemporary drag, like the rebirth deity Xipe Totec made-up with watercolor as an "Amerikan gURL" doll.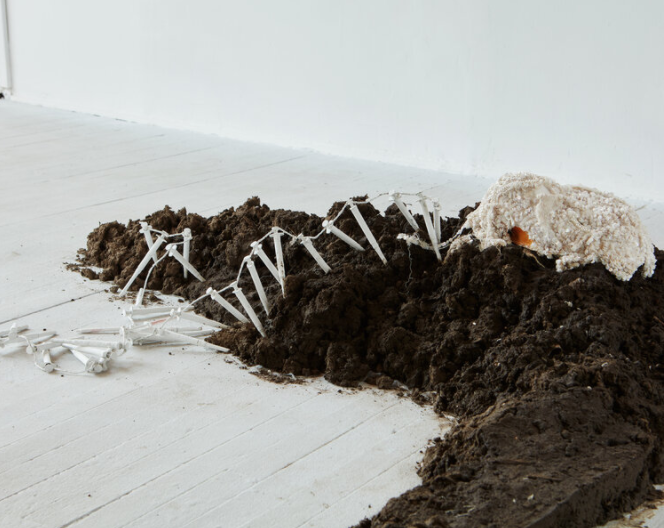 The show's vulnerable, gorgeous title and theme, Sentimental Archeology, an Auto-Glorification Memorial, demands care and attention to the personal and emotional contours of Moreno's art, squirming against the particular violence of the pharmaco-colonial regime's claims to objectivity and control of global southern hemisphere transgender lives from the outside in.

The art market's fetishistic and extractive emphasis on the ocular colludes with this. As Kira Xonorika notes in a review of Sofia Moreno's video works for E-Flux: "Despite its rhetoric of inclusion, the art world uses trans bodies while having no interest in material reparations for people who have historically been oppressed because of their biopolitical markers."
I mark up my gallery guide, mapped and numbered minimally like an excavation survey, with my notes. As I dig deeper and deeper into the excavation site, I annotate my impressions and associations, which I know will ultimately feed poems and this review in your hands. In this paragraph I worry my extended metaphor of "digging" may ring as "extractivist" too, but my wish instead is that my digging can take the form of planting with and for Moreno, whose generous and (p)arable garden I find myself living in even still, weeks after the exhibit has closed.
~~~~~~
SENTIMENTAL ARCHEOLOGY
Dig into the bowels /vowels. Stick a needle in it. Used
Serpentine heels. Watercolor lipstick. Sequins with secrets. You hot yet?
Has the desert head gotten to your heat? You're bending
time. Poor trait of the soil.
Glamorous cadavers, adventurous rubbers, graverobbers wear my bras.
Sedimental fantasy. "I want more drama. Minimalism is over."
Midwife, I feel ancient. I smell like futureform. My body is pre-sent.
If trans is expanded possibility, then who invited the death wish?
I've buried/ burrowed /borrowed myself so many times already
what's one more rebirth
Exhume: c r e a t u r e c r e a t e c r e a t i n i n e c r e a s e y r a c a e s u r a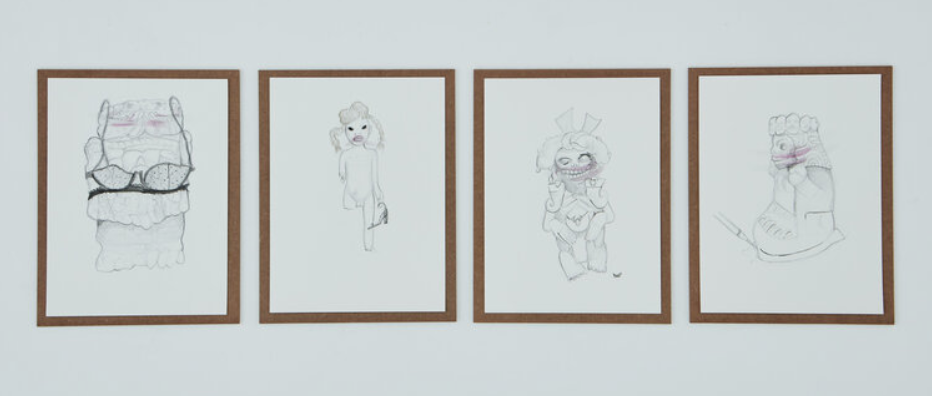 ~~~~~~
When more people stream in, I strike up conversations with artist friends I admire in Moreno's coterie. Their comments on the materiality and formal composition of the pieces gives me further food for thought, and so I add further resonances to my improvised field guide. These interactions are warm, playful, and queer in their vibrancy.
Kiam and I catch up and as I mention one of my own poetry experiments with the queer potential of mishearing, there is an unintentional seepage: when Kiam (a healer, as well as an artist) talks about what they love about Moreno's sandal heel, I mishear "heal" and "feel" before "heel." This cluster of homophones forms a constellation in my mind that traces a key dialectic of trans and queer thought present in Moreno's work (and indicated by the exhibition title Sentimental Archeology): affect, subversive history, and the fantasized body. 
Zachary helpfully tells me about a recent "field trip" excursion to the Art Institute she and Caleb took with Moreno. She shows me a picture on her phone of one of the sculptures that inspired one of Moreno's works on paper. The image on the phone juxtaposed with the drawing on the wall forms a fascinating "Before/After" diptych, an imagined transition from art history to instead create a potential history of trans ancestors. Moreno's playful watercolor additions of contemporary cosmetics and cross-dressing accessories flirtatiously draws queer lines of affinity between the present and the ancient. Here, lineage is gloriously staged as a kind of trans-temporal drag act.
~~~~~~
AUTO-GLORIFICATION MEMORIAL
Give me a glory hole
I want to be glorious
Erogenous zones of dead
Conjugal conjugations
Agenda for strange present of frenzied history
Monumental eulogy for unwearable objects of desire
Worship exhaustion of change
Excavated histories of dead trans goddesses
Transtemporal fetish roleplay deities
"How do we present this beauty without constantly being attacked?"
~~~~~~
Moreno excels at bending time, extending her own body of work to touch ancient and future articulations of trans selves. This includes not only ancient reference points, but also cyclical references to her own body of work. Many pieces in the exhibit recycle materials and relics from previous performances, including her 51-hour durational performance piece Remains with Rosé Hernandez at DFBRL8R Performance Art Gallery.
One recurrent technology that appears throughout Moreno's art is used syringes. There's a medical nod to the pharmakon as motif, but the hormone injection needles also take on a creaturely dimension, gauges practically fangs. Creature—or creator? Consider the bedazzled cerulean hand, grasping for a spiky celestial glob(e) of teal estrogen needles. My attention is drawn, metonymically, to the artist's divine hand, her instrument of genesis and execution.
~~~~~~
"THIS IS WHAT TRANS LOOKS LIKE"
Tarot in the backseat of the car
Crammed with artists who know
Melodrama with a thorn & gossip
On shrooms with a rancor for men;
But still we'll do a reading for love
& leap with cruel optimism
When we draw the 2 of Cups, relish
its promise of passionate commitment.
We think in triptychs: pissed / prescient / futile,
Sink our claws into the roots of the earth,
Reevaluate what's exhausting us, draw
On our inner reserves of strength. Drop
Dead gorgeous god-exes, planting geodes
In liminal spaces: we seed ourselves free.
~~~~~~

Note: All poems were written by Noa/h Fields. Quotes included in poems are direct quotes from Sofia Moreno, from a private virtual exchange in August Noa/h participated in with the artist and scholars of her work, Rae Langes and Kira Xonorika.
---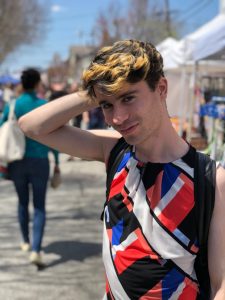 Noa/h Fields is a genderqueer poet and teaching artist. They have written for Filthy Dreams, Telekom Electronic Beats, Anomalous Press, and Scapi Magazine, among other publications. Their first poetry book WITH is out from Ghost City Press. They are fond of techno and avocados.