Abundant & Diverse: An Overview of Visual Arts at Riverwest FemFest
Since 2015, Milwaukee's Riverwest FemFest has become a popular and important festival within the city's creative community, one that supports artists and musicians across multiple venues through concerts, performances, exhibitions,…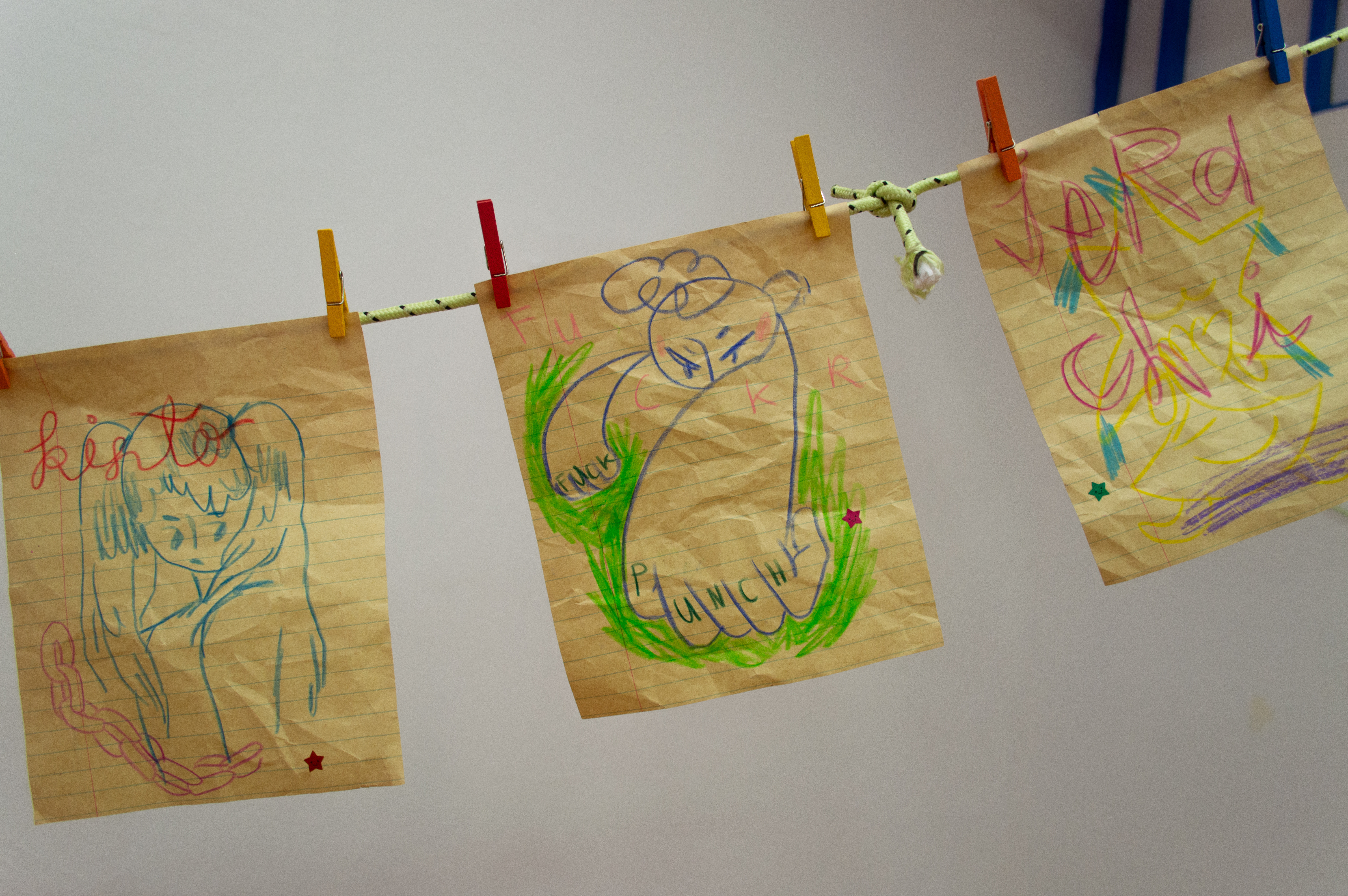 Since 2015, Milwaukee's Riverwest FemFest has become a popular and important festival within the city's creative community, one that supports artists and musicians across multiple venues through concerts, performances, exhibitions, and workshops. As a platform for femme, gender non-conforming, non-binary, trans, POC, and womyn creators, FemFest acts as a fundraiser for various non-profits and donates all proceeds from the week-long event to local organizations that support womyn, LGBTQIA+ individuals, families, and marginalized groups in the city.

The festival ran from May 26 – June 2 and this year, all proceeds were donated to Milwaukee Women's Center, an organization that provides services to people who have been affected by domestic violence, addiction, mental health issues, homelessness, and poverty, and Diverse & Resilient, a non-profit organization that supports LGBTQ+ individuals through programs that encourage sexual health, build leadership skills and confidence, and provide anti-violence initiatives and support for substance abuse. Since its inception, FemFest has grown in size, concept, and location and now extends into neighborhoods beyond just the Riverwest community in Milwaukee, where it first got its start.
Beyond the many local bands, singers, and performers that take part in the festival, FemFest provides an opportunity for emerging and established artists to exhibit work at gallery spaces around the city. Ranging from DIY and artist-run spaces to live-work spaces and established galleries, eight venues showed over 20 artists' works this year. Gluon Gallery, Yours Truly, Terry McCormick Contemporary Fine and Folk Art Gallery, The Real Tinsel, Walker's Point Center for the Arts, Facilitating Situations, Genesis, and Leenhouts Gallery were among the participating spaces. FemFest increases with momentum each year and the range and diversity of the artwork presented over the weekend did not disappoint.
Evelyn Patricia Terry, a Milwaukee native, opened her home–which functions as a studio space, living space, and art gallery (Terry McCormick Contemporary Fine and Folk Art Gallery)–for FemFest Gallery Day, a day when various galleries around Milwaukee open their doors to highlight the works of femme and womyn makers and show their support for the annual festival. Evelyn began collecting work in the 1970s and has a collection of works that, after seeing inside her home, must be somewhere in the thousands. Upon entrance, one can spot in-progress projects spread out across every room, nook, and cranny in the home. Framed paintings, drawings, and prints hang on nearly every inch of wallspace, and materials sit in piles and boxes waiting for their moment to be put to use.
Evelyn's dedication to supporting artists is acknowledged through her every action and aspect of her life. Works from plenty of other Milwaukee artists are part of her personal collection and can be spotted throughout the home, including Ariana Vaeth, Della Wells, and Fatima Laster, to mention just a fraction. She notably keeps archives of information about her personal and gallery collection in large binders full of ephemera, notes, newspaper clippings, show cards, and handwritten bills of sale – anything she can find about the artists that she has collected or shown becomes part of her archive/directory.
Known to be a "hidden gem" in the city of Milwaukee, the inclusion of Evelyn's gallery on the FemFest gallery map is a prime example of how abundant and diverse the artist community is in Milwaukee. I've been gallery hopping for nearly eight years and my visit over the weekend was my first time in her space. She has been a practicing artist for over 40 years with her work spanning a range of media: drawing, printmaking, collage, bookmaking, and installation. More of Evelyn's work can be seen in her exhibition, America's Favor/Guests Who Came to Dinner (and Stayed!) which is currently on view now through July 28, 2019 at Lynden Sculpture Garden.
FemFest Gallery Day is known for its support of artists at all stages in their careers, and while Evelyn's near 40 year legacy is surely impressive, many other participating spaces highlighted the work of emerging makers as well.
Gluon Gallery, a garage and artist-run space in the Riverwest neighborhood of Milwaukee, showcased work by Alli Smith, Cecilia Palacios, and Sarah Benforado. Sarah's participatory piece encouraged viewers to place their face inside of a large "1st Place" ribbon, reminiscent of a "head-in-a-hole" board. Nearby gallery Yours Truly, a clay studio and community space in Riverwest, hosted a Tarot reading workshop in collaboration with Other Dust, a witchy project led by local artist and Scorpio, Kayle Karbowski. Participants were encouraged to investigate the Tarot through their intuitive understanding of the four elements and the 12 astrological signs. Also on view at Yours Truly was work from Emily Bury, Nina Keizer, Katie Chandler, Sunshine Ray Pop, and Riley Niemack. Chandler's illustrations explore contemporary representations of Muslim women by utilizing parts of American culture combined with Islamic imagery to discuss one's religious and personal identities.
Fibers, sculptures, and paintings from Ella Anderson, Nicole Naudi, Malia Spellman, and FemFest Gallery Day organizer Melissa K. Mursch were on view at Real Tinsel, a storefront space on the Historic Mitchell Street. Made up of neutral blocks of color that resemble skin tones, Mursch's fabric painting was embroidered with the phrase, "can i guess your nationality?" An artist and poet, Mursch's work shares her identities and vulnerabilities in hopes to create deeper understanding and accessibility of topics like race and intimacy.
Leenhouts Gallery on Milwaukee's east side also exhibited work that focused on race and identity. The gallery showcased work from local artist collective LUNA (Latinas Unidas En Las Artes), a group that empowers and supports LatinX artists in the Milwaukee community. LUNA also hosted artist workshops the previous week led by members of the collective. Making a splash in the community by organizing engaging and thoughtful programming, members of LUNA are making sure their work is seen and voices are heard. Co-Founder Katie Avila Loughmiller recently published an article addressing white gallery owners and racial inclusion in the Milwaukee art scene.
Many of the other participating galleries also provided visibility for emerging artists, such as downtown gallery space Genesis, who showcased the work of Liala Amin, Sase Eisenmann, Eli Huckabay, Sydney Lange, Pilot Lee, and Teena Wilder. Walker's Point Center for the Arts (WPCA) exhibited work from Hannah Bender, Diya Gitanjali Mark, Yessica Jimenez, Natalie Pacheco-Vallejo, and Stefanie M. Valverde. Illustrator Yessica Jimenez's work focused on the female identity, as she intends to empower other women of color through her work and spark conversations about social justice, self love, spirituality, and traumatic experiences, using art as a gateway to begin discussing these topics. WPCA will also be hosting Part II of FemFest's Film & Video Showcase in collaboration with the Community Frames series on June 12th at 6:30pm. The program will highlight local makers who have been historically left out of creative spaces on screen and behind the camera. Part I of the showcase took place earlier in the Festival at Microlights, a neighborhood cinema that platforms independent film and video artists.
Neighboring Facilitating Situations, a space that focuses on economic exchange and support of artists through the sale of artist-made goods, exhibited work by Cynthia Ho and Izzy Waite. Waite, along with FemFest exhibitor Nicole Naudi and local artists Sommer Ferguson and Emma Ponath, is co-founder of Pink Salt Art Collective. Pink Salt believes in the social necessity to create, communicate and uplift. They intend to stimulate resistance, empathy, and conversation through print publications and by platforming social and political work from all identities and experiences. Cynthia Ho's drawings were displayed across the gallery clipped onto rope, similar to a clothing line. Waite's wall-hanging sculptures complimented the drawings and nodded towards domesticity through pattern, color, and form.
Riverwest FemFest is an important platform in the Milwaukee community for underrepresented artists and makers. For some artists, it may be the first time they get to experience their work in a gallery setting. For others, it may be an opportunity to welcome visitors into their home studio/gallery space. For all taking part, FemFest acts as a reminder that Milwaukee has an incredible network of diverse and noteworthy femme, womyn, non-binary, gender non-conforming, trans, and POC artists who have earned the community's recognition as important cultural producers.
Featured image: Drawings on notebook paper that depict characters and text are displayed hanging by clothespins at artist-run space Facilitating Situations. Artwork by Cynthia Ho. Photo by Cristina Ossers.


---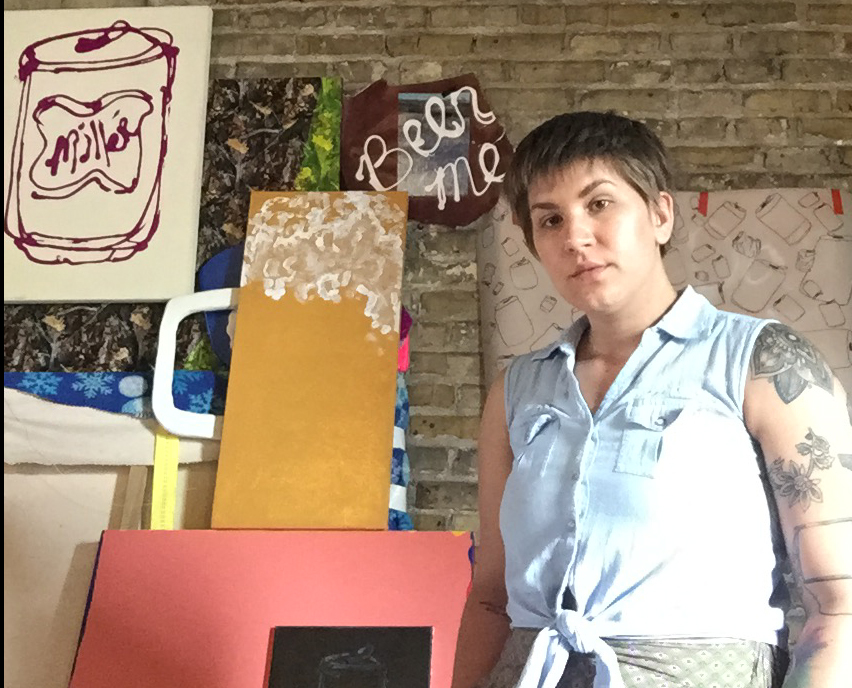 Rachel Hausmann Schall is a visual artist, writer, and arts organizer living and working near Milwaukee, WI. She has exhibited work nationally and at many galleries and alternative spaces in Milwaukee, where she maintains a role as co-director of the satellite artist collective After School Special. She is interested in artist-run, DIY, and alternative spaces that support emerging and underrepresented artists through exhibitions and programming within the greater Milwaukee area. Rachel Hausmann Schall received her BFA in Integrated Studio Arts from the Milwaukee Institute of Art & Design in 2015, where she now works as administrative staff.