Stepping In and Seeing Through with Artist Kelly Clare
Kelly Clare embraces the visceral quality of materials, never turning away an opportunity to acquire discarded objects and pair them in unlikely ways.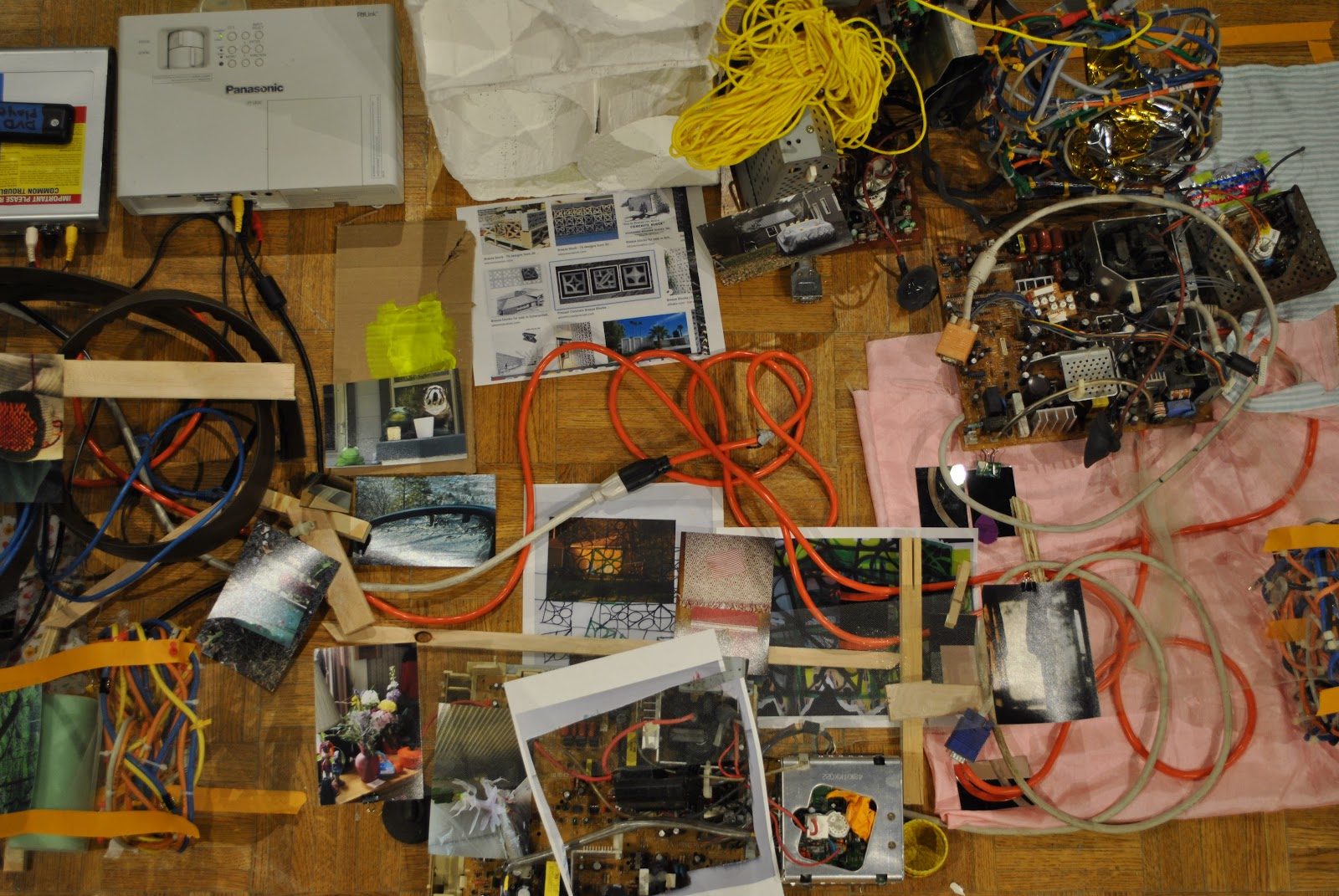 Kelly Clare embraces the visceral quality of materials, never turning away an opportunity to acquire discarded objects like a pile of ethernet cables, wood scraps, or the insides of an old cathode-ray tube TV. The Massachusetts-based artist, poet, and educator is excited by these types of materials and their potential as artistic mediums. In her work, an extension cord becomes the line of a drawing, a piece of cardboard acts as a substrate for a painting, plastic drop cloths are woven together as a quilt, and a tarp is the backdrop for a projected video. For her most recent solo exhibition, enter / the net / here, at the University of Wisconsin Stevens Point's Edna Carlsten Gallery, Clare presented a body of work about one specific object: the breeze block.
The breeze block is a decorative and functional concrete building block (similar to a cinder block), designed for the passage of air and light. The repetition of these blocks on the facade of a building or as a wall in a backyard creates a grid-like pattern with geometric details. The breeze block gained popularity in the 1950s-60s when it was used as an alternative to common fencing material by creating privacy with architectural appeal.
Clare describes her obsession with the breeze block which has been inspiring her work for years,
"There's this breeze block fence that started it all. I was walking by my neighbor's fence one day and noticed that the breeze blocks were out of order. A few of them were clearly misplaced and that misalignment started to mess with the pattern of the breeze blocks. Breeze blocks also feel like calendars to me for some reason, but that makes sense, because of the pandemic's impact on time over the past three years. Time has felt misplaced, just like the blocks I saw on this walk. It's like I've been trying to process misaligned time with this body of work."
In a gallery space, Clare's work mimics the feeling of an artist's studio. Her arrangement of various objects and materials create multiple installation experiences which viewers navigate between. She combines drawings, paintings, collages and sculptures with found objects, projections, and hanging textiles. Suspended ropes act like clotheslines for art, hanging large swathes of fabric, dividing space and becoming mechanisms for displaying collages, textiles, or drawings. The space between works are portals through which viewers can enter new portions of the gallery. Walls of the gallery are filled with large-scale textile works, depicting digital collages of the breeze block. The same form is repeated throughout the space in different mediums, tempting viewers to turn the next corner and discover new combinations of Clare's materials. The organic presentation of work in a gallery mimics her intentionality and instinctual way of working.
Clare says,
"I very much need to be in the space to create. This gallery was a huge mess during install, with piles and piles of stuff. I just play off of what's here, in the space. I also gather materials when I'm on site somewhere to use. It's a very organic process for me and definitely pulls from the language of drawing. One of the things I struggle with as an artist is balancing the material delight. I have been influenced by Jessica Stockholder and Sarah Sze for a very long time. But, I also need to have a conceptual motif or idea I'm working through, and I'm finally figuring out how to balance that."
She continues,
"I'm definitely a fast worker. A challenge for me is that I need to find ways to create material density in a certain slowness. So, I do that by finding materials that are already very detailed and intricate, like the innards of a TV. There's a lot going on there already. Or, I create drawings or printed material that are dense and this helps the viewer slow down and look closer. I cycled through many things digitally that had more visual complexity. I try to bring modular parts that have more detail and time built into them so I can work fast in the gallery. I anchor space with those dense moments in a space so it can vary the speeds of my work and create a variety of experiences for the viewer."
Material densities abound in a gallery space filled with Clare's work. Piles of wound up cords sit atop textile pieces laying on the floor which are layered with drawings on transparency sheets and scraps of wood and rope. Next to areas like this are invitations to slow down and consider individual works, like a plaster sculpture of a breeze block, printed photographic collages, or small, colorful drawings of the same form.
The repetition of the breeze block theme in various media reinforces its structure, form, and presence as an object. Videos projected on hanging emergency blankets and over the top of collages or transparencies taped to the wall add layers to her work, like creating washes in a painting.
Clare describes her moving image work,
"It's hard with video, because I think of them as objects on their own, but they can also be utilized in a space and I can let them play with other material. They pick up more context and spatial awareness.
So these are all of the breeze block drawings; I scanned them and did some green screening in Premiere. Then, I researched 'ethernet cable catastrophes' on Google images, while scrolling through the results and screen recording. I was really interested in these images interacting together, putting them up next to each other; I wanted them to be pressed into each other (breeze blocks and ethernet chords)."
Clare is interested in material resourcefulness, conceptualism, and experimental interdisciplinary artistic practices. In fact, the avant-garde art movement Fluxus, which embraced the creation of art in many forms like performance, poetry, video, and visual art crafted with a do-it-yourself attitude, remains a large influence on her work. Clare describes her connection to Fluxus through a recent zine,
"I love getting photo prints made because they are so affordable, so I wanted to make little collages I could send out with the zines. I wanted to have this tangible addition, which I am trying to incorporate each time I make something. That type of ephemera is interesting to me. It's related to Fluxus, like Fluxus ephemera, which I love. The Fluxists have a really lovely permeability that I really care about. There's this great Alison Knowles interview where she talks about a drip water piece with a pitcher that they were performing on a ladder and Alison said, 'yeah we take the pitcher home afterwards and use it for orange juice the next day.' I think there's a temptation when you use an object in an arts practice that you 'pedestal' it. You hold it up to a higher standard and think 'now this is an art object'. But I love Fluxus for the treatment of objects where things used in art can also be used for utility. There's a certain amount of playfulness and joy I find in that."
Clare's discusses the rumination over the breeze block in her work,
"It's a form of meditation also, a way of rotating around something. I'm not a hit the nail on the head kind of person…I like to rotate around an idea or concept to try to get at something in the middle that I can't quite touch. That's usually my experience writing poetry and my experience making work. You're trying to point at something from enough angles so that from a distance you can locate the center."
Indeed, in this exhibition alone breeze blocks are objects seen through a myriad of lenses. Clare compares them to paywalls, saying, "the way they function as an architectural element is that you can see through them, but you also kind of can't see through them, like a barrier." They are visual keys that give visitors something solid and recognizable amidst the potentially overwhelming and disorienting nature of the exhibit. They are objects to be placed in conversation with apparently unrelated objects, like ethernet cables and their repetition throughout the space feels familiar.
She continues,
"I think of my work as earnest decoys. [Breeze blocks] aren't the real thing, but they are like the thing. They aren't trying to trick you, they know they are fake. I've been thinking about decoys for years now. I'm curious and interested in how to make decoys better. Things that stand in for other things. Like the plaster breeze blocks I made, they weren't breeze blocks, but they use the language of them and stood in for an object I couldn't bring into the gallery."
As an artist that has lived in many cities, Clare savors her connection to the Midwest, "I love the Midwest and midwestern generosity. I've had a lot of experiences visiting rural art museums and had great interactions. The Midwest is also a great place to make weird, contemporary art. There's a lot of space, there's a lot of material — there's a lot of cheap material. You don't find these opportunities out east, where space is at a premium. There's a certain generosity of material in the Midwest that is very fruitful and makes a lot of things possible for artists. It's exciting."

Clare's recent exploration into the breeze block in enter / the net / here has widened her interest and understanding of the form, inspired unexplored material directions, and encouraged new conceptual possibilities. Interpreting the architectural building material has opened up new avenues for artistic consideration that will continue to influence Clare's written and visual work.
Read more about Clare's photo based work in an interview published on From Here On Out with Hilary Nelson.
---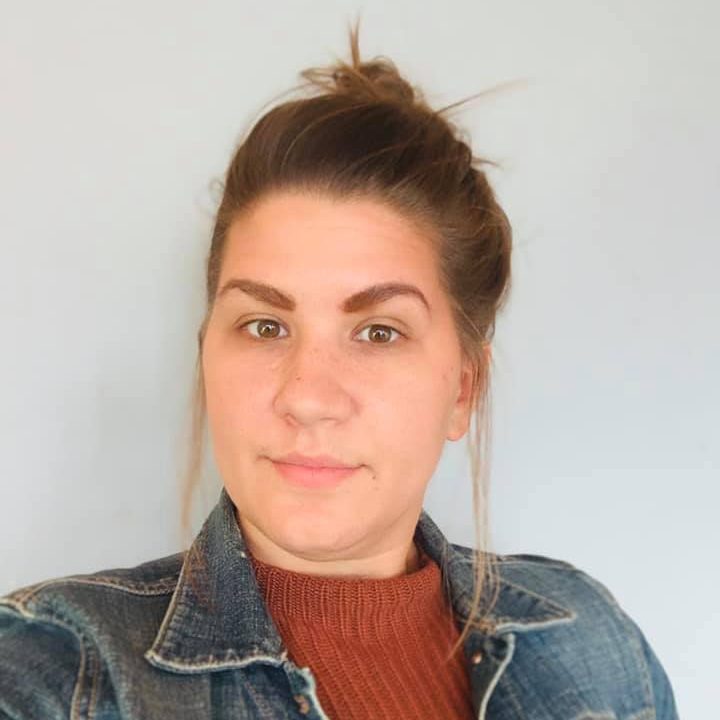 Rachel Hausmann Schall is an artist, writer, and educator living in central Wisconsin. She holds a BFA from the Milwaukee Institute of Art & Design and has exhibited work nationally at many galleries and artist-run spaces. She co-founded the emerging artist grant and exhibition program The Grilled Cheese Grant and currently writes for the Wisconsin-based publication Artdose Magazine. Rachel Hausmann Schall also works as Curator of Education at the Leigh Yawkey Woodson Art Museum in Wausau, WI.