A Sense of Place: Photographs by Ted Diamond at Ramp Arts
UNIFORM In his native environment, Homo economicus quietly assimilates with his surroundings. Luggage in tow, he haunts airports, office complexes, hotels, and other vestiges of global urbanity, donning the white-collar…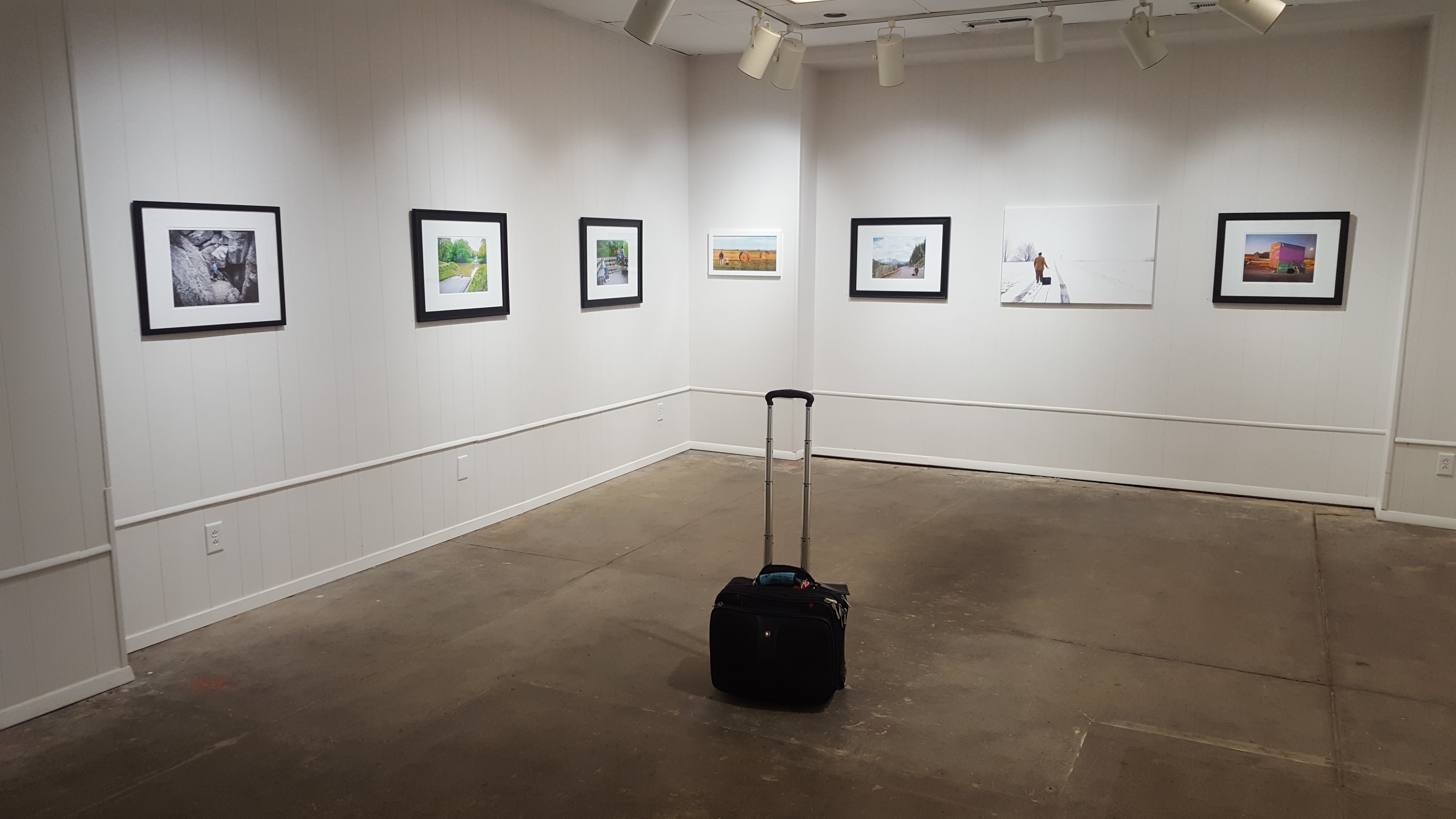 UNIFORM
In his native environment, Homo economicus quietly assimilates with his surroundings. Luggage in tow, he haunts airports, office complexes, hotels, and other vestiges of global urbanity, donning the white-collar camouflage of ubiquity, anonymity, and one-dimensional conformity. In A Sense of Place, Ted Diamond conjures a caricature of Homo economicus and photographs him in scenes depicting travel and its human affects. Marking his personal transition into an artist with a teaching career, these photographs depict scenes from his ambivalent adoption of the capitalist in-group's signs. In Diamond's words, "These images have become a document of my life in that rolling laptop bag business culture and how it infused into my life no matter where I was." But these images are no mere representations of jet-setting businessmen doing business; rather, Diamond extracts Homo economicus out of his natural environment and releases him into the real, human world. He scrambles the codes of global capitalism – rolling laptop bags, frumpy suits, exhausted gazes, and collective alienation – and deposits them into the irrational space that Homo economicus otherwise conveniently ignores: the space of intimacy, of nature, of family, of communion.
The photographs in A Sense of Place feature two consistent subjects: Diamond (or perhaps an exaggerated version of Diamond), and his basic, black rolling laptop bag. The artist is typically costumed according to office dress codes: suits, khakis, Oxfords, ties, impractical shoes, and occasionally dressed down in a polo shirt (ostensibly, these last photos were taken on a Friday). But, like a fish out of water, we see him in settings in which such attire is awkward, if not absurdly impractical. The result is an adept, disarming affective connection between the viewer and the subject, who seems to be living with a terminal stage of Freaky-Friday-esque imposter syndrome. In The Labyrinth, Diamond hikes through a barren mountain pass with laptop bag in tow. One needn't be an Eagle Scout to feel a tinge of worry for him – does he have food or water? Wouldn't backpacking gear would be more effective? Has his stare, focused out of the frame, captured a glimpse of another, harder ascent? In No Snow Days, which evokes C.D. Friedrich's iconic Romantic masterpiece Wanderer Above the Sea of Fog, Diamond drags his laptop bag through a soupy Midwestern winter snowscape. The icy slush virtually pools inside my own shoes after viewing the photograph for a few moments.
Beyond physical effect, A Sense of Place presents scenes that simmer with the disengaged emotions that preoccupy the traveling flâneur. Waiting for the Ferry and Admiring Nature, two of the show's strongest pieces, are stressed with the erotic tension that builds in the absence of true intimacy. In Waiting for the Ferry, Diamond (with his omnipresent bag) is turned away from the viewer and casts his gaze across to the distant shore of a stygian river, where a ferry is parked. Paused helplessly before his natural obstacle, the traveler is left to envision the fruits that await him on the other side of impossible.
Admiring Nature depicts Diamond on a fishing trip with two children. Clad in his work attire and standing beside his laptop bag, Diamond is tucked into the farthest edge of the frame and stares aloofly away from the children like a captain surveying the sea. While the young girl sits nearby, loosely holding a fishing pole and glancing in the same direction, the boy sits on the other side of the frame and smirks directly into the camera. Could three people—presumably family, to boot—be less intimately engaged with one another? Via intent stares, each subject is absorbed in something beyond the frame rather than immersing themselves in the opportunity to fish together and enjoy the outdoors in the manner suggested by the work's title. Diamond's clothing and luggage amplify the alienation experienced by both a father whose head is somewhere else and by the children who are left to occupy themselves. This anti-family-portrait points to the allure of Pessoan symbols of desire that lay out of reach; to the traveling father, when his family is not seen, its mystique can objectify the family unit and its individual members. Despite the apparent desire for catharsis via contact with the unknown, once an intimate encounter is finally available, it predictably fails to live up to expectations. The sublimated family-object simultaneously inspires desire and instills fear in the witness.
"There, where you are not, there is happiness."
Both Waiting for the Ferry and Admiring Nature, like many of Diamond's photographs, play with the Kantian Romantic ideal of human discovery via immersive contemplation of nature, but elicit drama from their subjects' faces and body language. Despite being the primary human subject of his photographs, Diamond's face is not always visible. When within view, Diamond's blank expression betrays little more than detached bewilderment. This is especially pronounced in 3 Sketchy Characters, in which two other subjects grin with "Can you take our picture?" smiles while Diamond poses so stoically that he looks like he was Photoshopped in from an entirely different image. When he is in nature, is he present enough to admire it? When he is with other humans, is he connecting with them? Or, like the Romantic Wanderer, is he an independent visionary, alone atop the mountain?
I come from the mountains,
The valley is steaming, the sea is roaring.
I walk quietly, I'm not happy
And always the sigh asks, where?
BAGGAGE
Diamond's "rolling laptop bag" is the other star subject of A Sense of Place. Beyond upholding the verisimilitude of the traveling businessman, the bag is a remarkably empathetic character unto itself. Like Diamond, it is never comfortable in its surroundings. (Perhaps he should upgrade it to have off-road wheels?) It is cast as both a burden and as a familiar companion that lightens the tedium of the road. In both senses, it is an anchor; a heavy yet necessary load that contains all the essential comforts that a white-collar nomad needs to feel like he never left home. It is both beast and burden.
As a traveling photographer, Diamond has adapted his approach to photography to accommodate his unpredictable environments. Like American documentary or frontier photographers like Mathew Brady, Ansel Adams, or early Ed Ruscha, he has turned his studio outward; he travels as a sort of mobile studio that encompasses the locations and subjects that he encounters along his travels.  For many of these photographs, Diamond had to enlist the help of underqualified bystanders. In this manner, his travels become a sort of open studio visit: a salon-like forum to engage with the community, to break out of an isolated practice.
This openness results in works like Go Cart, the single most energetic and humorous photograph in the show. Shot from the driver's seat of a go cart speeding through a forest dirt road, the photograph is heavily motion-blurred, but the viewer can make out the laptop bag strapped to the front of the go cart. This image is wild light shining through the crack of Diamond's otherwise sterile misadventures; this is travel (love), not tourism (prostitution). And who could be having a better time than that bag, reaching out to kiss the wind?
During A Sense of Place, Diamond's bag is positioned in the center of the exhibition space. It is a dual symbol; it signals participation in "the rolling laptop bag business culture", as well as the luxurious privilege of voluntary refugeeism. This second globalist era is both expanding and restricting our movement throughout the world: it is the time of closed borders, travel bans, immigrant raids, and forced family separation, as well as cosmopolitan elites, around-the-clock remote workers, and oversharing vacationers. At the contemporary airport, we are equalized by the the logistics of the total administrative state. Those of us who are in a position to travel for work or for leisure are flirting with the institutional structures of globalism: statehood, borders, foreign policy, and the capitalist body. The rest of us travel for safety, for freedom, or because we have no choice. These travelers reduce themselves to the body and what it can carry, and are left to envision the fruits that await them on the other side of impossible.
Where my friends go walking,
Where my dead rise,
The land that speaks my language,
O country, where are you?
---

Featured image: A lone black suitcase sits in the middle of the Ramp Arts gallery space with its handle extended. Numerous photos from the photographic series "A Sense of Place" are hung on the surrounding walls. Photo taken by Edward Breitweiser. 
This article is part of Sixty Regional, an ongoing initiative by Chicago-based arts publication Sixty Inches From Center which partners with artists,  writers, and artist-run spaces throughout the Midwest and Illinois to highlight the artwork being produced across the region. This work is made possible through the support of Illinois Humanities, which is supported in part by the National Endowment for the Humanities and the Illinois General Assembly through the Illinois Arts Council Agency, as well as by contributions from individuals, foundations, and corporations.
---