Workin' 9 to 5: For Those Who Toil at Purple Window Gallery
Michael Chambers and Millicent Kennedy offer an ode to the forgotten working class in their two-person show.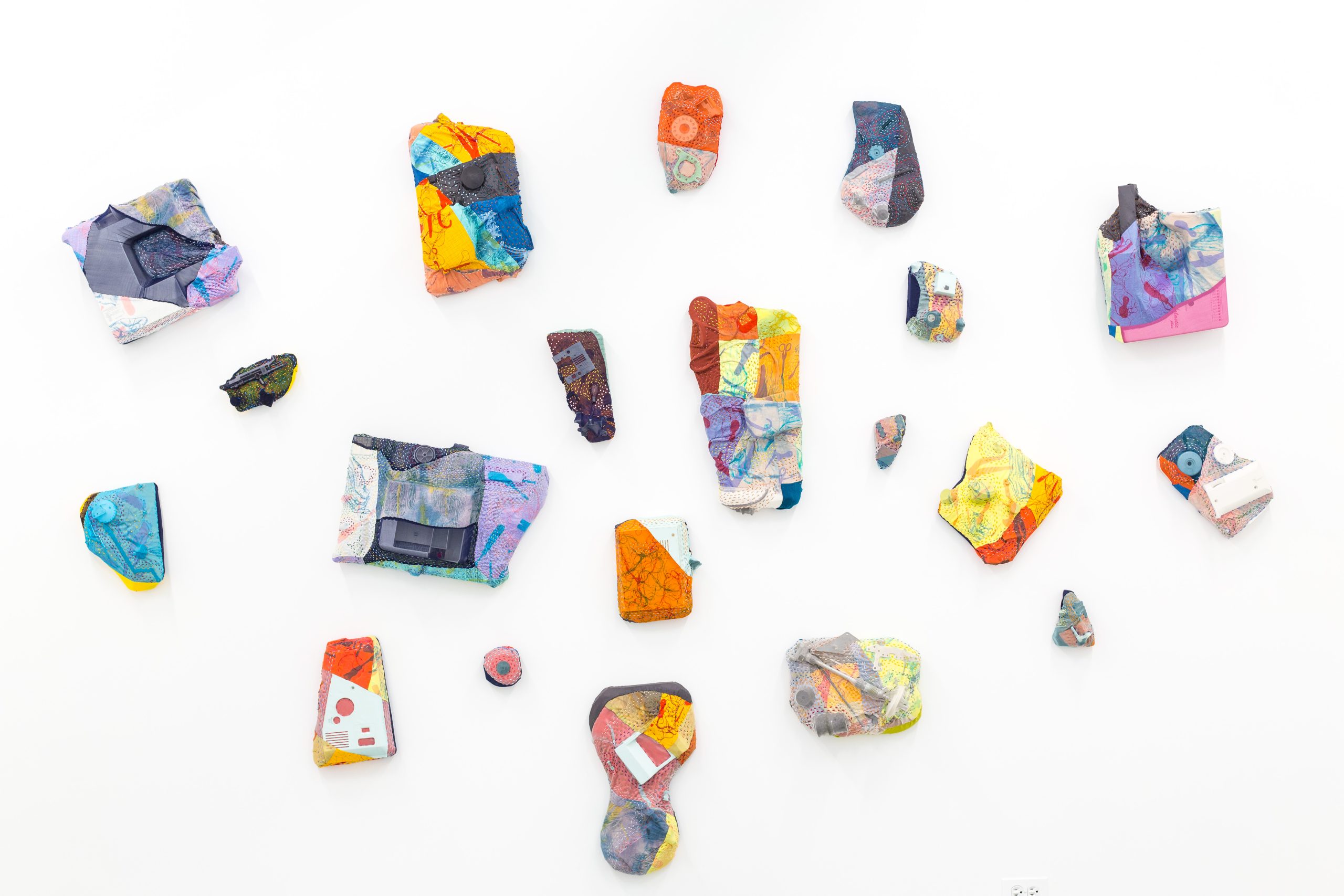 Talking about work — what it is, what it means, why you do it, when you do it, and how you do it — is difficult in America. In theory, work is celebrated, heck it's fetishized, but here's the capitalist' kicker: some work is celebrated, other work is denigrated, most work is ignored, and a small sliver of all work is exorbitantly compensated. What category do you fall into? If you're like most of us, you're in the pile of labor that goes unnoticed. Yet, this does not mean your labor has no impact. Rather, it's often the difficult labor that takes a toll on one's body, that ends up forever altering a person. Think of workers falling ill from poor working conditions, environmental pollution, and safety violations. Michael Chambers and Millicent Kennedy's For Those Who Toil at Purple Window Gallery speak to this stark, illogical, and violent reality. Both artists, also acting as curators (Chambers and Kennedy both are Projects Team Members in Purple Window's collective ownership) explore the tactility and physicality of labor, both local and global, to shift the perspective from the realm of individual choice to the condition shared by all.
Chambers and Kennedy highlight steel and textile industry labor as skilled and beholden to one's physical limitations. It's hard, manual labor Toil's art embodies, but such heft is coupled with balletic fragility. Just as weaving, embroidery, and stitching require deft and delicate hands, so do the logging processes. Both are alchemical in a fashion: the worker possesses the knowledge and memory to remake the world around them. Yet, the workers in these industries are routinely exploited, underpaid, and mistreated. Chambers and Kennedy tell the story of why such violence occurs and where we can go from here. The story begins in Calumet, Illinois.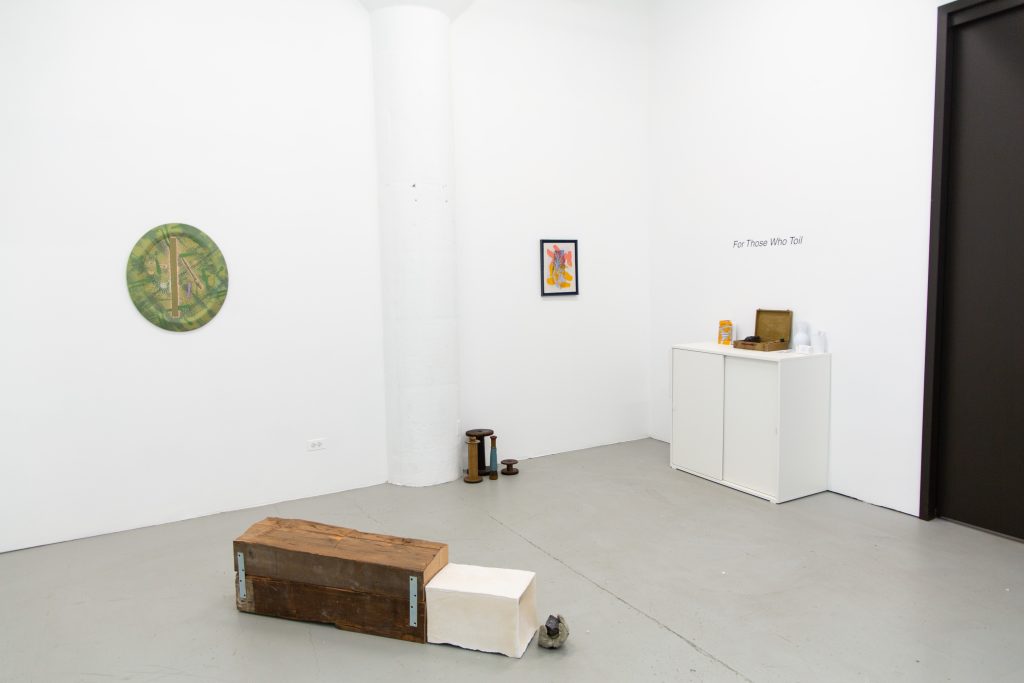 Calumet, a city just outside east Chicago and located on the southern tip of the state, was once the epicenter of the region's steel industry. Throughout the 20th century, the steel industry and attendant manufacturing jobs (like mining, transportation, and logging) brought an economic boon to the mostly working-class area. However, in a tale as old as time, America and capitalism have never been friends with the working class. As demand for steel lessened after World War II and global economy precipitated cheaper outsourced labor, jobs were decimated. Calumet was given no federal or state assistance to deal with the environmental impact of the steel industry's decades-long extraction.
The story of Calumet is one point of an innumerable constellation of abuses and exploitation in a system that is nourished through violence. Think of the current fights for clean air on Chicago's South and West Sides. The Guardian reported just this month that Chicago has the third highest level of fine particulate air pollution in the nation, or think of the fact that the fashion industry is the second largest polluter in the world, with eighty-five percent of all textiles dumped in landfills and oceans. Textile workers, predominantly women and children, are rendered expendable within a system that thrives off of the work done by those too poor and too vulnerable to matter under capitalism. Chambers and Kennedy have illuminated these stories to honor the legacies of labor that have come before and what may come after.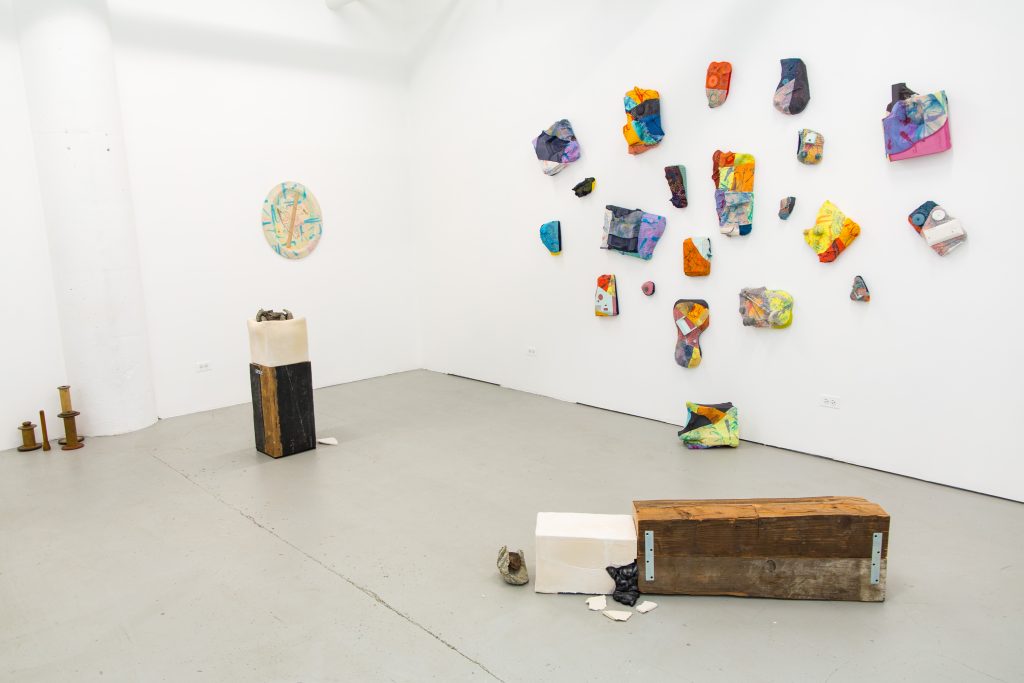 In turn, Chambers' sculptural Sundry Slag Part I & II honor the legacy of Calumet. More specifically, those who were left behind by the federal, state, and local government by both losing their job(s) and left to recover land inextricably altered through steel extraction and industrial pollution. Both pieces are composed of steel slag, cast concrete, ceramic, reclaimed wood, expanding foam, asphalt tar, and diesel exhaust fluid. The diesel fluid condenses to create a crystalline outline upon the edges of each piece, a dusting akin to snow. Both pieces are anchors, monolithic and monumental odes to memory. Sundry Slag Part I & II are reminders that homes change but you have the power to make something beautiful out of violence.
Kennedy spoke of the 2016 documentary Machines and investigative reporting on fast fashion and sweatshops as the catalysts for their work. Machines chronicle the life of an Indian textile factory. The film illuminates the factory's deplorable working conditions while safeguarding the workers' dignity and agency within. In the film, there are numerous shots of workers' hands skillfully dyeing, embroidering, and weaving fabric. What one worker in the film states becomes the name of Kennedy's We Have Hands And So We Work series. In the series, Kennedy embeds and disassembles a defunct sewing machine within multiple art objects. With organza, dye-printed, and immersion-dyed cotton within a handmade frame, the tools of the machine are given new life. Kennedy's colors are kaleidoscopic and vibrant, with marine blues and olive greens cocooning each machine's part as their outlines press against the cotton. When up in Purple Window Gallery, each piece in the series was positioned in imitation of a sewing machine exploding upwards; the pieces worked with one another to extend and expand all parts of their whole.
The For Those Who Toil series consists of two pieces, All Threads and Constructed. Both pieces contain four-layer screen prints with fabric dye in a handmade frame. The screen prints are silhouettes of hands — blue, salmon, gold, green, and icy yellow — all in various states of activity. Some are weaving, some are plucking, and others are untangling. All are working.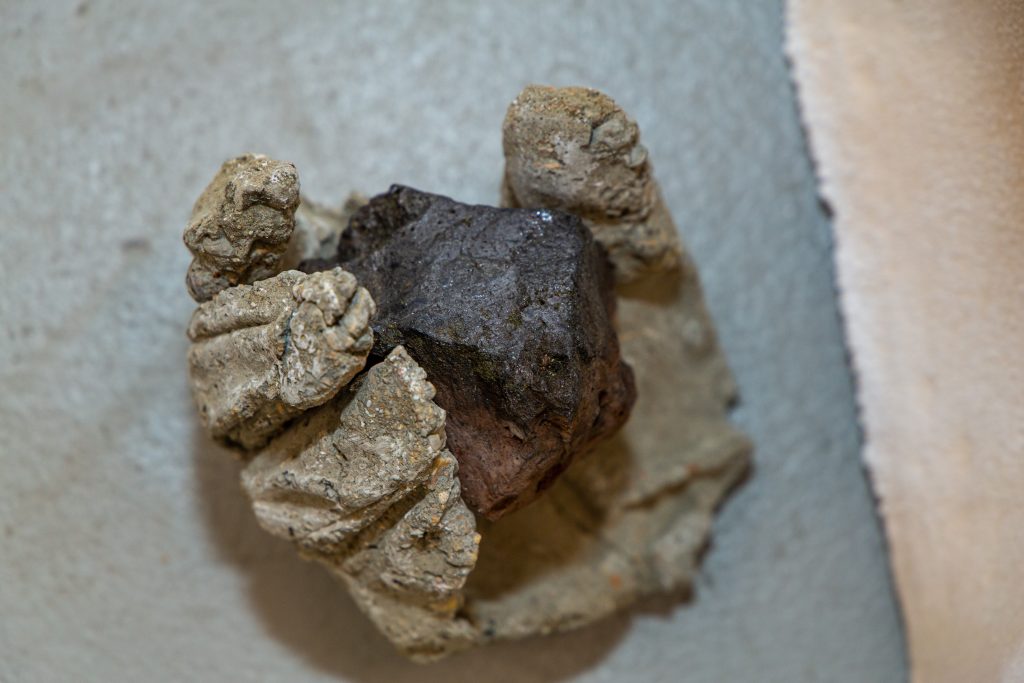 Throughout the exhibition, there was a constant reminder of our relationship with machines: the work done with them and how they change our relationship with the self, the other, and the world around us. This is not to say that Toil foregrounds the machine, rather the opposite stands true: Chambers and Kennedy humanize labor by arguing that through skill, strength, and ingenuity, laborers remake the world. People, those who toil, deserve dignity in work. For is it not workers who make the world go around?
For Those Who Toil was on view at Purple Window Gallery from February 3 – March 3, 2023.
---
About the Author: Annette LePique is an arts writer and Lacanian. Her interests include the moving image and jouissance. She has written for ArtReview, Chicago Reader, Stillpoint Magazine, Spectator Film Journal, and has forthcoming work in Eaten and Belt Magazines.