When Artists Confront Segregation
A look into how Chicago Home Theater Festival challenges segregation and pushed boundaries for artist and audience.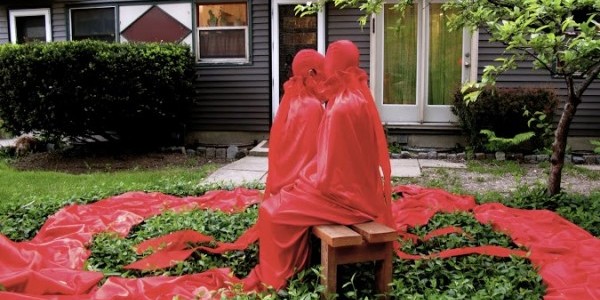 Chicago is one of the most segregated cities in the US, if not the world. The pervasive violence is a blockage in the artery of the warm heart of this cold city. As citizens, we lament this master narrative in the same way we regard our seven-to-nine-month winter. It's a core value. It's a chip on our shoulder. It's unavoidable. For the creative people who come here to make a life, Chicago is met with a deep awareness of, but defiance against, these narratives.
We know that the DuSable Museum, The Art Institute of Chicago, and the National Museum of Mexican Art must be here for a reason. Often it is the institutions that bring us here, but the collective that makes us stay. The great migrations that transplanted various artist communities here express a history of collective building and grassroots organizing that cannot be denied. Experience tells us that this segregation narrative is promoted in spite of the shining examples of folks who refuse to allow it to color their work, divide their kin, and destroy their practices and lives as creative beings.
The Chicago Home Theater Festival (CHTF) embodies the timely hubris that artists and curators can challenge segregation without needing to be knee-deep in aldermanic and mayoral mire in order to do so. CHTF aims to transform homes into sites of radical generosity – dozens of folks in the local arts and activist communities open their homes to complete strangers and artists to present a wide range of interdisciplinary art for the month of May. Like other progressive artistic projects such 96ACRES, 3rd Language, and A Long Walk Home, CHTF proposes that art can change lives and challenge the ways that we think about space.
CHTF was brought about by three visionaries: Irina Zadov, Laley Lippard, and Blake Russell, who themselves represent migration patterns to Chicago by way of Belarus, Virginia, California, Missouri, and New York.  The Chicago festival is the local version of the International Home Theater Festival (IHTF), which was founded in 2010 by Philip Huang, a friend of Zadov's who eventually connected her to Russell. Zadov's social justice path travelling across North America and Europe collecting recipes and stories of unity complemented Russell's massive following and experience as a performer and leader in the arts community.  Lippard joined the team mid-festival and brought her directorial and organizational eye to the work, drawing from her background as a Quaker and centering discussions around ritual into each home.
The three of them have worked together as organizers since 2012 with the goal of "bringing on new and diverse voices through a democratic process of consensus building and movement organizing." Their commitment to the collective is notable, with the sharing of ideas very apparent so no one person becomes the center of information in their correspondence. They admit that leadership by committee is always difficult, but the most radical act of the generosity often is to remain generous, kind, and open to continually returning to the mission even when personal feelings conflict.
Running for the month of May at the same time as the other IHTF, the CHTF aimed to inspire acts of radical generosity with local art makers and lovers – those established and emerging – opening their homes and most sacred spaces of solitude and communion to complete strangers and unpredictable artists. "We began by thinking about the diversity of Chicago – from the alleys to the skyscrapers, from the condos to the industrial centers," the organizers commented.  "We first reached out to hosts who we thought would bring a curatorial vision for their particular event, who have a unique relationship to their neighborhoods, and who really think about what it means to create a sense of home for themselves and others." Selecting works was a long process of deliberation, often with an element of unpredictability characteristic of grassroots organizing, which ultimately yielded a great diversity of venues that included housing cooperatives, apartments, lofts, and community centers.
Over the course of the month of May there were a total of 19 events.  I attended five and performed in one of them. The Festival provided me with several personal highlights: getting my friends to come to a neighborhood often flattened in media as blighted and violent, working with my dear friends of the Rebuild Foundation, showing my work to new audiences including the master performer Theaster Gates, and taking a risk on very difficult and personal work. As a viewer, I was often struck by the kind of vulnerable work that the other artists felt comfortable showing in the home setting. The breadth of the work curated under one roof frequently overwhelmed and awed audiences, with high art and low brow distinctions eradicated. There were experimental dances adapted for living rooms, performances and screenings where audience feedback was encouraged, theater pieces made with very sparse materials, songs about love, loss, and addiction on old pianos and computer speakers, food sharing of recipes from around the world, backyards and attics turned into stages for bands and poets, and dance parties/revivals. The streets of Chicago turned into characters themselves. For each one, folks were invited to meet a neighborhood tour guide beforehand to learn more about the regional history. One had to find strangers, often walk through unfamiliar territory, and enter what might be a friend or a stranger's house to witness some art. Vulnerability was built into the structure.
Communication was somewhat erratic, which made things more organic and exciting. There would be times of texting back and forth with my hosts discussing whether or not I would perform, whether or not we were meeting at a particular corner, and how to get to a particular neighborhood efficiently considering CTA's issues. It forced me and the other attendees to talk to each other, and we needed each other's support in this moment to embark on an adventure in the city where we live. This is radicalism at work – to be willing to go to an unfamiliar space with unfamiliar people and come out with an expanded sense of possibility about what one can do and where one can go. People become collaborators when they never would have done so before. Ji Yang's performance in Pilsen killing live fish and subsequently throwing his own limp, nude body on their remains brought us to a time when artists controlled the conditions of their work in salons, in apartments, and outside of the establishment. It brought many to the verge of tears and anger. This rarely happens in a gallery anymore – true risk that isn't manicured and managed became possible once again. The installment at Saint Francis House of Hospitality in Uptown explored mental health, substance abuse, and gentrification with beauty and grace, subverting dominant narratives about homelessness. Emotion is encouraged. High formalism exists but isn't required.
In reflecting on the most radical aspects of the Festival, the organizers commented on how "radical generosity was particularly alive, constantly adjusting and expanding through conversation and in action through the vastly different evenings." Lippard, Russell, and Zadov emphasized that their point for coming together is about human connection – they feel most people came away having connected deeply with a place, person, or concept that had before seemed different, other, strange, or uncomfortable.
While the three founding organizers often work without substantial compensation for many months to produce the festival, they are working through some concerns about sustainability. At the moment, they are asking themselves questions about how to expand and decentralize while also being able to continue to pay artists for their work. The next step of the festival may well be securingmore funding, which is right now primarily financed through short-term grants, donations, and drives. Due to the keenness to balance a diversity of media, content, and demographics from host to artists to neighborhood, they are also considering whether it is enough to just reroute a creative map for the month of May.
It's a difficult conversation, but the work of the Festival feels like it's just beginning to be able to address the larger questions of the neighborhood beyond simply gentrification. Can art expand our notion of safety and our circles of home and responsibility to other human beings? What scale and length of time is enough to make this work have radical impact? Am I my brother's keeper?
---
Rashayla Marie Brown is an interdisciplinary artist, educator, and writer whose practice spans across image-making, performance, research, and community building. Brown holds degrees in Sociology and African-American Studies from Yale University and in Photography from the School of the Art Institute of Chicago (SAIC). She has been awarded numerous fellowships and grants and currently serves as the Director of Student Affairs for Diversity and Inclusion at SAIC.