What is the Midwest?
"Place is a home, be it homestead, henhouse, town, nest, den, or cave. Place is renewal. It is history and hope for those who dwell there." —Jill Metcoff "Doubtless it…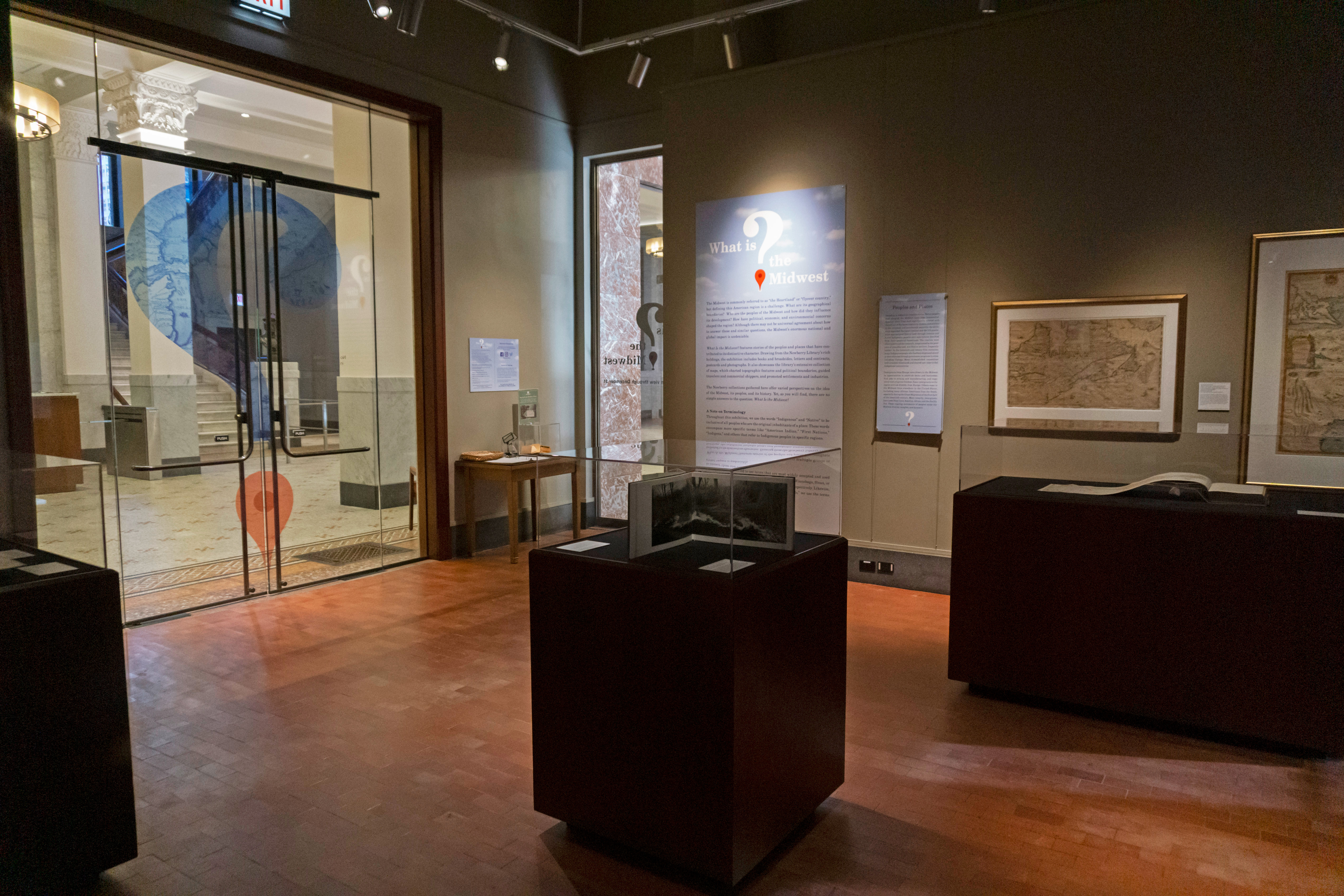 "Place is a home, be it homestead, henhouse, town, nest, den, or cave. Place is renewal. It is history and hope for those who dwell there."
—Jill Metcoff
"Doubtless it will be painful to leave the graves of their fathers."
—Andrew Jackson, 1829 State of the Union Address
The door is a question mark, one that also punctuated the title of the recent Newberry Library exhibition What is the Midwest? It's a question I've been stuck on for years now, as I've grown and felt the tugging that can only happen after you have sprouted roots in a place. This question of place functions as storage organ for the words and images produced by creators in the region. It is a lonely sort of potato. It can power the work – we feel we have to prove our place – or drag us down – we feel we have to prove our place.
Writer Dorothy Allison grew up in one such no-place, "the place that is no place for most other people." The truck stop. The diner. The grocery store. In her essay on place she instructs, "If you're from a place that no one knows, you have to invent it on the page." The burden of proof is on us.
—
Here, we do not always agree. When self-identified Midwesterners voted in a national survey on which states made the Midwestern cut, they never reached complete consensus. The inciting event of the survey was an argument between an editor from New York and his boss of Michigan descent. The Michiganian was frustrated by the New Yorker's carelessly drawn borders of the Midwest ("anything west of Philadelphia"). The New Yorker observes how Midwesterners have strong opinions about their place, also finding their survey definitions of the Midwest rigid, sharply defined in their home state and fuzzying with distance.
This trend suggests our regional identity, or unity, is fading as the relationship between place and identity collapses: The survey asks where? The people respond to who? Midwest means Midwesterner; I am here, right here.
Encyclopedia Britannica names the federally authorized list of states* included in the region before elevating the Midwest question to the realm of philosophy. There has been a change in the wind, the encyclopedia says. The Midwest has become "more an idea" than a place. I assume the encyclopedia is referring to the image of The Midwest as proxy for the average U.S. citizen, the Normal American, or as the backdrop to the tragedy of the Rust Belt, the rise and fall of the American farm and factory families.
—
Throughout my life, I have lived and worked in no-places. For five and a half years, I lived in Dayton, Ohio, a place people generally move away from, not to. I got a job as the editor-in-chief of the city's alt weekly. A full-time journalism job straight out of college at a print newspaper in 2016 was, as it is today, a dream. I lived alone in my own over-carpeted apartment, and I was proud of it. And then I left it behind, got out, right before the paper went under. Then I left Dayton, as is tradition, and found another door in a larger place.
In the 2019 documentary American Factory, a middle-aged woman, Jill, has been living in a room in her sister's basement for years since the 1996 shut-down of a General Motors plant in Dayton. Her story is one of many. Chinese company Fuyao Glass takes over the plant with a promise to revive the city. Jill gets a job as a forklift operator. She finally can afford an apartment for herself again, and tenderly hangs up Christmas stockings on her wall.
The film focuses on the relationship between the Chinese employees and Dayton workers, the struggles for labor rights and of unionizing. But what sits with me long after watching it is the hope glistening before it shatters, like glass.
Jill joins the union effort and is fired. She holds back tears, I cry. I cry because we are missing something we know we can never get back.
The leading image of the Newberry exhibition, "The New Yorker's Idea of the United States," is an editorial cartoon by John McCutcheon for the Tribune. The representative from New York wears a doodled top hat and silly shorts. The Midwest is New York's backyard. I giggle. It's an inside joke between us, the ones who have lived or live in places that need to be explained, defended, invented for others to see them.
In the drawn backyard, there are fields of many kinds. Corn, cotton, tobacco. There are also tenants – the ones who work and live in the place but do not own it. In this frame, Midwesterners are tenants, bound to the economy run by top hats. But who really owns the land? Whose place is it now, whose was it then, whose claims do we value? All around me, the rhetoric used to protect the interests of power is expressed in the language of deeds, with ink on a map or blood on the land.
—
In Ties That Bind, historian Tiya Miles chronicles the journey of an Afro-Cherokee family that must make decisions under the strain of larger forces. Shoeboots, a Cherokee warrior, enslaves then marries an African woman named Doll, and Miles follows them and their children from the close of the 18th century through the 1800s, through slavery and freedom, sprouting and displacement. Chapter eight is called "Removal." It details what happened to the family after the Indian Removal Act of 1830. "Removal" is a chapter about place.
Miles connects Shoeboots' family history with other pieces she has found. In a Kiowa tribal memoir, writer N. Scott Momaday speaks to the power of Rainy Mountain to, as Miles articulates, "mark and contain the history of a people and thereby to restore personal and community life."
—
The Midwest became an idea long before the collapse of industry. Historically, we have always filled places with the ideas we need them to hold. Some persist, others are ousted.
A pamphlet from 1901 at the Newberry, "Across Picturesque Illinois and Iowa," displays lush prairie along Northwestern train lines. Next to it, grasslands burn, exhaling smoke in billows of black-and-white. Jill Metcoff's photobook Firelines captures human-controlled burnings, an indigenous tradition used by farmers and conservationists to manage and foster growth, both the good and bad kinds.
Metcoff and her large-format camera have traveled across Wisconsin with controlled burn teams for more than 15 years. She started out documenting what she saw when she opened her backdoor – woods, prairie, river. Then her home was compromised, shut down, developed. From behind her lens, she sees a transformation. In the photos, the prairie seems more an idea, or I think a dream. Not quite a memory and not yet realized. In one of the photos, I can easily trace the zigzagging line of flame with my pointer finger. The lines between place / home / loss are harder to track.
Scientists say the prairie is the most endangered ecosystem in North America. Since Andrew Jackson signed the Indian Removal Act of 1830, antebellum Midwesteners forever altered the fate of the prairie. The genocide and removal of Native peoples scarred the place. "The prairie needs external change to promote growth," Metcoff says. Though it is worth noting external change also destroyed it.
—
I hear a voice in the fields. "Sir, I exist!" a man exclaims to the universe. It shrugs. The universe doesn't give a shit.
On good days I find beauty in this moment envisioned by poet Stephen Crane. Oh, to be small and humbled before the world around us. Sometimes, though, the smallness feeds. It chews, grinding to bits. A voice is lost to louder winds. I am tired of yelling that I am here, it cries, an echo.
—
The Metcoff book reminds me of another one about fire, one I had to read in fifth grade about the Great Chicago Fire of 1871, a force that destroyed so much of the city so rapidly it had to have felt like something cosmic. All I remember from the book are the photos of what remained. Ruin in black-and-white, pages of aftermath. Our reading questions, as I recall them, asked what happened? In what order? I was 11 or 12 and bored with the fire – destruction without context is just a pile of ash.
But when I had to move away that year – away from best friends, away from the pond where I squished the bellies of frogs I had watched grow up from tadpoles, far from the milkweed patch we picked to feed monarch caterpillars, from the rocky section of the shore where I had tucked a note under stones to share a secret with the water – I began to understand what it could be like to lose a home outside of your own control. And it would be many, many years before I would feel at home again.
This is a very privileged loss, a migration from a small suburb to a larger one, a best-case abandonment.
I still visit the pond and the house in dreams.
—
Recent images of my own neighborhood of Albany Park pull me over to the right wall of the Newberry exhibition. Ojibwe individuals harvest maple syrup from trees living blocks away from my bedroom. I didn't know about the trees or the people.
There is so much about this place that I do not know.
—
After migrating from the North Side to the South Side of Chicago and watching neighborhood institutions fade by, writer Bill Savage wonders if missingness is a threshold of home: "Maybe you only realize something is yours when it's taken away from you." I don't believe we need something to be taken from us to realize what we hold dear; however, it is easier to show what something means to us by demonstrating the pain of its absence.
—
In How to Speak Midwestern, Edward McClelland approaches his definition of the Midwest and its three sub-regions by way of linguistics. How we speak characterizes distinct geographical areas, and vice versa. Our dialects ride waves of migration patterns. Yet, as more of us attend college, adjust our speech to fit in, leave the places we are from, the dialects grow fainter; the gap between our place and our tongue is growing.
"languages die like rivers" Carl Sandburg writes in Poems of the Midwest. "words wrapped round your tongue today / and broken to shape of thought / between your teeth and lips speaking / Now and today / shall be faded hieroglyphics."
In the 1930s, a mother pieced together two trips in a scrapbook for her son: a family visit to Iowa and family member Alfredo's return "back home to his beloved Italia" in 1899. I want to turn the page behind the display case, touch the indents of the story on the paper. Was giving up the book a family discussion or easy decision? Is this one volume of many?
—
When I open the door to my apartment, the first thing I see is a map of old L train lines on the wall. When I open the door to my bedroom, a snapshot of my Nonny dancing, laughing big, before she died. I hung the map because it shows me ways back home. I hung the photo because it's a bloodline, one I'm still trying to connect to other forks and flotsam I have found. My Nonny's first husband: left five kids behind. Her daughter: my dad's mom. His father: a teenager born to Polish immigrants whose name was cut and broken into three letters.
—
"Place is the desire for a door," Allison writes. To come home, to get out.
I am knocking.
Tell us: What is your Midwest?
*Illinois, Indiana, Iowa, Kansas, Michigan, Minnesota, Missouri, Nebraska, North Dakota, Ohio, South Dakota, and Wisconsin
Featured Image: A wide shot of The Newberry Library's exhibition What is the Midwest? Various display cases contain books and other ephemera, and there are framed images on the walls. A large blue question mark is on the entry door to the exhibition space. Photo by Catherine Gass.

---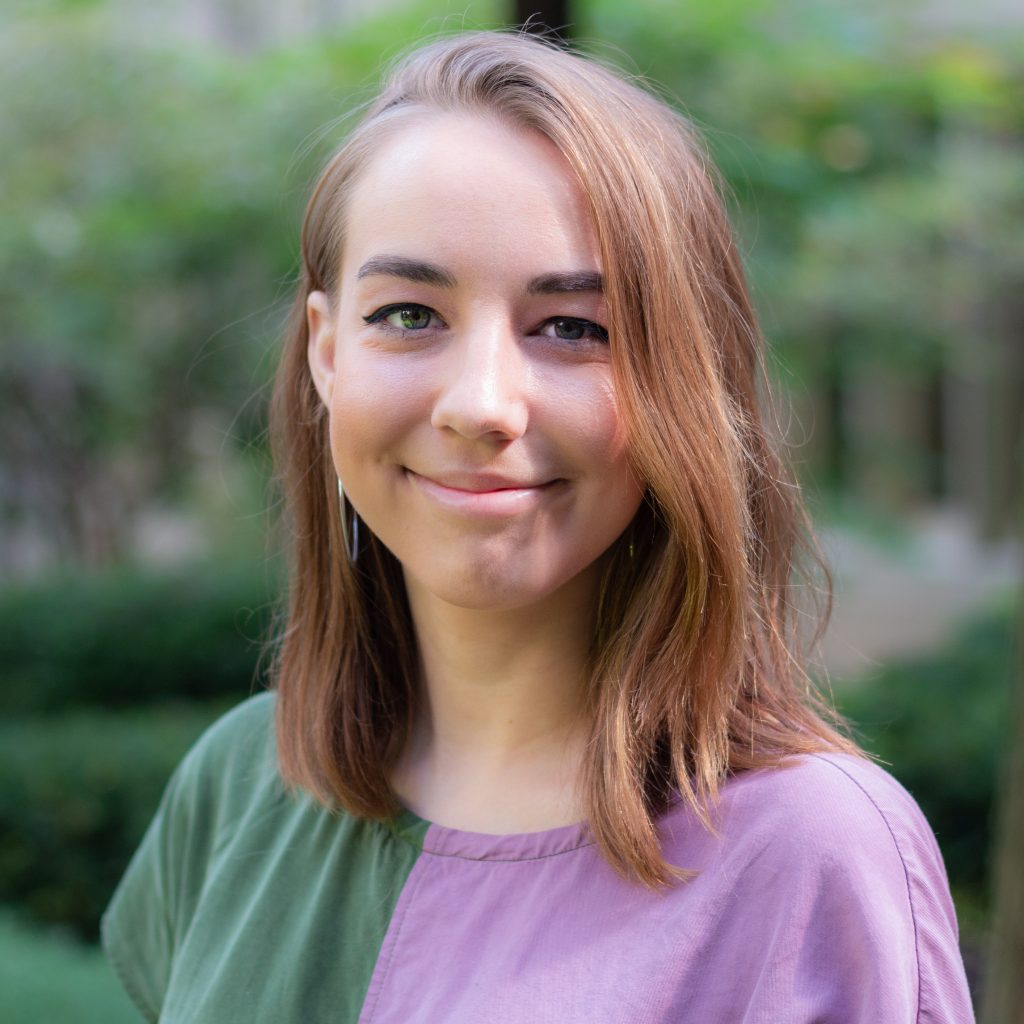 Amanda Dee is a multi-media storyteller based in Chicago. She is the former editor-in-chief of Dayton City Paper, Dayton's alt weekly. You can find more of her work here.