Weekly Picks: March 3 – 9, 2014
Our weekly calendar is a list of visual art related events happening in Chicago.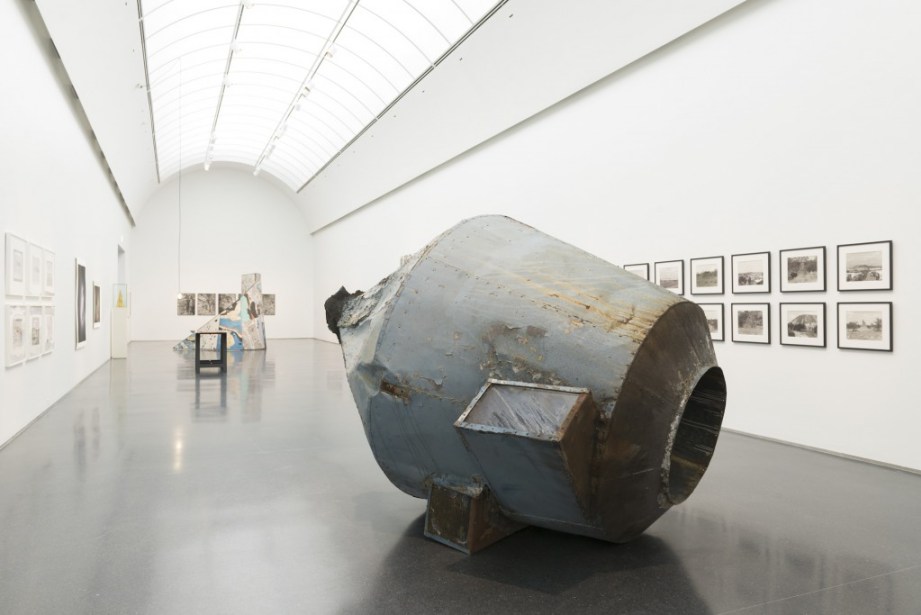 Our weekly calendar is a list of visual art related events happening in Chicago.
MONDAY || March 3
Trevor Paglen Lecture
SAIC Distinguished Alumni Lecture Series
6 p.m.
The Art Institute of Chicago, Rubloff Auditorium
230 S. Columbus Dr.
Chicago, IL 60603
Free to the public
SAIC graduate Trevor Paglen built his career on photographing that which one is not supposed to see. In the photo series Limit Telephotography, Pagen used a powerful telescopic lens to reveal restricted military sites in hazy and sparsely vegetated landscapes. Symbology also explores an unlikely intersection of secretive military programs and contemporary art–the highly symbolic and stylized badges associated with test aircraft.
TUESDAY || March 4
Petra Bachmaier and Sean Gallero
Luftwerk Lecture
6:30 p.m., doors open at 6 p.m.
The Logan Share
2864 N. Milwaukee Ave.
Chicago, IL 60618
$5 suggested donation
Otherwise known as Luftwerk, Petra Bachmaier and Sean Gallero are the force behind some of Chicago's best-known video and light displays of the past decade. Most recently, Shift at the Chicago Cultural Center turned the public building into an experiment in color and shadow. The Logan Share hosts this event, in which the duo discusses their ongoing love affair with architectural spaces and the way light works within them.
WEDNESDAY || March 5
6:30 p.m. to 8 p.m.
Columbia College Chicago
623 S. Wabash Ave., first floor
Chicago IL, 60605
$8 admission, free to Columbia College students
Quick, cheap, and easily accessible, digital video is the preferred media of almost everyone getting in film–except for a few holdouts, even today's biggest Hollywood directors prefer the newer technology. But for all that convenience, there's something lost. Chicago-based filmmaker Ian Curry explores the sensuality of 16mm film in this 90-minute work that makes use of experimental manipulation techniques.
THURSDAY || March 6
Chicago Self-Publishing Group Mixer
6:30 p.m. to 8:30 p.m.
The Book Cellar
4736-38 N. Lincoln Ave
Chicago IL, 60625
Free to the public
Publishing isn't just for writers. Anyone who wants to get their work seen might want to explore the possibilities of releasing their own book. Attendees to this purely social event can meet other people who have tried, or are interested in trying, the adventure of self-publishing. Come hungry, because The Book Cellar serves beer, wine, and coffee, as well as pastries, soups, and sandwiches. Just make sure to RSVP on the event page, and feel free to bring a friend.
FRIDAY || March 7
"Caracol del Tiempo," a Tribute to Liliana Huicochea Vasquez
6 p.m. to 10 p.m.
La Casa de Arte y Cultura "Calles y Sueños"
1900 S. Carpenter St.
Chicago, IL 60608
The Latina Art League celebrates National Womens Month with a touching tribute to the late Liliana Huicochea Vasquez. Born in Chilpancingo, Guerrero, in 1961, Vasquez confronted women's issues in poetry, art, and on television. Her life was tragically cut short in 1993 after complications from the birth of her twin children. Artists from the Latina Art League honor Vasquez in this exhibit, on view through April 30, and poets from Café y Literatura entre Nosotros present spoken word performances in tribute to her. This event will also feature a fashion show produced by Blue Betties Boutique.
SATURDAY || March 8
6 p.m. to 9 p.m.
Spudnik Press
1821 W. Hubbard St.
Suite 302
Chicago, IL 60622
Free to the public
Our good friends at Spudnik Press do their best to banish this winter once and for all with an electrically colorful March show. Joey Potts draws on influences that range from early 20th century cartoons to the iconography of the High Renaissance. Austra employs cartoonish and deceptively simple figures to express a wide range of emotion while keeping things grounded in positivity. And the madman Chema Skandal uses pastel colors, bold lines, and vaguely lascivious figures to make you feel uncomfortable in a good way. Each artist has donated one color design that guests can print right there, all for their own selves.
SUNDAY || March 9
The Way of the Shovel: Art as Archaelogy
Museum of Contemporary Art Chicago
220 E. Chicago Ave
Chicago IL, 60611
$12 admission, $7 for students and senior citizens
Does the Museum of Contemporary Art need us to promote them? Of course not. But it would be a shame to miss this fantastic show, which closes on Sunday. The Way of the Shovel explores the discovery of ancient art through the science of archaeology, but it also demonstrates the way in which an archaeological discovery is art in and of itself. Highlights include a biography in exhibit form of landscape artist Robert Smithson and a repositioning of psychoanalysis as archeology of the mind.
Photo: Installation view, "The Way of the Shovel: Art as Archaeology." Foreground: Scott Hocking