Weekly Picks: April 21 – April 27
While a new Sixty Inches from Center is in the making, please enjoy our weekly calendar, a list of visual art related events happening in Chicago. Events are chosen based on the information that is put in front of us.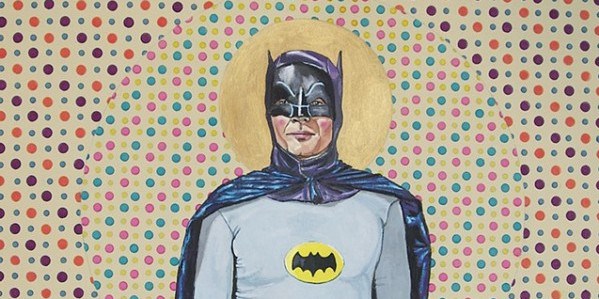 While a new Sixty Inches from Center is in the making, please enjoy our weekly calendar, a list of visual art related events happening in Chicago. Events are chosen based on the information that is put in front of us. If you would like to take advantage of having your event listed on our website please send a press release to reuben.westmaas@sixtyinchesfromcenter.org.
Monday || April 21
An evening of works where sound informs movement, and movement informs sound, presented by Marie Casimir and Anna Trier. Vanishing Point is a choreographic and auditive performance by Murat Adash exploring issues of the politics of movement and the disembodied voice. Belonging here is not bound to any specific location but to a system of movement. This system is one of regress and progress, creation and de-creation, possibility and impossibility. Five performers are moving in a geomteric grid while carrying a sound, progressing only to return to a state of erasure. Movement returns to stillness. Noise turns into silence. Up Makes Down, a duet by Isabelle Collazo and Matthew McMunn, is a series of vignettes that originated from improvisations with contact microphones. They mined the movement for theatrical and narrative content and built impressionistic imagery from this material. The costumes are intended to amplify the character embedded in the movement and enhance the audience's visceral experience. here(ing) by Owen David. If the world is a stage, time and space are always performing along with us, bringing us to a single coincidence that we can only describe as here – an instance that we evacuate and collapse even as we are living it. With them we are all each entangled in one another, here and now folding and unfolding like remembering into imagining. here(ing) attempts, through a convergence of choreographic design and audio technologies, to navigate and give form to these dimensional operations, calling them forth and offering our selves up to their vastness.
7 p.m.
Links Hall
3111 N. Western Ave
Chicago, IL, 60618
$10
Tuesday || April 22
As part of the Lillstreet Artists Lecture Series, Matthew Woodward will give an artist talk this Tuesday at the Lillstreet Loft.  Matthew Woodward was born in New York in 1981, and he was educated at the School of the Art institute of Chicago (BFA 05) and the New York Academy of Art (MFA 07). Currently, Woodward lives and works in Chicago. He is represented at Linda Warren Projects and teaches Drawing at Dominican University.  The Lillstreet Artists Lecture Series features local emerging and mid-career artists, critics, and curators.  Lecturers are invited to give 45 minute presentations on their work in the Lillstreet Loft. All lectures are free and open to the public.
7:00pm-8:00pm
Lillstreet Loft
4437 N. Ravenswood Ave.
Chicago, IL 60640 
Free to public
Wednesday || April 23
Please join AREA Chicago for the launch of our upcoming issue AREA #14: Childhoods. To release our new issue, we invite YOU to help create the cover! Join us for a multi-generational gathering with conversation, music, food and activities.
What do we mean by childhood? Is it imagined as a state of innocence, or a state of ignorance? Is it a demographic, an age range, a social category? Is it a neoliberal marketing tool, a relationship to power, a pretext for politics? How do different "childhoods" reflect and reproduce power differentials? In whose name do adults invoke the image of the child — and how do people identified as children participate in so-called "adult" practices such as social movements, knowledge-production, and public life more broadly? Join AREA editors and authors of all ages in a collective attempt to learn about power, about social and political struggles, and about our daily lives by exploring "childhoods" in Chicago.
5-8 p.m.
Read/Write Library
914 N. California Ave.
Chicago, IL 60622
Free to public
Thursday || April 24
NON:op presents its inaugural project,  from Here to There, an experimental interactive operatic performance April 24th – 26th at Bridgeport Art Center.  The performance combines keywords, artists, and art forms to establish relationships among the collaborative pieces within a three dimensional, 12,000 square foot warehouse space.  from Here to There examines the liminal space between the world we live in and the world we desire, bridging the gaps in our religious, cultural, social, and economic divides. Spectators will be provided with a map and/or set of instructions to navigate and (re)create the worlds they desire to live. The map will indicate destinations which may or may not lead to a desired goal.
NON:op is an experimental, multi-arts, non-opera collective that produces site-specific works for non-traditional venues. They focus on a co-creative approach to opera, producing works that break with traditional performance structures and the traditional role of the spectator as passive observer. Embracing opera as a combined work for the stage, by using multiple art forms as characters in the drama, the results are works that expand the meaning of opera to a multi-arts, participatory, immersive spectacle.
8:00pm
Bridgeport Art Center
1200 W. 35th St.
Chicago, IL  60609
$20 admission, $15 for students and seniors
Friday || April 25
The Prairie Center Arts Foundation invites plein air artists to participate in the 2014 Plein Air Competition and Show by creating an original plein air painting or drawing of any location within the village of Schaumburg, IL. This event is open to all plein air artists (artists do not need to be participants in the Prairie Arts Festival to register).  The show will run from April 25th through May 9th, and all submitted work will be judged prior to the show, with prizes of 1st Place, 2nd Place and 3rd Place awarded on Friday (work will be judged by juror Eddie Corkery.  All submitted work will be displayed in the Prairie Center for the Arts  building May 24-June 30, and will coincide with the 27th annual Prairie Arts Festival.  Artists may make their work available for sale at the two day show and throughout the month of June – no commission will be taken
8:00am-6:00pm
Prairie Center for the Arts
201 Schaumburg Court
Schaumburg, IL  60193
Saturday || April 26
Fulton Street Collective is proud to exhibit new work from local comic creators and artists celebrating the 75th anniversary of the first appearance of Batman in Detective Comics #27.  Batman is arguably the most popular fictional character, and his influence and legacy is felt in diverse areas of popular culture and the arts. The exhibit is set to coincide with the C2E2 comics and entertainment exposition, and will be open to limited viewings and by appointment. This event is produced with the support of Chicago comic book stores Challengers Comics and Conversation, First Aid Comics, Third Coast Comics, and Vigilante Press. There is a $10 suggested donation to enter.
7:00pm-11:00pm
Fulton Street Collective
2000 W. Fulton Ave.
2nd & 3rd floors
Chicago, IL  60612
$10 suggested donation
Sunday || April 27
In association with her current exhibition Fieldnotes, Chicago artist Renee Robbins will give a gallery talk this Sunday afternoon.  In her show, Robbins exhibits her recent work of paintings and etchings at Comfort Station.  Fieldnotes is a reference to the scientific practice of observing variables, taking notes, and making lists. These notations can be seen as a journal of evolving ideas and Robbins uses this system as a way of negotiating between abstraction and representation. Recorded daily on scientific expeditions and adventures, Fieldnotes often include information about variables such as color, shape, movement, pattern, location, or type of specimen. Oftentimes, the notes are reconfigured for research reports and presentations post-adventure. The artist views this reconfiguring as similar to her technique of pulling together the micro and the macro into one form. For each composition, rather than one specific specimen, there is a multiplicity or blend of many figures. In this way, Robbins' paintings and etchings are a way to respond to the diversity in the natural world, both in and outside of our human experience
2:00pm
Comfort Station
2579 N Milwaukee Ave
Chicago, IL  60647