Snapshot: Gather Series at Comfort Station
Snapshot is a Sixty column that takes a quick look at art history as it happens in Chicago. We send artists and organizers short and sweet questions to tell us…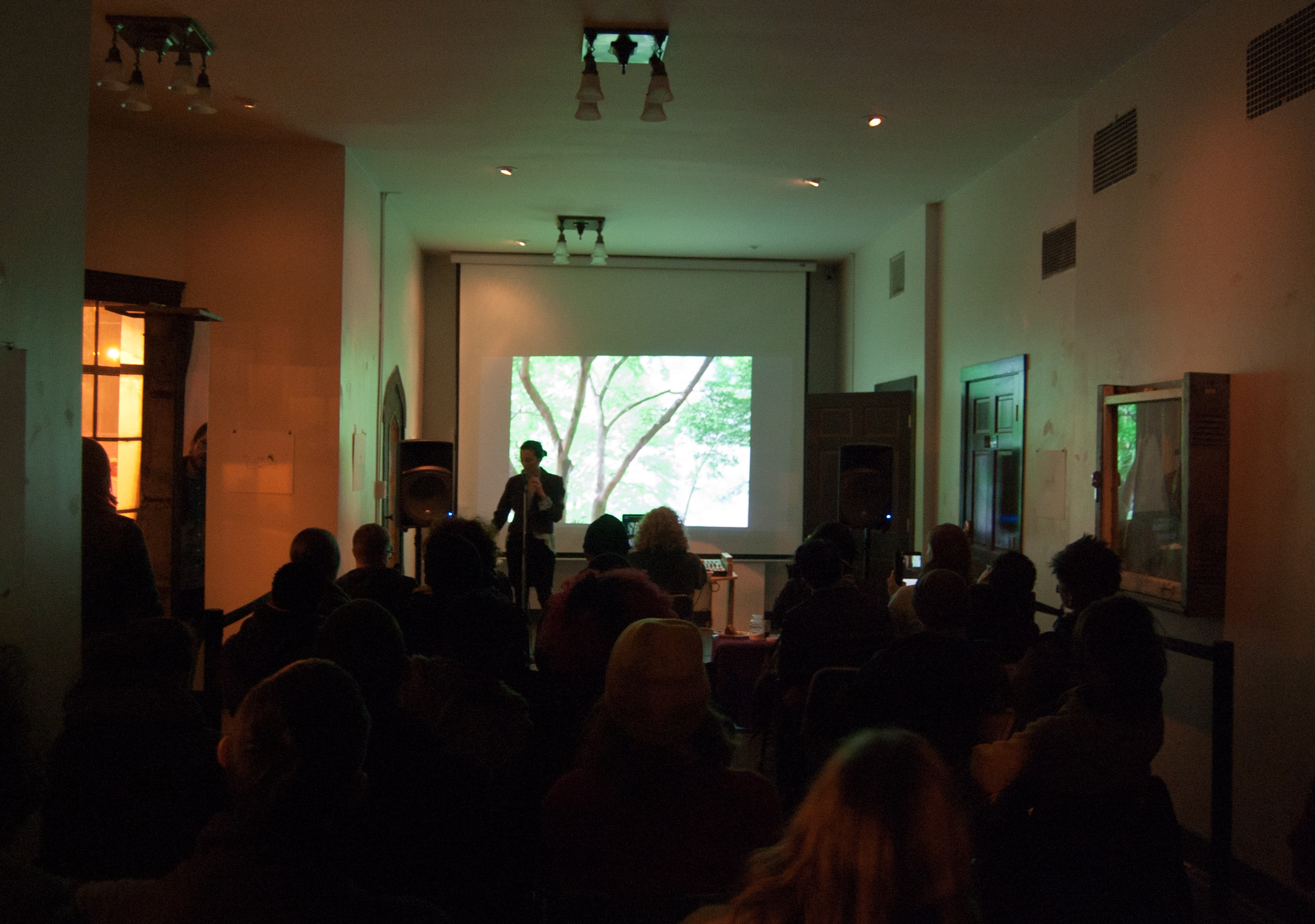 Snapshot is a Sixty column that takes a quick look at art history as it happens in Chicago. We send artists and organizers short and sweet questions to tell us about what they are doing right at this moment. We sent questions to Allen Moore, Nick Meryhew, and Rebecca Himelstein, the curatorial team behind the Gather series at Comfort Station. Gather is an experimental music series bringing musicians and performers from different scenes, backgrounds, practices, disciplines, and communities together for connection and artistic exchange. For information on their upcoming events, as well as past performances, visit them here. 
Sixty Inches From Center: To start broadly, what were you envisioning when you started Gather? Can you give us some context for the title?
GATHER: We wanted to represent Chicago's highly active experimental music and performance community by creating a series that highlighted some different approaches to the artists' chosen medium. For each bill we attempt to bring together artists who might not otherwise be presented side-by-side. We see this as a way of facilitating new audience and artist interactions and fostering connections between Chicago's many arts communities.
The title of the series, Gather, comes from our desire as curators to bring together audiences from different communities and localities.
SIFC: Who will be featured and what would you like to tell us about their work? What was your curatorial process like and how did you decide which artists to bring together?
GATHER: As a group we decide everything unanimously, so often our process starts with artists that all or more than one of us are interested in presenting and we work our way from there. In terms of how we decide which artists should be on a bill together, we try to make sure their work is in some sort of conceptual or formal dialogue while also trying to make sure we are working with two artists that haven't met, don't present or spend time in the same artistic circles, or are fairly unfamiliar with each others' work.
There is a tendency to stay within a specific niche, and similar practices and artists (or sometimes the same practices and artists) are presented over and over again to the same audiences. We want to sort of open it up a bit and create a space where we are presenting a really wide range of artists and practices. Our hope for this is that we make space for artists that don't get as much opportunity to present and that we are also starting dialogues between artists who wouldn't have necessarily been introduced to each other's work. We are also invested in the audiences and supporters of the artists we present being introduced to work they haven't heard before and audience members they wouldn't normally interact with. We love it when people come for a specific artist and stay for the artist they are unfamiliar with, and we are really happy when people stay and talk to each other about the work after the performances are done.
Our first show of the season in March featured Eshovo and Kikù Hibino. We are all super excited about the artists we have presented so far this season, as well as for the upcoming shows. We have a really fantastic lineup of performances:
June 16th: Willy Smart / Ulla Straus
July 21: Participatory Music Coalition / Curt Oren
August 18: Sam Scranton / Anna Orlikowska
September 15: Liai / Seth Parker Woods
October 20th: Ayanah Moor /Udita Upadhyaya
SIFC: What made you choose Comfort Station in Logan Square as the venue for Gather?
GATHER: Comfort Station is a multidisciplinary space with a wide variety of programming and exhibitions located in the center of Logan Square. It's an ideal venue/platform for the Gather series.
SIFC:  How do you see Gather operating within the larger contexts of sound and performance in Chicago?
GATHER: It is our hope that the work we are doing with Gather encourages other presenters to reevaluate the way that they curate, the way that they interact with their audiences, and the potential social impact that can emerge through performance. By bringing together artists and audiences from different communities, presenters and artists can change the landscape of their scene in politically imperative ways. Not least of all, we see this potentially fostering organization and solidarity in our community.
We've seen a number of shows pop up over the last year-and-a-half featuring artists who met at a Gather performance. This ripple effect is, to us, a kind of affirmation of our approach. Our dream is that, over the next few years, these ripples constitute large-scale change in the way artists and curators in Chicago think about the possibilities of their social and artistic practice.
SIFC: What were some of the difficulties, curatorial or otherwise, that you experienced in programming this series?
GATHER: In the beginning, figuring out exactly what an experimental sound series could be at Comfort Station/Logan Square. We're cognizant of the community. As curators, we continually push to make sure the series is inclusive, giving agency to performers with diverse backgrounds and practices. With that being said, it can be challenging with all the choices and potential interactions. It's an exciting challenge to have.
Featured Image: Artist Mitsu Salmon performs at Comfort Station as part of the Gather series. The photo looks out onto the crowd as Salmon dances lit by a green video projection. Courtesy of Gather.