Week Ends, Art Begins || July 29th – 31st
Our weekly calendar is a list of visual art related events happening in Chicago.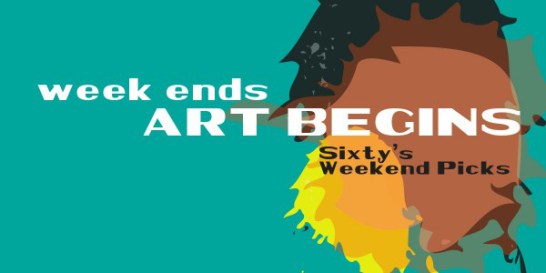 If you don't know this by now, you may never, ever, ever know it.
FRIDAY || July 29, 2011
7th Annual Printers' Ball: IT'S ALIVE!
One of the largest celebrations of literary culture in the country, The Printers' Ball celebrates literary culture by offering thousands of magazines, books, and broadsides free of charge; showcasing live music, readings, and other performances; demonstrating letterpress, offset, and silk-screen printing and paper-making; and providing other activities, entertainment, food, and drink.  The Printers' Ball: IT'S ALIVE! is presented by the Poetry Foundation and Poetry magazine with the Center for Book & Paper Arts, the Chicago Underground Library, Columbia College Chicago, and MAKE magazine. We would list all of the amazing things they have in store, but if you want to know you should just visit the website!
The Ludington Building
1104 S Wabash Ave, Chicago
6pm – 11pm
Free to All Ages
Milwaukee Avenue Arts Festival
Milwaukee Avenue Arts Festival features dozens of independently curated visual art galleries, interactive arts activities for the whole family, a spectacle of performance arts, and an electrifying music line-up on multiple stages. While the arts and music feed your senses, also enjoy craft beers by Revolution Brewing, gourmet mobile food trucks, an open-air market of local artisans and more!
Along N Milwaukee Ave Between California and Kimball
Friday 4-11PM
Saturday and Sunday, Noon – 11PM
Free
Silent Screens: Preserving Cinematic Legacy
A narrative of time and place, Silent Screens gives voice to the past by exploring the evolution of grandiose cinematic architecture on Chicago's northwest side – with an emphasis on preservation – and examining both the death and renewal of cinematic relevance in today's economical and digital climate through historic and contemporary photography, memorabilia and artifacts. Presented at the historic Logan Theatre, the exhibition will run in conjunction with special programming and late-night showings offered by the theatre. Curated by Andrea Sparr-Jaswa & Lucy Mueller.
The Logan Theatre
2646 N Milwaukee Ave
Friday 4-11PM
Saturday and Sunday, Noon – 11PM
Free
Calculated Aesthetic | Stephen Coorlas and Dominic Peternel
Calculated Aesthetic is a new architectural installation by Stephen Coorlas and Dominic Peternel. Influenced by the ways in which many Americans are more and more seamlessly navigating virtual architectures, Coorlas and Peternel focus on exploring how these negotiations can be expanded into the tangible realm. In Calculated Aesthetic they have created a space in which visitors can simultaneously stand inside and outside of the same form, revealing how program and function can transform along a predictable continuum as the same form varies in scale.
Alderman Exhibitions
350 N Ogden Ave. #450E
6pm – 9pm
Free
SATURDAY || July 30, 2011
SHIFTCHANGES: queer monsters! flaming outlaws! sadomasochistic lesbians!
An evening of live/video performances, experimental film and multi-media installations exploding across boundaries of gender, sexuality and power! Featuring AGENTS OF DEBAUCHERY: Brick Lining (Live Performance 2011 45min) by Rae Langes , bitterbittertears (HD Video 2010 25min) by Catherine Pancake (Filmmaker), Up Against (HD Video 2010 10min) by Cheryl Pope (Artist), and Coda & USD $306 (Mixed Media Installation 2011) by Zihan Loo (Performance/Installation Artist).
DEFIBRILLATOR performance art gallery
1136 N. Milwaukee Ave.
8pm – 10pm
$5-10 suggested donation
Compositions | A Semi-Retrospective of Dayo Laoye (Closing Reception)
Currently at South Side Community Art Center are the sketches, studies and paintings of Yoruba native and long-time Chicago resident Dayo Laoye. The exhibition, titled Compositions by Dayo, is a semi-retrospective that illustrates the waves of his practice through everything from portraits of Yoruban Priestesses to experiments with the possibilities of paint with pure abstraction and charcoal/pastel portraits of local Chicagoans. While showing work that he has done over decades (some dating back to his time as a fine art student at Howard University), the show also exhibits how his work has evolved through the more recent works on display.
South Side Community Art Center
3831 South Michigan Avenue
2pm – 5pm
Free
POST-PRE-POST-PROM
Was prom as magical for you as it was for us in high school? Relive those over-made up, poofy dress, cumberbun, corsage moments with the Students of Fine Art! This fundraising Event for SoFA will be a Party with live Entertainment from Music Republic and free spiked punch.
Autotelic Gallery
2925 North Springfield Ave.
8pm – 1am
SINGLES: $5
COUPLES:$8
(Free drink ticket with ticket purchase!)
Creando Fuerza: Cambio y Permanencia
Cobalt Studio is proud to share this opportunity to learn about Latino printmaking in the United States, and the impact it has made on Latino and American cultures. Creando Fuerza: Cambio y Permanencia features a collective portfolio by members of Consejo Gráfico, an independent network of Latino printmaking centers.
Cobalt Studio
1950 W. 21st St
5pm – 10pm
Free
SUNDAY || July 31, 2011
Landlocked Blue
This exhibition features the work of Holly Murkerson. There's not much more we can say besides, "Be sure to check it out!" The exhibition runs through August 28th.
Julius Caesar
3311 West Carroll Avenue
4pm – 7pm
Free
//THERE'S ALWAYS MORE//