Week Ends, Art Begins || July 15th – 17th
Our weekly calendar is a list of visual art related events happening in Chicago.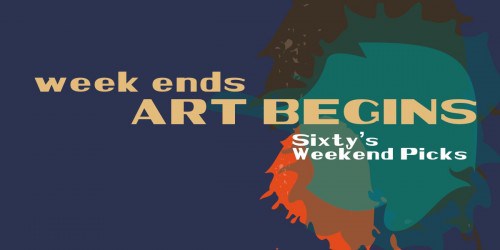 By now, you know the drill. Weekend. Art. Repeat.
FRIDAY || July 15, 2011
The Chicago Project IV Opening Reception
The Chicago Project IV is a bi-annual exhibition selected from participants in the online gallery. Artists include Matt Austin, Justyna Badach, Jeremy Bolen, Dan Bradica, Troy Flinn, Lenny Gilmore, Wm. Bradley Johnson, Nate Mathews, Bill O'Donnell, TJ Proechel, Charlie Simokaitis and Shane Welch. The Chicago Project IV: Selections from the online gallery runs from July 15 – September 3, 2011
Catherine Edelman Gallery
300 W. Superior St.
5pm – 8pm
Free
CIEN – ORIGINAL ARTWORK & EVERYDAY GOODS EVENT
Artwork, framed prints, illustrations, and everyday goods by sam.kirk will be available this night only! Spend $100 and receive a free print from "The Hunter" Series. (New series coming in 2012!) House music courtesy of DJ Taelue!
Elephant Room, Inc. Art Gallery
704 S Wabash Ave.
6pm –  9pm
Free
Uptown Photo Show Closing Presented by Connect Force
Check out the closing for the Uptown Photo Show Gallery. This show benefits the Youth Artists, Connect Force and Alternatives. Don't miss your chance to come through and check out the youth's work and possibly take a piece home.
Alternatives, Inc.
4730 N Sheridan Rd.
6pm – 9pm
Free (Unless you want to buy some work)
Anode Gallery Grand (Re)Opening
They left Pilsen, but don't worry–they're not gone for good. Join the folks at Anode Gallery as they open their brand new doors to the public!! Nothin' fancy. There will be refreshments available, so mosey on through to check out the new space and the latest work! There will be hours Saturday and Sunday starting at 9am as well.
Anode Gallery
935 N Damen Ave.
4pm – 11:30pm
Free
"MOMENTUM WILD: The Art of Urban Cycling" Art Opening and Exhibit
Cycling is more than sport and recreation in Chicago. From street vendors to community police, from messenger delivery to daily commutes, bicycles keep this complex city on the move. An enthusiastic cyclist himself, Chicago artist Brian Morgan debuts his most recent paintings in a show titled "Momentum Wild". The exhibit will run through Sunday, August 28th. Both the reception and exhibit are open to the public free of charge.
Jackson Junge Gallery
1389 N Milwaukee Ave
6pm – 9pm
Free
7th Annual National Self Portrait Exhibition and Online Show
In celebration of the 7th anniversary of the National Self-Portrait Exhibition and 33 Contemporary Gallery (formerly known as 33 Collective Gallery), this year's exhibition will be the largest one to date. 33 Contemporary Gallery in collaboration with the Zhou B. Art Center present the 7th Annual National Self-Portrait Exhibition. The entire first floor of the Zhou B. Art Center will become a national laboratory for the explorati…on and visual representation of the "self". This exhibition will be entirely devoted to different aspects of self-awareness, individual perception and identity. It will include works ranging from representational, non-representational and conceptual ideas of the self. It will feature works in a variety of media.
33 Contemporary Gallery and Zhou B Art Center
1029 W. 35th Street
7pm –  10pm
Free
Subtitles VI // The Last of the Masters
For the final Subtitles performance, Lee Blalock, Eddie Breitweiser, and Tommy Heffron will present utopias, dystopias, universes, multiverses, fiction, science & science fiction through their words, sounds, and movements. Performances and readings from 6:30 to 8pm.
threewalls
119 N Peoria Street
6:30pm – 8pm
Free
SATURDAY || July 16, 2011
Addis Experience
Terrie Hessels of the Ex is coming to Chicago on July 16th to perform at a special event celebrating the culture of Addis, Ethiopia and the impact it's had on Ken Vandermark and artist, Adrienne Pierluissi. Terrie's coming in for the opening at the Co-Prosperity Sphere in Bridgeport this Saturday, but the exhibit of Adrienne's paintings and Ken's photos from Addis will be up until the end of July. Sales of the paintings and ph…otos will go toward helping support Terrie's ongoing music programs in Ethiopia- for the last few years he's been bringing musicians to schools for workshops and a repairman from Amsterdam to help fix damaged saxophones and clarinets.
5pm: gallery opening
7pm: film by Emma Fischer
8pm: duo performance by Terrie Hessels & Ken Vandermark
9pm: dance party (Hessels & Vandermark play Ethiopian hits past and present)
Co-Prosperity Sphere
3219 South Morgan Street
5pm-2am
Free
The Silver Room's 9TH ANNUAL SOUND SYSTEM BLOCK PARTY "A BETTER WORLD"
This highly anticipated event welcomes thousands from all over the Chicagoland area and beyond to enjoy a day long festival of people, unity, art, fashion and music. Arrive early for activities that the whole family will enjoy, including festivities in the form of Life Recycled Puppetry, Dance Lab Studios, Kuumba Lynx, Magic Carpet, Urban Stomp with Toseima Jiles, Velvette, FM Supreme, Koku Gonza, O'my's, DJ Scratch, Threads and Treads Fashion Show with Copenhagen Cyclery and Brooklyn Industries, Theaster Gates and the Mississippi Black Monks, Joi Cardwell, Ron Trent, Broha Onaci, Tess Kissner, Redux, Cecelia Weiss Bambara, Joe Bryl, Steve Miggedy Maestro, Belly Dancing with Pheadra Darwis, Mario Romay, Hollywood Holt, Nigel Gillet, Gene Hunt, Zebo, Milly Mango, Brian Reaves, Prob Cause, Lego, Earn Money, Raj Mahal, live mural by Hebru Brantley, visuals BY Stop Time 341, Paint Wars, Food by Vegan Food Truck and The Chicago Fire Soccer Club. With a line up like this, how could you not stop by? For a complete schedule, CLICK HERE.
The Silver Room
1442. N. Milwaukee Avenue
12pm – 10pm
Free ($5 suggested donation)
//Embedded// Cobalt Studio Block Party
Help Cobalt Studio celebrate 1 year! Complete with BBQ, an Art Sale/Raffle, Vegan pastry sale, Free Market (bring something useful that you don't need to trade for something you do want!), El Stitch y Bitch Yarn Bombing, Face Painting, Kid craft cart, Video Projections and DJ Eddy Baca of Sonorama.
Cobalt Studio
21st St & Damen to Wolcott
12pm – 10pm
Free
SUNDAY || July 17, 2011
Mouthing (The Sentient Limb) Exhibition Reception
In seeking to understand if and how the human body is involved in the processes of perception and cognition, Mouthing gathers artists who address the human figure either directly or indirectly through art practices that are both physical and conceptual. Their mediums vary but as asserted by the exhibition curator Kelly Kaczynski, "Each of the artists provides an approach to the body that cumulatively questions notions of sensuality, spirit, emotion, and cognition of our corporeal state."
Hyde Park Art Center
5020 S. Cornell Avenue
3:00pm – 5:00pm
Free
//THERE'S ALWAYS MORE//