The Thrival Geographies of Shani Crowe, Andres L. Hernandez, and Amanda Williams
Of the 2,240 licensed Black architects working in the United States, only 440 of them identify as Black women. While this number might increase slightly by adding those who have…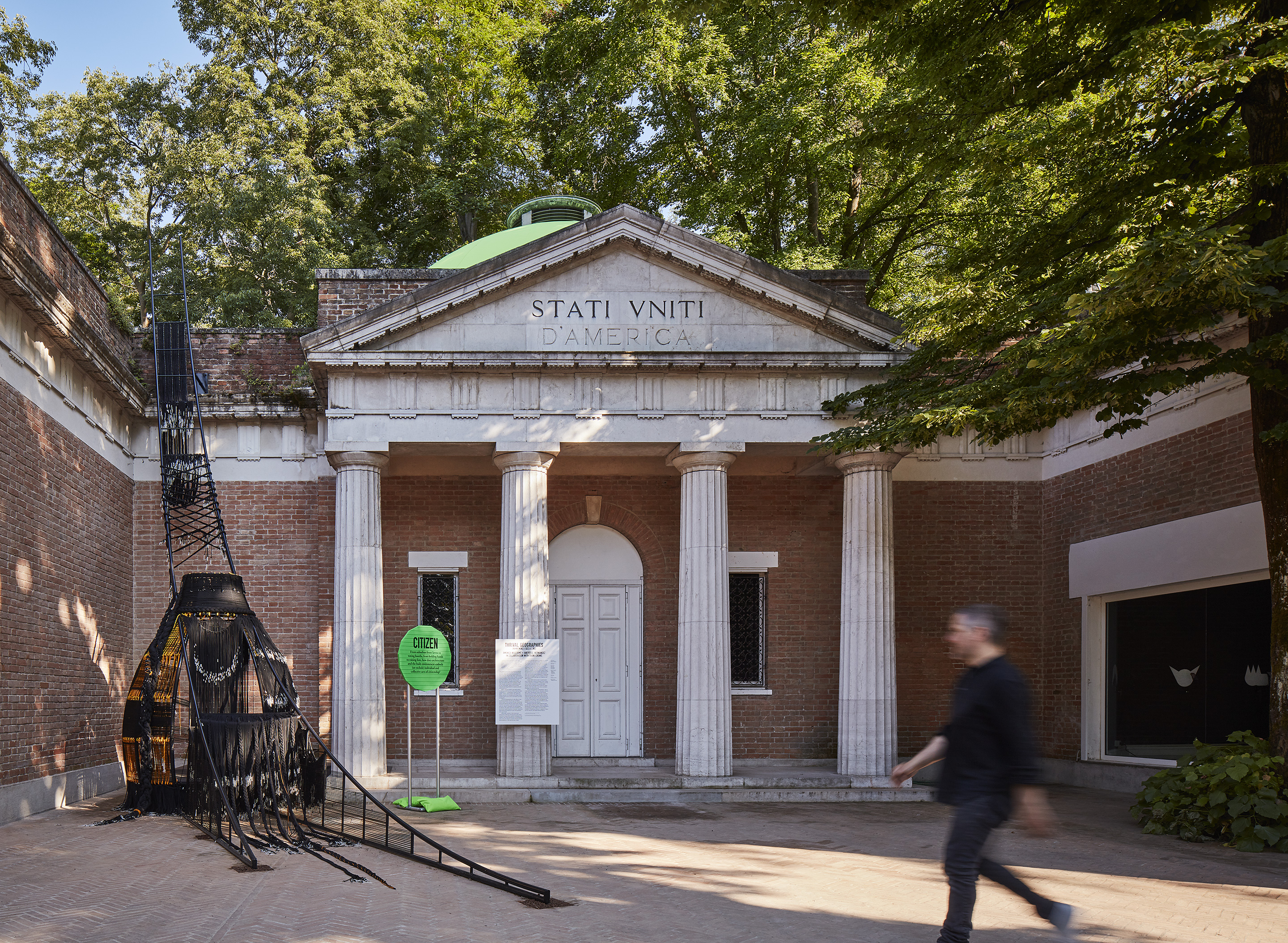 Of the 2,240 licensed Black architects working in the United States, only 440 of them identify as Black women. While this number might increase slightly by adding those who have a degree in architecture and aren't licensed, or who work primarily in teaching, this number becomes even more sobering when you consider the fact that there are about 109,748+ licensed architects in the entire country.
My mention of these numbers isn't simply a commentary on representation. Since architecture is a major influence on how we live and move through our daily lives, be it the spaces of home, work, school, play or otherwise, it's unsettling to think that an overwhelming amount of spaces are likely conceived of and designed without someone like me in the room, on the team, or even in mind as the possible end user.
After learning those numbers, it's hard for me not to feel the significance of any time spent in conversation with two people who operate within that rare group.
Andres L. Hernandez and Amanda Williams are architects and longtime friends. They met over twenty years ago at the beginning of their careers while studying architecture at Cornell University in Ithaca, New York. Since then, they have continued to stick by one another—turning to the other when they need a like-mind to think through new ideas, sharing information, and occasionally lamenting the dismal numbers of those like them in their field and its knock-on effects. And, every so often, there are magic moments when they're able to collaborate.
In 2017 it was announced that they would both be joining the exhibition design team at the Obama Presidential Center, a crew led by Ralph Appelbaum Associates that includes Civic Projects LLC, Normal, and fellow artist and designer Norman Teague.
When that was announced they were almost a year into the joint commission A Way, Away (Listen While I Say) at the Pulitzer Arts Foundation in St. Louis, a project that questions and extends the life cycle of architectural structures and urban landscapes by stretching the perceived confines of a vacant lot and challenging the idea that demolition is the end of a building's story.
Then, seven short months later, it was announced that they would represent the United States at the 2018 Venice Architecture Biennale, which resulted in Thrival Geographies (In My Mind I See A Line) (2018), a collaborative, inhabitable sculpture they created with artist and master braider Shani Crowe.
Thrival Geographies is one of many projects and collaborations that make one thing clear–Hernandez and Williams aren't just architects. They are also transdisciplinary artists working across sculpture, sound, movement, painting, and installation and whose work is informed, too, by their roles as educators at the School of the Art Institute of Chicago (Hernandez) and the Illinois Institute of Technology (Williams). These are some of the reasons why it's impossible to read their work solely through the lens of architecture.
Their sensibilities as artists bring their work to the edge of seemingly uncharted territory — especially when placed within an architecture context — which has its benefits and drawbacks. The overwhelmingly positive response to their projects, particularly Thrival Geographies, fuels the rising trajectory they've been on for quite a while. However, with new territory comes the possibility that the authors of history within these professional fields, art and architecture, haven't found the language to describe or engage makers like them quite yet, which leaves the work lingering in a suspended state, waiting to be locked down by a versatile and adept scholar, curator, or other wordsmith who can hold their own within and speak wholly to the concepts that they are constructing. But the silver lining of it all — and a benefit from the perspective of the curators and art historians of the world — is that there is plenty of room to maneuver and experiment within these new waters.
Then there's what happens when Hernandez and Williams pair their approach with other artists — like Shani Crowe. Although wildly multidisciplinary, Crowe is largely known for her ongoing work Braids, a series of black-and-white portraits of sitters donned with a shea butter glow on their skin and adorned with her intricate cornrow designs and hair sculptures that channel the beauty rituals of African cultures and the diaspora. At first it was because of this work that she was brought onto the Venice project. But it is her expansive practice, beyond Braids, that really set Thrival Geographies off and has, in some ways, contributed to this architectural form becoming legible to a different and much wider audience.
Architects Mabel O. Wilson from Columbia University and Michael Ford of Brandnu Design offer perspectives that make a case for why fresh practical and theoretical tools, like a new lexicon for the distinct approaches and concerns of Black architects, are increasingly necessary. Wilson says, "Race in modern architecture is not about being inclusive. It's about questioning racial concepts, how we think racially, how that is embedded in the very things, the tools, the discourse through which we learn and understand architecture."
And Ford brings it home with this thought: "The profession [of architecture] needs to accept this idea that a lot of minorities might not follow some of these stylistic approaches of the past because those approaches have a direct relationship to significant traumas. Architectural curriculum is based on these stylistic approaches, which creates additional problems for new ideas and new concepts."
In short, there needs to be more Black scribes and minds around this work, letting the world know what it is, modeling ways to talk about it, and calling out the nuanced complexities it's speaking to. And we need this everywhere because the truth is that it exists everywhere — from the academic circles of Venice to the road scholar classrooms housed in Black communities like those in Chicago.
With all of this in mind, I share with you my conversation with Shani Crowe, Andres L. Hernandez, and Amanda Williams that includes their strategies for "thrival" and the subversion of architectural forms, the legacies of Harriet Tubman and Harriet Ann Jacobs, what it means to center Black women within their project, and how this all provides nourishment for their work in and beyond Venice, a conversation that has been edited for clarity and length.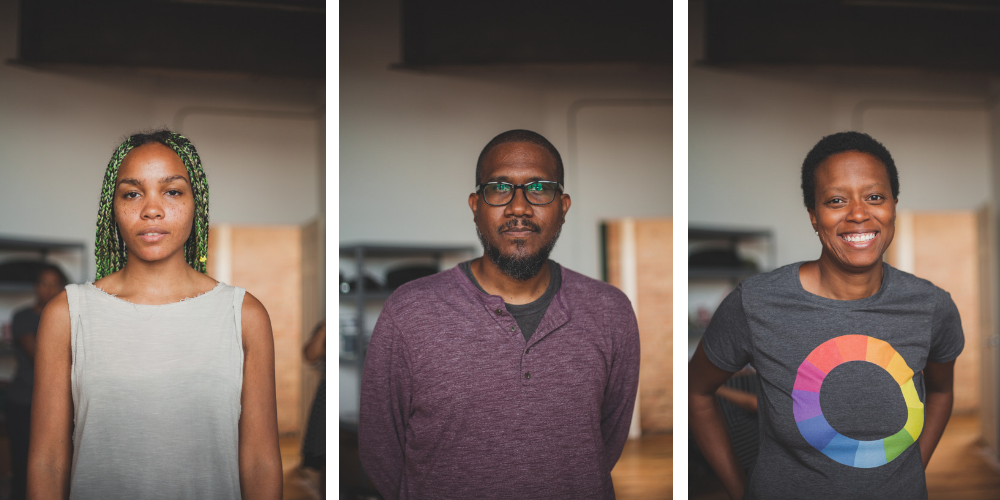 Tempestt Hazel: First I just want to say thank you for coming together to talk about this work. How did you become the artists who are representing the United States for the Venice Architecture Biennale, and then how did you bring Shani into the fold of the collaboration?
Amanda Williams: Magic.
Andres L. Hernandez: Right.
AW: How did it come to be? We got selected for the Pulitzer [Arts Foundation's PXSTL Design-Build Competition] in St. Louis, and we were kind of in the midst of that – and that was its own kind of crazy magic chaos. And I can't remember if the Obama Center came before or after that….
ALH: There were a lot of things.
AW: It felt like a confluence of things we've been talking about for 20 years. Andres and I went to architecture school together, and then all of a sudden we're considered "experts." Everyone's like, "you're a duo"? And we're like, "A duo? What are you talking about?"
So in the stratosphere of all of that, the curators for the pavilion, who are both local Chicago people, but also Mimi Zeiger, who's in L.A., had a vision. They had already imagined who they wanted to be a part of the project. We actually were invited and already baked into how they had envisioned it. It was more of a situation of, "Are you interested?" And we were like, "Yeah!" So they submitted a proposal well before it was announced.
ALH: It was like January 2017, I think.
AW: It was even an honor just for them to say, "This is how we see your practice." It also was just a surprise to have an invitation coming from an [architecture] industry that had been dismissive of us, as brown people, and what we had been interested in all this time. Then, to be invited as artists to the biennale was kind of surreal. But that's the trajectory of how it happened. It was such a blur because it was happening at the time of all these amazing invitations – all at once. It was like a weird dream.
TH: I can imagine it feels like that. It's been thing after thing after thing – and not just small things. It's not a mix. Everything is huge!
AW: Yes.
ALH: And then there's how Shani found us. [All laugh.] You know how a name finds you?Amanda and I had been talking for a while, kind of brainstorming ideas for a project. Actually, I think Shani's name had been written down. We had a bunch of people we had written down as possible collaborators.
AW: It was like a wish list.
AHL: These were people we want to work with, somehow. And I think even – this might be the mythology of it, I don't even know if it really happened or not – but in my head and in the mythology of it I said, "Man, we should make this big hair sculpture…" And Amanda was like, "Nah." I don't know if this actually happened but this is going to be the story that we stick to. Amanda probably did say "Nah" because I always throw out crazy ideas and she's like, "Nah, nah." So, we had gotten to a point where we started to gel with an idea and then, literally, I think we were like, "Man, we should–"
AW: It was almost like a joke. It was like, "You know who we need? Shani Crowe." And then we'd laugh. But then I was like, "Wait a minute…I think I know somebody who knows her." Within a day or two, it was Maya-Camille Broussard who [connected us with Shani and] was like, "Do you want her to text you or call you?" We were like, "What?! No way! Hold on, hold on!" So we set up a meeting. I was so nervous. I was like, "We gotta get different waters, what kind of waters does she like?"
ALH: Right. Because, in our heads, it's Shani, you know. We were thinking, "She's not even trying to mess with us. This is crazy. She's not going to call us back."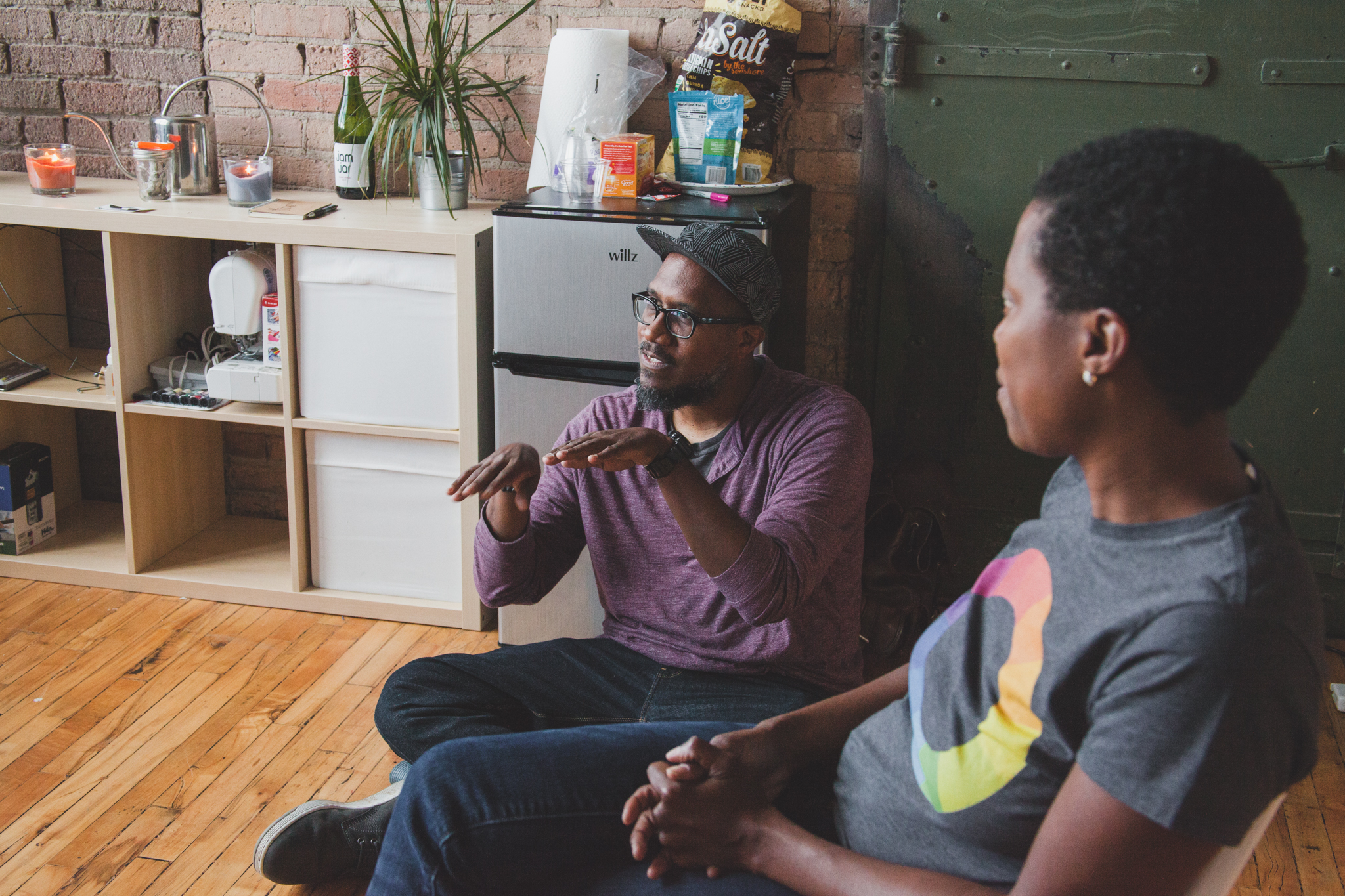 TH: And that's so funny, because I think folks think that about all of you. [All laugh.]
AW: Well at the very end she was like, "I love your work," and I was like, "My work? You know who I am?"
Shani Crowe: And I was like, "How do y'all know who I am…?"
AHL: But it was dope because Shani hit us back and we set up a time to meet and get to the studio. We did a ten-minute download of all of the stuff that we had on our walls and she just started sketching. We were talking and she got it like that [snaps fingers] and that's when we knew. It was like, "Okay, she's the person we need to work with around this project. She gets it. She gets the vibe we're trying to set, the tone we're trying to set, and she gets the ideas immediately."
I think we kind of had Shani in a box, initially, because we didn't know much about her practice. Shani's just an amazing artist and a creative thinker – an amazing person in general. So I think that just fit with us, too. Amanda and I have been working together for so long, I think sometimes it's hard to bring somebody else into the equation. But Shani just fit right into it really well. It's been exciting to spend time working together. And still work together, hopefully.
TH: Shani, what was your experience of being asked? The flip side of this?
SC: I was thinking, "How do they even know who I am?" I was astounded at the synergy that has surrounded my practice and me linking up with such great people who put me in the positions I need to be in to express myself as a creative person. I just felt super blessed, and I'm always ready to jump in because that's what I like to do. I mean, that's my livelihood. I like to create. It was an exciting opportunity to work with artists that I'd admired from afar. I had no idea I was on their radar. It was a whole new frontier. I'd never heard of the Venice Architecture Biennale. And then to be invited to represent not only Chicago but the United States, abroad. To create a Black woman space, totally clad in braids. The whole thing had so many layers of importance. It was like a dream come true, for real.
TH: I'm curious to know how you're each navigating it all. How does it feel, in this moment, to be getting this kind of recognition?
AW: There's a lot of tears, there's at least one minute of the day that I'm crying. It was like, "I can't handle it! What am I supposed to do?" But my husband is completely self-aware and zen. He'll say, [solemnly] "This is the moment you've been waiting for your whole life. You already have this. I'm not going to answer that question." You know? So, to have that as a balance, it helps, a lot.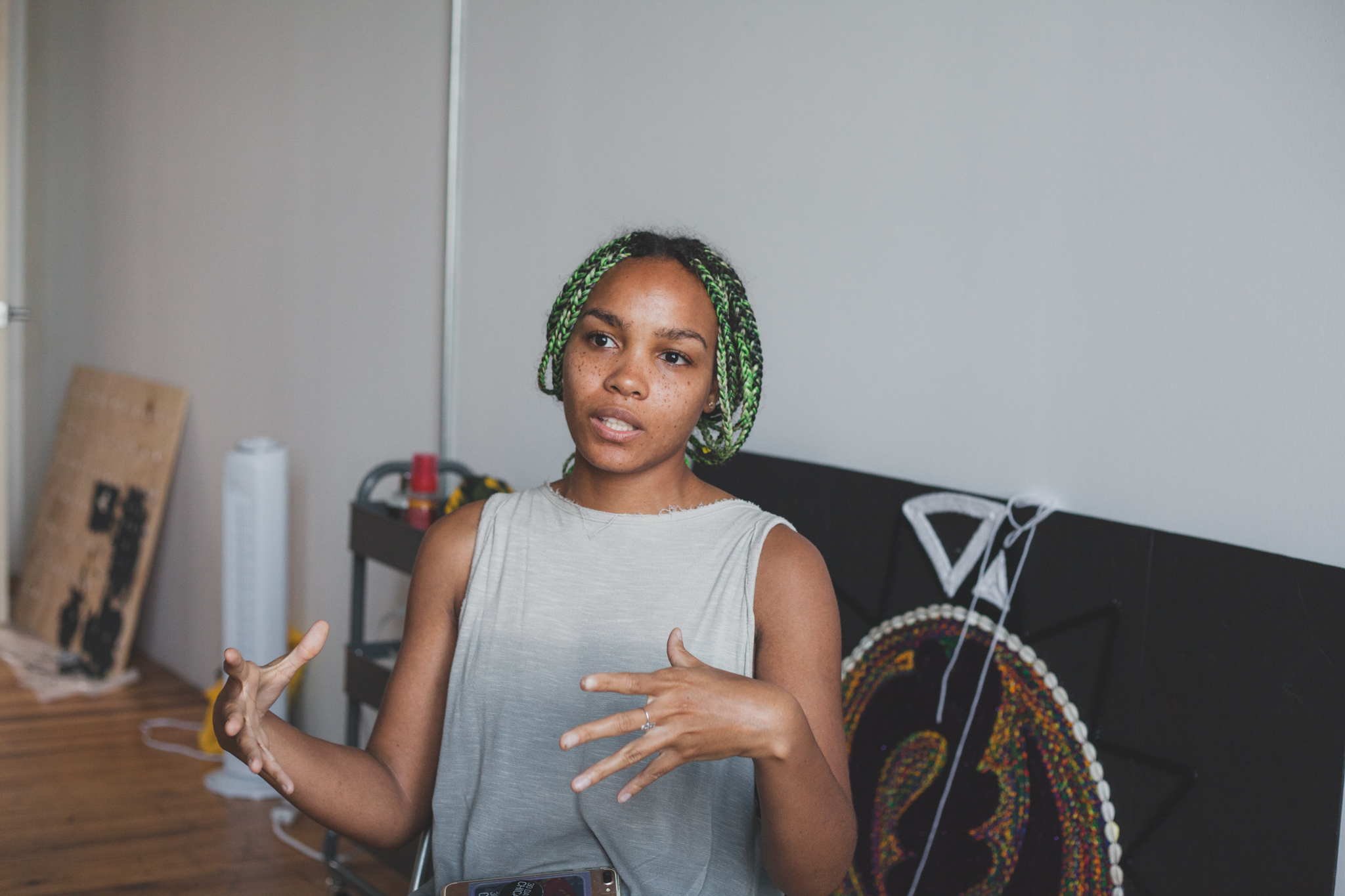 I think about when you see these actors on TV and they get nominated for something and they're like, "Oh, it's an honor, but I don't pay attention to that." And you're like, "Whatever." But it really is like that! You're into the next idea, or you're trying to drill down and make space for that [next idea].

TH: So, Let's define some terms a little bit. What is thrival geography?
AW: It's a very circuitous path but we were thinking about survival. We were thinking about Black people in the history of the United States and how we move through space. We had all these ideas and they were pretty interesting but I said to Andres, "The story's always about surviving, and I know we [as in Black people] do it and I know we've done a great job with it. I know all that's wonderful and it's not told properly and we have to tell it. I understand all of that. But how can we use this moment – rather than be dismissed because we're telling something that everybody should know or already knows in some capacity?"
So I asked, "What's after survival? Can't we get to thrival?" Andres responded saying, "That's not a word, we're going to run with that. That's great. 'Thrival.' Let's do it." Parallel to that, Andres had been reading Stephanie Camp who uses the term "rival geographies." She talks about ways in which enslaved Africans are moving between plantations and neighboring plantations, but families are actually between these, and so, because of sheer numbers, they're moving back and forth undetected and they can't be surveilled all the time. So there's the ability to have movement and interconnectedness across these plantation barriers.
A rival geography is like another kind of landscape or another kind of form of movement. With us both trained as architects, our minds go to mapping or the literal landscape of the geography of the body moving through that kind of space. Then, what can we make that would be a thrival geography?
Initially – I think even before we brought Shani in – we thought about constellations on the ground or overlaying the routes of the Underground Railroad with the stars that Harriet Tubman might have been using. Literally, to make patterns with them. There were a few artists that we had started to try to reference in thinking about making stuff on the ground with the landscape or shifting the brick. But I don't remember what the trigger was that really kind of took us off the ground or started us to think about it dimensionally. That was probably right around the time we had invited Shani to participate.
So "thrival" is an interesting concept, but then how do you translate that to three-dimensional form? And then how do you – if the courtyard is a metaphor for the United States as a whole or for a plantation or something like that – then how do you, with one gesture, try to encapsulate everything I've said? It was pretty ambitious. But it was such a poignant turn. It was something that kept feeding. You say it and you think you can see it a little. It's not like anything you've seen before, right? So it has the language a little bit – geography, thriving – so you know these words. But how do you bring that to life? That's the origin.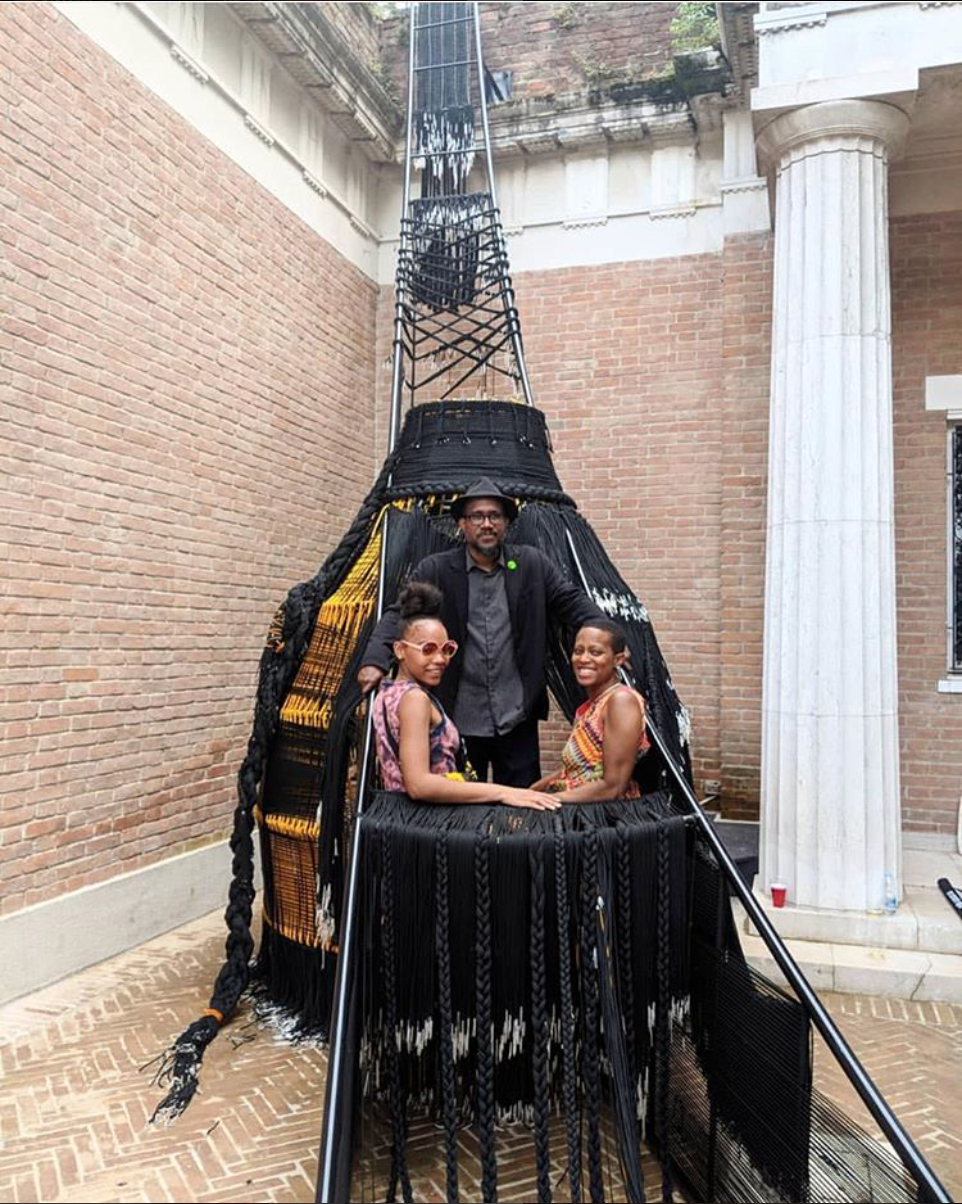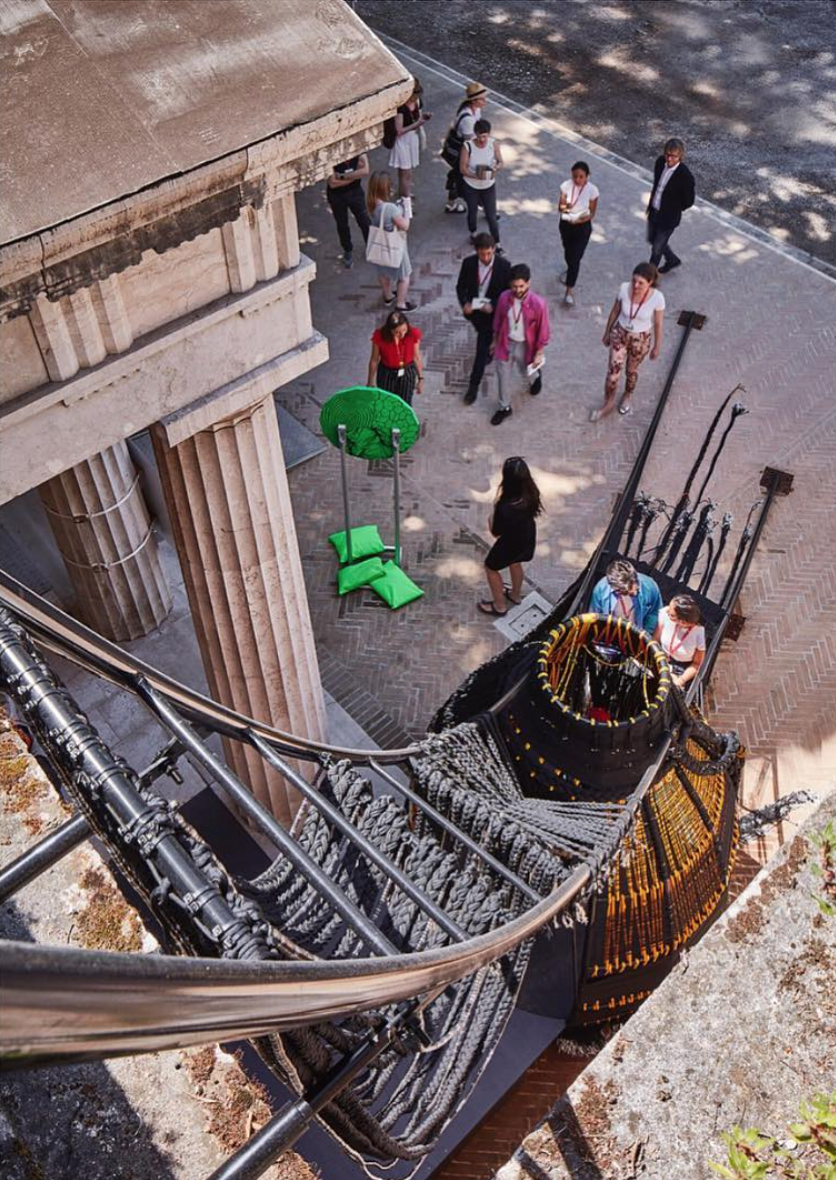 ALH: I think that's a good [explanation] though.
AW: And then, for the actual piece, there's a part of it that lifts up and rests on the building. I thought that was really interesting. While we were in Venice [thinking about the piece], I said "striving to the unknown" or "striving somewhere," and Shani was like "striving nowhere." It was really interesting. This idea of, "Is it stuck? And we're actually never going to go anywhere? Or is it taking us somewhere else?"
SC: And a kid [in Venice] was like, "It's basically a bridge to nowhere." [All laugh.] And, really, it is. I just think that so many elements in the design of the piece really mirror different facets of the African-American experience in navigating this country. You don't have anywhere to go – no certainty. But you gotta keep moving. You're not going to let yourself die, so you're going to keep moving. There's just a life force inside of you that's pushing you forward. That's what I get from that piece. That's what it means to me: striving with no clear goal in sight.
ALH: Right after Venice, I did a little presentation to a group. We were talking about space, like navigating space and safe space. Then this guy in the group said, "I read this research about how men and women navigate space differently. Women navigate this way and then men–" And somebody else asked where he got that from and he couldn't remember. I didn't really care where it came from. What I'm more interested in is why women would navigate the space differently. And that's what we're trying to get at, right? There aren't factoids about men seeing buildings this way and women seeing them another way. That's not the point. The point is more around what are the factors or the social policy, laws, and customs that dictate how women should be moving through space, how they inhabit space? For us, this idea of the thrival geographies asks questions about that sort of fugitive movement.
How can women – Black women in particular, in this case – actually not just survive for themselves and for their families, but also thrive, where they can actually get to plant roots and find space to actually thrive from. So that's the underlying idea that I don't know if people pick up on in our work, or even when they talk about it. There's tons of people talking about it in academics. But during the time we were working on the project, there were so many incidents of Black people in public space being harassed, killed, and surveilled. And then it increased in the month of May [2018] while we were there. It just got worse and worse and so…this piece was right on time. The themes of our project didn't really get picked up because the overarching conversation is around Trump and America and not about these other things that are happening and are impacting very particular members of our communities. I think our project was at least an opening volley to this conversation for the architecture world, but nobody's hitting the ball back. So, the ball just kind of landed, you know. Dead in the court, so to speak. But maybe it will happen. It's up until November, so maybe there's more time to kind of generate that.
TH: Why was it important to center Black women in this project? Why was that the starting point? When you think about this idea of thrival geographies, it's relevant to a lot of different populations beyond Black women. But to forefront Black women – it feels obviously very intentional and I'm curious why that is.
ALH: This is a little bit of backstory. In fall 2015 Amanda and I were part of an exhibition together with Emmanuel Pratt at Columbia College and, simultaneously, she was working on kind of wrapping up Color(ed) Theory for the Chicago Architecture Biennial. So Amanda had also done Harriet's Refuge: Safe Passage for Free Movement in Public Space. I thought it was really interesting and unlike work she had done before, but it was parallel – it was at the same time as the Biennial but, you know–
AW: So nobody paid attention. [laughs]
ALH: Nobody paid attention to it at all. Because it was really different work. Still about space, but just different work. So when we got the Venice project, we were coming off of the PXSTL project in St. Louis which was a really conceptual project. So, for Venice, we decided to show the profession we know…
AW: – how to actually make stuff.
ALH: …how to make something. And I suggested we should go back to Amanda's Harriet's Refuge project. It was dope. But Amanda really needed me to convince her why that made sense for Venice. I think she knew it was the right thing to do but I had to do a little work.
AW: No, I wasn't convinced.
ALH: See, the story comes out now, right? [Laughs] So, in that project she had coined this phrase, "Black women's space matters." And she was working with Tatyana Fazlalizadeh. And that phrase was just all over the piece. I was thinking, "That's the phrase, that's it!" We have the opportunity to be right up in front, literally, of the U.S. Pavilion – because we were chosen to install in the courtyard – and I was like, "You know, this is the moment, this is the stage, this is the platform to make this public."
We were also thinking about our days in our Africana Studies classes and our time at Cornell University with Dr. James Turner. Early on [in the project] we kept referencing this Anna Julia Cooper quote: "Only the Black woman can say when and where I enter, in the quiet, undisputed dignity of my womanhood, without violence and without suing or special patronage, then and there the whole Negro race enters with me." So we were thinking a lot about this idea of how it is through the most precarious of populations that we'll all be delivered, so to speak. We started thinking about Black women – Black African-American women, in particular – but thinking about the diasporic African-descent women, and then also thinking about other populations. In bringing this conversation to the forefront, it allows us to talk about a lot of different approaches but we can also talk about what it means for all of us to be delivered through space and the built environment. So that was the first part of it. From there we started to develop a project.
We also were thinking of Two Muses: Harriet Tubman and Harriet Jacobs. They both navigated the institution of slavery in order to free themselves and free others, you know, under the cover of night, under the privacy of architecture. In Harriet Jacobs' case, by confining herself to architecture to actually be free, which is interesting, right? So even thinking of, historically, how Black women have been these sort of thrival geographers and freedom fighters was important, too. Which means that, given our profession of architecture, there is a potential. We're raising this question; we're both throwing the gauntlet down but also raising the question to our profession. And the question of Black women architects, who are very few in the profession.
AW: 0.02%.
TH: Wow.
ALH: [Are Black women architects] now the thrival geographers? Or not just architects, but creatives in general? So that's the thing that got us going.
AW: I don't think either of us had a huge familiarity with biennales in general. They're all the rage, all over art and architecture, dance, theater. But, you know, we knew that this was something that was the pinnacle of the profession. I don't want to say that we didn't have any interest in it, but we had a conversation early on to talk about what we were really concerned with in this field. I'm not as concerned with the mechanisms of the field and how they choose to acknowledge what they seem to think is important. So, we were generally thinking about biennales as this place where you're supposed to be pushing forth new ideas. I don't know if they're scared of us or what. We came wit' it! They told us to bring it and we did. But now it's like, "This is wonderful. It's so, so beautiful. So tactile." – all dancing all around the topic. So I'm curious to see the kind of ripple [is made] and if this fuels something.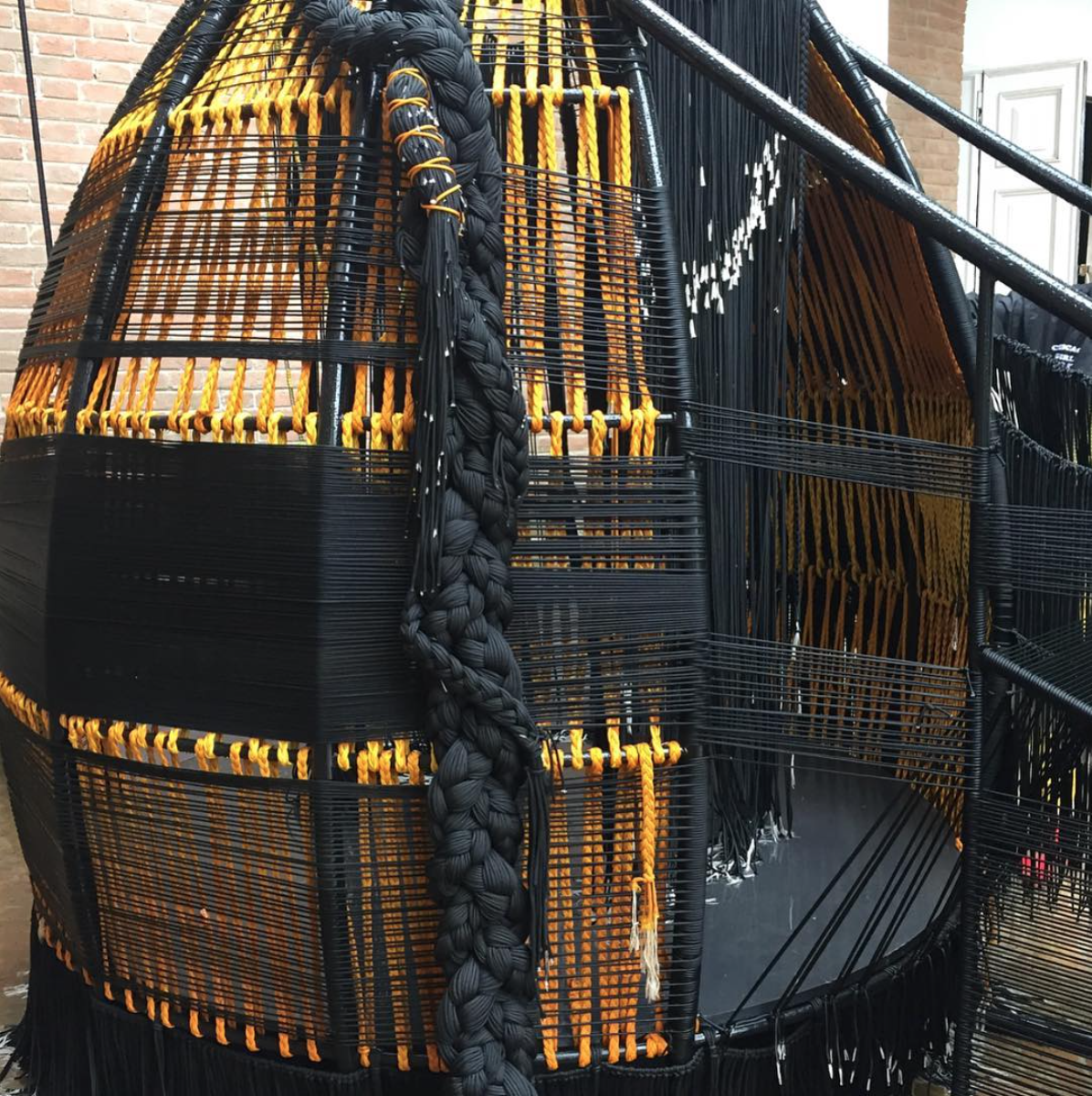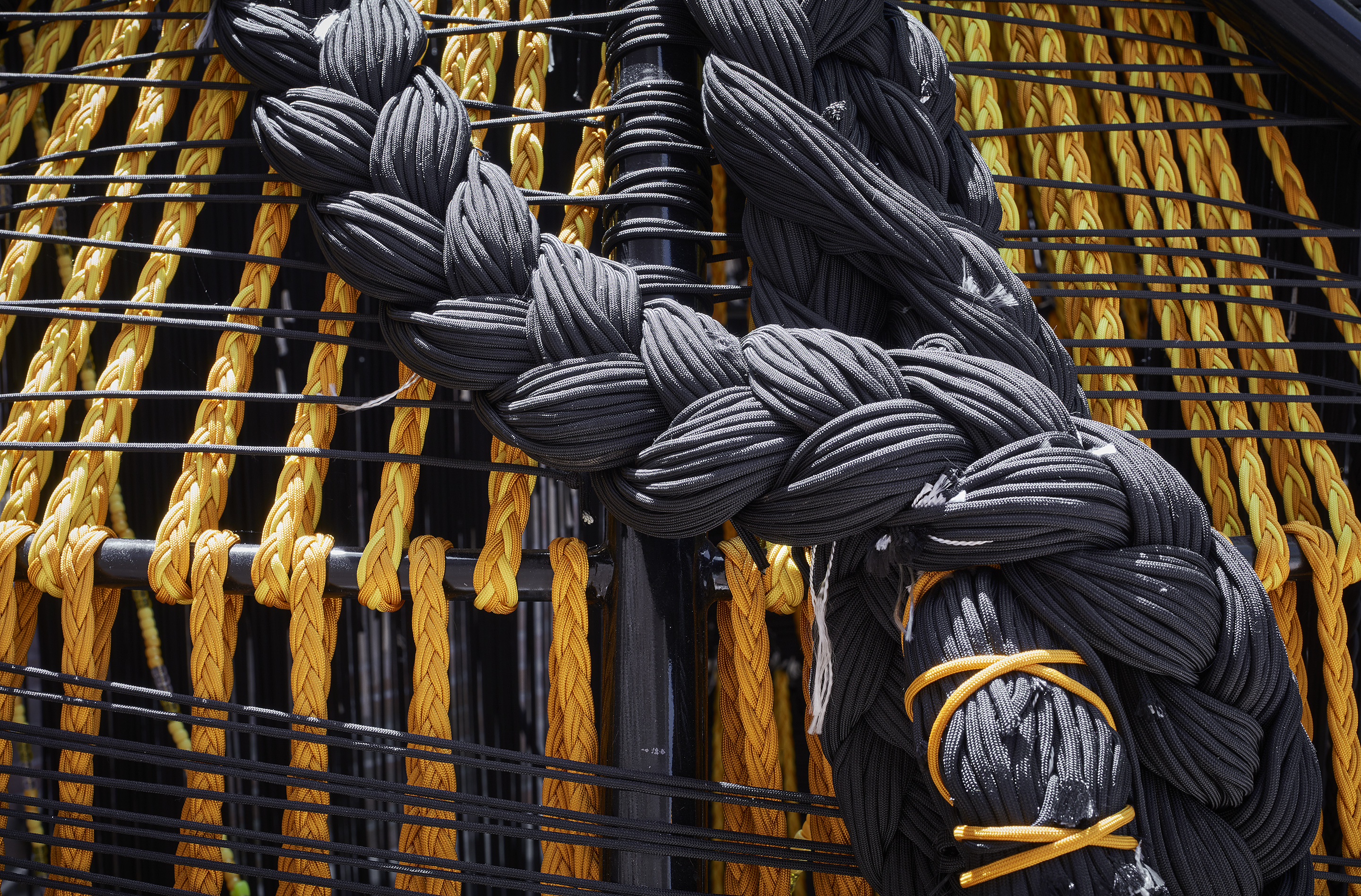 TH: Do you think it's just too new and too transdisciplinary for them to grasp? So there's no one who can speak on it? Who feels confident to speak on it?
AW: So Mabel O. Wilson is a Black woman practitioner and also a professor at Columbia University. Even in my time in school, she was the go-to person. She was the only Black woman scholar – I mean, there are a few others, Yolande Daniels, Sharon Sutton – but Mabel was kind of the one that was always saying exactly what I wanted to say. And, even for this, she'd recently written something about the Biennale for the catalog. I read it and was like, "Yeah, yeah, what she had said!"
But it's so tiring. Why do we have to be the ones that make the work and then explain the work in real time – and then not get a response, even then? We're bringing the criticality for you and setting up the framework! We're talking about the questions! We invented it ourselves already. We gotta do it again? It's so exhausting. Anybody who's pushing the boundaries are only rewarded for being a boundary-pusher, not for the content. And if it pushes too much? Then you're crazy or all these other kinds of labels that can compartmentalize the content so that it's not really ever shifting something.
ALH: Mmm hmm. Which are typical labels for Black women, too, right?
AW: "Hysterical…"
ALH: The reality is that this is a woman-centered project; it's a feminist project, right? I don't know if everybody agrees with that, especially people who know about our work. I think there's a fear of it being woman-centered. There's a kind of uncertainty of that. I think it's an uncertainty of people who are outside the profession putting that back in front of the profession.
This is powerful, honestly. And it's something that looks foreign, and is very strange to them. The aesthetic language of the project is just really foreign to people and doesn't look like what "should" be in architecture. I think that's the power of the project: it doesn't look like anything else.
SC: I'm a total outsider to this whole thing, and I think that was to my benefit. I didn't know any of the people I was meeting, I didn't know who they were or what their significance was, because I'm just out of the loop with the architecture world. But we were the only – I was expecting to go to the architecture biennale and see a bunch of structures, buildings, and temporary structures. But there were no structures. We made the only structure at the U.S. Pavilion. The only inhabitable structure.
The form of what we created is in total contrast to the courtyard that it is in. For me, that kind of goes back to trying to gauge how people really feel about it because it seemed like it was so new that it was a novelty [which made me question if] it was something that people were taking seriously. Before, as an outsider, I saw this as a kind of rich people's playground, for people who can afford to sit pretty with architectural degrees and then comment on what they like and what they don't like. And their comments have a bunch of weight within their circle–
AW: Yes.
SC: –but I'm wondering, "What are you actually doing?" Witnessing all of this was cool. It was interesting. But I think that whether we were a novelty or not, we created something that was really beautiful. And something that is going to kind of begin to shift the tides because it has now been seen by so many people. Regardless of how they feel about it – if they love it, if they hate it – they saw it. It's something that you can't miss. It's right smack-dab in the courtyard. And it's things like that I think quietly help to propel things forward. And if you see something else that references Black form in architecture, Black space in architecture, you'll be able to reference what we did. Who knows what it's going to do? But I know we did a great job.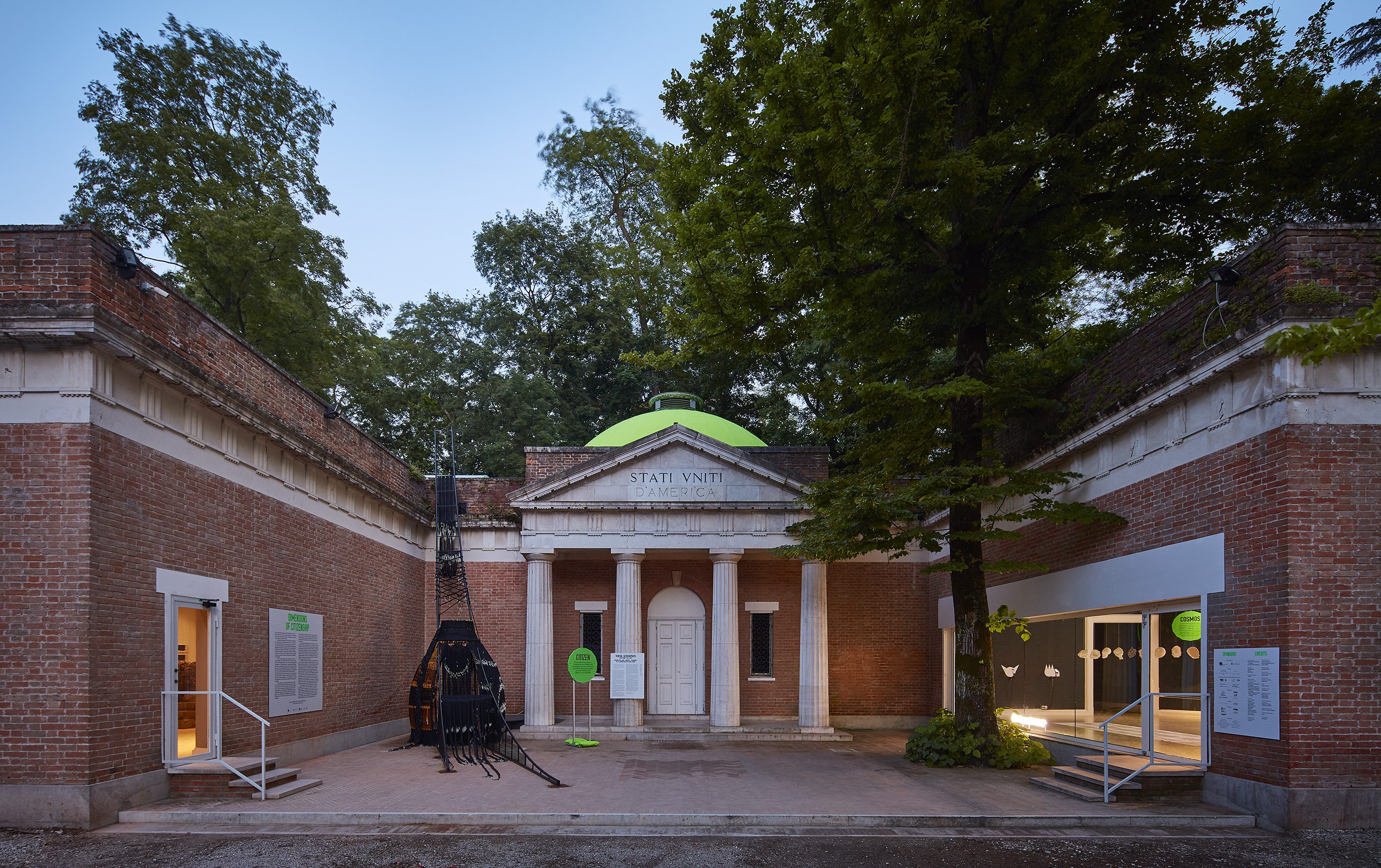 ALH: And there you go! My favorite quote – I think, this is the beauty of the the collaboration, too, is that Shani has a whole different audience than Amanda and I do. Like, I got two followers [on Instagram], Amanda got two hundred, Shani got, like, 80,000. But there was a comment early on, when Shani started releasing some of the photos and after everything had opened. Somebody had commented on a photo Shani posted saying, – I love this quote – "You braided life itself." That quote stays in my head because that shows me that this mix of audience is different. The audience that we were trying to speak to is in some ways dismissive but there's this other audience that's like, "Yo, that's bugged out. I've never seen anything like that before. You braided life itself!" And I think that that's where I'm like, "Okay, maybe that's where we're missing the mark!"
AW: Yes.
ALH: Maybe we need to flip the mark the other way in order to really speak to that audience as well. These folks are very receptive, but this other [architecture] community – maybe we don't need to be as worried about them.
SC: Yeah, that's true. Because, like I was saying, I felt privileged in the fact that I wasn't part of the scene, and I wasn't indoctrinated with all these things that could possibly limit me being a part of this, being able to introduce that to my audience may spark something in somebody else. I've had ideas for spaces. I'm an HGTV superfan, [all laugh] I'm a very tactile person, always wanting to build something or do something. But I just didn't think I would be able to do it so soon. Since I've done this project, I've already built another whole structure. Venice was an outlet for ideas and gave [me] an audience to that type of work. And now more opportunities have come from that. Like you said, "A reward for good work is more work."
ALH: [in unison] "–more work." [laughs]
SC: I just hope other people are similarly inspired and I hope that other people happen upon – more Black people, Black creatives, especially – happen upon chances to really expand their creative vision.
AW: We can't underscore enough Shani's spatial acuity…
ALH: Mmm hmm.
AW: Shani didn't go to architecture school, so maybe you don't know the language architects are using. But that first meeting – we were like, just give her the degree! She's sketching what we were thinking! She already made the thing!
ALH: Gotta get your honorary degree ready. Shani already had it [figured out], it's true.
AW: That was important to emphasize, especially at our engineering meetings. And the engineering team was fantastic and they were very open and really tried to listen to what we were saying and really jumped in with kind of formal translations and structural translations. But the idea that hair is one of the strongest fibers, and the interest in the profession right now – of, like, fibrous materials and 3D printing and all of these things – ideas that were already being translated to the way that Shani's working anyway was really important to say. Yes, she's a creative. Yes, she's a Chicagoan. Yes, we're all open to how that might look. Her skill sets and her base of what she's able to do were particularly powerful in this instance. She's already the Anna Julia Cooper quote. You know what I mean?
ALH: It's true.
AW: So we're just bringing that to the fore. When people leave us alone and get out of the way, look at the kinds of the things that could help the whole world, introduce a whole other conversation that maybe there's no language to speak to it yet.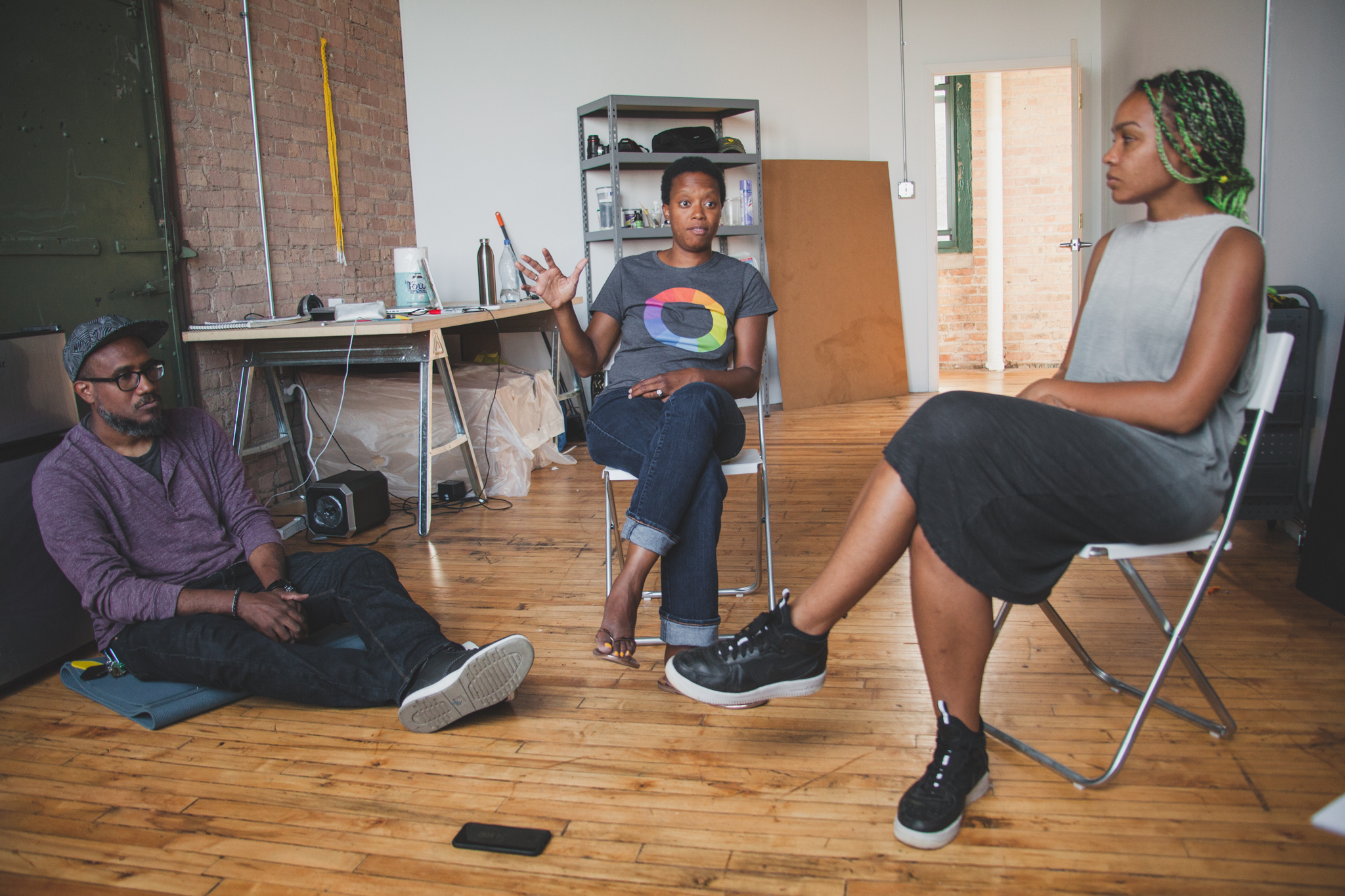 TH: To shift gears a little bit, when I was reading on this project and thinking about it, I started to think about its connection to environment and environmental justice. And I'm curious if that's something that you all think about in your work?
ALH: I would actually say maybe it's more connected to spatial justice but I understand where you're going with it. The idea that the built environment, and how we inhabit it, monitor it, police it, sustain it, you know, can be a built environment for all and unfortunately it's not at this moment. And I think obviously environmental justice is under that. I think that in Amanda's work – even the Color(ed) Theory series – people forget that the homes that she's painting are vacant for a reason. Even the idea that where those houses are – they are not the most desirable places to live even environmentally. These places are near, you know–
AW: –railroad tracks.
ALH: –inter-modal facilities, where it's off-gassing from diesel fuel. Those aren't places that people want to live or want to be. But those are places that people end up being, for various reasons. And I think, in that sense, that's the larger spatial justice issue. How do cities become impacted through industry and the economy, right? And where do people end up having to live because of that? And they're, often times, not in the best places. These are spatial issues, but they're also environmental issues because these places were made – houses were made, people made decisions to put facilities in these spaces – because they know there would be less pushback from the communities that they're in. So I think, for us, that's one way of thinking of the background of how we've been thinking about our own practices, both collaboratively but then separately.
I think the Venice project is more under the larger umbrella, the spatial justice piece, and thinking about how does public space become a place of safety? And thriving, for all people, in this moment – Black folks, Brown folks. To be able to move freely without, you know, fear of being arrested, assaulted, or killed. Just straight up. And I think that's part of the underpinning of our project. We just made it very specific to specific histories, but I think the larger conversation – which, again, I'm disappointed in people not really addressing this – is that.
AW: I'm glad you asked that question because I made a statement – and hopefully I didn't offend Kate Orff [of SCAPE]. She did a piece about the Venice lagoons, and she was speaking directly about environment in that way. So I said, "What I really appreciated is that the pavilion, and their ideas in totality, allow you to access the conversation about citizenship and belonging from every angle." I also said, "But what often happens is, when people get overwhelmed about talking about a subject that they think doesn't directly affect them, they always move to animals."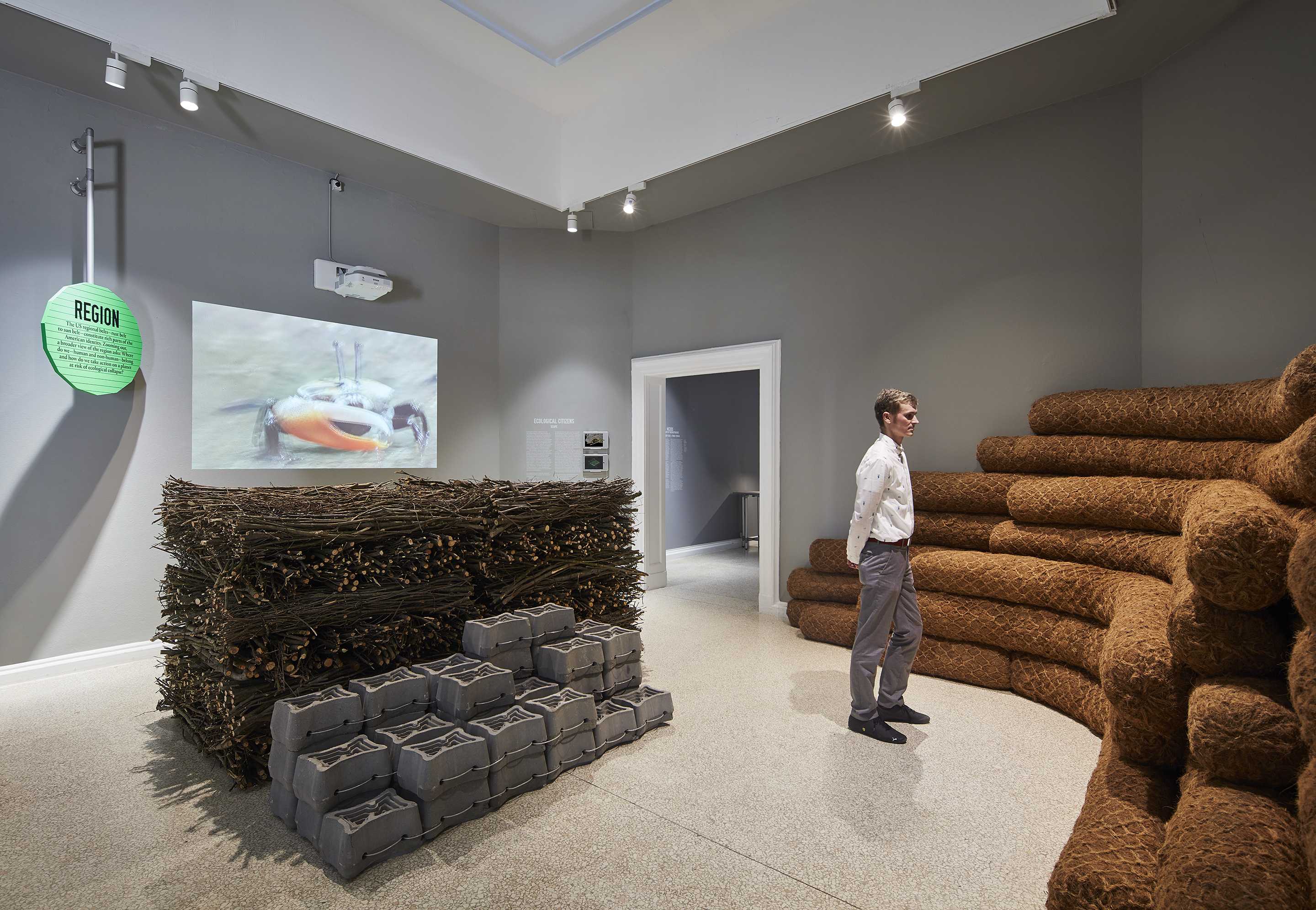 ALH: You did say that, didn't you?
AW: I did. I wasn't really talking about her. I appreciate the work that she does. I was really talking about – and I'm going to get in trouble for saying this out loud – but I'm really talking about my students. At the same time I was doing this I was teaching a class, and I foregrounded Black women and this same subject in an Ivy League institution for a graduate design studio. I commented that I found it interesting that, when given the freedom at the end of the project to do whatever they wanted, several of them moved towards environments for animals. So, to me, that was like this reaction where they're like, "I am so overwhelmed now that I understand the complexity of this and I feel hopelessness in this subject matter. And now realizing I don't have to actually live it after this studio is over, I'm going to help the pigeons."
And in that same way, though, I turned that question back on myself. Torkwase Dyson, a friend and colleague of us all, foregrounds [Black women] in her practice quite a bit, and I had the honor of working with her a few weeks ago at the Graham Foundation. The whole time driving there I was thinking to myself, "I know nothing about the environment, we don't even recycle in my house." This just shows you how you get siloed into nonsense, right? You get siloed into this funniness where it's like, "Well, I'm a Black woman, so that's all I really deal with, so I don't really know about the environment." But the definition [of environmental justice] shows you that it's all of these things. And it's built into the work that we're making.
I feel like I fall victim to an idea of only talking about or accessing the work in a certain way when it's more expansive than maybe people even want to receive it, but is not as expansive as all the things it's actually touching on or is doing, in terms of where my mind is when I'm making it, right? But it felt intimidating to foreground sustainability or, like, these issues that are relevant but I'm conditioned to think they should be talked about in a certain way by a certain kind of group of people in certain contexts. There's a way in which we all fall into these traps a little bit. I'm so glad you asked that question because it's in there but it would never be a way I would even think to [talk about it]. We said "geography" like six times, and "landscape" – I use that a lot as a term – but I've never thought about "environment" or "environmental justice" in that way.
TH: And Shani, in your work, I think about – before this project – the spaces that you would create through the different gatherings that you would put together and the people that you bring together. And now, with the [Refinery29] installation that you've just finished – creating space within this other space that's really held for certain people. Have you thought about your work in relation to the kind of space you're creating or saving for folks?
SC: Well, I grew up really pro-Black. I went to an Afrocentric school, with an Afrocentric curriculum. My dad's a historian. So we grew up saying things like, "Pledging our total devotion and the total power of our mortal lives to Black people." [laughs] So I definitely think about creating space. I'm always thinking about Black people. I mean, I'm Black. [all laugh] And you always have to take care of home before you can address anything else. I'm always thinking about how I can create spaces that honor the beauty of the Black experience and the depth of the experience. I think that humanity is missing from a lot of art that I see now. I mean, not necessarily among Black artists, but a lot of art that I see, it seems like people want to get farther and farther away from people. And, yeah, I love to be up in the ether and to be thinking about all this futuristic, crazy stuff, you know. But at the same time, I'm living my life on a day-to-day basis with people. And since everyone is looking for some sort of acknowledgement of their humanity and some understanding of what they're going through and some sort of empathy, I always try to trigger some catharsis or visceral reaction in the people that experience my work. And the fact that Black is enough, then creating more spaces and more art that's for Black people. So even if it's not clear, I'm definitely always thinking about Black people.
AW: Oh, it's clear.
TH: You talked a little bit about how your collaboration is an intervention in Venice and how your presence is a kind of intervention. But you also talked about this idea of strategy and being able to communicate some kind of strategy to not just Black women but different people whose experiences are similar to or related to or can be seen as related to and connected to Black women's experiences. Can you talk a little bit more about the strategies that can be communicated to folks, ones that they can take and use within the world that we're living in today? Which is a huge question, right?
But what I'm trying to get at goes back to what led me into art, which was realizing that it is this thing that operates in a way that nothing else can. And it can communicate things and model different things that we don't see in other topics, subjects, or disciplines. So it's hard for the arts to actually put into words the strategies it's using so that people can see the connection and see how it's relevant outside of, for instance, a museum space or academia or these spaces it's siloed into. And the great thing about all of your work is that it also operates outside of the spaces that try to confine this expanded conversation. Your work's relevance to the real world isn't metaphoric or detached. So I'm curious about the strategy around your work and how it's actually used as a tool, as a strength, and as a power.
ALH: I can start. I would just say, briefly, that if we had all the money in the world right now we would [find ways to] address the things that we're lamenting and the things that we wanted to create as sort of a framework for around our project. We wanted to create a conversation around Black hair. And have not only someone to talk about that, but have Shani in conversation with a bunch of folks around that work. We wanted to have people who were looking at the intersections of race and geographies. We wanted to highlight – which we still can do – Black Lunch Table to do a Wikipedia editing centered around the 400-plus African-American women who are registered architects and get them entries. We wanted to create that framework and talk about these things. I don't think we ever saw our project as–
AW: An isolated object.
ALH: Yeah. There's all of these other connecting things happening. There's the sister who's doing The Nap Ministry which is like, "BAM!" That's perfect for our project, right? But we can't get her to Venice! These things would help really flesh out our project even more by pointing to all these existing things that are happening. Where Black and Brown folks are putting together – despite and outside of – they're putting together some really powerful ways of looking at our world and ways of being, whether that's self-care or otherwise. I think we probably should strategize, in the remaining months, what we could do as opposed to, you know, what we can't do. How can a project bring those things together and continue to build collaborations and cross-pollinations with people who would never talk to each other.
AW: It's the nature of these things. That's not actually the intention. It doesn't leave room for that, because it's not the nature of how these exhibitions want to operate. But I also think that, in terms of strategy, it also offers permission. So I think I've been shocked at how many people, in their respective disciplines or practices, are like, "Oh, and I saw that when you did it, and then I decided I could do this." People go do something just because they're like, "Oh, now I can do that too!" So there's a level of humility that then translates into accessibility. So even beyond the form and the content of the work, just the idea [sparks that].
I was joking with somebody and they asked, "What are you doing in Venice?" And I told them, "We about to take all of these Black ladies and they're going to take some weaves and some cornrows and we're just going to stand in the middle! Like, 'wow!' That's what we're going to do." And they're like, "Really…?" And then they see it on Instagram and they're like, "You really–?! I thought you were joking!" But just being able to say it that plainly, without all the layers of what it means or how we can speak in an academic environment or intellectualize what it is – it's just plain, in a 79th and Damen way. Those are the connections. For me, that's also a strategy in terms of getting as many people as I can get to believe that they already have the ability. That's just as important. If they're inspired to go do whatever, that's almost a bigger compliment than, you know, trying to mimic the work itself or trying to mimic whatever our trajectory was. The project is speaking to all of those audiences, all the time. It can resonate with people that have no understanding of any of those subjects.
SC: Yeah. I wish I could just take people so that they could see it. The photos only capture little details of it, but the experience of walking through it, and sitting in the chair, and looking up at the top. It seems very simple but I think it's something that really helps the understanding of the work.
A lot of times traditional Black art forms are just undervalued by popular culture – which is, you know, white culture – and then trickled down. Black people devalue their own stuff. With the visibility of this piece, I'm hoping that it sparks something that allows people of color to value their art forms. Anything that you're putting that much energy into perfecting and creating is valuable. And there are a lot of people who are doing a lot more with a lot less, you know? It's interesting because when I show in different places they're like, "Wow, you braided that?!" [all laugh] It'll be a [basic] braid and people are really impressed with really small things that are totally undervalued and commonplace in the Black community. People are getting their hair braided for hours, spending hours beading, and multiple people work on their hair. And that's just life, you know? But you go somewhere where that's not common and people are obsessing over things that are just totally commonplace. Being your regular self, doing Black regular things, there's value in that and you should be able to take pride in that.
ALH: I think another strategy has been intervention. I think being able to slip language in, slip names in. People are like, "Who's Harriet Jacobs?" That a lot of folks may know but a lot of people don't know. People may know Harriet Tubman but may not connect her work to other things. Using a phrase like: "Black women's space matters." Talking about what Black space is – people ask all these questions. For us, it's also inserting ourselves into this larger discourse and the ideas that are resonating and are already here. It's not that we made up all this stuff. It's stuff that we were excited about that we're putting back into the discourse. I think that's the best intervention of all.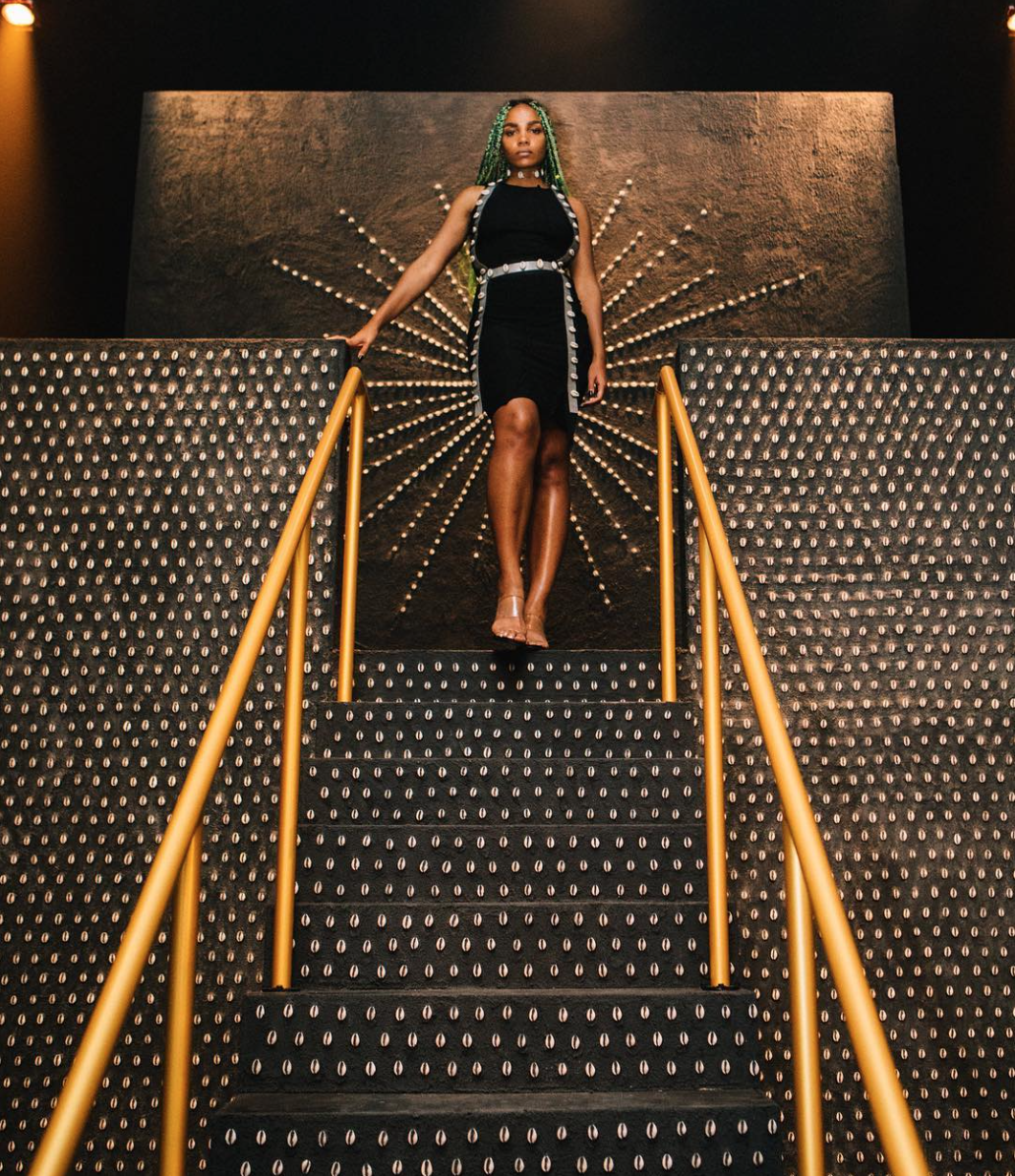 TH: So what are you working on now? You're still in this Venice time period, but what are each of you up to? Or, at least, what are you thinking about?
SC: I just finished this room that I'm really proud of for Refinery29. They try to collaborate with artists and to get a little more conceptual depth. But mostly it's a fun place, it's like an adult playground. So when they approached me about it, they had an idea that – the first idea I had was kind of mirroring a similar thing to another space, so then I was like – I woke up one morning and was like, "Man, I don't want to be the person from Chicago that is bringing up violence and stuff." Everywhere we go everybody's like, [claps hands] "You from Chicago? So you be dodging bullets and stuff?" And I'm like, "Not really, but–" Somebody did get shot on the corner of my block. It's close, but it's far away, but it's always looming over everyone's head and is something that everyone can relate to being from Chicago.
Then, outside of the gun violence and violence in Chicago, death is something that's a part of life and no one really can escape it. We tried to make a piece that would commemorate or honor the lives that we've lost in this city, but while also creating a space for people who are living to have a moment of peace or reflection. You see "Rest in Peace" or "Rest in Power" when people die. You see that a lot on timelines or what you're scrolling through. And it's like, "Damn, I need a moment of rest sometimes." Or a moment to just reflect. So [this piece] is not limiting rest in peace or power to the dead, but also trying to offer it to living people and the dead simultaneously. So my room is a giant throne. Then the throne has a chair in a room on the inside of it that's a shrine on for you to reflect. There's a space for you to write a note if you want to. You can drop it in the box, say a prayer, whatever you want to do. You can say an aspiration for the future, whatever you want to do in the space. If you wanna be like, "You know, I want some new Jordans," [snaps fingers] okay, put that on the paper and put it in the box. Whatever you need, it's there for you. So that's what I have happening now. And then, after that – before they hit me up about that, I was planning to use this new studio space to shoot some more braid photos.
AW: So I've been thinking a lot about redlining.
TH: Redlining in the historical Chicago and geographic sense?
AW: Redlining in the historical Chicago sense, but also in general. I'm super interested in trying to shape the projects I'll create to always be about color and space. So like the Negro Green Books. It will always have a color and kind of a spatial connotation related to it. Like Grey towns. So I figure I have a whole rainbow to work with before I have to come up with new creative work.
Also, just wanting to get back to a studio practice. I haven't really had a studio practice in a more traditional sense in a long time. So also just getting back into a rhythm. And that, too, is just a little bit of self-care. I'm really trying to be more in tune with those things and also shut out all of the chatter, which happens to all be good right now but could turn on a dime. Right? So not letting that distract me is hard.
I'm also trying a new medium. I had a session at Spudnik today. I'm working with Angee Lennard on printmaking and she showed me a bunch of techniques, I kind of told her a bunch of loose ideas. So etching, and lithography, and cyanotypes – all things I've done tangentially in the past but now I'm trying to think of them as a process and [a medium that] could honor something that I'm trying to say that painting or installation can't. [I'm asking,] "How can I use another medium to have as a new language?" I might cop out and just make some oil paintings. [laughs]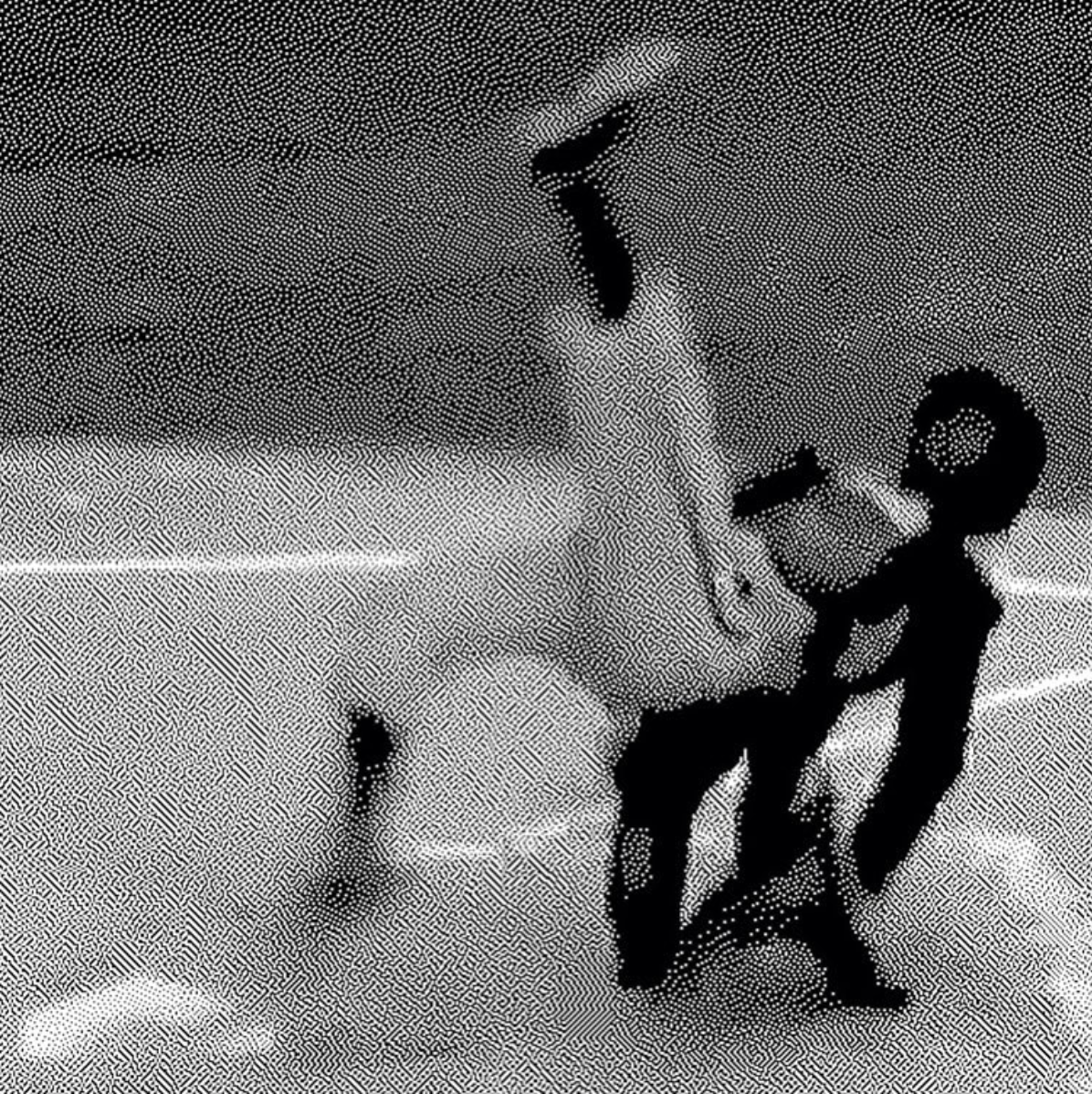 TH: Andres, what's on your mind?
ALH: A couple things. I've been collaborating with a group that has a loose name – and it's with Torkwase Dyson and Zachary Fabri. We've been doing collaborations. We did one at the Drawing Center in March, we just did one at Graham [Foundation] in June, and then we just did one at MoMA. We're going to have a couple more coming up. So, that's been interesting, to have three different people, who do three really distinct things, make performance. I do movement scores for Zach to interpret. But now, we're all mixing up roles, too.
It's a great moment because nobody knows me for doing that kind of work so I can just be risky and do whatever. It's exciting because no one ever suspects that I make work like that, and I love that. I love being anonymous in the work sometimes. We did the performance in Venice, which was amazing. I helped with the soundscape for Shani's performance, so it actually got me back into music. I'm not a musician, I'm not a sound artist, but I always make [music]. I don't promote it or anything. So having done this thing this past weekend at MoMA makes me want to challenge myself to make an EP by the end of the year. Like, just straight finish it up.
TH: Andres mixtape!
ALH: I'm not going to say an album because I don't have that much in me right now. But I'm going to make my five songs, three or five songs. We're not making a full-length album, we're making an EP. I'd already made five songs for the MoMA thing but [for this new one] I think I'm going to start from scratch. It's something that has always been in the back of my mind. I've been making stuff, and I make stuff with my brother sometimes, but we just never promote it.
AW: You said it out loud, so now that's my Kwanzaa mix!
ALH: And then, lastly, I'm a visiting artist with University of Arizona for this coming academic year, so I'm going to be back and forth to Tucson. I'm doing a "socially engaged" art project that I'm still kind of in the midst of writing, but I think I want it to be around immobilities, so mobilities and immobilities. I'm going to actually write and co-write some movement scores and do performances with people in Tucson. I've been thinking a lot about disabled populations and their movement. I'm thinking of transient populations, and the unhoused, and their movement. I'm thinking about migrants or folks who are undocumented, particularly in that area because people are coming across the border, or dying in the desert. So I'm just thinking about a lot of different populations to mix up this conversation about mobility, and then creating work with people, with those populations, around that.
TH: Well, thank you for spending this time with me and having this conversation. It's exciting to be in the city with you and you work right now. So thank you.
AW: Thank you.
ALH: We're excited to be in the city with you.
SC: Riiiight.
ALH: This puts us out there. So we appreciate you.
__
Featured Image: The 2018 U.S. Pavilion. The image shows an exterior view of the U.S. Pavilion during the day with the windows in the gallery space dark. There's a person, slightly blurred, walking past the pavilion. Photo © Tom Harris. Courtesy of the School of the Art Institute of Chicago and the University of Chicago.

---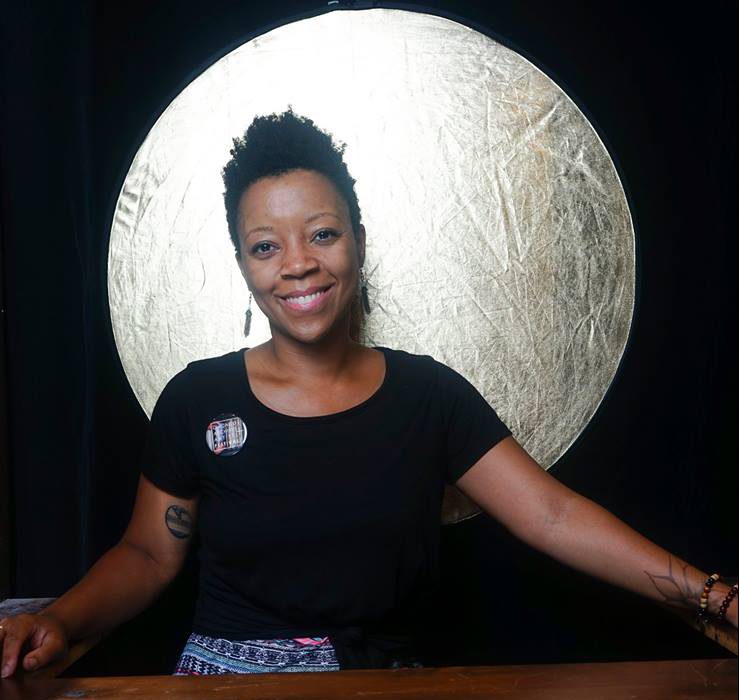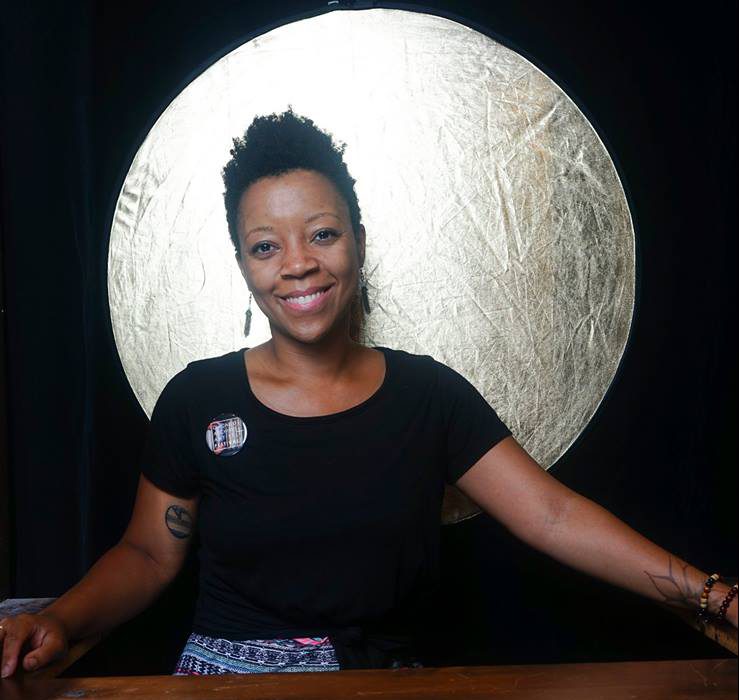 Tempestt Hazel is a curator, writer, and co-founder of Sixty Inches From Center. Her writing has been published by Hyde Park Art Center the Broad Museum (Lansing), in Support Networks: Chicago Social Practice History Series, Contact Sheet: Light Work Annual, Unfurling: Explorations In Art, Activism and Archiving, on Artslant, as well as various monographs of artists, including Cecil McDonald, Jr.'s In the Company of Black published by Candor Arts. You can also read her writing in the upcoming Art AIDS America catalogue for Chicago and the online journal Exhibitions on the Cusp by Tremaine Foundation. Find more of her work at tempestthazel.com. Photo by Darryl DeAngelo Terrell.