The Art of Being Human: Joan Giroux at QUEER, ILL, & OKAY
Illness from the caregiver's perspective in the performance of Joan Giroux…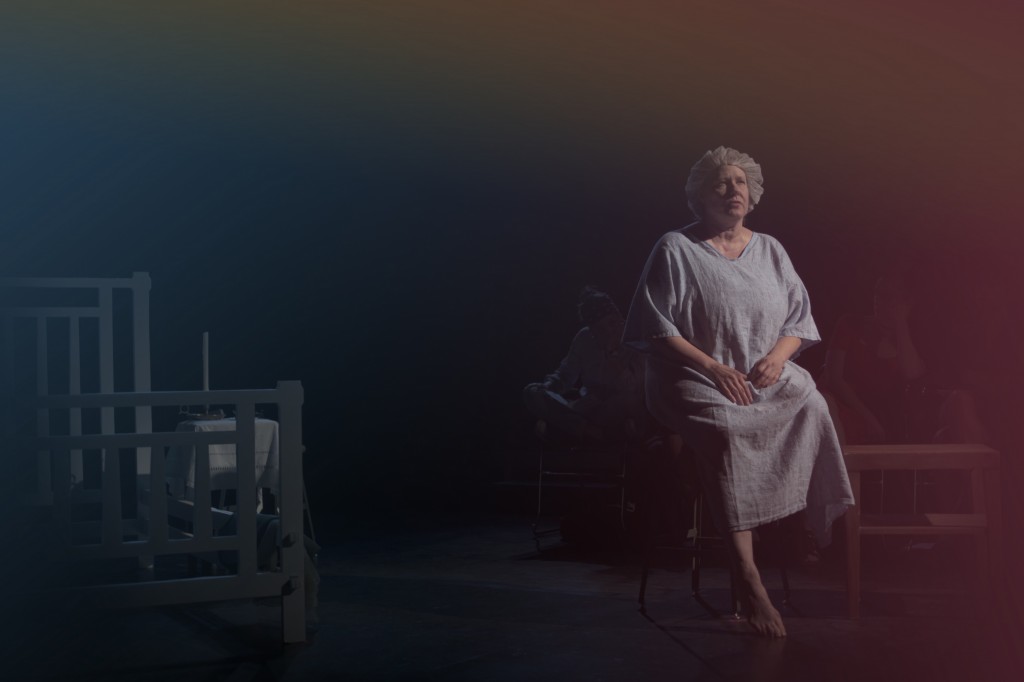 Joseph Varisco of JRV Majesty Productions started the QUEER, ILL, & OKAY (QIO) performance series in 2013 as a way to respond to his own HIV diagnosis. The series explores how issues of health and chronic illness intersect with queer populations. This year's event included Joan Giroux's life review: sacrifice best what is not yours, a mixed-media performance that reflects upon the care she provided her friend Matthew Ranger preceding his AIDS-related death in 1991.
By reflecting on illness through a caregiver's eye rather than from the vantage of a person living with chronic illness, life review: sacrifice best what is not yours expressed a new perspective at QIO. That, however, was not the only way her performance distinguished itself. As Varisco explained to me, "[Giroux's] voice was not one that had been represented before—both her age and her experience—and her relationship to HIV in a different era, and reflecting on that now, was an important contrast to some of the other works that were part of the show and that had been performed in the past." While many artists in the performance series communicated directly to the audience, Giroux's piece remained almost entirely behind the fourth wall, taking the viewer to Berlin and New York in the late 1980s.
Divided into three major components working in tandem—audio, projection, and Giroux's physical presence on stage—the performance emphasizes each of these elements at different points to drive the narrative of the work. A white skeleton-like bedframe, two small tables, and a privacy curtain set the scene. At the opening, the viewer is presented with a darkened set and the projection of a date: "September 1956, Portland, OR, Matthew Freeland Ranger is born." Throughout the performance the projection continues to locate the piece in a specific time and place. Other characters enter the performance via a bricolage of audio, which contains snippets of letters written by Matthew, messages to Giroux from other friends, and excerpts from David Bowie's "Heroes." Over the course of her performance, Giroux changes costumes twice—once, visible in silhouette, the other offstage—mapping her personal change from patient to caregiver, and then from caregiver to survivor. She speaks only three times: marking the beginning, climax, and end of the piece.
Arguably, the subject of this performance is Matthew. In his letters, Matthew recounts his fondness for Giroux, his diagnosis with AIDS and subsequent treatment, and remunerations on death and dying. Everything in the work centers on these letters. "I'm still in the hospital," Matthew's voice reads out midway through the performance, "The bed sheets are green because the cremes leave terrible stains on white sheets. I prefer the green to white and would like to dye my sheets at home the same color." Here Giroux rises from the seat beside the bed to perform a series of actions evocative of caring: pouring a glass of water, hanging a painting, and setting out a black doctor's bag. In a poetic motion that brings Matthew poignantly and bodily into the performance, she "makes" the skeletal bed by draping two sheets of sheer green fabric across the rails and footboard. Matthew's presence and absence is thus manifest on the stage. The bed becomes his deathbed; the sheets become his body. Sheer, doused in light, and thin, the sheets anchor the gestures of caregiving but become a void, pointing to a friend who is gone, but present by absence.
When I asked her about the title of the piece, Giroux said "The process of life review is the process of revisiting your past experiences to gain new perspectives on them. It's a term used in gerontology and geriatric care to describe some of the kinds of emotional, mental, and psychological processes that occur in the time leading up to death." It is also the name of her larger body of recent work that investigates issues of death, dying, illness, and loss. The latter half of the title—"sacrifice best what is not yours"— refers directly to Matthew, drawn from the title of his painting owned by Giroux: Sacrifice Best What Is Not Yours III.
In conversation, Giroux references author and surgeon Atul Gawande's writings and reflections on death and dying. In his book Being Mortal: Medicine and What Matters in the End, Gawande writes, "Death, of course, is not a failure. Death is normal." This normalcy—of death and illness, loss and demise—is the underpinning framework to Giroux's larger project. Empathetically but not quite apologetically, Giroux confronts her viewers with vividly personal reflections on death, such as in the moment marking the denouement of the performance. Matthew reads, "Before I plunge further into the whatnots, I thought I'd get the ugly business out of the way: Rolo died on January 26th." Rolo was an intimate friend of Matthew and Giroux who also died from AIDS. "Then the first time he was left alone," Matthew's words continue, "Rolo died. Typical Rolo – leaving without saying goodbye." As he says this, a projected photo of a Christmas dinner begins to fade away, leaving a solitary figure at the left of the frame. This isolated figure, enshrined in gold, appears alone on a dark screen with a hand raised, waving as if saying goodbye. This is Rolo, whose image finally fades to black.
During our conversation, Giroux became choked up with emotion. Matthew's death, twenty-four years later, is still painful. "Has this project been cathartic in any way?" I asked her, "Has it helped you with your experience?" Giroux responded first by summarizing Claes Oldenburg's 1961 manifesto I Am For An Art: "It is very much about this idea of the art of the ordinary and the art of the everyday, not positioning art outside of the world of everyday life in the museum and rarifying it." Giroux went on to say that she is "for a family where crying is considered okay. Where it is okay to be human in that way … I feel crying is a thing that one does—just like laughing. It is a thing that one does when you experience an intense emotion." And to Giroux, feeling fully—including when it makes you cry—is what makes us human.
But besides encouraging us to be fully human, what else can art do for us? Considering the tenderness the trauma of Matthew's death still caused her, I asked if she thought art could heal. "I don't think it is a direct healing," Giroux responded, "I think it is a series of different types of transactions like emotions, thoughts, judgments, interpretations and all of those things that occur when you encounter art. When you openly encounter art … it can bring someone to a place of change or a place of reconsideration. And that, I think, can be healing."
This healing achieved by being brought to a place of change or reconsideration is what fits Giroux's work within the QIO performance series. Queerness and illness are apparent in the performance through its meditation on Matthew, his death, and AIDS. Giroux's art, however, does not heal in any normative sense: Matthew dies from AIDS, and Giroux experiences his death intensely. According to Varisco, the "Okay" part of the performance series title does not necessitate that all the performers be literally okay. Giroux's work does not point towards a happy ending where everything is fixed. Rather, her work is a reconciliation with her past. Deeply personal and extremely direct, her work allows her and the audience to mourn, to memorialize, to feel, and to reflect. Whether or not art can heal, Giroux's work allows us to feel, and encourages us to be okay with the end.
Being okay with illness, death, and loss is what positions this performance in Giroux's larger project Life Review. "The way we saw it," Gawande writes in the opening of his book, "and the way our professors saw it, the purpose of medical schooling was to teach how to save lives, not how to tend to their demise." Through Life Review, Giroux seeks to tend to this demise. Giroux explained: "Life Review is an overarching inquiry that addresses loss, frailty, vulnerability, illness, death and dying. The project seeks to make audible and visible and tangible these states which are frequently masked and hidden from view." A lifelong activist, her work is now intervening into a culture where death and illness have been increasingly pushed to the periphery.
Giroux's work in making visible these states—of dying, of caregiving, of being ill—takes multiple forms. An early iteration of the project, spunk and pluck: commended to grace (2009), is a static sculpture crafted from clear acrylic and steel, created as a replica of a hospital bed. Her interactive performative installation one sandpile: within hearing distance (2012), installed at Terrain in Oak Park, Illinois, incorporated public readings and created a site of engagement and play. Participants came to the sandbox to play, commune, and enjoy sugar cookies while Giroux read an essay written by her mother. "All of these works deal with reflections on loss and the inevitability of death," Giroux wrote to me, "which is one of the driving forces behind this body of work. And each of them memorializes in some way."
Gawande writes, "We're always trotting out some story of a ninety-seven-year-old who runs marathons, as if such cases were not miracles of biological luck but reasonable expectations for all. Then, when our bodies fail to live up to this fantasy, we feel as if we somehow have something to apologize for." In Life Review, Giroux is unapologetically trotting out new narratives: narratives of bodies failing, diminishing, and dying. Through its memorializing structure, life review: sacrifice best what is not yours fits all too easily into the ever-growing canon of AIDS-related art. It is pregnant with survivorship, loss, and tragedy. This is not what makes it significant. What makes it different is how it eulogizes; the subject of her performative eulogy happens to be Matthew, but it is a eulogy for the benefit of the audience. Giroux reflects on the inevitability of death through personal memories, but her work seeks to encourage viewers to connect and consider these issues as they apply to their own lives.
Giroux's work has come to be a contemporary guide to ars moriendi, the art of dying, as well as an empathetic social intervention in a culture increasingly discomfited by the inevitable. The goal of Giroux's work is to open up conversations on death, dying, and loss—because to die is to have lived at all. Death is one of the most universal human experiences for as the saying goes, it is, like taxes, one of our world's certainties. Life Review, and Giroux herself, cannot alter that fact, but can direct us to these questions: What does it mean to die? How do we want to die? What is important to us in the end? And, in guiding this conversation, Giroux also allows us the space to mourn the ends as she points us to them.
"The goal [of QIO] is to continue to have new conversations expand what it means to talk about living with a chronic illness today," producer/curator Varisco explained, "and entering more and more different perspectives as it continues to evolve." Giroux's work contributes to this goal, and broadens it by connecting the conversation to what it means to live and to die. Her work heals by opening and reconciling her audience through conversation, intervention, and empathy to the humanness and sanctity of finality. At the core of Giroux's work is a commitment to being ordinary and human, which includes dying. "When the prevailing fantasy is that we can be ageless," Gawande wrote, "the geriatrician's uncomfortable demand is that we accept we are not."  Giroux's art heals, because it allows us to poignantly feel our mortality. Her work, including life review: sacrifice best what is not yours, is socially critical as she assumes the role of caregiver-artist, reframing death, and helping us accept our own mortality in a time when living longer is often confused with living forever.
Featured Image: Joan Giroux, life review: sacrifice best what is not yours, 2015, performance, 13 minutes and 56 seconds. Photograph by JI Yang.
---
Conor Moynihan is a writer who splits his time between Chicago, Illinois and Buffalo, New York. He is a doctoral student in the visual studies program at University at Buffalo, the State University of New York, specializing in queer art and the intersections between the AIDS crisis and art. His research interests include queer art, illness, performance, activist art, and social practice.