School's Out: Eugene "Eda" Wade's Doors for Malcolm X College
A look into the salvaged doors from one of Chicago's city colleges, currently on view at the Chicago Cultural Center.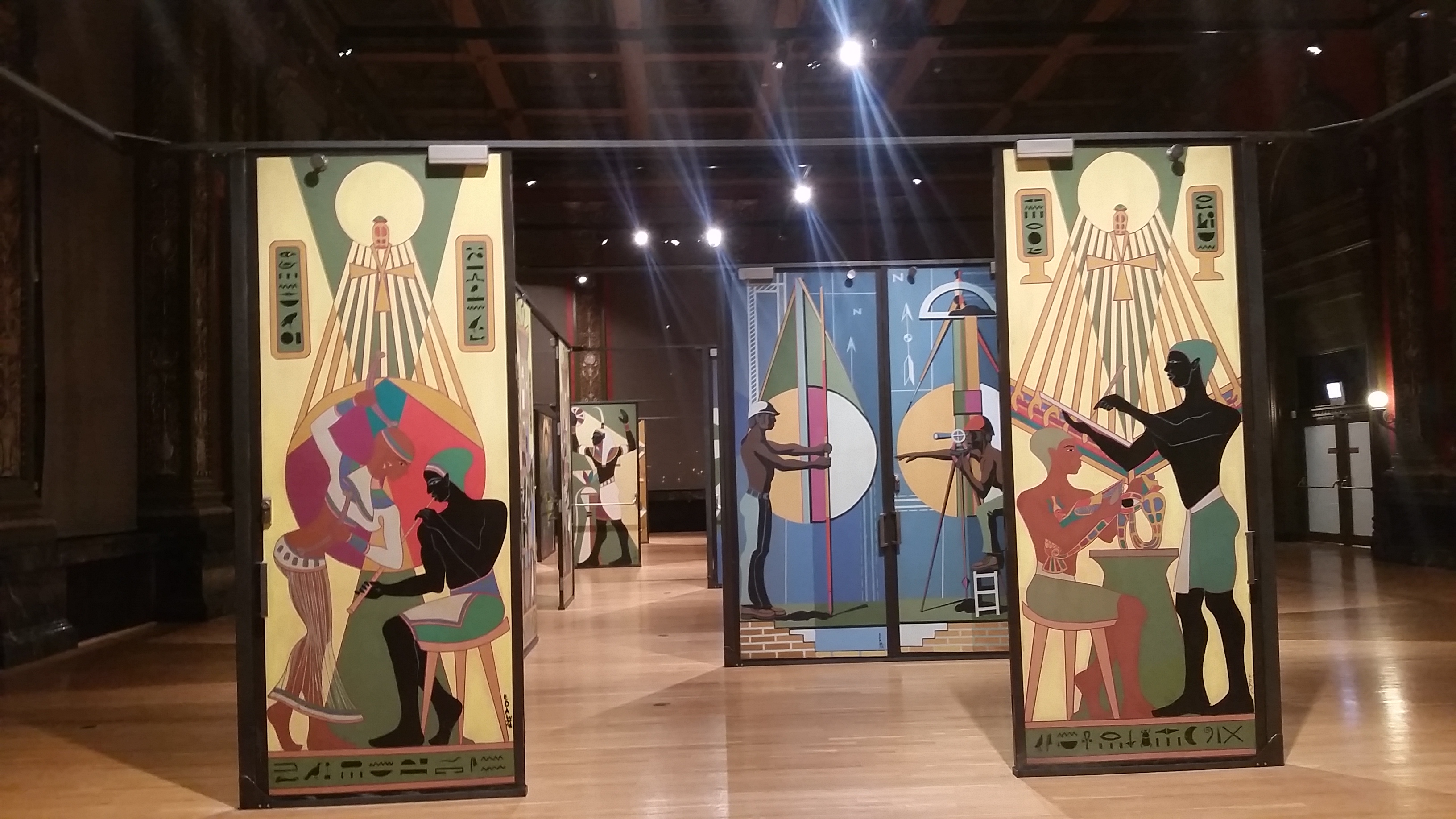 Thirty-two freestanding doors, previously painted by Eugene "Eda" Wade for Chicago Malcolm X Community College, are currently on display at the Chicago Cultural Center as part of CCC's "Year of Public Art." The door's existence is somewhat of a miracle: In 2016, the college was demolished in order to make way for a brand new campus across the street, and were it not for an art professor at Malcolm X and the resources of the Cultural Center, it is likely that these magnificent doors would have met the same fate as the building that originally housed them.
The exhibit itself is on the fourth floor of the Chicago Cultural Center, at the end of a long hallway full of wall-mounted plaques that detail the history of the college as well as Wade's artistic background. Looking at a black and white architectural blueprint of the campus' designs placed next to a candid photo of Wade painting, one can see that this commission was both practical and deeply personal. The 10-by-4 ft steel doors are so massive and eye-catching that they are visible even when standing at the hallway's opposite end. The doors in the exhibit are arranged in three pavilions to reflect the three floors of the now demolished college campus, offering a recreation of the door's original context and setting where they had once stood.
Each door is unique. Some of the doors have tributes to the Black liberation movement and culture of the 1970's, some contain references to African American history, and some have Egyptian symbolism. Every human figure represented on the doors stands in a purposeful and powerful pose, ranging from athletes to construction workers holding protractors to doctors with stethoscopes around their necks. Wade used circles a lot in his work, and that shape symbolizes both forward motion and progress (concepts that were central to the Black liberation movement of the time). These doors are relics of the past, but they also evoke current times where artistic and cultural communities are eagerly anticipating / demanding a more liberated, more equal, and more progressive future. Looking at Wade's doors is like looking at the past, the present, and the future melding together like multicolored paint on a pallet.
Wade's artistic process in creating these doors was focused and involved. He created thumbnail sketches of the images before enlarging them and tracing them onto the doors themselves. Ever efficient, Wade used acrylic paint because it would dry quicker. While there are 32 physical doors, there are actually 64 images in total, because Wade painted each door with an identical representation on both sides. Having mostly worked outdoors (Wade was one of the co-creators of "The Wall of Respect," a mural that, like Malcolm X College, also no longer exists), this was Wade's first indoor project and his first commission. Wade was paid a professor's salary to work on these doors every day for two years. He worked from 9:00 in the morning to 5:00 in the evening. These doors have an emotional value for Wade, as they represent a time in his life when he made the intentional choice to value his work as not just as a gift for the public, but also as a livelihood to support himself.
On February 25th, as part of the Chicago Cultural Center's "Open House Series," Wade gave a talk to a group of about 15 people, some of whom were alumni who remembered the doors from their college careers. One alumnus shared with the group that when he came to Malcolm X College he was a seventeen-year-old basketball player and heroin addict. He told the group how these impressive and inspiring doors in the college quite literally pushed him forward down the hallways and into his classes. Wade has said his desire to make public art stemmed from a need to create a "non elitist art" and an art "for the everyday person and community." These doors held a bigger and more significant importance for the students who attended the college than just being beautiful objects to look at while walking down a hallway, and the anecdote from the alumnus is indicative of the positive force that these doors impacted on the students and community.
The nature of public art is that it is vulnerable to the passage of time, always shifting in relation to community needs and external elements, and concepts of activism and culture undoubtedly influenced Wade's imagery. Taking into account the sheer difficulty of the task of painting, along with the artist's sentimentality and personal connection to these impressive doors, the installation is all the more striking when one considers that Wade's work is fighting against its own exposure and vulnerability as an expression of public art.
The creation of the new Malcolm X College is ultimately a major step forward for the students, educators, and the city of Chicago. From upgraded classroom technologies to brand new teaching and learning facilities, the state-of-the-art facilities are geared to help students succeed in the 21st-century workplace. However, in every trajectory of progress there is always the risk of things being left behind or forgotten, and even though these doors are safely on display for the public until June, they do not have a permanent home. Wade has stated that he does not wish for these doors to be separated from one another, that he wants them to stay together as a complete collection. However, Wade also recognizes that as a true public artist he has little control over his work and his legacy. This site-specific work was made for the community, and now the community must decide its fate.
Eugene "Eda" Wade's Doors for Malcolm X College is on display from January 21st through June 25th at the Chicago Cultural Center.
Featured Image: "Eugene 'Eda' Wade's Doors for Malcolm X College," photo by Ida Cuttler
---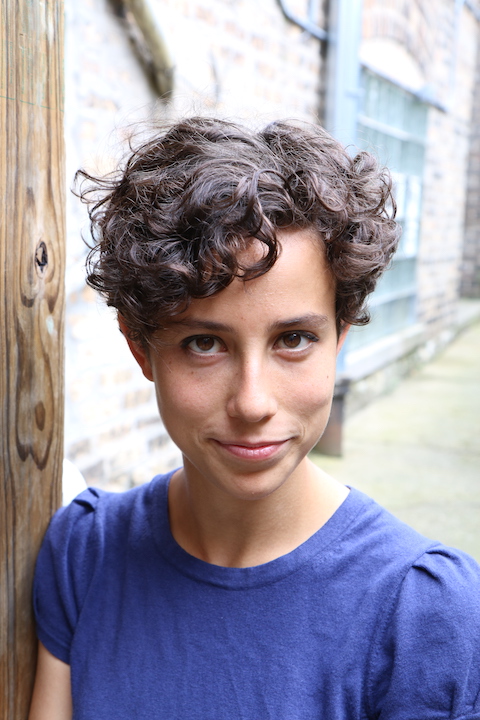 Ida Cuttler is a writer and performer living in Chicago, Illinois. She is an active ensemble member of the Neo-Futurists. Ida's live lit credits include The Arrow, The Paper Machete, Write Club, The Annoyance, and Cool Shorts. Ida's essay "How did I Happen" was published in Storyclub magazine's online publication. Additionally, Ida frequently contributes content to the Neofuturist blog. More of Ida's writing can be found on her Medium.