Review of We. The Culture: Works by The Eighteen Art Collective at the Indianapolis Museum of Art at Newfields
The exhibit at Newfields highlights a collective with tremendous talents, though it can still feel like an attempt to rectify the institution's racist past.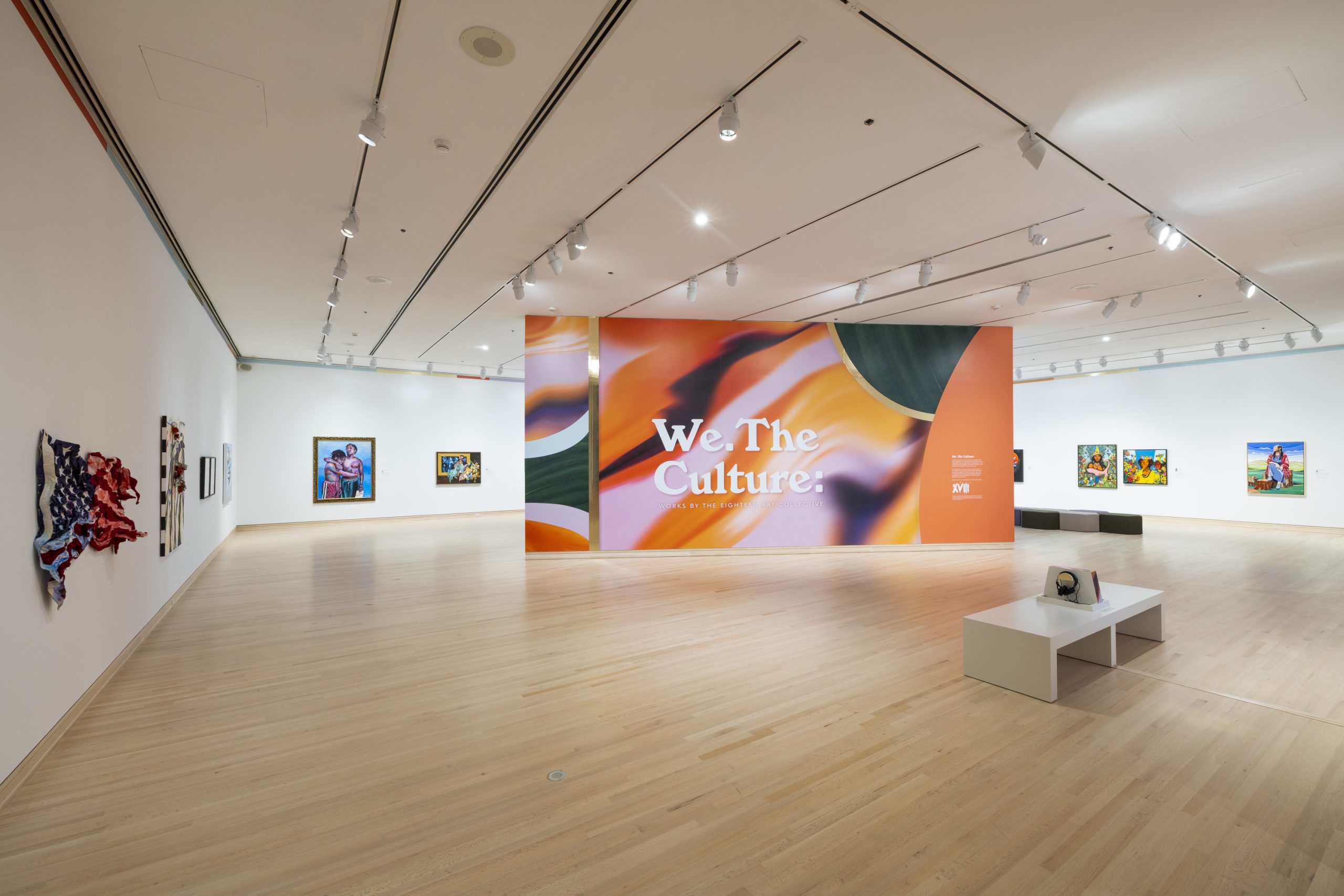 An art fair is equal parts party, exhibition, networking event, and fishbowl. The ultra-hip creative firm GANGGANG brought all of that and more to Indianapolis over Labor Day weekend. For the second consecutive year, they presented BUTTER: A Fine Art Fair, a three-day showcase of over 50 Black artists from around the world. The whole outing was a sleek, refined, and impressive event. Works on view explored far-ranging topics from hip-hop culture to Black activists; from Black femme beauty to police brutality. The audience was young, Black, and trendy (i.e. the present and future of the art world). Everything about it was Black, undeniably so. But If you missed the fair, equally good, up for a bit longer, and also curated by GANGGANG is We. The Culture: Works by The Eighteen Art Collective, an exhibition at the Indianapolis Museum of Art at Newfields (IMA). The collection of works, though separate from BUTTER, brings the same vibrant and modern energy making it a fine companion to the fair.
I came to this exhibition with a lot of personal baggage. Last time I visited the museum was May 2021, approximately one year after the large-scale Black Lives Matter protests, when art institutions across the world dug into their archives in a navel-gazing attempt to perceive and mitigate the structural racism that exists throughout the industry. For its part, Newfields chose the moment to highlight Thornton Dial's Don't Matter How Raggly the Flag, It Still Got to Tie Us Together. In its presentation, the IMA invited viewers to respond in writing to the fraught and complicated work. Those responses were reviewed by the museum and then hung in the gallery alongside the art. Among the many notecards present was one proclaiming "all lives matter," I wasn't surprised. After growing up in Indiana, I was more than experienced with racism, both implicit and explicit. But I was livid, that card sent me into an inconsolable fury, I poured that ire into 1400 words lambasting the museum accusing them of, among other things, cowardice and ineptitude. I believe then, as I do now, that it was poorly thought out and harmful to Black folks who come to the museum. Suffice it to say, I took it very personally.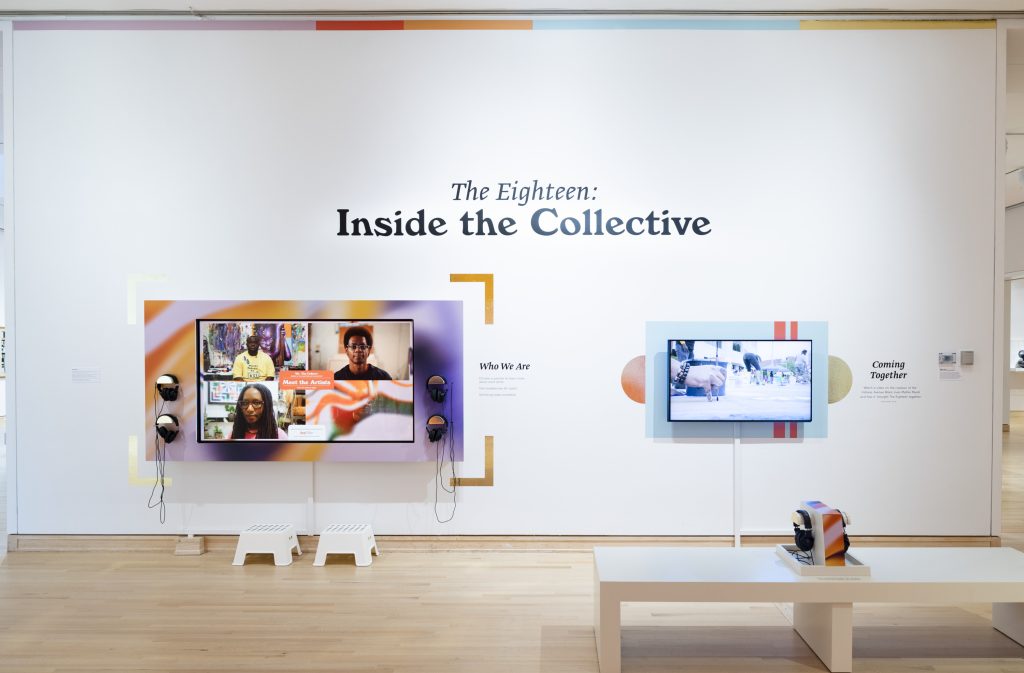 I was apprehensive to return to the museum to see We. The Culture. But I'm glad I did. There is an extraordinary array of talent represented in the compacted show. As the title suggests, the show comprises works from the 18 members of the Eighteen Collective, a group of like-minded Black visual artists who are "united by their mission to collaborate on the betterment of Black creatives and the community that they serve." This body of artists met in August 2020 when they were commissioned from the Indianapolis area to create the "Black Lives Matter" mural on Indiana Avenue. We. The Culture serves as an introduction to the artists as individual creatives. The group exhibition is a mix of mediums: large-scale sculptures, digital images, and paintings — all contained in one large room. GANGGANG's curation flows well, but I wouldn't say seamless. It's moderately packed but relatively short, 18 artists is a lot of artists and it does feel a little cramped and abrupt. Still, it's an engaging show with figurative and abstract works: bright, contemporary, vibrant, but most importantly, it's Black. It all works together (even if the individual works could benefit from more space to breathe), but ultimately 18 different artists have 18 different points of view and this exhibition attempts to tackle a lot of themes: Queer identity, art history, nature, and social justice. Which is to be expected when a predominantly white organization like the IMA hastily tries to right itself after veering off course.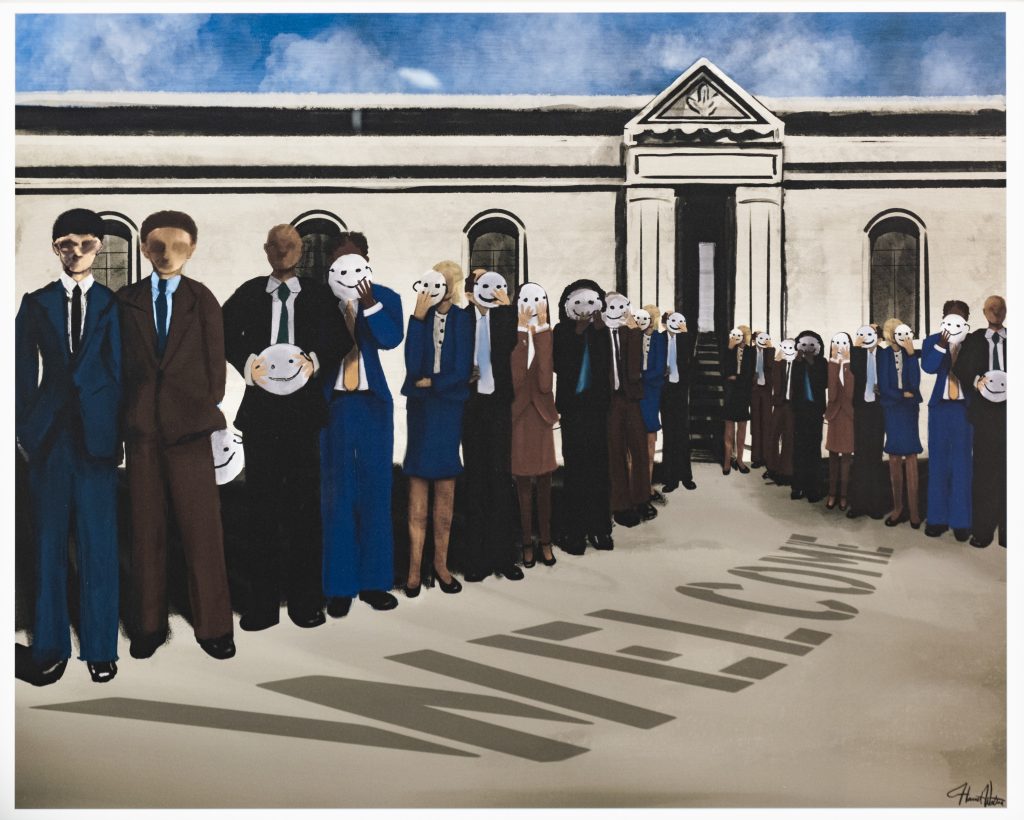 The Eighteen Collective is a talented group of artists, but whenever an exhibition like this is presented in a predominantly white institution, my thoughts always go to pandering. Welcome by Harriet Watson, one of the first pieces a viewer sees when they arrive, addresses this tokenism head-on. Alternatively titled Black Faces in White Spaces, the work is a digital image that depicts a group of people who appear to greet the viewer in front of a Neoclassical structure that resembles a government building. On the ground, a word in large letters reads "welcome." Some members of the crowd hold white masks with simple smiley faces drawn on them. Some cover their faces with masks and others hold them to the side or hide them behind their backs. The alternative title for the piece was Black Faces in White Spaces. It's an impactful statement to make early on in the exhibition. The faces of the crowd create an expectation as if they are viewing us and waiting for us to perform. Like the beginning of a Jordan Peele movie, it's unsettling and concerning but you're not sure why.
I wandered the museum after viewing the exhibition, deliberately searching for other Black artists. Not only was I impressed to find Black artists throughout, but they were prominently featured. A recently acquired Faith Ringgold was displayed proudly on the first floor as well as a large abstract painting on the third floor by Vaughn Spann. The existence of these new works by Black artists as well as the attention called to them was a pleasant surprise. For a while, the only Black work I could remember (other than the pieces found in the more anthropological "Africa" wing) was Dr. Kool, by Barkley Hendricks. It's a full-size portrait of a man in a white suit on a white background. The whiteness of the canvas practically subsumes him, his form is subtle, barely more than an outline. But, through the stark whiteness, his brown face peeks out from underneath a white newsboy cap, and his brown hands are at his sides. Every time I saw this painting I felt that he was so desperately lonely in a sea of whiteness.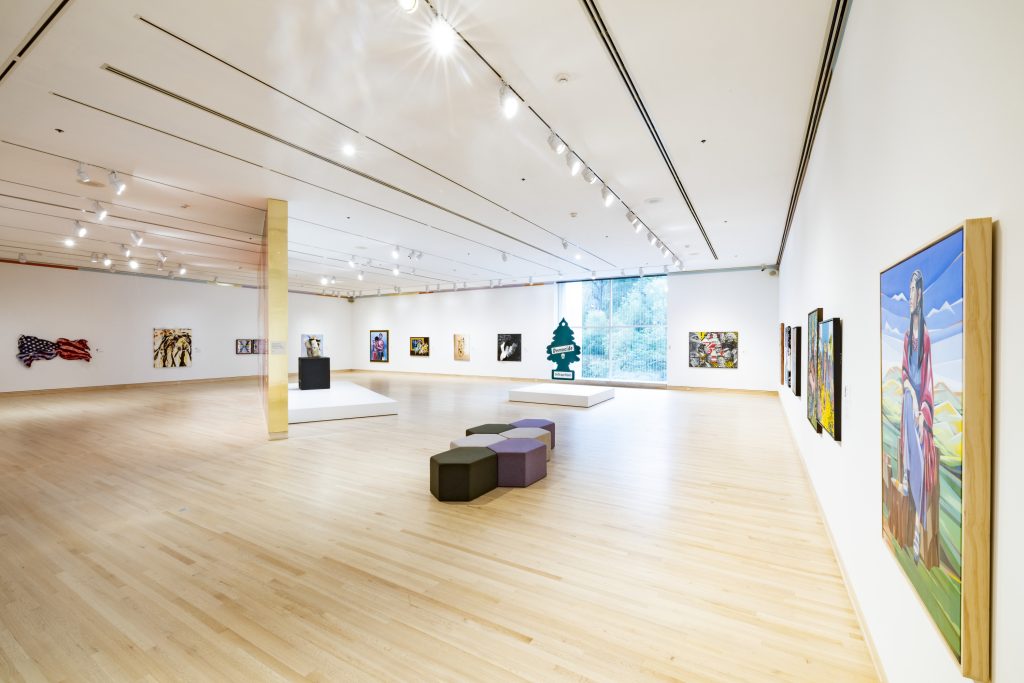 In the last two months, I've seen more Black artists in Indianapolis than I had in years of living there. But the cultural institutions in Indiana and the Midwest, broadly, still have a long way to go. The IMA continues to display its commitment to audience engagement. At the entryway of the exhibition is a prompt/education tool that once again asks the viewers to write their reaction to a prompt; this one includes an image of Colin Kapernick which, even in 2022, feels like a stunning risk to take in central Indiana. And just this summer the Indianapolis Children's Museum debuted a watermelon salad in celebration of Juneteenth, a decision that will go down in the annals of cringedom. But progress is slow with many starts and stops.
We. The Culture is a strong statement from an institution that really needed to make some changes. I'm eager to see what's next for the arts in Indianapolis. When I was at Butter, I had a brief conversation with a curator who worked on the fair. As I sang the praises of the fair, I mentioned, "There is no way I could have ever imagined something like this in Indianapolis growing up." and she responded, "Right! And if you had, maybe you wouldn't have left Indiana." That stuck with me. If the fair or exhibition existed when I was growing up, maybe I wouldn't have thought that "good" art could only happen outside of Indiana; that the world was happening beyond my reach and I was trapped and invisible in the cornfields. After seeing the show and the groups of Black children who attended the fair and the exhibition, watching them take pictures and ask questions about the art, it makes me optimistic about the future of Black art in Indiana. But cautiously optimistic.
---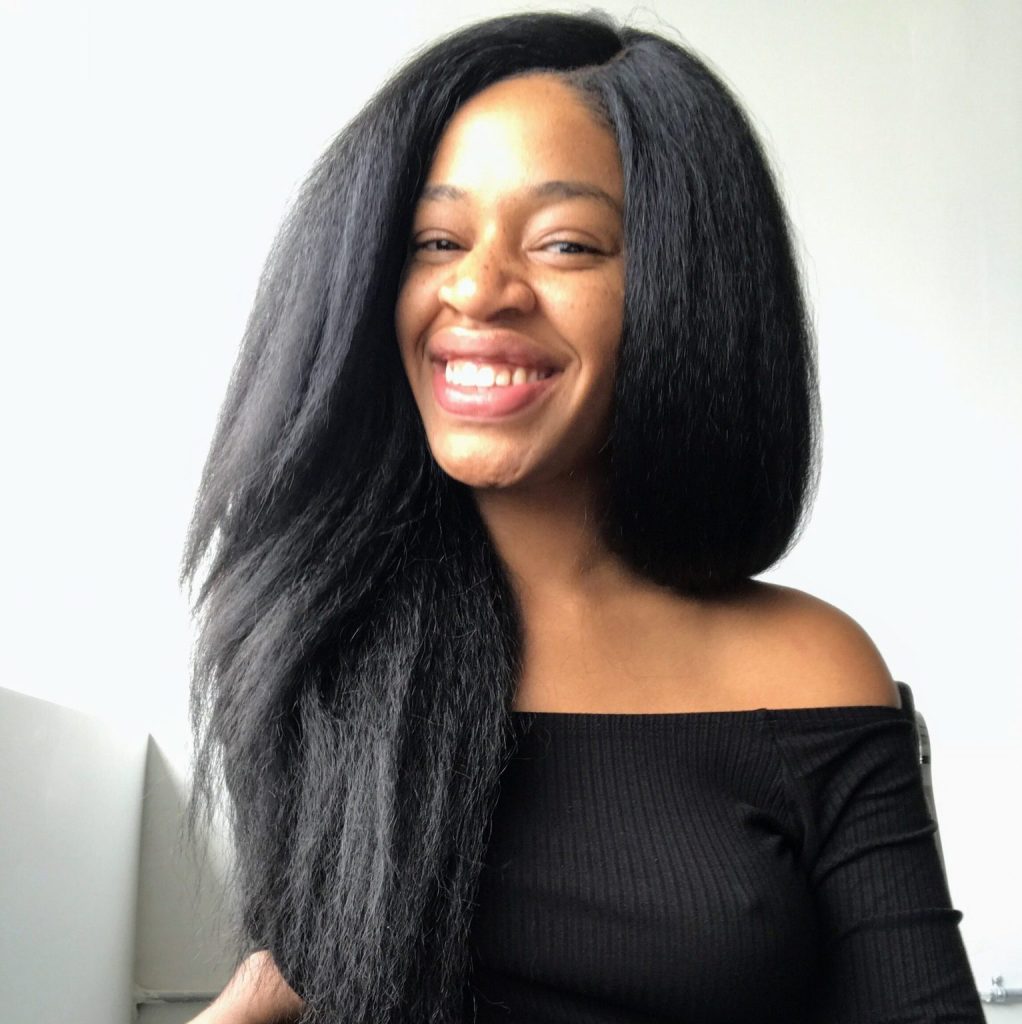 About the Author: Jen Torwudzo-Stroh is an arts and culture professional and freelance writer based in Chicago, IL.