Review: MDW Art Fair at Mana Contemporary
MdW Assembly (pronounced Midway) returns ten years after its first three iterations, allowing its attendees to unpack the trouble and possibility of artist-run spaces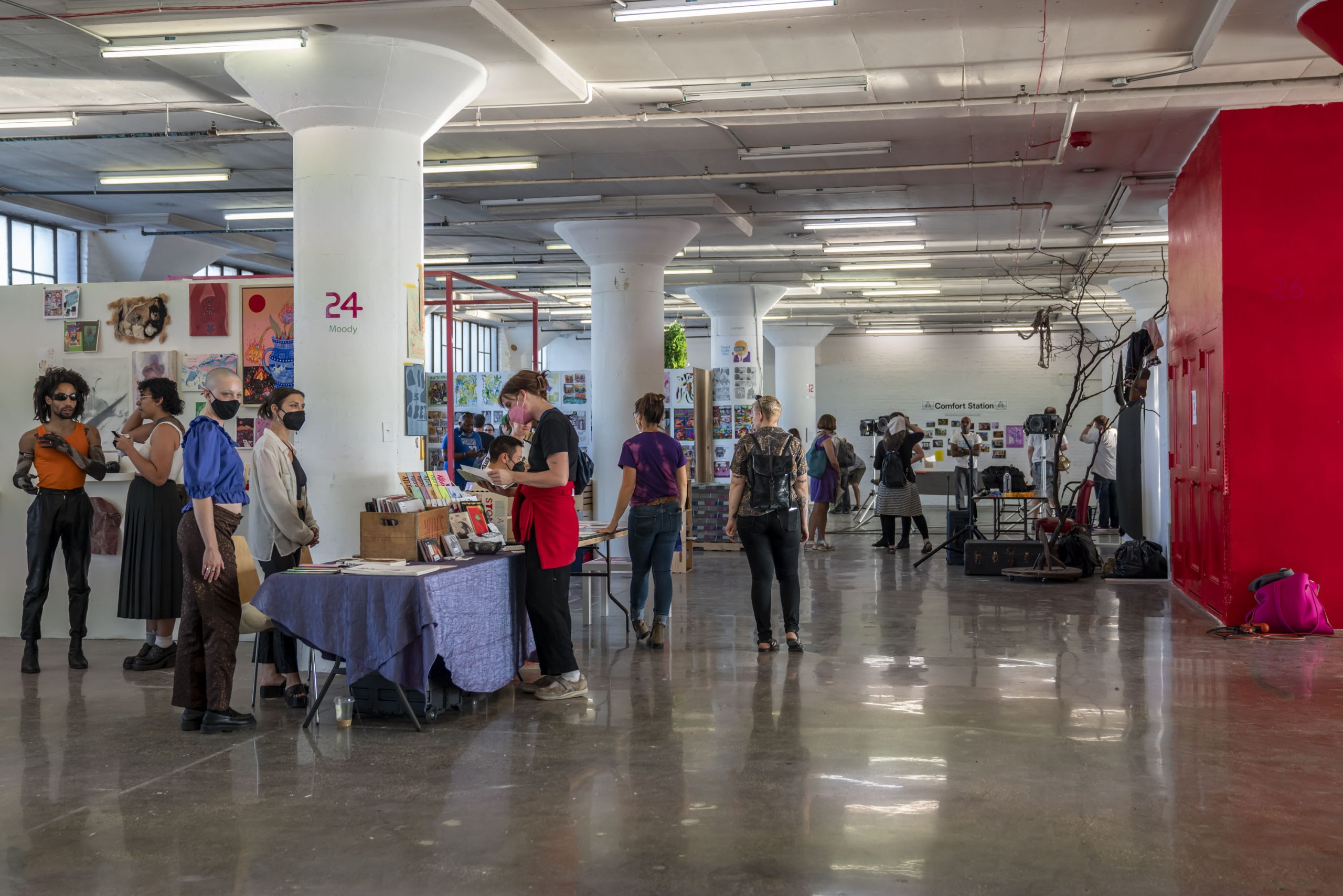 I set out to Pilsen in the early afternoon on Saturday, September 10th to attend the fair, housed on the 2nd and 4th floors of Mana Contemporary. MdW Assembly (pronounced Midway) returns ten years after its first three iterations from 2010-2012. MdW, helmed by Chicago mainstay, the artist-run-mammoth Public Media Institute, worked with six other central midwest arts organizations to make up the assembly. The fourth floor was the art fair, containing over sixty quasi-booths from organizations from all over Illinois and the central midwest. The second floor consisted of the six state pavilions, a family and youth studio, the print zone, a screening room, and the performance arena. The event was a sweet discord of people walking between the two floors until open studios in the evening. It was sometimes hard to find someone or to be sure when a performance was happening, but amidst this split-focus, chance encounters with people, new and old — often between floors — are what made MdW's return a feat.
I arrived, glistening with fresh sweat to the welcome cacophony of the 4th floor. It was balmy; at one point, exhibiting ceramicist Micah Sweezie fanned me and others as we engaged with the Thomas Kong collages at the 062 area. The sixty-three booths were juried by a team of 36 midwest reviewers. MdW squeezed in playful and craft-based spaces like Ceramics School (Detroit, MI) & Gnarware (Chicago, IL) with participatory and counter-hegemonic organizations like Nomadicube (Chicago, IL), and Hold the Land (Minneapolis, Mn). At the 4th floor's exit and entrance was an installation of the late Sabina Ott's Terrain Exhibitions, and directly to the left was Redline Service, the Chicago-based art collective led by people with a lived experience of homelessness. Across from those was Spacore, a new collective that offers platforms for artists to explore an absurdist critique of the capitalist approach to wellness. And whose cunty and clownish employees handed out spa certificates, so viewers could 'rest' after making their way through the commotion of MdW.
The juxtaposition of the seriousness of Redline's exhibition, an organization that looks at resources to combat homelessness, with the satirical and sardonic nature of Spacore's debut initiative, which at its core is ephemeral, brings attention to the complexity of longevity in artist-run spaces and the artist community in general. This tension felt palpable amongst attendees, living in the wake of overwhelming societal upheaval, attending large events like MdW in-person positions artists to bargain with our sense of time and community.
When I talked with various galleries and art spaces organizers, there was a sense of hurriedness, especially those who had more elaborate installations, as they had all labored to get their exhibition spaces up and running in under a week. Later in the day, I paused to take in Frank Vega's newest works, sculptural paintings and constellation-like surfaces, exhibited by Chuquimarca. Speaking with John Guevara, we shared the excitement of running into so many friends.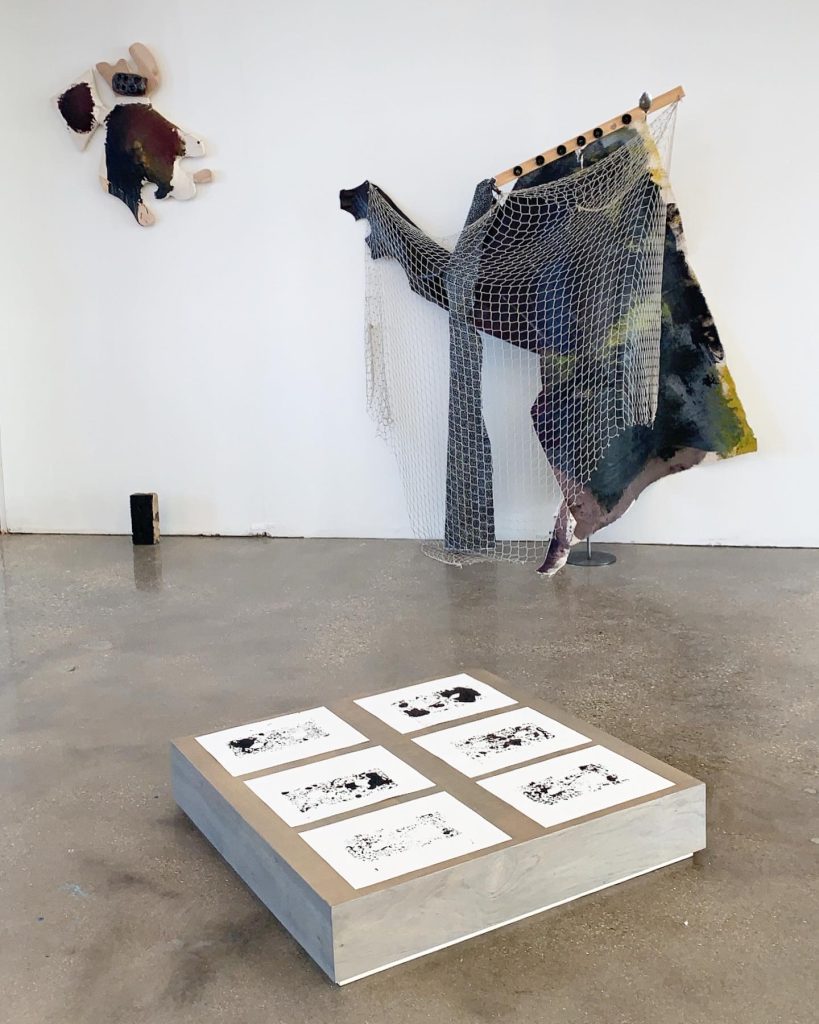 But we also discussed the pitfalls within artist-run spaces. "Coming out of the unstableness in the start of the pandemic, where it was rapid fire," Guevara said, "the ability for artists-run projects to turn things around in seconds is glamourized, awarded even. There is a warning sign there. We should not be nurturing that turn-around-time culture and expectations. quality projects take quality time and viable financial resources."
Guevara here touches on the crux of counter-spaces, the labor it takes to create momentum, and the struggle for longevity in the landscape of overlapping artist communities. Talking with Nick Wylie, MdW's project coordinator, it was clear he understood that artists were asked to make some compromises, likely on space and time to install, to accommodate more participants being invited in. The choice to include as many people as possible with limited resources — and capacity — felt evident, but welcome.
Inclusion was the choice. When we talked about the importance of the organizations included at MdW, Jes Allie, Bulk-Space's cofounder, celebrated the importance of "the creative eco-system, [the] really precious networks of people who see what the spirit is, or what the core is about, of what we're doing" I'd argue this spirit is making art-making and art spaces more accessible for all, especially for those navigating the material reality of marginalization.
Intention-centering terms like 'cooperation' and 'mutual aid' were displayed on the second floor, which was often sparsely attended unless you came by on Saturday afternoon or Sunday morning. Then you'd see long lines of people waiting patiently for free community meals, and people in small groups sitting on the cement floor. Next door in the print zone, participants wrote and printed out "physical tweets," as Wylie called them, on a risograph set up for free. Just around the corner, you'd find Detroit partner, Talking Doll's screenprinting station. And across from the print zone was Charlotte Street Foundation's interactive art resources crowdsourcing wall. I watched these spaces transform throughout the day as participants, young and old, created new ideas and objects for people to devour.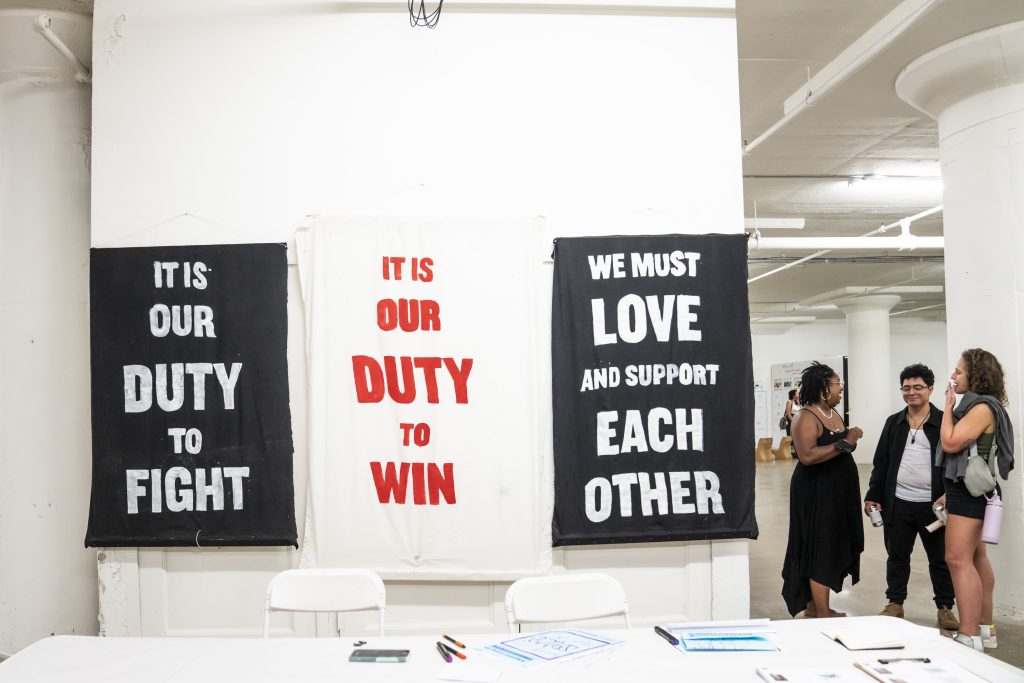 On the second floor, each of the state pavilions represented the organization partners that worked together on the structure of the fair. These organizations were Public Space One, Confluence, Big Car BULK Space, Charlotte Street Foundation, and Worm Farm Institute. Each of them attended either Spring 2022 or Fall 2021 retreats to Poor Farm. These were supplemented by visits from the Curatorial Lead, Brandon Alvendia who spent months road-tripping to visit most of the partners in their states. His travels in turn inspired the MdW Drifts, a series of invitations to trip around the midwest throughout the summer.
Part of the event coalesced out of Alvendia's drive to connect artist communities beyond the important but incomplete environment of the internet. When we talked, Alvendia spoke in earnest about the importance and beauty of "creating the chance for encounters," a sentiment shared by many of the people I ran into that weekend. When I first arrived, before I could even run up the stairs, I spotted Jason Lazarus, a Chicago/Florida artist, and organizer, asking for submissions for his upcoming iterative project, Encounter, debuting at the Cultural Center this Fall. It was overwhelming to keep up with it all, but humbling and grounding to have so many like minds convening in one space.
Beyond the general art fair model popularized by the Biennials and Basels — and even local institution EXPO — any comparison of MdW to other fairs feels disingenuous. Yes, MdW is funded, in part, by the Warhol Foundation, and it has arts orgs come together and set up in "booths," but in contrast to Warhol's devotional influences, MdW doesn't place art as a spectacle.
Instead, the fair, the road trips, and the growing publication are all burgeoning beginnings. When I asked Alvendia about building futures with MdW, he referred to the whole thing as 'perennial,' as an organization that would persist and ebb and flow each year, but whose roots would remain. The organizing partners, and more artists across the midwest than I could keep track of, all worked together to create a space and future spaces where artists, who lead their arts-based lives, are cherished and permitted to thrive. I don't think that in its emphasis on artist-run spaces MdW offers clear answers on what it means to participate in or grow an artist community; rather it offers beginnings to what ongoing resolutions might look like. This one weekend, ten years later, MdW emerges amidst all of its organizers' day jobs, studio practices, families, other artists' projects, grant deadlines, and class schedules. What is on display, for better or for worse, is a complex and captivating arrangement of central-midwest artists working collectively to build community-oriented spaces, using any and all resources available.
---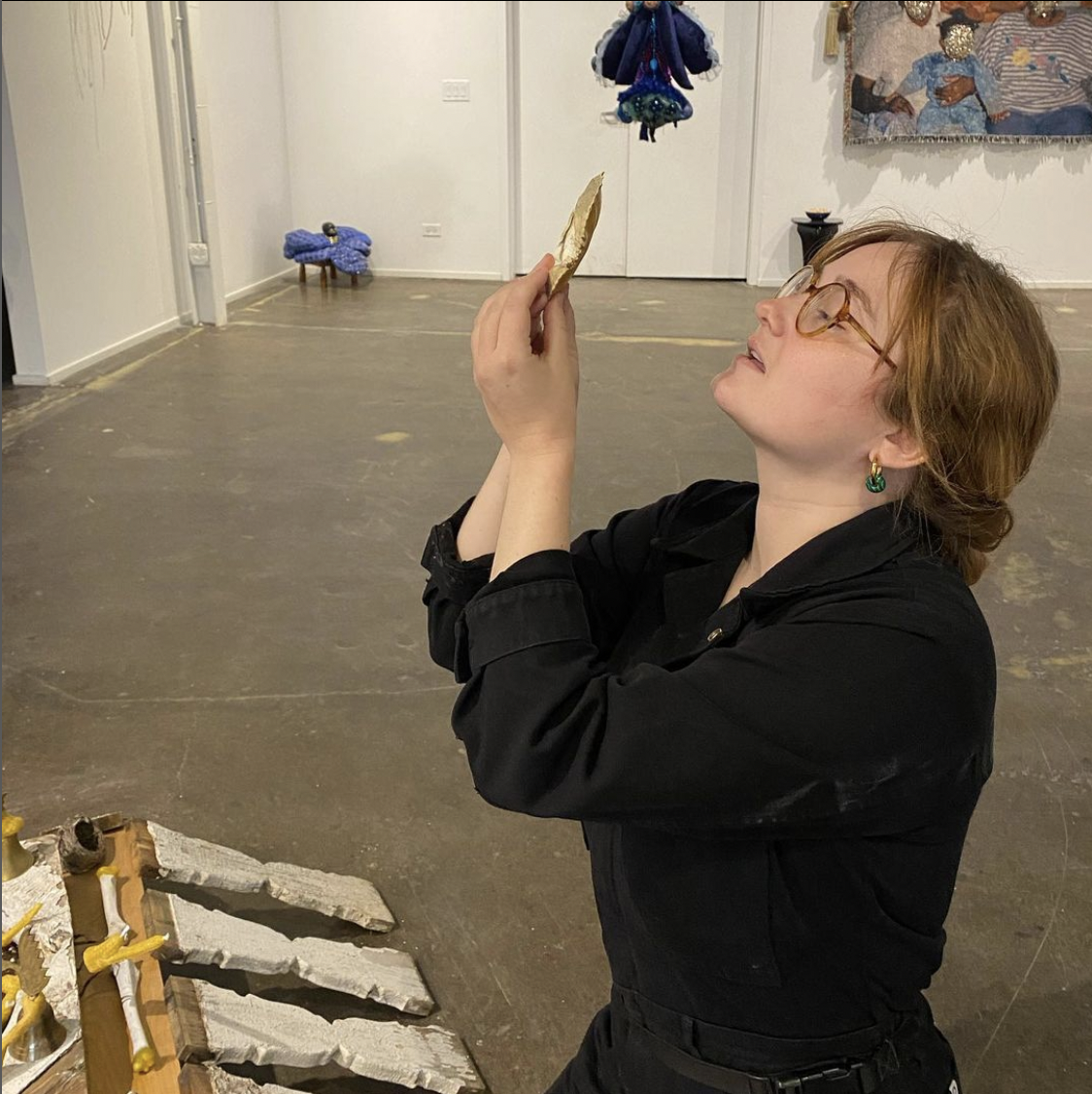 About the Author: Originally from Metro-Detroit, Joan Roach is a non-binary arts writer and curator who focuses on sculptural, textual, and performance-based work concerned with how we create and restrict social space. Writing from a phenomenological perspective, they highlight work encouraging arts audiences to give critical attention to their relationship with the material world. At present, they just finished their 2022 HATCH curatorial residency at CAC, are launching an independent publication in 2023, and working as the Art History Teacher for Chicago High School for the Arts.