Review: Julien Creuzet's cloud cloudy glory doodles at Document
Walking into Julien Creuzet's exhibition from the onset of winter in Chicago is a transportive experience. The weather in the city has recently shifted into freezing temperatures, knocking the humidity…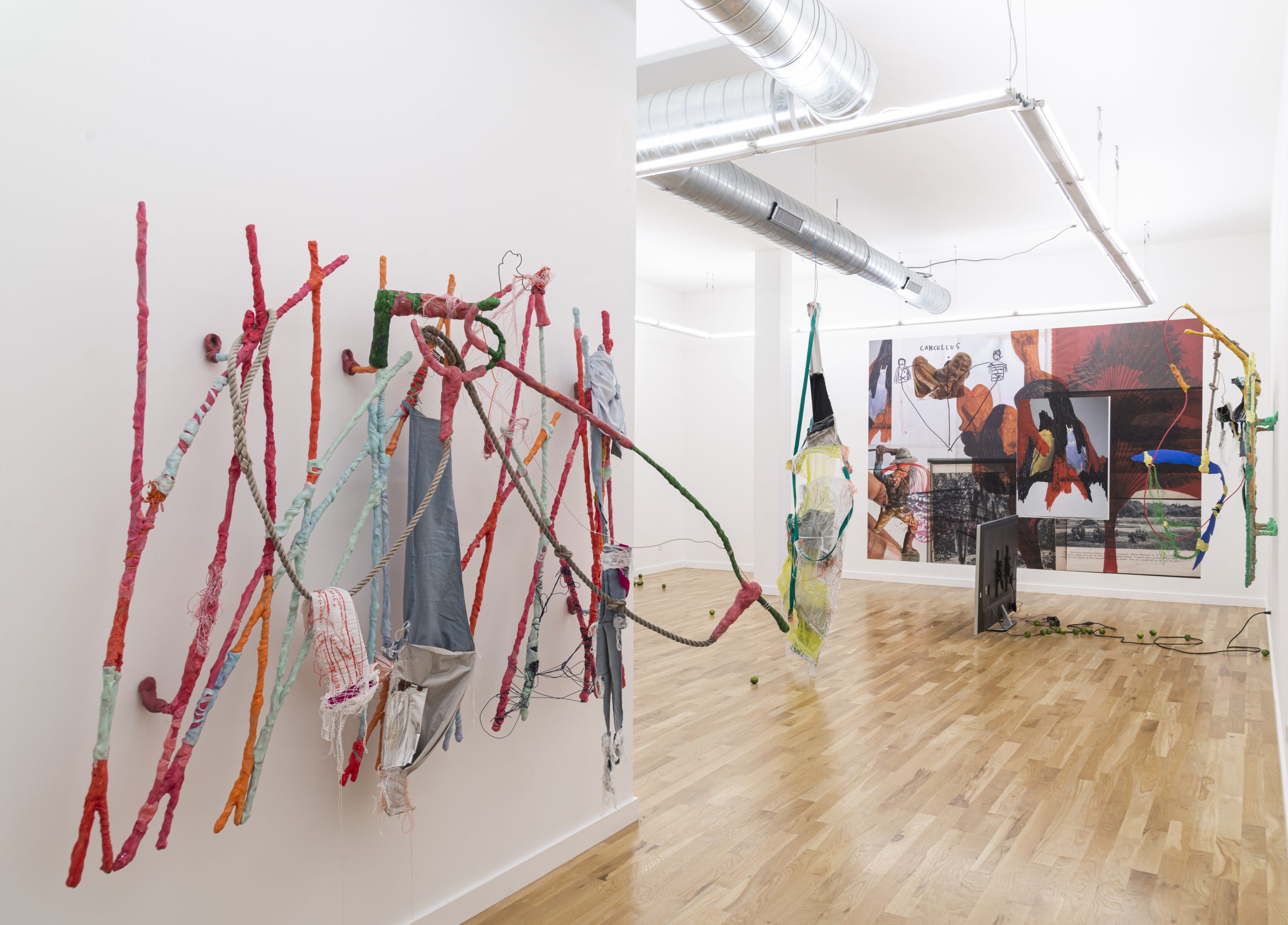 Walking into Julien Creuzet's exhibition from the onset of winter in Chicago is a transportive experience. The weather in the city has recently shifted into freezing temperatures, knocking the humidity out of the air, leaving us with dry wind, and sharp sun. As a Louisiana native who moved to Chicago in March, I'm unused to the cold, and the radiators have been running nonstop in my house. Despite the bowls of water and Eau de Fleur D'oranger balancing on the radiators, my hands are drier than the concrete stairs leading up to Document gallery, where Creuzet's show cloudy cloudy glory doodles on the leaves pages, memory slowly the story redness sadness bloody redness on the skin awaits.
When first walking into Creuzet's show, we are taken to a place of bright colors and ocean on all sides. On the wall immediately across from the entrance is a large-scale installation piece made with brightly colored threads and neon plastic; lurid wax wrapped around wire; segments of braided rope and tattered pieces of clothing. Limes are scattered on the ground, and a decayed pineapple head hangs in a sculpture of what at first appears to be a scythe, but slowly morphs into a six-foot-long crab claw and toucan beak joined in the center. From my time growing up in South Louisiana, I recognize in another installation scraps of what look like crawfish sacks and rice bags. Large pieces of yellow and green woven polypropylene are bound together with a riot of string and a single teal strap running the length of the hanging installation. Though everything has been carefully chosen for each sculpture, all of the materials seem like something one might find washed up on a beach after ages drifting through the water.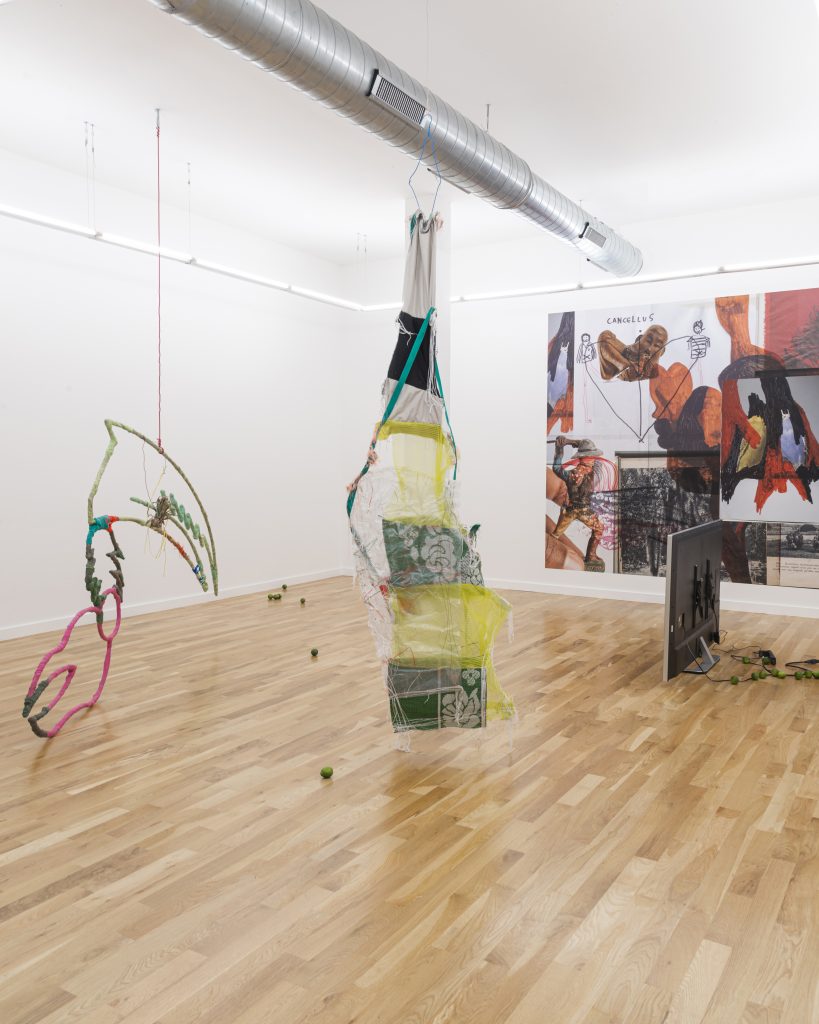 The atmosphere in the gallery is a welcome change from the weather outside, and I feel strangely comforted by the familiarity of the objects. Creuzet is from Martinique, a Caribbean island that is part of the Lesser Antilles. Martinique was once a French colony and is now a French Department, and I feel a kind of kinship with the exhibition's sense of postcolonial decay. Louisiana was once a French colony and a major port of trade hosting a large population of slaves and free people of color. Though obviously Louisiana and Martinique are not the same, Louisiana retains the memories of its former rulers, and I feel this is a testament to how lasting the legacy of colonial rule is, how deeply it marks a region and its people.
From a large video installation piece set on the gallery floor, a deep, resonant thrumming fills the air, oscillating between unsettling low tones and looping ambient rhythms, caressing the viewer in waves of sound. A man speaks in low tones giving what seems to be a sermon, or perhaps he's asking a series of questions. The video itself layers text of poems written by the artist and paper cutout images with red marker scribbled over them. One might recognize many of the cutouts from the wall-sized collages that bookend the space; both the video and the collages have a palimpsestic quality, layering images of tropical birds, plantation workers, Spanish moss, and palm trees, covered in harsh slashes of red and black marker.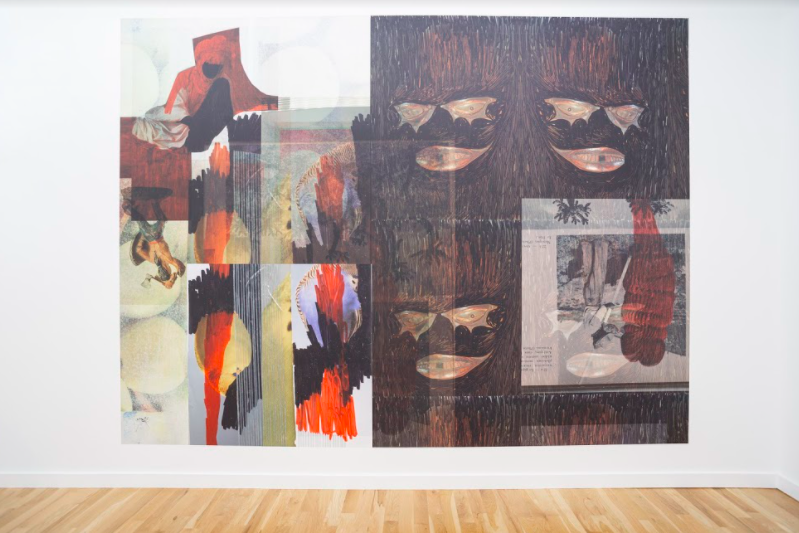 There are no recognizable faces in the collages, only recognizable bodies. Many of these images have been sourced from old books made by the Ministère d'Outre-Mer, the French governing body of its overseas departments such as Martinique, Guadeloupe, and Madagascar. The people pictured have been ensnared and preserved in image and text for the edification of the continental French, their faces smeared with sweat and violence. The people pictured have been rendered non-specific, stripped of the context of family, home, and name. In Creuzet's collages, they have been given a new context, but individual identities have still been lost in the generalizing violence of colonialism.
This is what lies at the heart of Creuzet's show. At its core, cloud cloudy glory doodles on the leaves pages, memory slowly the story redness sadness bloody redness on the skin is a deep questioning of representation, but not in the way that we have come to think of it in 2020. It is a question of how people come to be symbolized and who it is that creates those symbols, as well as in investigation into the power and uses of decontextualized images. To do this, Creuzet is calling on the work of various postmodern decolonial French philosophers such as Aimé Césaire and Jacques Derrida, both of whom questioned the way that the world is constructed through symbols such as word, nation, and race.
In one of the video installation's moments, we see a close-cropped image of a Black woman's face, smeared in bloody red marker. Subtly, her image is replaced with an African indigenous carved mask, which then slowly shifts back into the woman's face. It's a moving set that raises the question of how forms of representation, such as a photograph or a mask, affect the way a thing is understood. Collage itself is a way of recontextualizing something, taking it out of its original bindings to be put in a new setting and made part of something different, and potentially more caring. The layers upon layers of image and text in Cruezet's work is a way of taking colonizing images such as a Black man hoeing a field or a cluster of women in religious whites and giving them new life.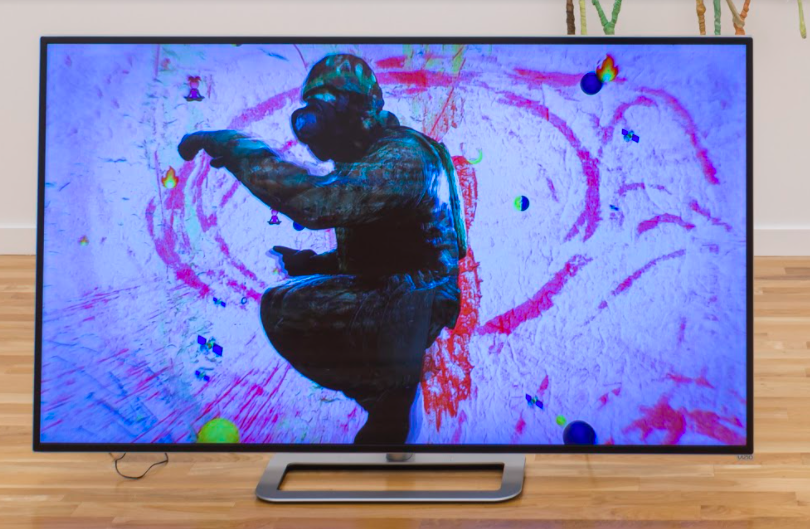 But Creuzet's show is not simply focused on recontextualizing the past. He also imagines a future for Black life. The video piece incorporates iPhone emojis into its layering, giving us moons in different phases, satellites, and a meditating woman floating across the screen. This then is a gesture towards a future, of contemporary modes of understanding personhood and place. The context shifts from the pages of the French colonies to the rhythm of the cosmos. Satellites become a symbol of a human desire to see beyond our planet and understand our place on the scale of the universe. And still, the musical phrases loop back just as we repeat questions to ourselves, ultimately finding comfort not so much in the answer but in knowing how to ask.
Creuzet's solo exhibition cloud cloudy glory doodles on the leaves pages, memory slowly the story redness sadness bloody redness on the skin is on view at Document from November 19 – December 30. Document asks that visitors call ahead, but appointments are not necessary.
Featured image: Installation view, 2020. This photo is taken from an angle where the viewer is looking at a piece hanging on the left side of the wall. The wall piece is made up of yellow, pink, red, green, blue, and much more. In the background, we see more of the exhibition and installations. Photo courtesy of Document.
---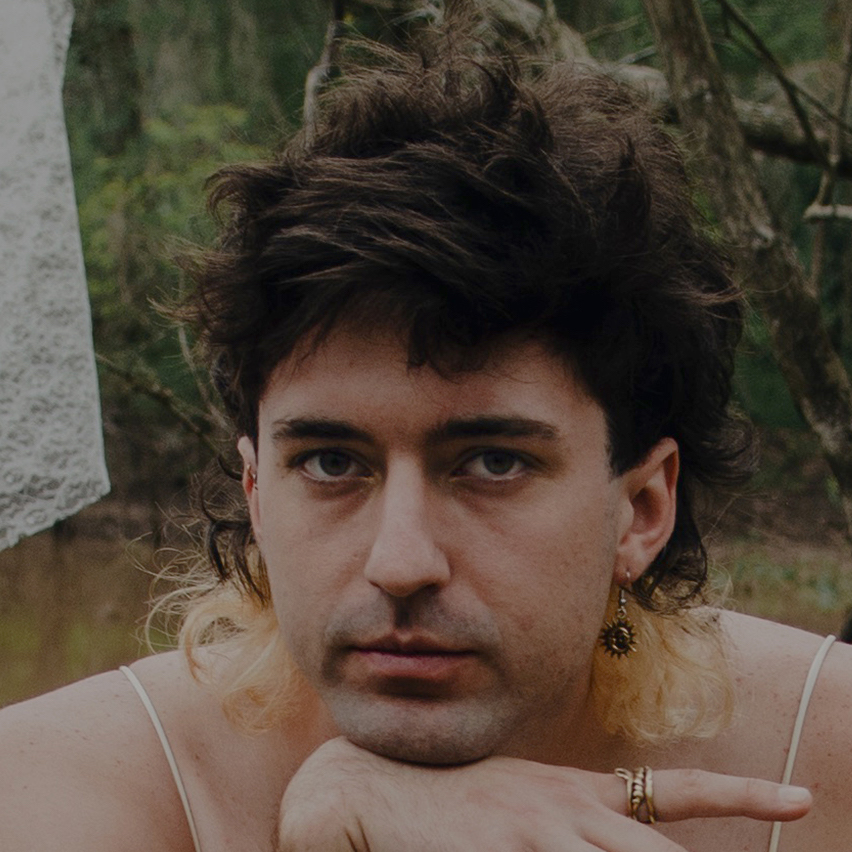 Reed Everette is a painter and a poet currently living in Chicago, IL.