Rae Stern: Flourishing Despite Disruption
A juxtaposition of porcelain, paper, wood furniture, and LED lights which features bioluminescence, coalesces to communicate change, hope, and a warning against dangerous ideology.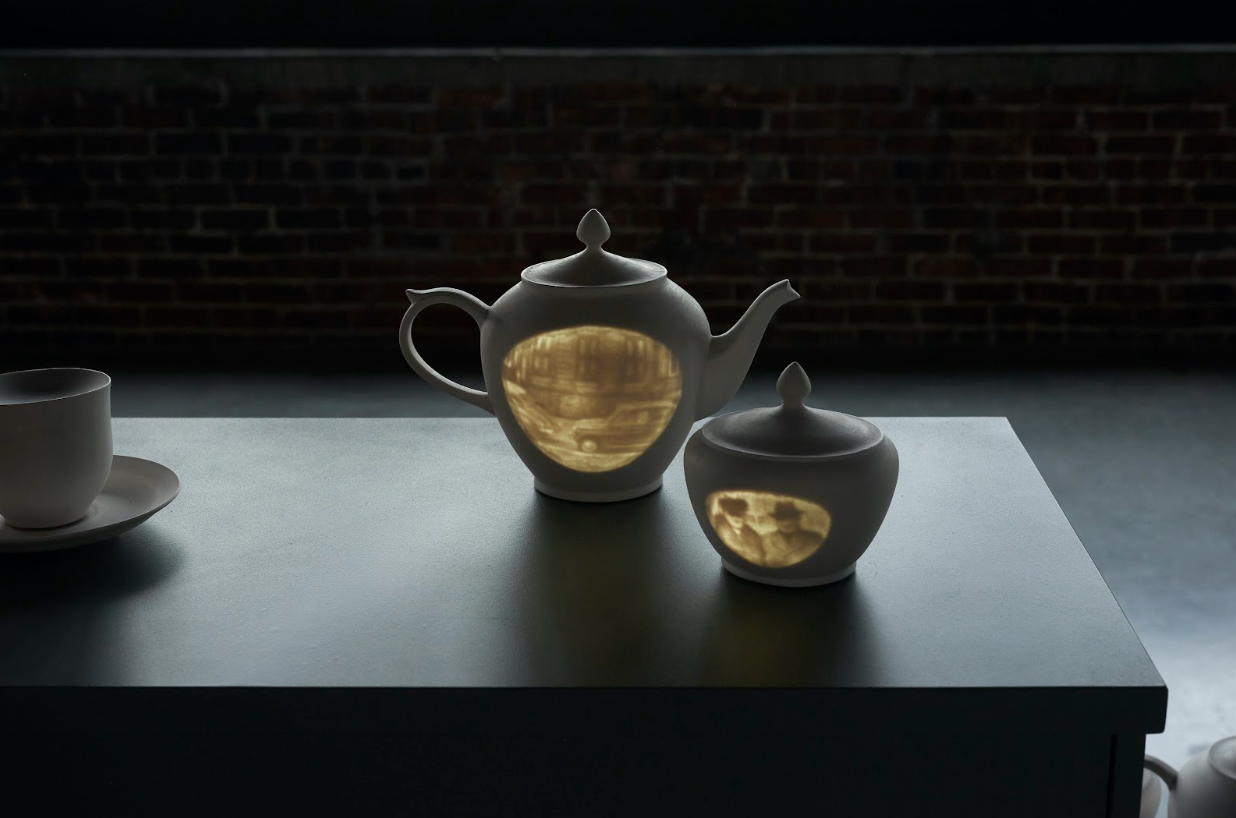 Bioluminosity is a chemical phenomenon (luciferin molecule reacting to oxygen) whereby organisms emit light for communication, hunting, protection, warning, mating, signaling, or indicating imbalance. Light is the most common form of communication in the more-than-human world and is a valuable tool for humanity to comprehend the visual. When traveling to Puerto Rico in August, I intended to see bioluminescent plankton flourishing after the disruption of Hurricane Maria. An abundant blue bay with thousands of glowing plankton into selvage to sustain themselves. While I did not see the plankton, the concept of bioluminescence ruminated from this unrequited encounter until the interpolation of Rae Stern's lithophanes.

The body of work featured in the catalogue, Rae Stern: In Fugue (2022), named after her show in 2019, took place at the Belger Art Center. A fugue is a type of composition that plays in similar yet not the exact same repetition. Rae's show, In Fugue, juxtaposes porcelain, paper, wood furniture, and LED lights which features a bioluminescent signaling of her porcelain work because it communicates change, hope, and warns against dangerous ideology.
Prior to creating porcelain lithophanes, the process began with words, concepts, and phrases that cycle in Stern's mind. Stern is aware of the limitations of memory and preserves them; she intuitively knows that these ideas are worth remembering.

After initial prototyping of the lithophane process with Aya Margulis and researching early 20h century tableware showcased in trade catalogues found at the Cooper Hewitt Museum Library and in the book "Witnessing the robbing of the Jews" by Sarah Gensburger, Stern breathed life into static photographs by gleaning stories from community members connected with the Midwest Center for Holocaust Education during her residency at Belger Arts in Kansas City. The light is not lifegiving as stories are, but it signals it as biotic. "Objects have a certain soul or we project a soul on them. We put life in an object by our relationship to it. It ties everything together: we give life by our touch, and we light up the objects. The installation is a complete organism rather than singular objects on furniture," Rae reflects. Her investigations of familial memory and artmaking galvanize illumination.
The porcelain teaware, which are non-decorative, are arranged on gray painted furniture. The gray furniture represents objects which can be arduous traveling pieces: too large, heavy, burdensome, and easily-lost in journeys. However, teapots are nomadic objects — passed down and symbolic of satisfying basic needs. This shared experience epitomizes the plight of many immigrants by choice, force, or somewhere in between. The anonymity of the plain white teapot lets the viewer's imagination project life onto the form. The complex network of teapots glimmer in reaction to human touch which momentarily exposes photo transfers of pre-World War II candid portraits.
Stern describes this glimmer as hope. Hope, as in the twinkling of an eye in candids of young girls before trauma occurred or perhaps, it is a projection of dreams, which manifest as the same glimmer in the eyes, which Stern repurposes in the teapots.

Light work begins through the understanding of stories from the eyes of ancestors. A visitor's touch, no matter what life experience they bring to the space, activates the LED illumination hidden within the porcelain object. The flash of light makes what is internal, external; there is a slippage between the public and private spheres. This installation, a nucleus with a network of synapses firing, animates memory work and warns about the patterns of fascist ideology.
Ironically, the work is relevant at any time despite the nature of its time-based flickering. "In this work, I share untold stories to provoke questions about their recurrence in our time.. My activism is directed at the early stages of a problem — and I create artwork to encourage viewers to practice empathy, to gain insight or to find themselves within the work," Stern says. By directing our gaze to the photo etchings, as well as the metaphoric interior, Stern's work is akin to a lighthouse by bringing ships safely to shore when they cannot see distance. Light brings back motion to the stationary and distance to the nearsightedness of our world today — forward in time, back in time, and our present. In this way, it warns viewers of the destructiveness of facist ideology by giving a glimpse of before trauma alters the psychosomatic self.This body of work adds bioluminescence to the museum space in how it communicates about the progression of ideas and the trauma of Jewish communities. Stern calls museums "secular sacred spaces" because they are spaces of gathering for individuals and a collective prompting deep introspection. Her porcelain work replicates memory — the teawareF on furniture are decontextualized with minimal labels about the stories of the folks in each photo. Rather, a fugue of flickering emphasizes a collective experience of how remembering and forgetting are modes of survival. Photos reveal themselves through an interior light source which animates them differently than the image rights holder. This is similar to how future generations will experience their own baby photos without graininess and digital videos instead of VHS tapes with the date and striations interrupting the image clarity. In the same way, Stern transforms the photographs with technology to produce new reflection on them for everyone's benefit. Through her animation she prompts viewers to ponder: Twinkle, twinkle, how I wonder what you are and what you are telling me.
---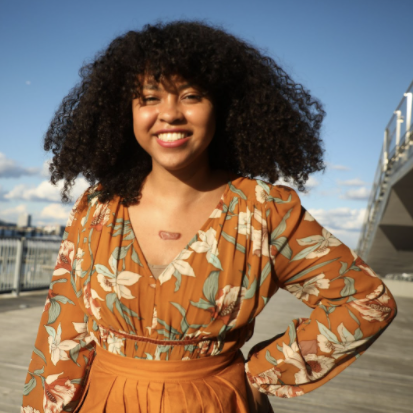 Chenoa Baker's curatorial and writing practice meditates on the intersection of Black art, spatial studies, and BIPOC feminisms. Currently, she is based in Massachusett, Wampanoag, and Nipmuc land as a Museum Fellow at the Institute of Contemporary Art, Boston. Her work is featured in the Museum of Fine Arts, Boston, Burnaway, Art & Object, Black Art in America, and Sugarcane Magazine. Learn more about her on LinkedIn or Instagram.