Protect the Memory
An intimate look into mysterious memories through the process and practice of Victoria Martinez.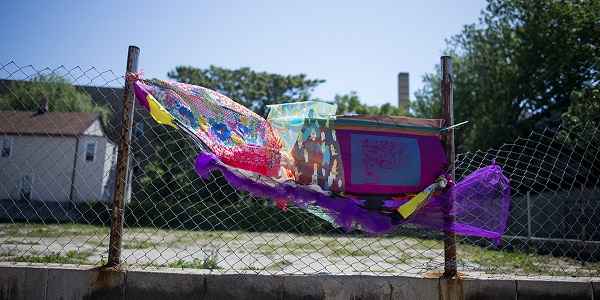 As an interdisciplinary artist and educator, I create soft sculpture, installations, site-specific interventions, and participatory projects that form a connective tissue between my art and the public.  I work in communities because I want to share my art with people and work alongside them.  While I enjoy exhibiting in galleries, I believe I have the responsibility to engage local people at marketplaces and to collaborate with underprivileged youth and women. It is personally fulfilling to work with other people because I have the opportunity to interact and have conversations about the conception and execution of an art project, which is something that is not always possible in a gallery setting.
The connection between the aesthetics of my studio and intervention practices is related to the materials I use. I am drawn to objects that recall mysterious memories, and I am enticed by items that are vibrant, explosive in patterns, and soft.  I collect materials from local thrift stores, marketplaces, textile warehouses, and dollar stores.  Sometimes the materials are handed down to me by friends, neighbors, or through the urban environment. I incorporate fabric, plastic tablecloth, paint, flowers, paper, and metal fences into my work, examining the urban canvas to apply my craft.  Drawing much of my inspiration from my Mexican culture, I channel rhythm, bright and saturated colors, kitsch domestic items, and the cultural make-do attitude.
In the past, I have honored sites in urban environments with hand-sewn interventions and collaborated with people in the creation of site-specific installations; I worked with children and adults, marking the participant's heights on a surface and later connecting the marks to create an organic shape.  After collecting the data, the information was transformed into a collage, recycling materials from surrounding sites and placing them back into their original location.
Working as a teacher, I have facilitated projects in which students created soft sculptures with items from neighborhood thrift shops. Together, we went on a series of walks in the Pilsen and Logan Square communities, and we found fences that related to the students' lives; we applied our sculptures to the fences as a temporary experiment.
My vision is to work within overlooked spaces: walking bridges near highways, ladders outside of warehouses, and abandoned vending sites of cultural marketplaces.  These locations celebrate nostalgia through the beauty and mystery found in pre-existing marks, cracks in the concrete ground, and layers of decaying paint on the walls. I am drawn to the sounds and visuals that are related to these spaces: the wind, speeding cars, sirens, conversations, birds, fading music, bright colors, and the geometry that lives within architecture.
Top Image: Intuition 16″, 2014, screenprint on fabric, sequins, plastic, paint, pantyhose, handkerchief, thread. Photo by Lucio Villa.
---
Victoria Martinez is an interdisciplinary artist who focuses on site‐specific interventions, installation, textiles, and printmaking. Upcoming projects include group shows at Terrain Exhibitions, President's Gallery at Harold Washington College, and Expo Chicago.