Once Upon a Lately – A Poet's Story
A look into the past and present history of Chicago's poetry scene.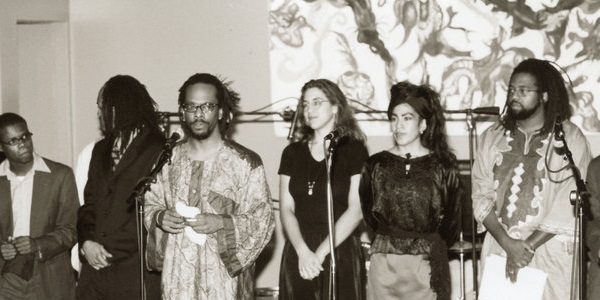 I thought they all knew, those few who were messaged, the few who responded to, "Do you remember a Chicago poet named Carolyn Rodgers, if so do you remember any of her poems, a title, a line, a venue where she performed, anything?" The question was also posted on Facebook, on poetry groups pages.
The response was a reminder that in the digital age, so much is 'ephemeral." It made Ms. Rodgers' poetic life appear to be a once upon a time, without the fancy fairy tale attached. Chicago was and has become an ocean of wordsmiths, especially among Black poets and writers. Gwendolyn Brooks, Margaret Burroughs, Haki Madhubuti, of course, are the most well-known names that any grade school child could tell you they know something about.
Yet Carolyn Rodgers may be considered the 'bridge' that linked Ms. Brooks; who participated in poetic venues at the South Side Community Arts Center and even Gerri's Palm Tavern on 47th Street, to Dr. Haki Madhubuti. A Chicagoan from birth Ms. Rodgers was an accomplished writer/poet, and along with Johari Amini and Dr. Madhubuti, she founded Third World Press, a vehicle that enabled Black poets to be published and perform.
She earned her Masters of English from the University of Chicago and won various awards, including one from the National Endowment for the Arts.She passed away in 2010 at the age of 69. She had been a pivotal member of the poetry scene in Chicago, her legacy was having laid the foundation which later supported the work of talented artists such as the Funky Wordsmyths, Quraysh Ali Lansana, and poets like Deana Dean and K. Love of L.Y.R.IC., who are walking in the footsteps of Gwendolyn Brooks by creating spaces and venues for young poets to develop their skills. One of those young poets, Nett Keepit Awthentik, was the only one who responded to my query about Carolyn Rodgers in the affirmative. "Yes, she's one of my favorites,…how I got ovah, is one of my favorites."
To fair, I did not ask those who majored in English or teach poetry and writing. I wanted to hear from the most dynamic poets on the scene to see if they remembered her who helped to start it. Being remembered by academia is different than being remembered by those in the field who, perhaps without their knowledge, you most impacted. It is the difference between being placed in glass in a museum and performing in a public square. I even placed a photo reference to one of her poems on Facebook, the digital public square, to see if anyone's memory would be jogged. No one caught the hint.
One of Carolyn's poems, It Is Deep (don't never forget the bridge that you crossed over on), concludes with a reminder to honor those who forged the path you tread:
My mother, religious-negro, proud of
having waded through a storm, is very obviously,
a sturdy Black bridge that I
crossed over, on.
But I found so few who heeded that advice.
Upon writing this piece, I thought not once, but several times, about the ephemeral nature of poetry, especially that of spoken word. There will be many among us, myself included, who won't be remembered despite having labored in close proximity to the late Gwendolyn Brooks and Dr. Haki Madhubuti. But what does not exist in collective memory, is rich in personal memory. Although my work cannot be found in any of the anthologies that showcase Chicago's diverse Black poets from the 60's to the New Millennium, I have my own memories of those who are. Walking through the narrow aisles of the Woodson and Beverly libraries, I can see book after book and name after name of Chicago poets that I have caught the bus, the El, and a few crowded car rides with. Leadbelly by Tyehimba Jess, And All These Roads Be Luminous by Angela Jackson, Tougaloo Blues by Kelly Norman Ellis, and Blues Narratives by the Blues poet Sterling Plumpp, to name a few. And of course, Carolyn Rodgers herself. I set about to see what other treasures of Chicago's poetic history could be rescued from our forgetfulness.
Venues, places that host poets who read, perform, spit, cry, scream or holler, were once few and far between. The South Side Community Art Center, established during the WPA period in American history, was and is a gold mine of creativity. The late Dr. Margaret Burrough's coach house, which was across the street from the SSCAC, was a dynamic meeting place too. Haki Madhubuti, Johari Amini, and Carolyn Rodgers, and other young, hip, and happening poets met there, and forged a new world of words with the established poets. Rodgers made a point of supporting young poets, just as Ms. Brooks had encouraged her. Among the many who came up under her mentorship were Angela Jackson, Sandra Jackson-Opoku, and Sharon Warner. Most of these poets went on to write novels, plays, become college and university professors. And it seemed instead of getting together on the South Side, new avenues opened up way beyond 47th Street, beyond South Park (Dr. Martin Luther King Drive) and Cottage Grove.
By the '90s, Black poets seemed to have jumped off the page and staged performances that could rival a James Brown concert. The Funky Wordsmyths hit Chicago harder than Thor's hammer when they disrupted the flow of spoken word in Chicago. They took their sets everywhere, especially the old HotHouse in Wicker Park.
Chicago had many must go and see poetry spots: Spices, Scenes at theSutherland, Some Like it Black. But it was the HotHouse, which unfortunately closed in 2007, that became headquarters to one of most intergenerational sets in the history of Chicago Poetry period. As in all Open Mics, poets had to sign up to perform. There were cash prizes involved. I wish I had a nickel for all the sign-up sheets that many a 'one pony' poet John Hancocked. One poem that I read there netted me over the years at least $700 and a bit of fame. Thanks be to the founding of the Guild Complex and their collaboration with Gwendolyn Brooks to create a venue for poets to showcase their work and win a monetary award right out of Ms.Brooks' purse. I am proud to have seen her open it and pull out five one hundred dollar bills and put them poetically in my palm.
The Hothouse hosted a bevy of poets from all parts of the city and often from all over the country. But it was the set of Some Like it Black founded by vocalist and songwriter Kelli Rich, that steered the poetry scene in a whole new direction. This venue incorporated a Jazz session fluent with sassy and sexy poets, and it was also a magnet that drew artists from every field, first to its Bronzeville site and later to the 4th floor of a Pilsen loft. That space is now occupied by the award winning photographer Tony Smith.
Smith, no stranger to the poetry scene in Chicago, entered it with camera in hand in 1999. He managed to photograph many of the poets who are now in prominent positions and places. I asked him to name a poet he thought had disappeared from the scene. His answer was Malik Yusef, and I began to think 'ephemeral' is a relative thing when it comes to some of Chicago's poets. Yusef, an award winning poet/producer, was a mentor to the star of the movie Love Jones and even had one of his own poems, "Hollywood Jerome," turned into a movie, proved that the spoken word could garner more than a few snap, snap, snap of the fingers in a poetry club. And perhaps, by moving on, he gave power for other poets to move up.
There are constants on the scene, mostly those that are now instructors like Professor Lansana, formerly of the Funky Wordsmyths and the one-time Chair of the Gwendolyn Brooks Writers Center at Chicago State University. Professor Lansana was instrumental in beckoning me back to scene after my long hiatus. After reciting my Blues poem at the old Hidden Stages Theater venue Lansana told me about the Guild Complex-Gwendolyn Brooks Poetry Award Contest. I went and I won in 1994 and hung tight with the various poetry venues including performing at the African Festival of the Arts. And having my a few of my poems published in magazines that are no longer active, AIM and Creativity. I was even a featured poet on the award winning CD 47th Street by the late Jazz Master trumpeter, Malachi Thompson. Yet I eventually slipped back into obscurity when I returned to college determined to finally earn a Bachelor degree.
There on the campus of Chicago State University and campuses throughout America and abroad, I found where some poets disappeared and turned into relatively soft-spoken, bookish, polite and published academics. But I also found that poets and writers who were formerly overlooked by 'standard' poetry institutions were being researched and elevated by some of the same poets who had slammed standards. I even learned more about the accomplishments of Carolyn Rodgers, which was astonishing if only for my lifelong interest in her work. I had always found a way to attend any poetry reading that featured Ms. Rodgers.
One day in the early fall of some forgotten year I saw her in her car, flagged her down to tell her how much I enjoyed her work. We were in Hyde Park and after a few minutes she told me she had an errand to run and if I needed a ride somewhere. I forgot exactly where I was going, but I jumped in and we took off. As we rode, I thought of the enormity of her career. In 1971, she had 15 poems in the Gwendolyn Brooks-edited Jump Badd, and penned the forward to that anothology. In Nommo – a Literary Legacy, she was featured on six pages. And after the new millennium dawned, she could be read in the foreward to Richard R. Guzman's Black Writing from Chicago, in the World, not of it. So influential was she that it seemed her presence would never fade. But she passed away in 2010.
These days I often return to a few lines from "The Shadow of Turning: Throwing Salt," a piece that touches on the strikingly bittersweet subject of lasting only a short time:
Salt always did make me crave
sugar. If I could have turned and
looked back, like Lot's wife,
I never would have.
Turning is for other memories.
Memories are actually seasons
of homeless dreams.
The main event in life is something
we think we can plan, but can't.
---
Chicago native and published writer,  Marian Hayes is a recipient of the 2nd Annual Guild Complex Gwendolyn Brooks Poetry Award. She earned two bachelor degrees from Chicago State University and was published in the Chicago Center for Literature and Photography's "The Weekender". Marian is currently pursuing her MFA in Writing. Photo by Tony Smith