MA Exhibition: The Midway Point
This review is part of our Sixty Regional project which partners with artists,  writers, and artist-run spaces to highlight art happening throughout the Midwest and Illinois. Written by Jessica Bingham, artist and…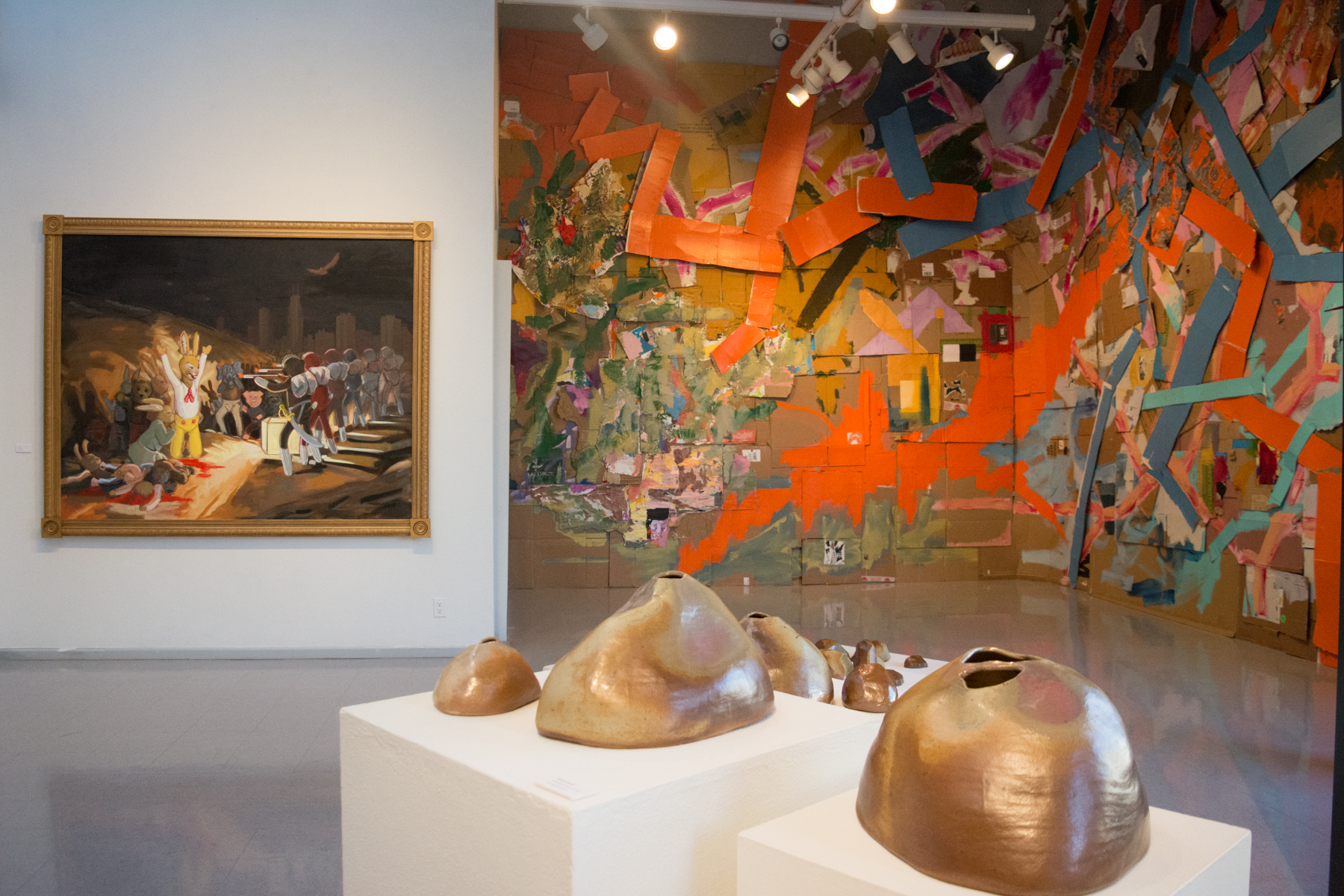 This review is part of our Sixty Regional project which partners with artists,  writers, and artist-run spaces to highlight art happening throughout the Midwest and Illinois. Written by Jessica Bingham, artist and co-founder of Project 1612, this review looks into the recent MA Exhibition at Heuser Art Center at Bradley University in Peoria, Illinois.
Large windows scale the exterior walls of Bradley University's Heuser Art Center, giving you a glimpse of the artworks that lie within. There is absolutely no way to drive past the building without taking a peek into the gallery. The artwork seems to glow from within, especially in the winter, and the MA Exhibition was no exception. Large-scale paintings by Jack Crouch fill the walls, the rich historical narratives from which they are derived interrupted with playful teddy bears and children's toys, a window into the life of the painter. Natalie Zelman's organic ceramic objects cover pedestals that sit lower to the floor, creating reflective landscapes. The back walls of the gallery are plastered with a large floor to ceiling installation of painted cardboard, fabric, and paper by Peter Ahart. Considering varying backgrounds and interests in their studio practices, the exhibition was thoughtful and unified.
Orange, a dominating color within the space, vibrates against the white walls slightly tinted blue from the light of the sky pouring through the windows. The back walls feature Peter's staggering gestural brush strokes and washes of vibrant and muted orange that journey through the dynamic painting installation, Portrait of an American Solider. Some of the orange marks continue across plains of cardboard, collaged papers, and fabric in an organic nature, concealing patches of white, blue, pink, and red. In other areas, long rectangular pieces, painted entirely orange, are pinned to the wall breaking up looser marks. His work, while not necessarily narrative, is responsive. As a military veteran, he is interested in the effects of military personnel after serving. The temporality and fragility of it further drive his content home. Veterans experiences while at war and when coming home are often times extremely flexible and uncertain, much like the material he's working with.
It demands attention, as it's almost impossible to not go to it immediately upon entering the space. With large marks, areas of rough texture, layers upon layers of paint, and packaging stickers left or torn away, the composition is reminiscent of a Pollock without the drips. Although you may not find bits of debris or cigarette butts in this work, text and painted over images from the previous use of the cardboard are hidden elements that when found offer insight into Peter's thoughtful process. The physicality of the work, and the physical process of making the work, is an examination of Peter's past experiences as a soldier.
Natalie's ceramic pieces balance the vibrancy of the orange that circulates the walls with warm and soft earth tones. The brown cardboard that lies underneath Peter's painting installation relates to the brown surfaces of Natalie's ceramics; her work offers the viewers eyes a place of rest and calm. The pieces rest upon clean white pedestals that are strategically placed within the center of the gallery. As viewers walk around the space, connections of colors and reflections of the surrounding paintings come forth for the viewer to see. These reflections are intentional, they are reminders of one's past within our literal and internal landscape. One of the groupings features hollowed ceramic vessels that invite you to peer inside — the dark interior mimics areas of darkness on the exterior. Another grouping features convex forms, reminiscent of rocks or mounds, found in both natural and man-made landscapes. Her interest in how landscapes influence us is rooted in the emotional connections humans make with their surroundings.
Subtle undertones of orange and yellow add to the already vibrant backgrounds and figures in Jack's contemporary family portraits. I must add that as a new mother myself, there is a unique beauty in the struggles of young parenthood that is accentuated by the intensity of being an artist. According to Jack's statement, he may not see how well he is balancing his family, studio, and work life, but as an outsider, I admire his determination and ability to juggle the daily undertaking of parenthood while producing conceptually and visually stimulating paintings. The scale of the work is significant considering these works are a modern take on the masters' works of Rubens, Titian, Goya, and Courbet. Gold painted frames mimic gilded frames found in museums, adding to Jack's clear appreciation for dramatic compositions and color usage. However, the addition of figures in his work is quite new; a natural progression from his earlier paintings of lifeless children's toys and colorful candy against an off-white background. These new contemporary portraits include his children and partner and/or human-sized stuffed animals which are far more dynamic and true to the struggles, joys, and dissolved nature of work/life balance many parents are all trying to achieve.
This exhibition is a pivotal moment for the three graduate students, as it marks the mid-way point of the three-year program. The work made for this exhibition is a showcase of the past year and a half and will continue to guide them into the MFA portion that follows. I am curious to see if the content, dominating colors, and presentation of the work from this exhibition will be present or abandoned come to their MFA exhibition in May 2020.

---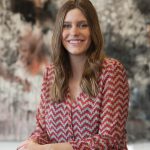 Jessica Bingham is an artist, curator, and writer living in Peoria, IL. She is the co-founder and director of Project 1612, an independent art space and short-term residency program. Follow her on IG at @Jessica_Bingham_Art and Project 1612 at @Project1612.