Locating Your Practice in 'Chicago Disability Activism, Arts, and Design,' with Bri Beck
"I could have never expected this, it's so exciting. It [makes me] feel like my story has been told for a very long time, and I don't always have to…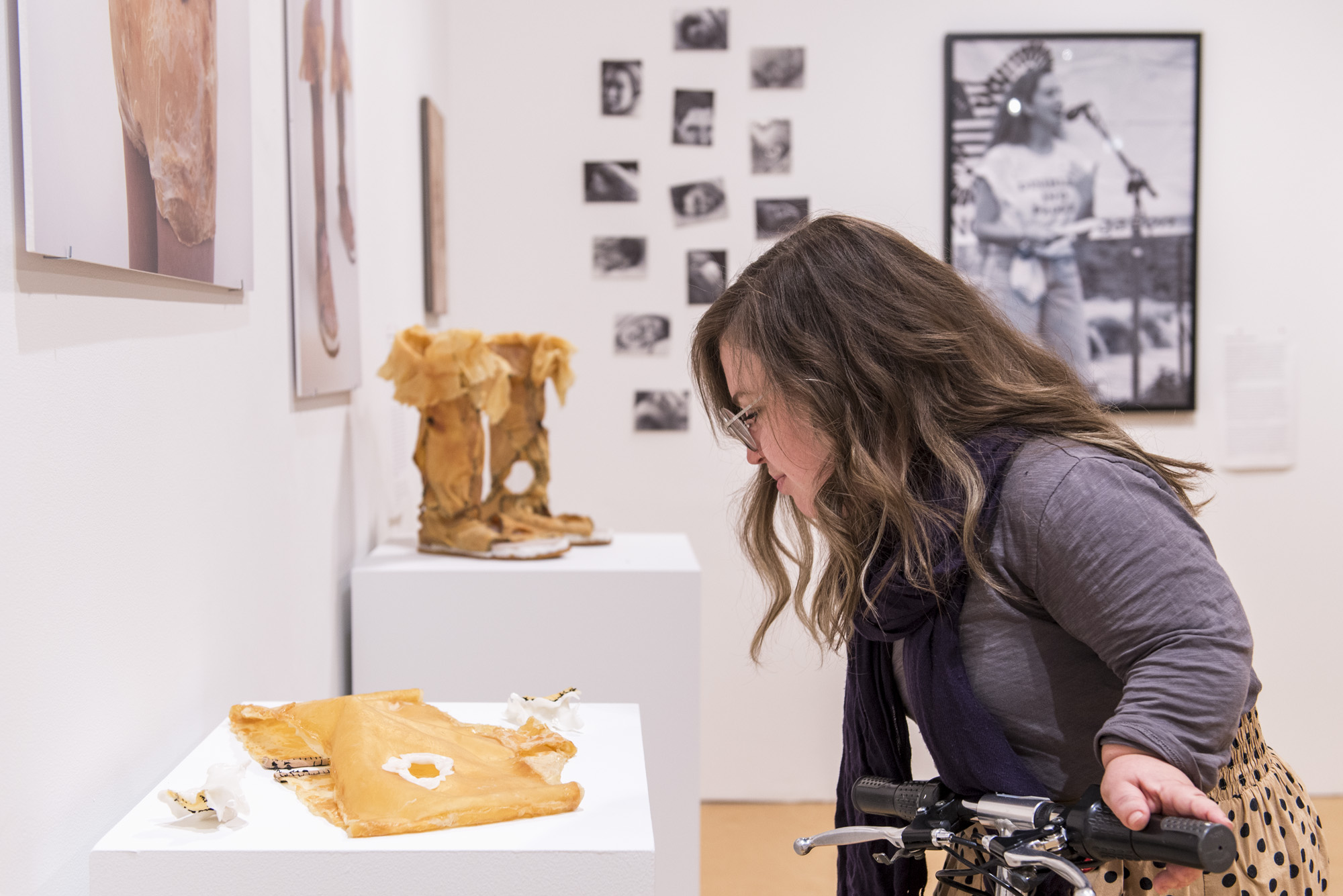 "I could have never expected this, it's so exciting. It [makes me] feel like my story has been told for a very long time, and I don't always have to be the one telling my story," asserts Bri Beck while discussing the work in Chicago Disability Activism, Arts, and Design: 1970s to Today at Gallery 400. The exhibition is a multi-generational sampling of the disability-centered artwork that has been coming out of Chicago over the last fifty-plus years. Artist and art therapy graduate student Bri Beck and I visit the exhibition to discuss her experience as a part of this rich history. As we make our way through the gallery, Beck points out artists she's worked with, portraits of people she recognizes, and professors she's been mentored by. "I love being a part of the Chicago disability community," says Beck. A close-knit and interconnected community, she explains, "there aren't very many of us!"
The seemingly small circle of artists and activists doing disability work in Chicago is precisely what has made the city an epicenter for advocacy and creative expression around accessibility. As described in the didactic material, this exhibition "will tell the stories of how Chicagoans with disabilities and their allies broke barriers, created change in policy and federal law, and changed culture at a time when the reality of life for many people with disabilities was the restrictions imposed by institutionalization and segregation." A starting point for much of the work discussed in the exhibition is the activism of Marca Bristo and Riva Lehrer, who established the seminal organization Access Living along with their extensive collection of disability art, respectively. Beck is involved with Access Living through her art therapy work, including young adult disability and racial justice efforts. Through the foundations built by people like Bristo and Lehrer, Beck and emerging artists of her generation are more connected through art and activism than ever before.
This community wasn't something that Beck was immediately aware of. "It's something I always thought I had to do on my own…I didn't grow up knowing there was such a large disability arts and culture movement." Mainstreaming children with disabilities is certainly still the path many families choose and was part of Beck's experience before moving to Chicago. Beck explains that, even when asked to join communities around disability, "I was very against it, very like, 'oh no, I'm not going to be in your club just because we all have a chair,' or 'we're all of short stature' or anything. It just felt weird to me. But now I understand why they're so important, to see yourself in somebody else, and—especially as a kid—to see adults like [me] thriving." After coming to pursue her graduate studies at the School of the Art Institute of Chicago, Beck was exposed to the disability culture present here and has been adding her own voice to the chorus ever since.
That is something this exhibition does well; it highlights individual stories while presenting a look at what the city's disability community has accomplished through decades of collective action. Those collective and personal testimonies also resonated with Beck and her practice. "I always start from myself, usually, because it's just where I'm coming from. But I try to always make it a macro example in that way." In her 2017 piece "Negotiating Space: Othered by Design," included in the exhibition, Beck did just that. The work engages the social model of disability by investigating "the idea that societal structures disable individuals far more than diagnosed conditions do." By experiencing the installation, an able-bodied or average height viewer is put in the position of "feeling othered by a space" and "aims to invite the viewer to engage in play while remaining hyper-aware of their body." By exploring and acknowledging these personal accounts, we are also confronted with the fact that the issue is so much larger than the self, that it is deeply rooted in societal structures that form barriers far more difficult to traverse than the physical.
"Negotiating Space" was exhibited around the country as part of the Kennedy Center's VSA Emerging Young Artists Program. This competitive program celebrates work by emerging young artists with disabilities. I asked Beck what she thought about exhibitions of work by artists with disabilities and exhibitions of disability art. She recalled a talk she gave for the touring program where she challenged marketing strategies. "The poster says '15 artists with disabilities, come see their work.' Well, what did that message say to you? Were you expecting it to be inspiring? Were you expecting it to be challenging? Did you expect the art to be less quality? What does that mean, and what if we took that tagline off?" We also discussed the need for a dual approach when it comes to representation. "I think there is need for both," Beck affirms, "[we need] disabled artists in art spaces, just in general, and [to] normalize that." We need to have disability art "informed by the disability" and centered on the narrative around that perspective—when "it's finally about it."
Gallery 400's exhibition isn't just about the work, as incredible as it is. It's about creating a space for a community. As Beck can attest, "having those social spaces has been so healing for me, especially as I consider being an art therapist in the future, and I want to work within the disability community. For me, that was more 'therapeutic,' than going to counseling. People understand me, I can laugh about some of the things that are really hard—just to have language for the experience."
Find out more about Bri Beck and her artistic practice at her website. Chicago Disability Activism, Arts, and Design: 1970s to Today is on view at Gallery 400 until October 20th.
This article is presented in collaboration with Art Design Chicago, an initiative of the Terra Foundation for American Art exploring Chicago's art and design legacy through more than 30 exhibitions, as well as hundreds of talks, tours and special events in 2018.  www.ArtDesignChicago.org.
Featured Image: Bri Beck leans into the frame from the right side, looking down at a tan mixed media garment piece on a white pedestal. Other works can be seen in the background.  Photo by Ryan Edmund.
---
Courtney Graham is a Chicago-based arts administrator, writer, and event planner. As a masters candidate in Arts Administration and Policy at the School of the Art Institute of Chicago, she focuses on accessibility for people with disabilities in cultural spaces. This is reflected in Courtney's writing, which explores access and spotlights artists with disabilities. Courtney also serves as the Assistant Director of the Evening Associates at the Art Institute of Chicago. When she is not dashing from the museum to school and back, Courtney can be found embroidering, grossly over-planning for her next trip, or watching Michigan football.