July (Virtual) Art Picks
If you've followed us for a while, you know that our Art Picks offer a wide scope of events that are relevant to our audiences because we and the artists,…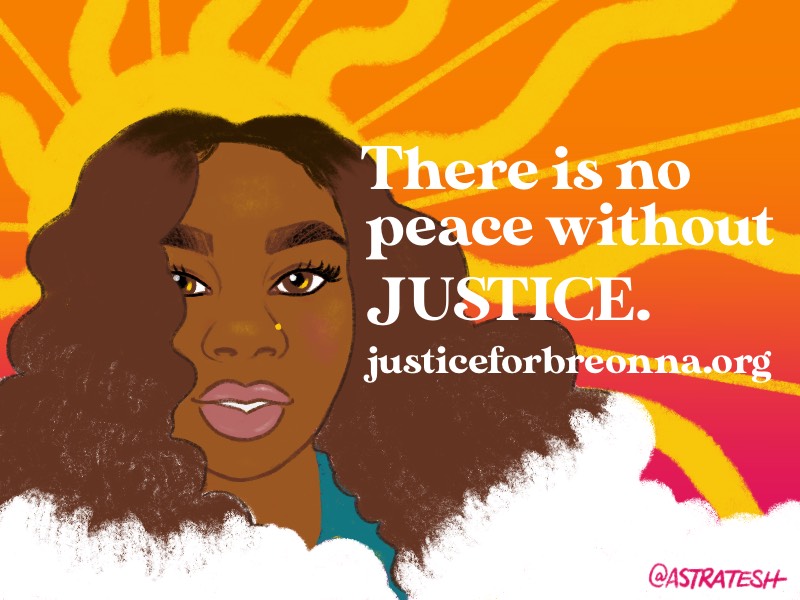 If you've followed us for a while, you know that our Art Picks offer a wide scope of events that are relevant to our audiences because we and the artists, cultural workers, curators, spaces, and projects we support live full lives that know no boundaries. We maintain expansive practices and work toward justice for BIPOC, LGBTQIA+, and disability communities in Chicago and the Midwest.

If this is your first time coming across this list, welcome. We're glad you're here and we hope this list sparks discovery, curiosity, and a demand for justice if you weren't openly demanding that already.
Created in collaboration with The Visualist and adapted for social-distancing due to COVID-19, this list offers online exhibitions, streaming events, a list of online collections from Black and LGBTQIA+ archives, and other ways to spend time in the virtual space.

Also, in support of our friends, our communities, ourselves, and abolition/liberation efforts, we're prioritizing events that uplift and fight for Black Lives and celebrate Black Queer Lives because the fight for Black Lives is the fight for Black artists, our Black Trans family, our Black Queer family, and the many branches of these communities.
With the health of the communities and artists we love in mind, the only in-person events listed are ones associated with protests happening across Chicago.
The featured image was created by one of Sixty's extraordinary contributors, Teshika Silver, a freelance illustrator, designer, teaching artist and spiritual cultural worker spending time and living freely in Little Village, Chicago. Follow her work on Instagram @astratesh or visit her online store to purchase her glorious work.
This is a growing list, so check back often for new additions.
Chicago Protest Listings
Chicago Protest Calendar
Protest Chicago

Note: If you're attending any protests or events, here are some tips from The Blackivists archivist collective on how to document thoughtfully with the care and safety of our coummunites in mind.
Ongoing
Cooperation for Liberation Study & Working Group
#LetUsBreathe Collective, The Kola Nut Collective, & Cooperation for Liberation Study & Working Group
Free
Ongoing
Quarantine Times
Public Media Institute
Free
Ongoing
The Quarantine Concerts
Experimental Sound Studio
Suggested donation of $5
Ongoing
HELLO NEIGHBOR PURPLE WINDOW
Free
June 29- July 29, 2020
James T. Green: A Surveillance Meditation
Gallery 400
Free
Wed, July 1, 6-7:30pm
Webinar: The future must be different from the past
IIT Institute of Design
Free
Wed, July 1 , 6-7:30pm
Speculating Futures Writing Workshop with Tara Betts
Center for the Study of Race, Politics and Culture
Free
Wed, July 1, 7-8pm
Rapid Response Series: Reopening
Envisioning Justice & Illinois Humanities
Free
Wed, July 1, 7pm
Begin Again: James Baldwin's America and its Urgent Lessons for Our Own
Haymarket Books
Free
Wed, July 2, 2pm
Leather Legacies with Heather Raquel Phillips
Leather Archives & Museum
Free
Thurs, July 2, 8-9:30pm
Abolish Policing, Not Just the Police
Haymarket Books
$0-25
Thurs, July 2, 3-4pm
Disrupting Systemic Racism in Education
Madison Schools – MMSD
Free
Thurs, July 2, 6-7pm
Ecclesiastés 1″2: Carlos Salazar-Lermont
Chuquimarca
Free
Fri, July 3 – Sun, July 5 (multiple times)
Chicago's Black Queer Pride Weekend: 1 Year Anniversary of LF
Lighthouse Foundation
Free
Fri, July 3, 4-6pm
How Do Black Artists Sing in a Strange Land: Virtual Summit
Experimental Station and Banks Performance Project
Fee
Mon, July 6, 9:30-10:30am
Frida Kahlo's 113th Birthday With Drive-By Birthday Party
The Cleve Carney Museum of Art: 425 Fawell Blvd, Glen Ellyn
Free
Mon, July 6, 2-3pm
Online Art Class for Kids!
LATITUDE
$100
July 7 & July 8, 12pm
#BLACKOUTDAY2020 CHICAGO: AGAINST POLICE BRUTALITY
Justjenialive
Free
Tues, July 7, 6-9pm
Engaging with Erotic Photography
LATITUDE
$50-75
Tues, July 7, 8pm
Organizing Your Block Not to Call the Cops
Make Yourself Useful & ACRE Residency
Free
Tues, July 7, 7-8pm
Better Worlds Book Club #2: Zapantera Negra
Pilsen Community Books
Free
Tues, July 7, 6-7:15pm
Chicago Tenant Rights Under COVID
Chicago Democratic Socialists of America
Free
Tues, July 7, 7-8:30pm
THE DEPORTATION MACHINE by Adam Goodman
Women & Children First Bookstore
Free
Wed, July 8, 7:30-9mp
#BringInDaLight: Hoodoisie Roundtable Celebrating Mayor Lori Lightfoot
The Hoodoisie, South Side Weekly, and Amara Enyia
Free
Fri, July 10, 10-11:30am
Yumiko Yoshioka: Body Resonance
Butoh Curious Chi
$0-15
Fri, July 10, 6pm
Book Group: The Black Freedom Movement and the Carceral State
PO Box Collective & STOP CVE Coalition – Chicago
Free
Fri, July 10, 1-2:30pm
Work in Progress: Artist & Writer Meet-Up
PO Box Collective: 6900 N Glenwood Ave
Free
Fri, July 10, 12-7pm
Opening Reception: "Photography & _____"
Catherine Edelman Gallery: 1637 W Chicago Ave
Free
July 11-August 22, 2020
Clotilde Jiménez: THE CONTEST
MARIANE IBRAHIM: 437 N Paulina St
Free
Sat, July 11, 2-3pm
HOME
Woman Made Gallery
Free
Mon, July 13, 8pm
The Quarantine Concerts: Joanna Mattrey
Experimental Sound Studio
$0-5
Wed, July 15, 2pm
Picturing the Pandemic with Whitney Bradshaw
DePaul Art Museum
Free
Fri, July 17, 5pm
Black, Indigenous Solidarity Rally
Chi-Nations Youth Council, Chicago Democratic Socialists of America, Black Lives Matter Chicago, Chicago Alliance Against Racism and Political Repression, ChiResists, SJP Chicago, Lifted Voices
Free
Sat, July 18, 11am-8pm
Longevity: Art Practices for Queer Education Online
LATITUDE
Free
Mon, July 20, 8pm
The Quarantine Concerts: Tashi Dorji
Experimental Sound Studio
$0-5
Mon, July 20, 6:30-8pm
Virtual Penpal Matching
Black and Pink: Chicago
Free
Tues, July 21, 7-8pm
Curatorial Talks: Daria Khan and Daniel R. Quiles
Mana Contemporary
Free
Wed, July 22, 6-7:30pm
The Breakbeat Poets Live! Chapter 4
Haymarket Books
$0-$25
Wed, July 22, 7:30-9pm
Pandemic Issues: Radical Parenting in the Time of COVID-19
The Hoodoisie
Free
Wed, July 22, 6:30-7:30pm
Volcánicas: A Reading and Conversation with UTV Sandra Cisneros
Pilsen Community Books
Free
Thurs, July 23, 12-1pm
Community Lunch with Farah Salem and Naïm Asbaâ
Mana Contemporary
Free
Fri, July 24, 5-10:30pm
Random Acts, Out of Site 2020
Experimental Sound Studio and Out of Site Chicago
Free
Fri, July 24, 12-5pm
Cujo Dah: A Quarantine Daydream
Elephant Room Gallery: 704 S Wabash Ave
Free
Fri, July 24, 6-8pm
Art, and a Time of Solidarity
ARC Gallery
$10-50
Fri, July 24, 12-1pm
Edra Soto Virtual Gallery Talk
Museum of Contemporary Photography
Free
Sat, July 25, 5pm
Black Lives Matter RALLY & MARCH: DEMAND DEFUND 12 NOW
Black Lives Coalition Lake County and Mi Hogar, Southwest Chicago
Free
Sun July 26, 3pm (bi-weekly meetings for 12 weeks)
Cooperation for Liberation Study & Working Group
the #LetUsBreathe Collective
Free
Sun, July 26, 7pm (multiple dates, once a month for four months)
Art is Bonfire 2020
Free
Mon, July 27, 6-7pm
Write On! Part III with Artist Ben Lamar Gay
Center for the Study of Race, Politics and Culture, and Arts & Public Life
Free
Tue, July 28, 3-4pm
Curatorial Talks: Larry Ossei-Mensah and Azikiwe Mohammed
Mana Contemporary
Free
Tue, July 28, 7-8pm
Lit & Luz Book Club: Conversation with Fernanda Melchor
MAKE Literary Productions
Free
Wed, July 29, 6:30-8pm
Racism is a Public Health Crisis
Haymarket Books
Free
Thurs, July 30, 6-7pm
In Conversation with City Colleges of Chicago Educators
LATITUDE
Free
Fri, July 31, 10am
PAINT "Black Lives Matter" Mural on State & Lake
Pilsen-Humboldt Park Anti-Gentrification Group
Free
Fri, July 31, 8:30pm
Tatsu Aoki: The MIYUMI Project
Constellation Chicago: 3111 N Western Ave
Free