Interview with the Filmmakers of Lost & Found (2023)
Get to know directors Ezra Amiri and Remy Guzman in this interview about their working relationship, goals, and filmmaking process.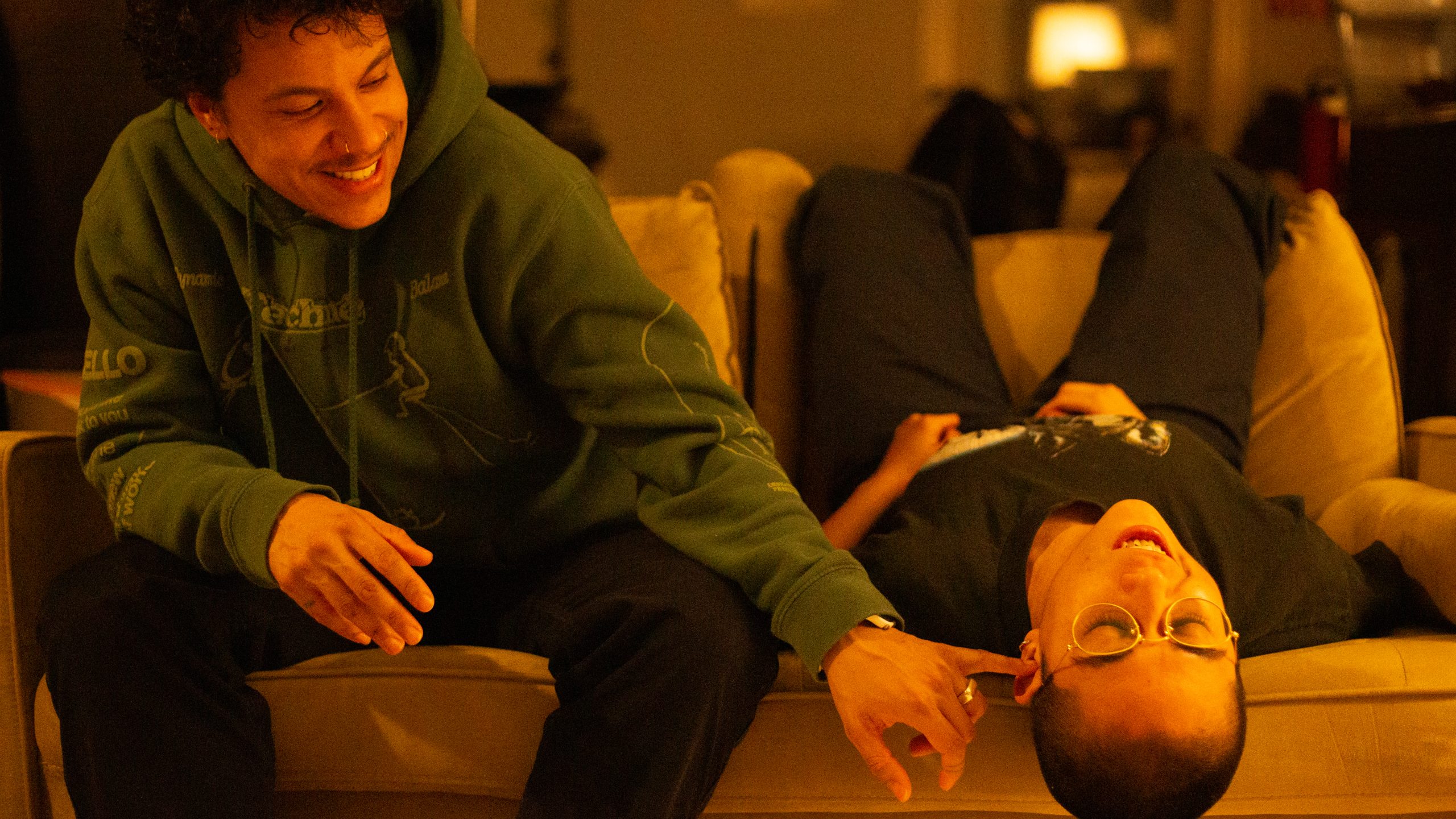 To read in Spanish, click here.
If you have some free time on a sunny winter day or warm summer night, listen to Chicago jazz and take the El. Chicago is a city that lends itself to so much Romance, but romance in Chicago is very underrepresented in media, especially in how those of us from Black, Indigenous, Mexican, South Asian, Puerto Rican, Dominican, queer communities cultivate and create romance in this city, by this, I mean both the romance of having a lover in Chicago, but also the general romance of the idea of Chicago.
Lost & Found, is a silent short black & white film about chess, about love, and it features two characters: the Lover (played by Elias Rios) and Furry (played by Remy Guzman) created by Ezra Amiri and Remy Guzman, is a work that fortunately doesn't forget about any of those things. It is about many things: tt is about chess, surreptitious desire, the scenic beats that capture the moments of what it means to fall in and long in love, and lastly a love letter to the romance found on the inner city streets of Chicago. We hear a blues melody played by a street busker. Cecil Locke, also known as Chicago's Chessman, graciously allowed the filmmakers to use his chess table stationed outside the Art Institute.
As a member of Chicago's artist community, one of the greatest things about this relationship is watching your friend's craft blossom, change, and grow. I've followed Remy and Ezra's work for over half a decade. What strikes me the most are the powerful narratives that are fueled by play. Their collaborative work can handle the most devastating emotions and meet it with levity and humor in a way that has personally transformed me as an artist. Elias Rios, one of the two lead actors, is also an artist whose craft as a photographer, comedian, and acting I have also followed for several years now and admire his ability to cultivate feelings of tenderness, brightness, & beauty.
The view and perspective of Ezra and Remy and their supportive crew tells a story from this world beyond the aforementioned societal structures, from a world where we can enjoy a simple, funny love story.
I've seen this in the history of their working relationship: their creative direction helped get me through the difficulties of the years that were 2020 and onwards. We filmed sketches on our phone, often directed by Ezra's attention to detail and intuition, that were absurd, funny, strange – creating satire of the 2020 election by reenacting a fake Paula White church session, re-creating Euphoria scenes but queering it in an over-the-top way, pouring ketchup and fake blood on the floor and coordinating screams for gory Halloween sketches, having photoshoots in alleys for upcoming projects as the neighborhood kids biked up and interrogated us under the glow of the streetlights.
I lived with Remy when the idea for Lost & Found was forming; our creative processes nurtured one another especially at this time, as we often wrote together and shared new ideas. At the time, they were intrigued by the idea of storytelling with chess and wanted to write about chess and love. The idea morphed over the course of several months, taking different forms as a phone sketch, as drafts of scripts. There were obstacles, since the set was very dependent on the weather and season (Cecil sets up the street chess table when the weather gets warmer and takes it down in the fall time), logistics of casting actors, searching for a director of photography, and coordinating a time that worked for everyone as working class artists who have to make ends meet while simultaneously making their dreams come true.
All these years worth of sketches, mastering comedic timing, and learning filmmaking resulted in their short film debut. Watching Lost & Found is a generous experience. Viewers will walk away inspired and refreshed by the unique form of storytelling.
The following is a recent interview I had with Ezra (director) and Remy (writer, lead actor) about Lost & Found.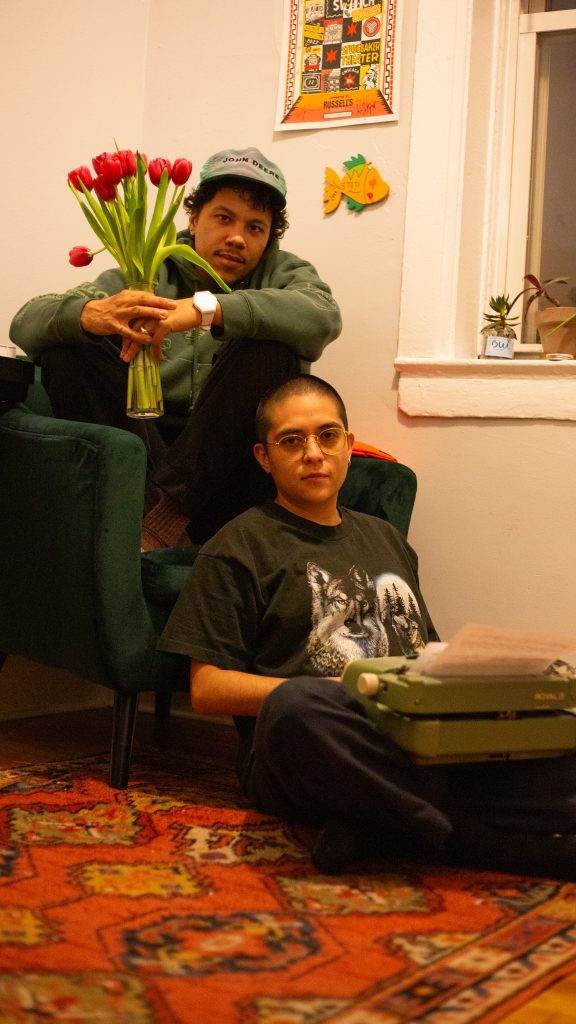 Stuti Sharma: What was your favorite thing about making Lost & Found?
Ezra Amiri: Being on set.
Remy Guzman: I liked shooting it. It felt like my first time on set in a film context. It was really cool to see Ezra work as a director and Evan [the Director of Photography] and Elias [the other lead actor]. Everybody was on point. Having Cecil let us borrow his chess stand, it was really great to use it because it's a Chicago staple so it was cool to be doing a project at that stand.
SS: Something that struck me about this Film is how Chicago history is found within; the shots that you chose, the corners you chose. It reminds me of old films set in Chicago. In the film there's modern stuff in there like the bus, it's obviously set today but still captures that romantic, old-time feeling. What was it like capturing and creating this feeling?
RG: I personally thought of that location the moment the idea came to me. I already knew. I was like "a sketch" about chess? The first thing I thought was Cecil, with his set up, because I love how all his trinkets — it's just so elaborate and old. I've literally seen him [working] there for years; I've been living in Chicago for 13 years, and I've seen this man before I moved here. I've always admired his set up. I love chess. I've never played street chess, so I always from afar admired it. The fact it's by the Art Institute where there's really prestigious things going on, there's also this cheap street chess table – I like the contrast. It gave me very artsy vibes —the Art Institute, the character coming together with him being a nerdy guy, probably a Chicago intellectual who goes there all the time. Not that I love Michigan Avenue, but I do love that particular part of it. I used to volunteer at The Art Institute before I moved to the city and I love their gardens, the architecture there. I'm a sucker for it, even though at this point it's a cliché of a setting.
EA: Learning the city for me was walking downtown, walking [through] various neighborhoods, but the thing about downtown is that, like when you move somewhere that's a big city, you expect it to have a downtown feel — so it still resonates in some way. I don't know if this was intentional or just a byproduct of the chosen theme with chess and the location because Cecil always sets up there, but like it was beneficial to the story to have a lot of people around the central character. And he, at times, can be lost in a sea of people who don't give a fuck about him. They're all tourists, they're all with their lovers and family, so that was a cool thing about that location.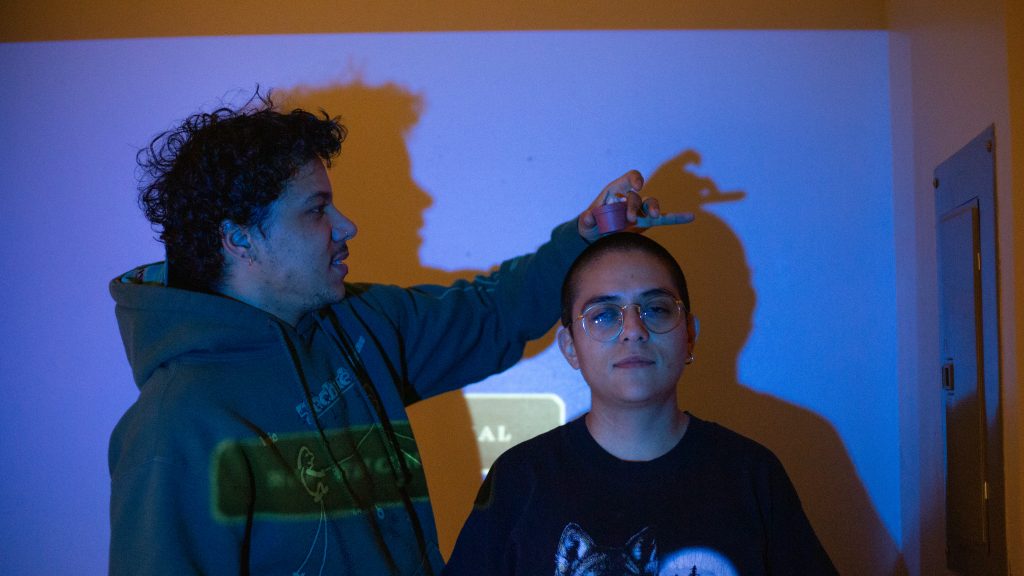 SS: I think that it tells the story of love in a very funny and realistic way. What was it like balancing the humor but also the very real emotions of the character being in the throes of love?
(We all laugh.)
EA: The throes of love. I remember coaching Elias on this part, towards the end of the first act, where Elias is like confessing his love, and trying to get him to verbalize some things and get him in the mindset of the lover character — of like all of your self doubt, as if you never thought you were worthy of finding anybody, and you just thought Chess was all you had. We tried soup up this character's head with all of his intellect and love for Chess is now completely projected on this random creature.
RG: Yeah, I got to see that. I think Ezra did a good job of getting the emotion out of Elias, like literally times when he was screaming, "Be angrier!" One thing I didn't mention about this film is that it's improvised. There's no script that we gave to Elias and our DP, but it's a page long and this is a nine minute film. It's very brief descriptions of [the three acts] and that's it. Everything else was Ezra thinking about – we actually filmed this once before on the fly, all improvised.
SS: Yeah! I remember this sketch! You were passing out fliers on the street to random people!
RG: Yes. Ezra basically built upon this sketch and built shots to structure the feeling of each act.
EA: I'm so happy with the avant-garde guerrilla-style shit that we did on our phones with José [our friend and artist, José Rosa] cause we had a couple hours of the footage. Getting some of that and truly having it feel chaotic and getting reactions from people on the sidewalk — I loved it. I f—— still love that footage. I did want to try to push some extremes at times with how the character was acting. He has to fall in love, and it be at level 20. When he's alarmed about something, he really has to [go insane]. Remy didn't write that part in; we came up with that scene of him flyering and losing it when we were filming with José. That all needed to happen because it's a silent film. It's literally like his physical state and emotives are what's gonna give you the information when you watch it.
SS: What is your working creative relationship like? It's more an energy than something I can put into words. Could you describe something in nature and compare it to your working relationship?
RG: It's hard to describe with nature, but we've discussed this a lot. I'm impulsive and I like to get things done really quick. I want things to be short and to the point, and I like to have fast cuts. I also just work and am less detailed. I don't think too much about it —sometimes I go with my intuition instead of sitting down and thinking about the best way to plan something out. I'm just like no, I can do it in the moment, or it'll come to me, or I feel this rather than "hey, let me look at the bigger picture and try to connect things or make a map or plan it out." Ezra can describe how he is; he's more critical and thorough than me.
EA: Remy is a raging, sprawling river in the Amazon and I am the motherf——tree that grows in the river with the big ass roots just redirecting the energy and slowing down the river. There you go.
(We all laugh).
EA: All the things we've done together have been very spontaneous and we don't give a fuck about how it turns out cause we're gonna like it either way. This was the most forethought we gave to any of the projects. We're working on several other things and how to balance out our personalities. I do think overall it's a good match, because if we reach a creative roadblock, one of us will solve it and the other one will catch up so to speak. We are very different. We freak out about different things.
RG: We actually fought the day of filming
EA: Wait, we don't have to tell them that
(We all laugh)
RG: No, but like we were still able to —
SS: No, I get what you're saying; to be able to work through conflict with someone…
RG: Yes, to have a disagreement but to still be able to see eye to eye but still see each other as friends and creatives.
SS: How do you feel like you want to celebrate your success in making this movie?
EA: Make another one, a next project, and use this as motivation to do the next thing. That's the best way for me to celebrate something; use it as a stepping stone. I don't know, now that we watch it, talk about it. I'm like — this is great. Let's do it again.
RG: Yes, I feel similarly. I think we'll have a physical celebration when we have the screening, but I am in the same boat. I'm trying to push this into getting streamed, into festivals, because I do think this is just a stepping stone. I love the feeling of creating, and I just want to create more.
SS: Last thing, something I really like about this Lover character is that when Furry came back, he didn't question where Furry was. He just took him, no questions. Why?
EA: That's a good catch. I don't think that was thought of in that way, but I would say that is just his 'chaoticness'; not even considering another possibility that Furry didn't feel the same level of love. That's what I think that was.
RG: Yeah, he was just like, "I'm just happy you're back." I think it's great. He doesn't think about it too much. He was more stressed out that Furry wasn't there, so that when Furry's back, he's all open arms. When you're in love with someone, sometimes it be like that, you take them back no questions asked. It makes no sense.
SS: Yeah, I really liked that part.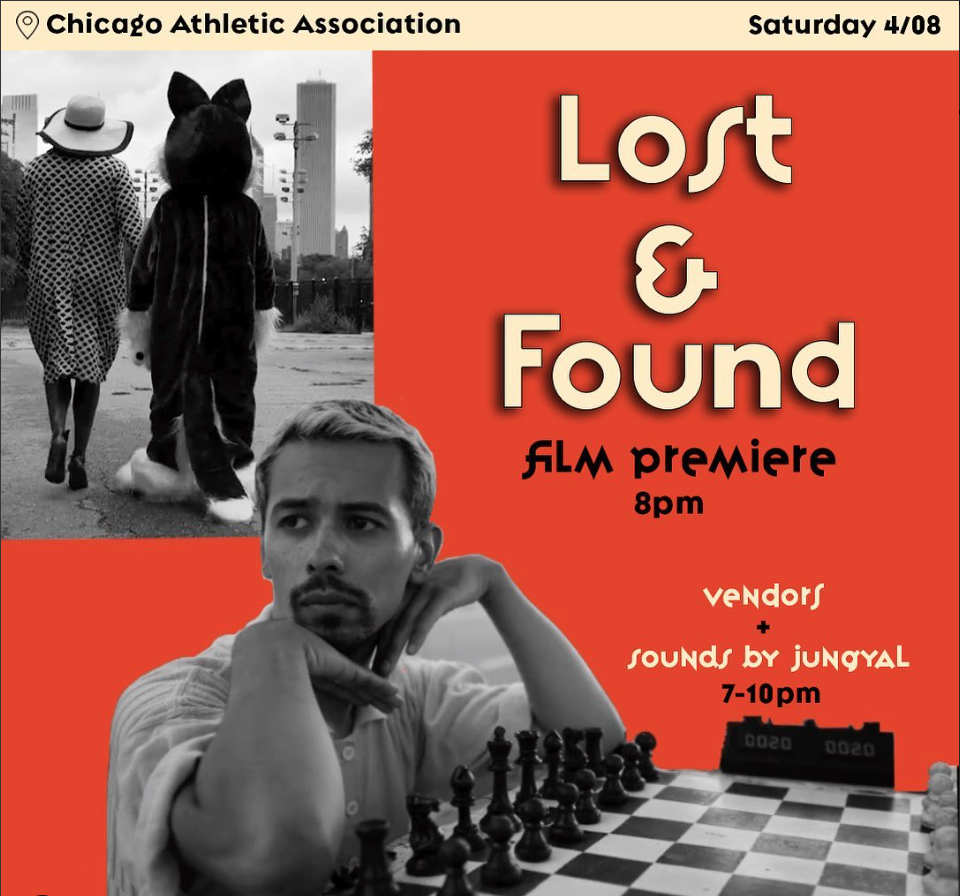 Please join us Saturday, April 8, for a premier party and screening for Lost & Found at The Chicago Athletic Association. 7-10 pm, featuring vendors, drinks, and more. Screening begins at 8pm.
---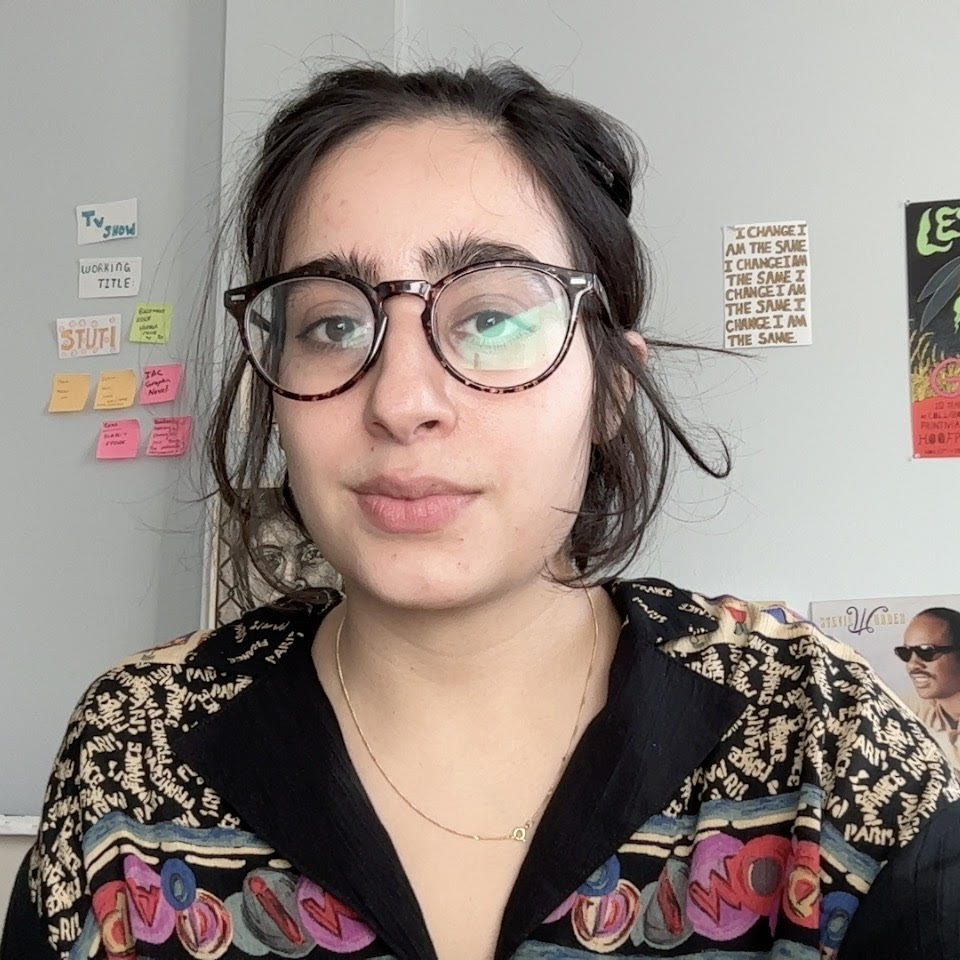 About the author: Stuti Sharma (she/they) is a poet, comedian, photographer, educator, and filmmaker who is of Indian heritage, born in Nairobi, and raised in Chicago. She has work in Autostraddle, Belt Magazine, Hooligan Magazine, Mason Jar Press, 68to05.com, and she was a member of the Tin House 2020 Summer Workshop. She was a member of the collective, Chicago Desi Youth Rising, and movement work grounds her work as an artist. They ran an after school program in Chicago's Devon neighborhood through the Indo American Center, where she ran a comedy fundraiser to get the kids an ice cream truck for free. You can contact and find more information on her shows and writing here.