Inga: Spacemaking Through and Around Books
Bookshops have often functioned as meeting points for peer discussion, an opportunity to find added resources, and a place to showcase newly discovered titles and remarkable projects in print and…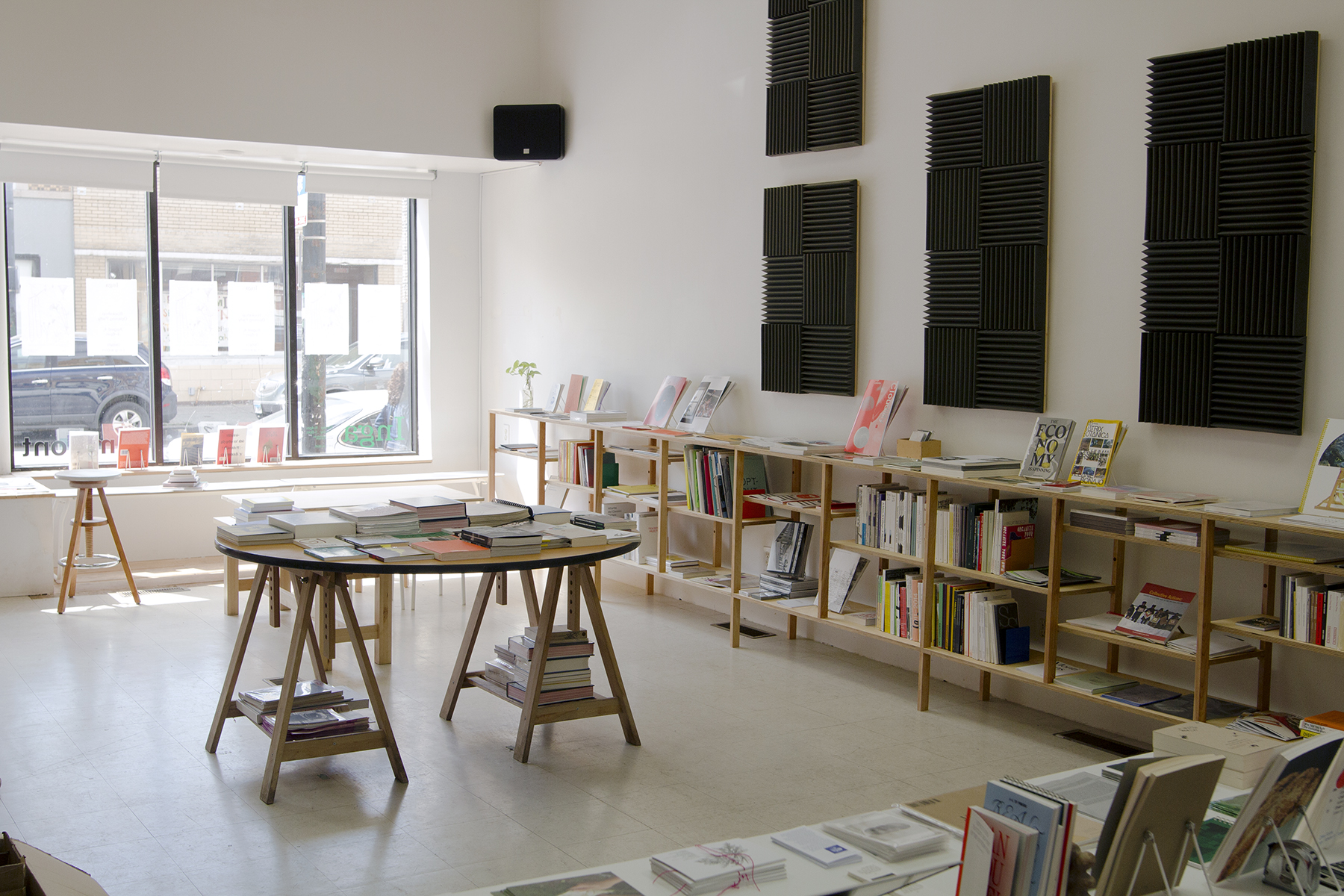 Bookshops have often functioned as meeting points for peer discussion, an opportunity to find added resources, and a place to showcase newly discovered titles and remarkable projects in print and publishing. They frequently rely on the collective strength of their supporters, near and far. In August, the new bookshop Inga joined the Pilsen storefront space of the popular cine-club filmfront, already well-known for building community around its film screenings and events. Co-founders Malia Haines-Stewart and Alan Medina — along with their long-time friend and Chicago-based graphic designer Jacob Lindgren — opened Inga to expand upon their ongoing collaborations as an imprint and distribute self-published and independent titles.
Throughout their years directing and programming events and screenings for filmfront, Haines-Stewart and Medina have developed an active and reciprocal connection across art and film communities in Chicago, building a reputation that has required a sincere effort in time and dedication. With the new addition of Inga and having Lindgren as a founding member, there is great momentum to broaden an already active community of supporters and enthusiasts of cinema and filmmaking toward new subjects in independent publishing and self-published projects.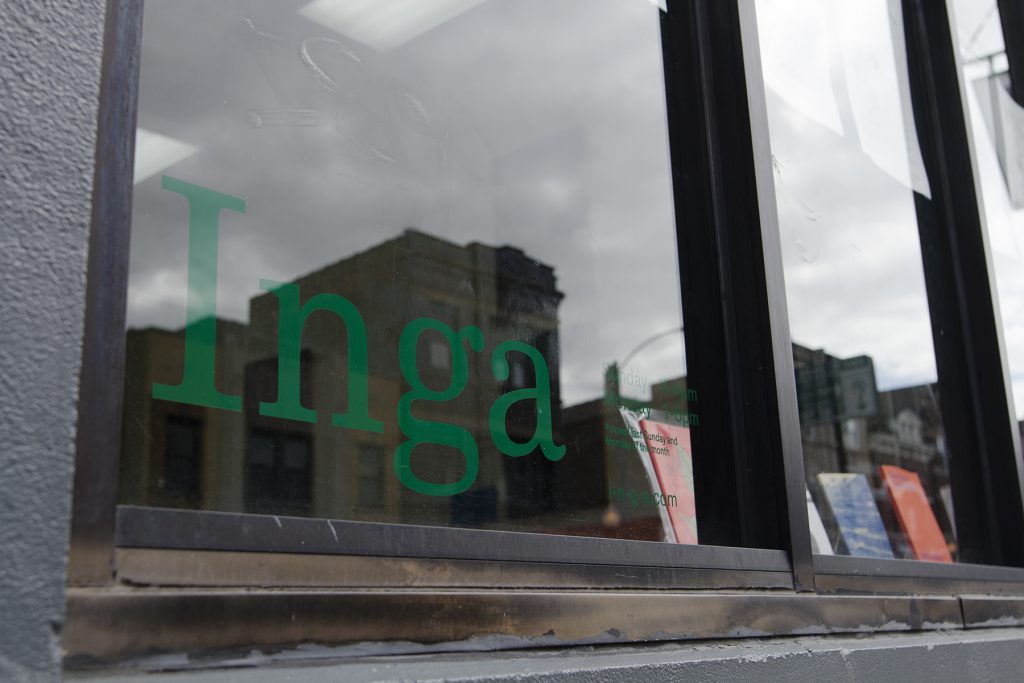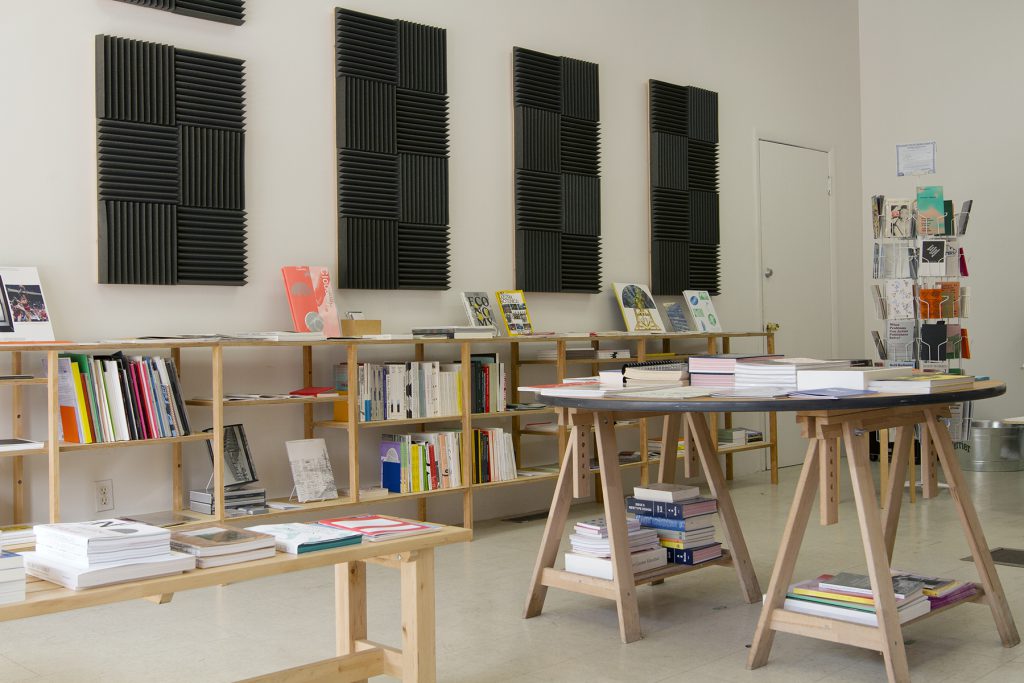 Publishing cannot exist without distribution, and distribution means bringing content pages and objects to people where they can be enjoyed as a source of knowledge and inspiration. Inga is an essential place to discover small publishers from around the world, and the artists and publishing projects they support. "We want to adjust models in existence that can be more personable, ethical, and exciting for all people involved," explains Haines-Stewart. "We are all new to this. We have all had personal experiences with having our books stocked at other places and where we have not been paid and honored for our work. We want to do right by the publishers in what would make them feel appreciated, in fiscal form or in other forms of recognition." And Medina adds, "At Inga, this is a one-to-one agreement. There are many who are entrusting us with their books and we want to do the right thing."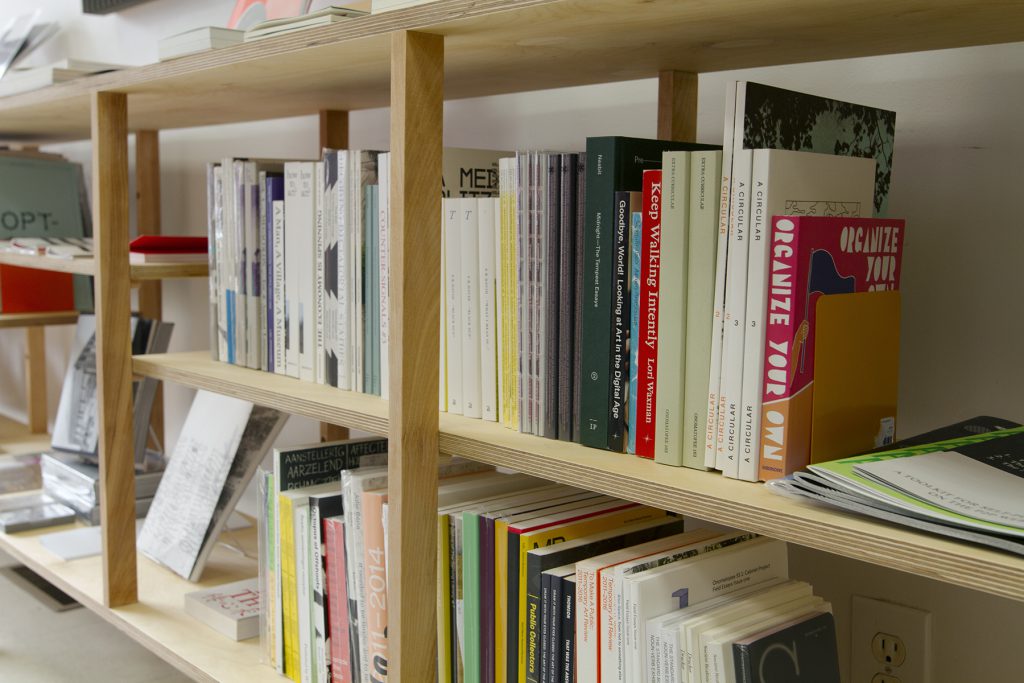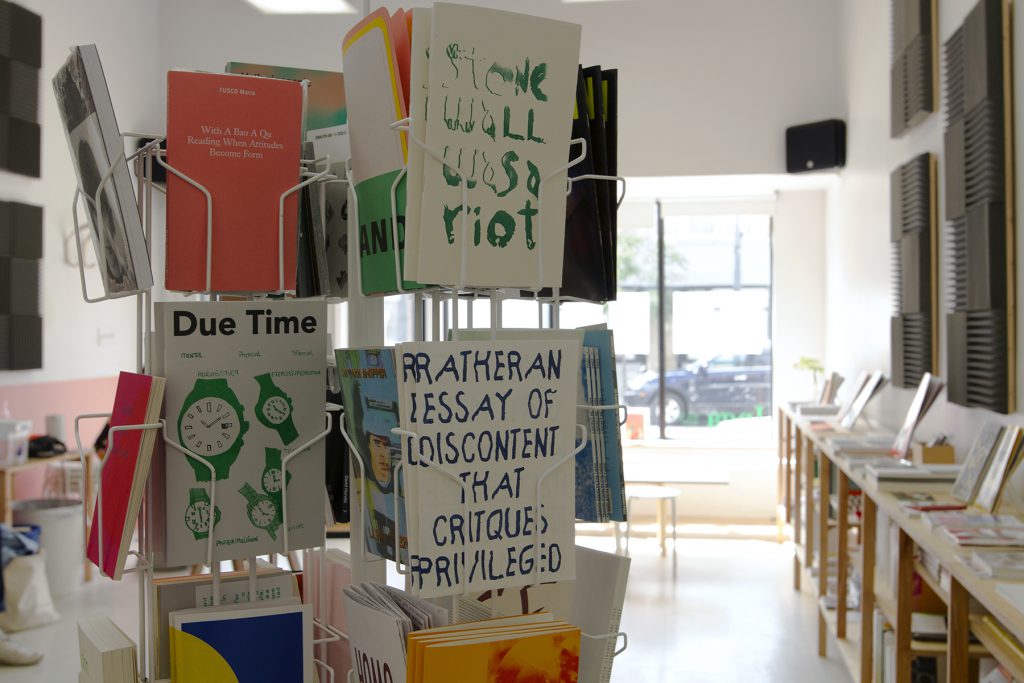 For artist publishers such as Marc Fischer of Public Collectors, the opportunity to have a bookshop hosting international titles and rare editions of publications, on top of serving as a storefront to sell and distribute their publications, makes Inga an exceptional resource in Chicago.
"One of the biggest challenges for artist publishers and self-publishers is distribution. There are few enough book stores as is, and even fewer that are willing to consider experimental small press and self-published books by artists," explains Fischer. "The folks that run Inga are doing the legwork to hunt for not just the low hanging fruit in Chicago (and there's a lot of great publishing here) but also international titles coming all the way from places like Mexico City, Eindhoven, London, and Singapore that visitors to their shop might never know about otherwise. Some of these titles are produced in quantities of only one or two hundred copies so the opportunity to even see them, much less purchase these books, is not to be missed. Chicago is very lucky to have these excellent stewards of artist publishing culture."
Inga aims for a comfortable, lively, and open space to discuss and discover the topics found on the bookshelves. "We are working directly with artists, small presses, and publishers. Meanwhile, we are trying to curate a selection based on our personal interests and the methods that are available to us, or the methods we want to work with," explains Haines-Stewart. In addition to the distribution of books, Inga has encouraged more opportunities for collaboration between artist publishers and small presses. "It is fruitful to make the connection directly with small presses and the artists. We are finding that it opens up avenues to work with them further on other collaborations," adds Haines-Stewart.
There is a spacemaking that occurs in the process of book publishing with colleagues and friends, as well with the broad community of committed fans and enthusiasts of artist books who frequent related events and fairs. "The moment you publish, it forms a public space whether you like it or not," explains Lindgren. Inga serves as another way to see the value and excitement in publishing counterculture and distributing knowledge, and a place to enjoy books in the company of others. Newcomers and frequent visitors to the shop often stay for hours perusing through the pages of one book set alongside another, all the while in discussion with a friend, a stranger, or one of the shop leads at the front desk. No one is pushing books at you in the shop. After all, this is no ordinary, transactional bookshop. Inga is a place to take delight in the pursuit for the right book, no matter how long of an afternoon it may take you.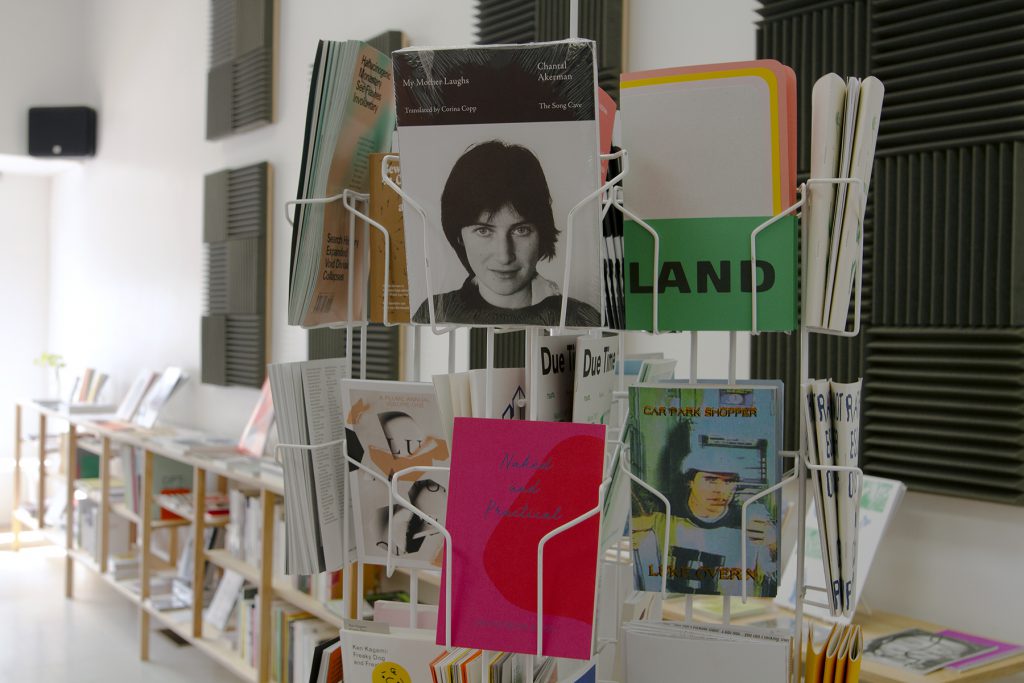 The bookshop brings an outstanding scope and volume of selections in artist book publishing, ranging from independent small presses to zine projects; from artist/activist publishing collectives to film print issues. From time to time, Inga may be one of the last places to find copies of editions printed by some of the most exceptional, one-of-a-kind publishers. "When something is printed in an edition of 100 or 150, and you get x amount, they may only be available for a short period of time," explains Haines-Stewart.
Likewise, Inga is a place to find books that are art objects in their own right. Artist publishers are expanding the notion of what actually defines a "book". At times, the artist is seen as the writer, as the editor, or as the designer, allowing them to accelerate their ability to construct, expand upon, and conceptualize the making of a book. This form provides for an open and experimental exploration in their ideas and interests. "Publishing is for the object and the concept behind it. I would suspect that for 10 dollars, you can own a work," says Lindgren.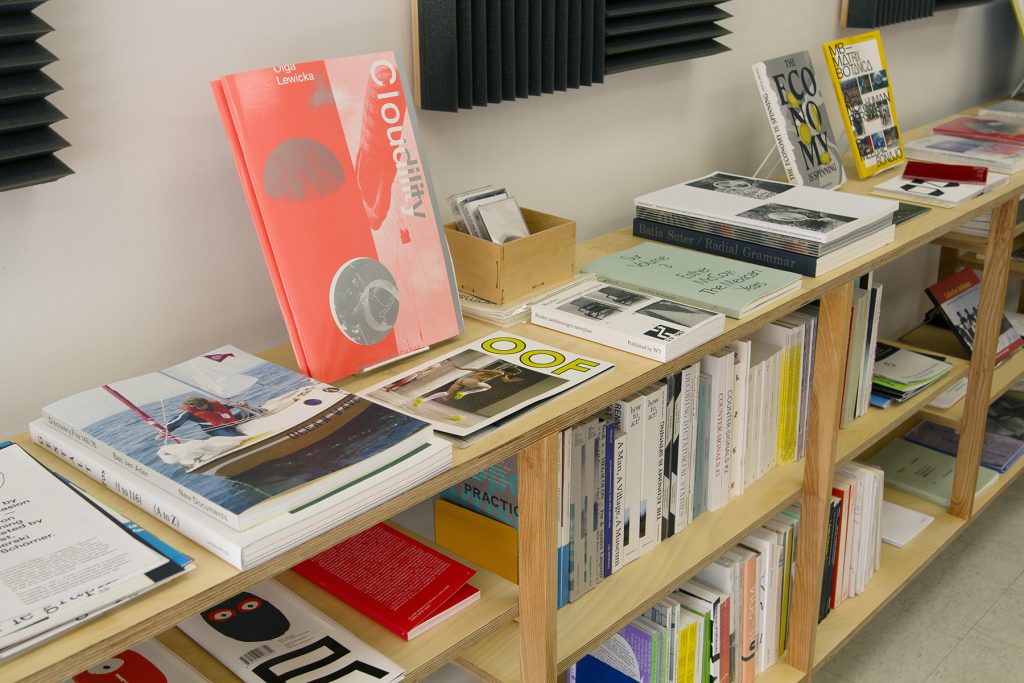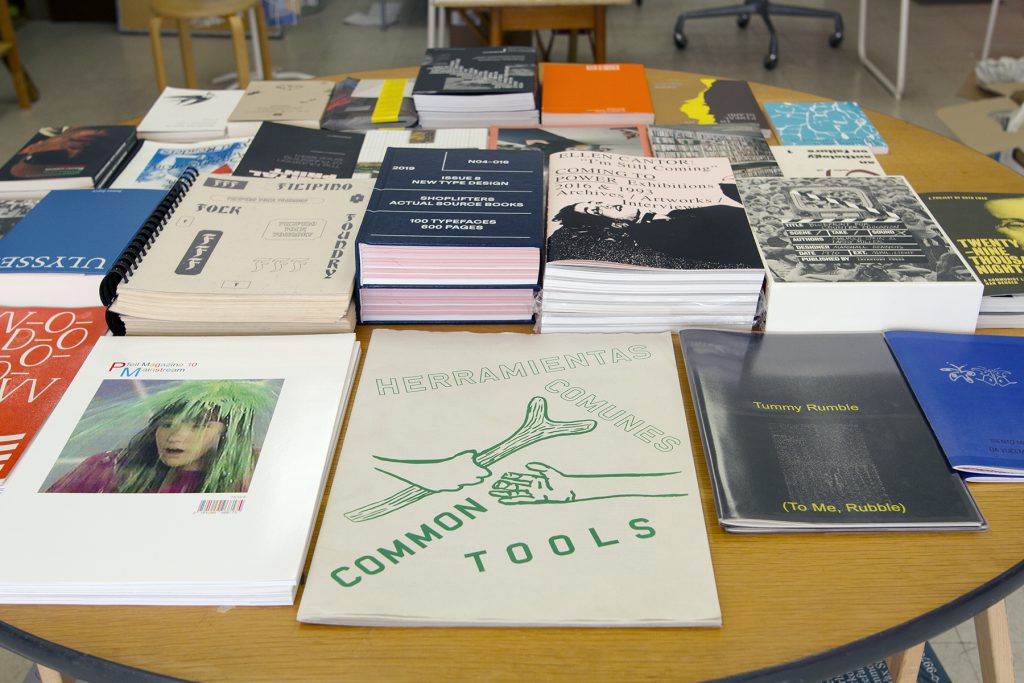 Inga regularly hosts events ranging from readings, book club meetups, guest talks, workshops, and launches that bring a rare opportunity to engage with visiting or local writers, artists, publishers, and poets for a more in-depth, personal exchange. These types of free public events are vital to the success of the bookshop. In November, Inga will host a hands-on workshop with artist and ecologist Nance Klehm, on soil ecology. Through an engagement of all of our senses and a microscopic investigation of soil, in this workshop Klehm disassembles our understanding of our physical surroundings and the micro-ecosystems that exist beneath our feet. Klehm's workshop "SOIL-LOOK, SOIL-LISTEN" will take place at Inga on November 11th from 7-9pm. Klehm's new publication, The Soil Keepers: Interviews with Practitioners on the Ground Beneath Our Feet, is available at Inga.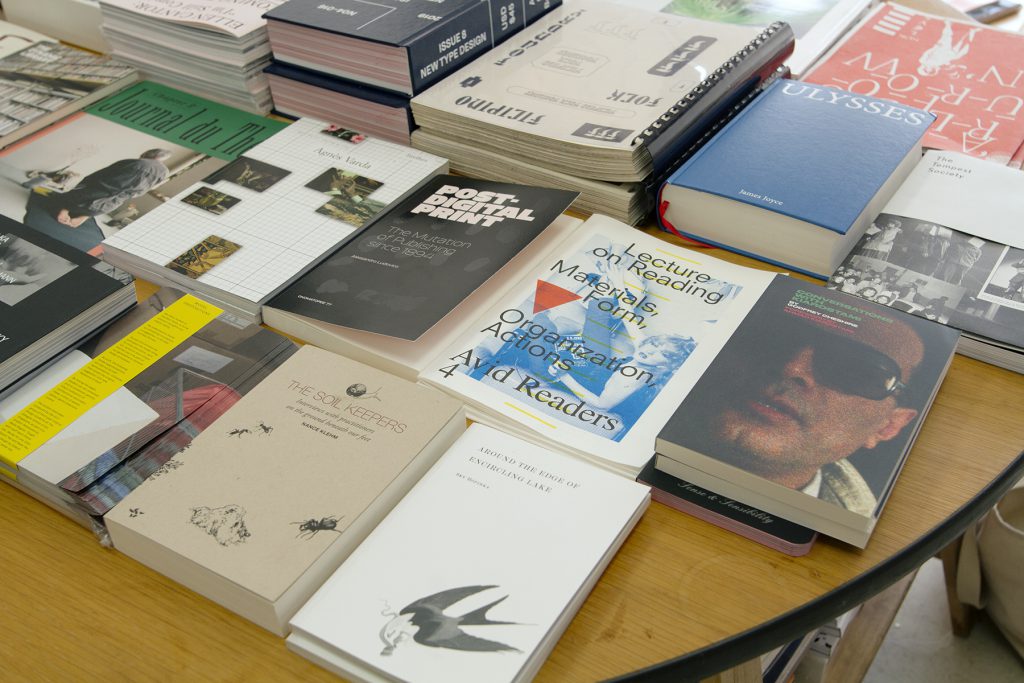 With careful and distinct curation, Inga and its founders successfully demonstrate the spacemaking that happens around books and through books, and in cooperation and support of the kind of material and conversations brought forth by artist publishers and independent small presses. I invited the three founders to share their current and long-time favorite selections that are stocked in the bookshop.
JACOB LINDGREN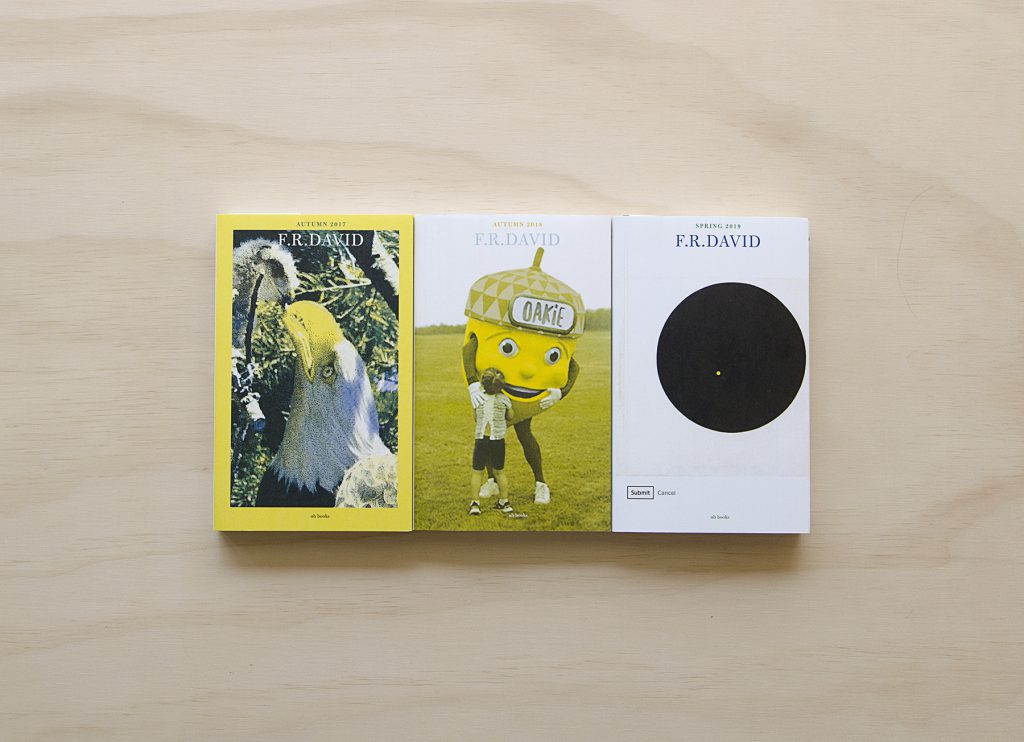 Through their inclusion and reproduction, these off-the-beaten-path texts suggest a reconsideration of what is "literary."
F.R. DAVID (MULTIPLE ISSUES)

F.R. DAVID is a typographical journal dealing with "the organization of reading and writing in contemporary art practices." Designed and frequently edited (often times in collaboration with others) by someone whose work I really admire, Will Holder, each issue centers around a different theme. These themes oscillate between the pinpoint-precise to the abstractly open—previous ones being "Black Sun," "what I mean is—," "With Love," and "Inverted Commas," among others. The thread connecting the issues, and the texts inside of them, is the way the journal plays with the format of reading and writing itself—utilizing the same facets commonly found in other journals as vessels through which the reproduced and re-contextualized texts provide commentary on a given theme. The "Recognition" issue is about reading (environments) from non-anthropocentric POVs, although nonetheless ones described by humans. "With Love," uses correspondence and letter-writing as a model for information theory and adaptive, cybernetic relations. "Spin Cycle" plays with captioning, commentary, and description as reading/writing/literary devices. The texts featured range from well-known names whose work is often being presented in a new light—like Ursula K. Le Guin, Audre Lorde, or Noam Chomsky—to more unexpected ones like lyrics from a footwork track from RP Boo or a 2008 post from a survivalist message board as to the neutrality of the "bush." Through their inclusion and reproduction, these off-the-beaten-path texts suggest a reconsideration of what is "literary." The journal's byline sums it up well, in addition to revealing the project's namesake: "Words, Don't come easy."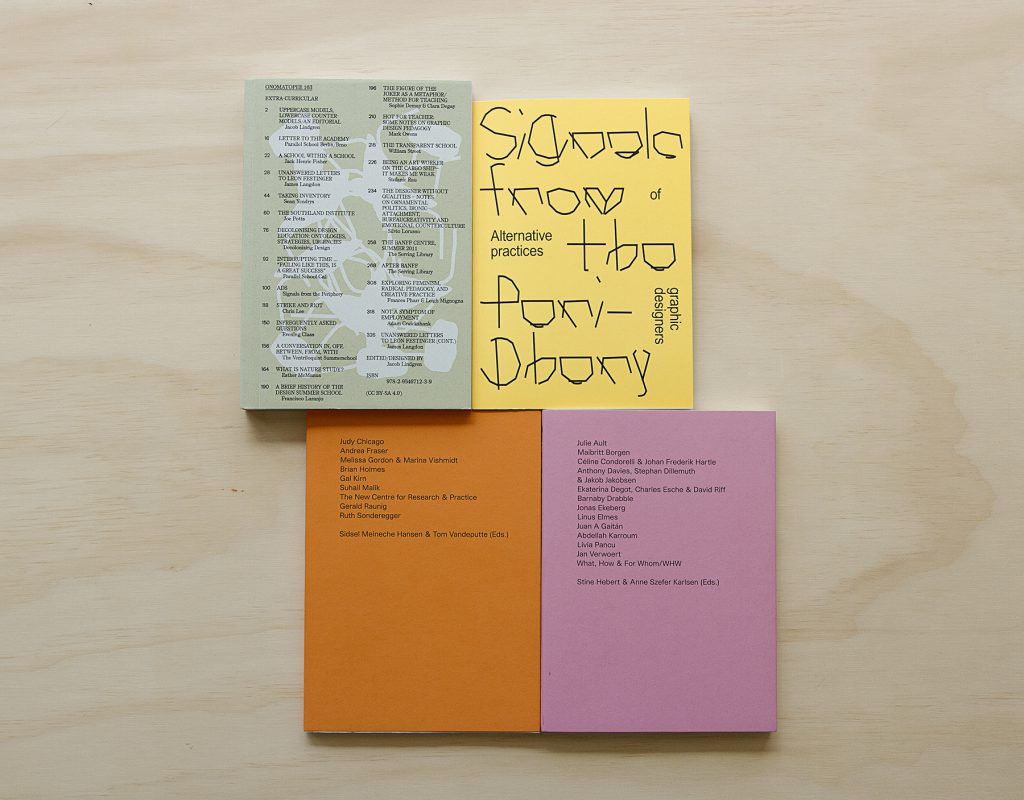 SELF-ORGANIZATION AND INSTITUTIONAL CRITIQUE (MULTIPLE BOOKS)

In alignment with our own interests and practices—community film programming, institutional critique, and a self-organized learning group we're all part of called Open-End-Ed—we stock several titles which, from a variety of angles, touch upon these topics. Signals from the Periphery, the result of an international graphic design event in Tallinn, brings together urgent developments in graphic design with a focus on practices that extend beyond traditional forms and media—including work involving education, self-organization, work, and technology. Politics of Study, published by Open Editions, is a collection of interviews which encompass passionate visions and analyses that frame the stakes of the contemporary political, emotional, and educational predicament felt by many who interact with institutional education. Training for Exploitation? by Precarious Workers Brigade is a book of insightful analysis, tools, and actions which question wageless and other exploitative forms of labor in the arts and education, in an attempt to deconstruct dominant narratives around work, employment, and the cultural economy. Extra-curricular, published by Onomatopee, is a reader of texts on self-organization and alternative curriculum within graphic design education which poses questions surrounding how such learning takes place, for whom, and the ideologies inherent in existing educational models. These (and many, many more) are books that we feel especially excited to stock and introduce to readers as they position "the publication" as a site, tool, and discussion-generating force to begin questioning dominant power structures.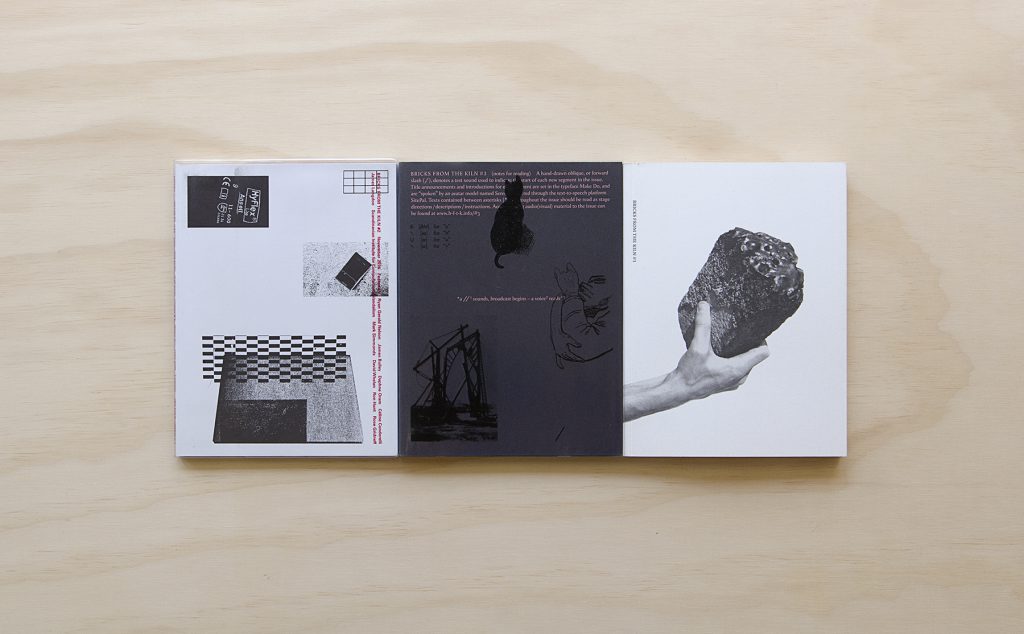 BFTK stands out as one of the few publications in the realm of graphic design keen on expanding the practice beyond its typical surroundings and into a mode of inquiry in its own right.
BRICKS FROM THE KILN
Bricks from the Kiln, edited by Matthew Stuart and friend-of-the-bookshop Andrew Lister-Walsh, is a multifarious journal that stages graphic design and typography as disciplines "activated by and through other disciplines and lenses" like language, archives, collage, and more. With a nod to the anarchist and satirical magazine Der Ziegelbrenner (The Brick-Burner or The Brick-Maker), which occasionally printed brief news-blurbs on its cover dubbed "Ziegeln aus dem Brenn-Ofen" (Bricks from the Kiln), the publication is content on being something "in flux" and "liable to crack." Many of the texts found in the journal originate from larger bodies of work, still occurring research, chapters from forthcoming books, or abandoned investigations. By picking up where previously revered and since discontinued design journals left off (like Dot Dot Dot, or Theo Crosby's Uppercase—which explored "the field of visual communication and striking a balance between historical research and current projects"), BFTK stands out as one of the few publications in the realm of graphic design keen on expanding the practice beyond its typical surroundings and into a mode of inquiry in its own right.
MALIA HAINES-STEWART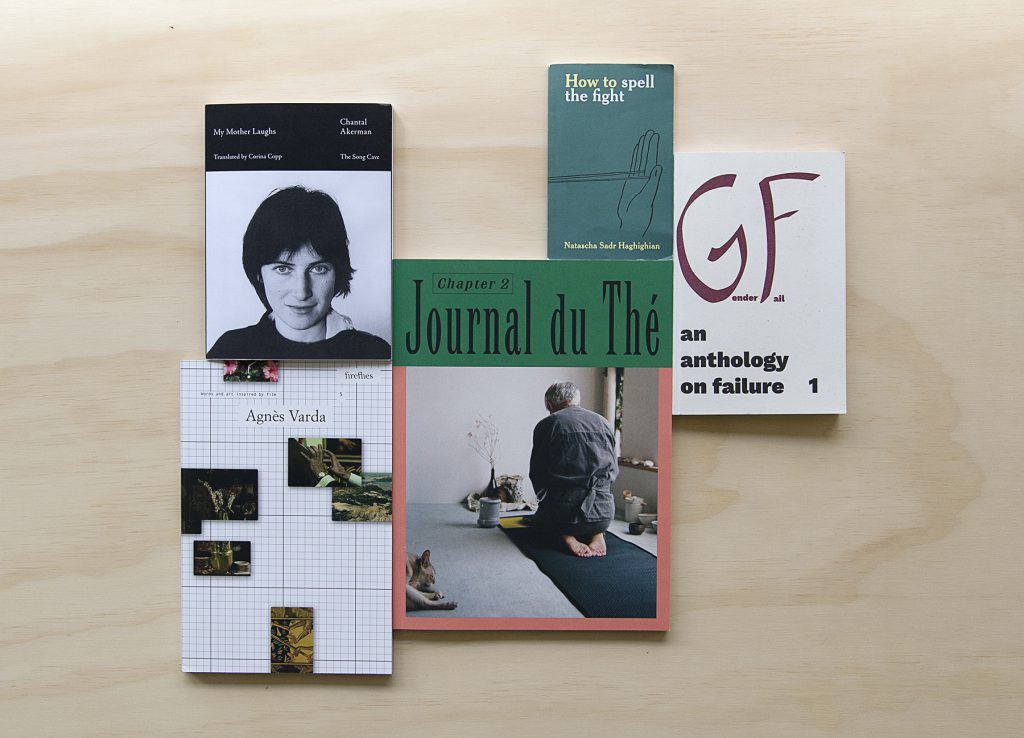 CHANTAL AKERMAN'S MY MOTHER LAUGHS
This year The Song Cave, an independent publisher in New York, brought us the much anticipated English language edition of avant-garde filmmaker Chantal Akerman's memoir My Mother Laughs. Translated by artist and writer Corina Copp, My Mother Laughs is Akerman's final written account finished before her early death in 2015. Bitter and full of feeling, the book generates a portrait of the everyday with particular attention to the passage of time––much like the approach of Akerman's durational camera in her 1975 feminist classic Jeanne Dielman, 23 quai du Commerce, 1080 Bruxelles and her final film No Home Movie from 2015, which documents the life of her mother Natalia Akerman, a Polish immigrant and survivor of Auschwitz just before her death. Steven Zultanski, writing for frieze, describes the book as it "lingers on the dailiness of that experience–representing the depth of a love, and a life, by quietly replaying both good and bad moments repeatedly, insistently, movingly." The poignant and quotidian go hand in hand in Akerman's writings of loves lost, care giving and taking, and the slow process of watching her mother's health decline. While looking after her day in and day out, holding onto the good and the bad with equal reverence, Akerman accesses depths of love that are rarely written about in such a way.
FIREFLIES
Fireflies is an independently published film magazine coming out of Melbourne and Berlin, with international contributions that split each issue between two filmmakers––some of my favorites include Jia Zhangke / Claire Denis (#3), Pedro Costa / Ben Rivers (#4), Angela Schanelec / Agnès Varda (#5)––and can be read from one direction then flipped and read from the other. They feature essays and critical writings but also poetry, drawings, fiction, and interviews. So they are neither caught entirely in the realm of an academic journal nor a fanzine; instead they strike the perfect balance in between.
Narratives bounce from the plate to the screen and back again, as suggested in their writings, and settle on the pages of this delightful book in the form of luscious film stills and food photos, recipes, ingredient lists, and writings.
OTARKINO
A slim but rich book, Otarkino, from Antwerp-based food and film collective of the same name, documents a series of recent "film dinners" structured around movie-screenings from directors Sergei Parajanov, Hiroshi Teshigahara, Sharon Lockhart, Shûji Terayama, and Jonas Mekas. Narratives bounce from the plate to the screen and back again, as suggested in their writings, and settle on the pages of this delightful book in the form of luscious film stills and food photos, recipes, ingredient lists, and writings. What initially struck me was the publication's dual focus of food and film––a topic close to my own heart that filmfront press explored in two publications called Film Food Footnotes (I & II). Otarkino comes from independent art publisher Roma Publications in the Netherlands.
ALAN MEDINA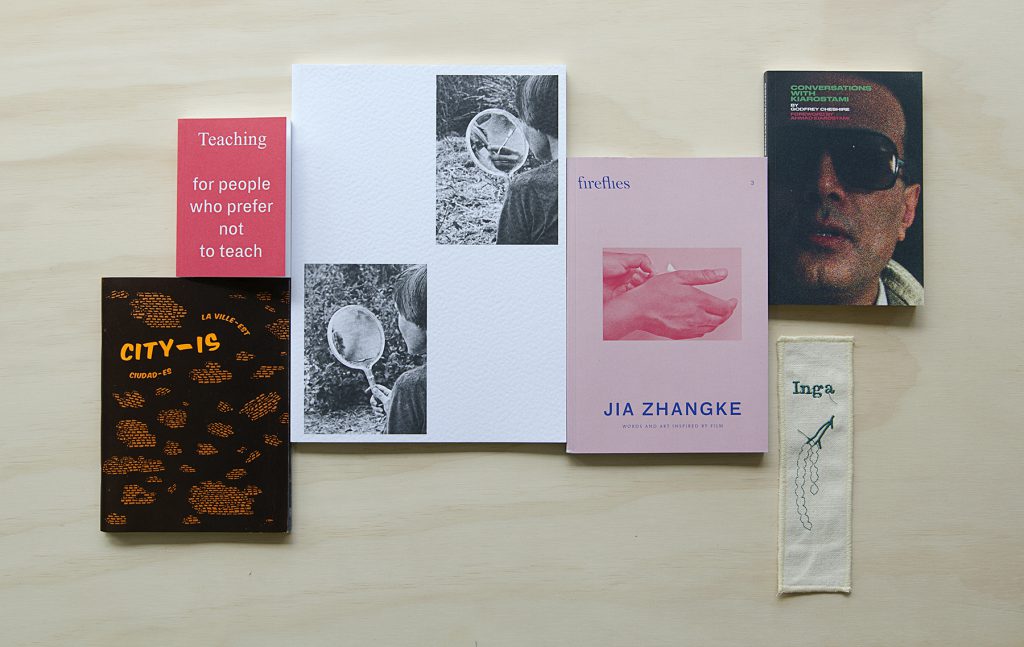 TEACHING FOR PEOPLE WHO PREFER NOT TO TEACH
Part manual, part critique, this pocket book by UK-based AND Publishing contains a compendium of activities designed for its namesake. In it's most essential form, Teaching for people who prefer not to teach collects ideas on alternative ways of thinking about how to teach, with each page questioning forms of teaching by proposing new pedagogical activities. Some of these ideas are meant to be practiced with a group while others aim at self-reflexivity. The book can be read front to back, but you may find pleasure in the playful sense of it's design by landing on a random page, absorbing an idea, and allowing yourself the joy of connecting it with another exercise in a different part of the book.
The details are rich and the images chaotic, but at its essence, the publication shows a persistent attempt at making its mark through the world of self-publishing and its ability to communicate how this city reads from the ground up.
THE CITY IS…
In order to dive into the narrative of what The City Is... is, it is important to try to decipher the inner workings of its publisher. Colectivo Cráter Invertido is a Mexico City-based "imagined territory" that sometimes physically manifests itself in the Colonia San Rafael and works through passing "ships", one of which is the Taller de producción editorial (TPE) or the Editorial Production Workshop. Through the TPE, we get The City Is…, a collection of three short essays detailing the sinking of Mexico City especially as it pertains to the city's implications on a hyperlocal and ever-expanding landscape, as well as on its growingly fetishized status on a global scale. The publication breaks down the relationship that different parties making up the city have on it (be it from artists to politicians and the police to neoliberal speculators) and doesn't stop short of a larger critique on the ways in which these parties are contributing to the physical and metaphorical sinking of this megapolis. The details are rich and the images chaotic, but at its essence, the publication shows a persistent attempt at making its mark through the world of self-publishing and its ability to communicate how this city reads from the ground up. Essays in English, Spanish and French.
NANG MAGAZINE
NANG Magazine is a 10-issue magazine dedicated to cinema in Asia, which is collaboratively edited by guest editors who are invited to the task of shaping each 120-page issue as they see fit. At the moment, the editorial project is on Issue 6 of NANG (the Thai word for film, but also the general term used in Thailand to reference any performance which involves light and screen), and the project is decidedly ending on Issue 10. Though it may seem restrictive to some, the premise of it having a completion date is something of interest to me as the magazine doesn't see longevity as its primary reason of existence, but rather the quality of its publications (which is incredibly high) and the time and place they exist in right now (in the world of print and film). Issues 2-5 are available at Inga at the moment and the premise of each issue ranges from Scars and Death (Issue 2) and Fiction (Issue 3) to Inspiration (Issue 5) and Manifestos (Issue 6). NANG is made in Korea and Italy and printed in Sweden.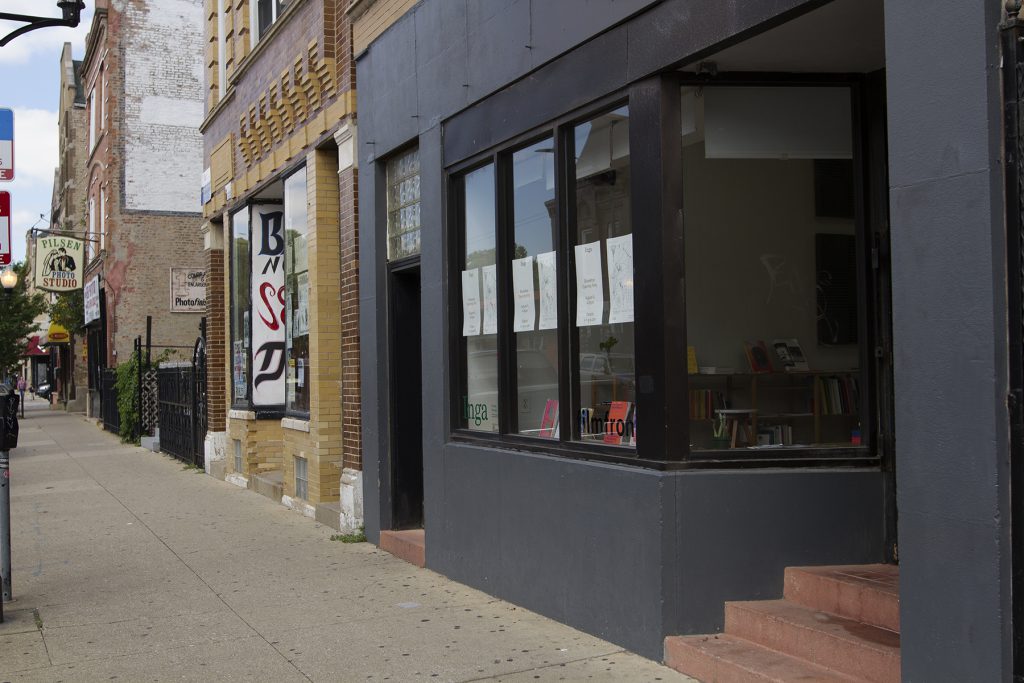 Inga is located at 1740 W. 18th St. in Pilsen. It is free and open to the public, with regular store hours on Sundays from 11-4pm and Mondays from 1-8pm, as well as additional hours for special events. Visit their website for upcoming announcements. @ingabooks

Featured Image: Books on custom tables and bookshelves made by Rudy Medina, another founder of filmfront and Alyx Christensen of filmfront, fill the storefront and reading space at Inga. Inga shares the space with the cine-club filmfront, which hosts free screenings and events at the location. Photo by Michael Sullivan.

---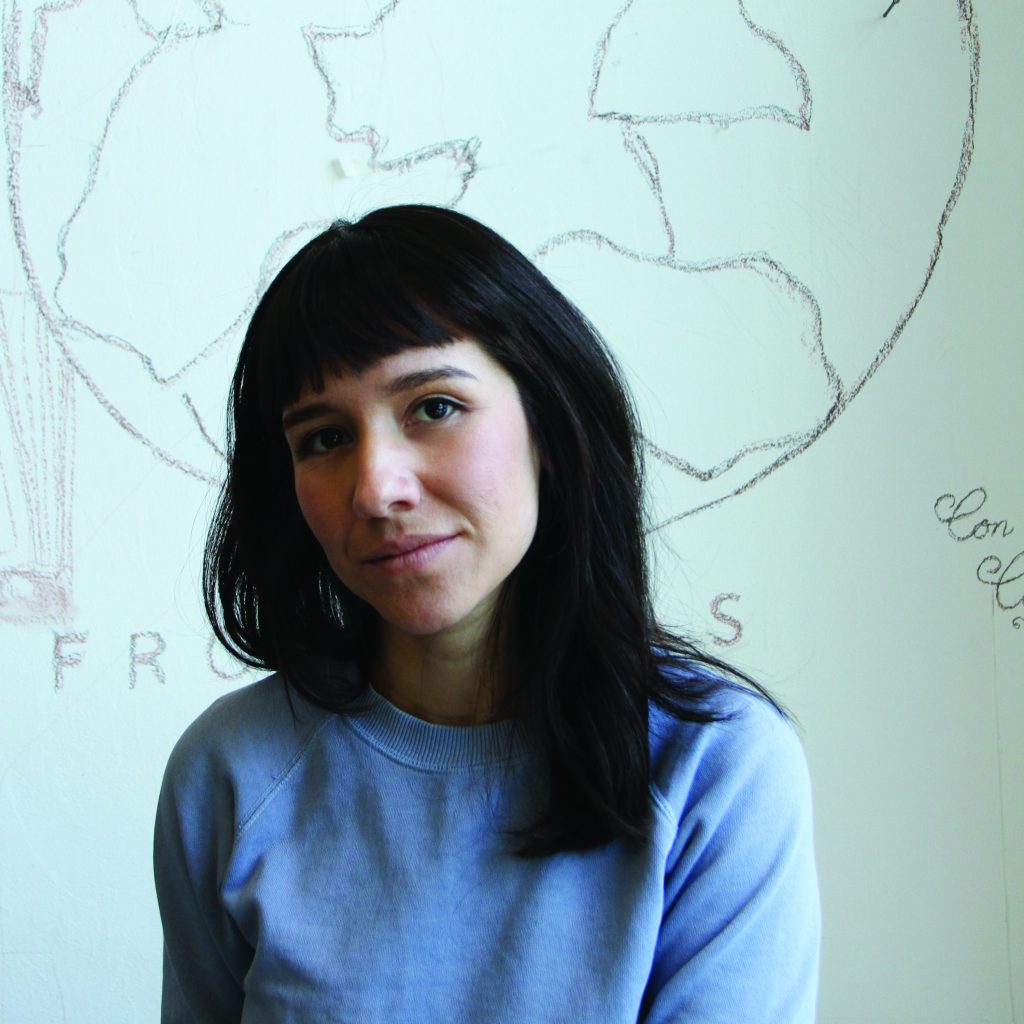 Tamara Becerra Valdez is a visual artist based in Chicago, IL. Valdez earned her BFA at the University of Texas in Austin and MFA at the University of Illinois at Chicago (2019). She is currently a BOLT Resident Artist at the Chicago Artists Coalition for 2019–2020. Photo by Jae Kim.