FOLD/UNFOLD: Interview with Nelissa Carrillo
Nelissa Carrillo, a Chicago-based fashion designer, runs Ciprianamía, her fashion label that references her Mexican culture and her parents' style from the 70s.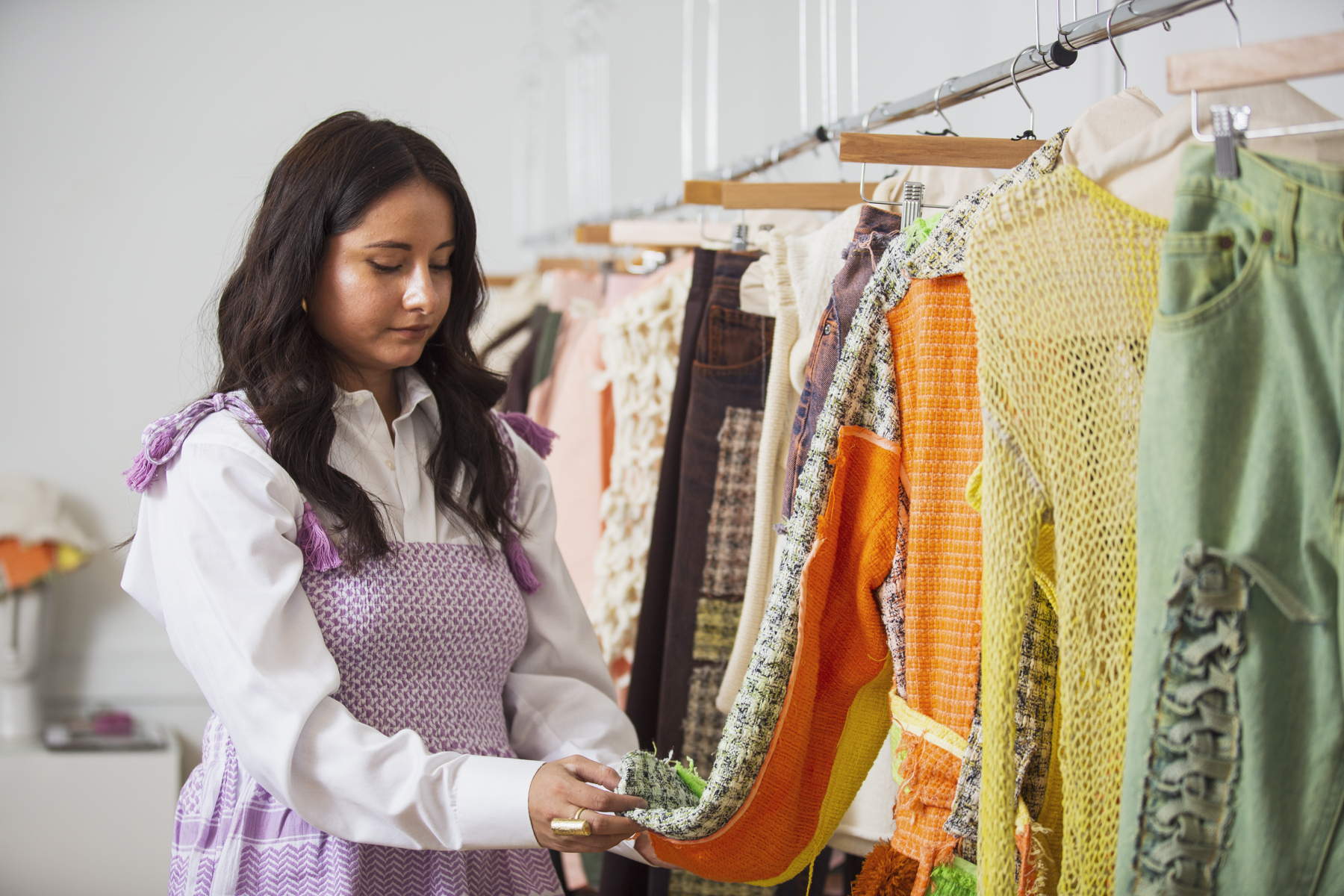 FOLD/UNFOLD: fashion designers and artists on dress, tactics, community, and power in zhegagoynak/zhigaagoong (Chicago) and beyond.
Chicago-based fashion designer Nelissa Carrillo has an open-door energy about her, a welcoming magnetism that she inherited from her grandmother, Cipriana. The namesake of Carrillo's label is still beloved in her small town in the state of Jalisco, Mexico — entering the town as her granddaughter, people go out of their way to offer coffee and treats to Carrillo in her grandmother's honor. Carrillo's label, Ciprianamía, seems to be built on an unfurling series of such generous encounters. Meeting a stranger to sell them a vintage piece turns into a business partnership. Someone who shows out for her pop up falls in love with the brand and eventually becomes its sustainability lead.
Entering Ciprianamía's downtown showroom in the historic Fine Arts building, you get a sense of what draws people towards Carrillo and her visions. A floor length crochet dress made of vintage knit pieces from Carrillo's grandmother grounds the space in her cultural inheritance. During our meeting, Carrillo cues "Love" by Guadalajara-based band La Garfield, and the track matches the warm light washing through the showroom. A rack hanging across from the long wall of windows is filled with bright, textured, and inviting pieces from the mostly-handmade first collection. As a label, Ciprianamía is only six months old, but Carrillo's emphasis on relationships, legacy, and craftsmanship makes its relaxed offerings feel like those of a much more mature brand. The pieces all manage to feel like your dream pair of denim: considered, well broken-in, and something worth saving up for.
One of my favorite pieces from the first collection is a reworked and rewoven cream knit vest inspired by the spine of a skeleton–and that took forty hours to produce. In Carrillo's words, pieces such as this one showcase the "artisanal, luxury, and intentional" qualities the label is oriented around. Emphasis on intentional. Beyond the offerings of fashion houses who are increasingly pivoting towards "sustainability," Carrillo argues for "design[ing] with empathy." For her, considering the customer during the entire design process goes beyond her earth-conscious materials sourcing; it means size inclusivity in terms of sample sizes, shoots, and models that actually represent Chicagoans, custom options, and the possibility of tailoring for no additional charge on certain pieces.
I sit down with Carrillo and her sustainability planning consultant, Rachel Habegger, to talk about the roots and vision of the brand, where they look for inspiration in the design process, how they manage to produce everything in the Midwest, advice they would give to emerging designers looking to source in upcycled ways, and the role of community in building up the capacity and possibilities of the Chicago fashion scene. I left this interview feeling motivated, alongside other assemblage artists like Senga Nengudi and Noah Purifoy, to make work from what already exists around me — a process which is "as close to human existence" as you can get "because it's all the castoffs we are utilizing here. Because it's your shit we're remodeling…and you got rid of it" (Purifoy, quoted in Yael Lipschutz, "A NeoHooDoo Western."). Carrillo argues that intertwining a material and political ethos in this way is what makes it possible to design for what you want — not for anyone else.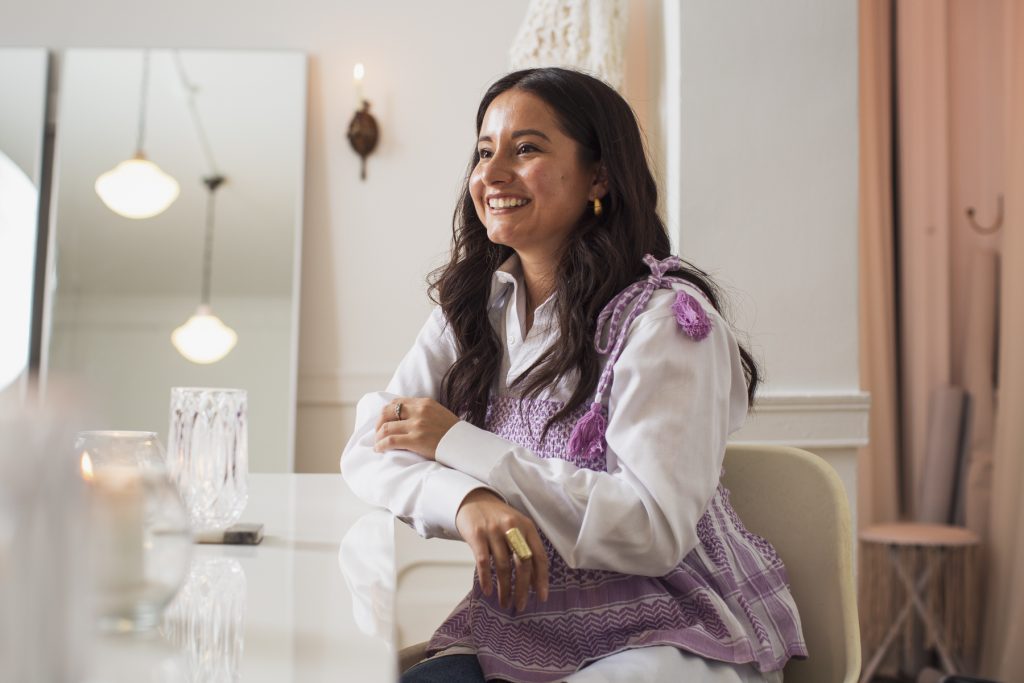 row sӓrkelӓ: Where did the name for your brand, Ciprianamía, come from?
Nelissa Carillo: Cipriana was my grandmother, and "mía" is mine in Spanish. We were just like, that has to be the name. It just sounds so powerful. She was an amazing, powerful woman–definitely the muse. But now I think the brand has taken on its own identity.
rs: You have this beautiful wedding dress displayed here made out of crocheted pieces pulled from your grandmother's collection. Was the first collection for Ciprianamía all with your grandmother's knits?
NC: No, actually, just that particular piece. I did have some leftovers, so we're launching a whole collection of minidresses that's going to be some of her knits as well as some knits that we've found all around the Midwest.
rs: How did you end up in Chicago?
NC: My dad had lived in Chicago for almost his whole life. Born in Texas, came to Chicago, lived in Lincoln Park, lived in Old Town. My mom came here when she was 17 when she already had siblings in Chicago, and they were friends with my dad and that's how they met. They don't live here anymore, but I was born and raised here.
rs: How would you define the visual language of Ciprianamía?
NC: We love to find references from my Mexican culture. Seeing old photos of my mom and dad from the 70s, they were always put together; they always had really cool tailored outfits and colors. Their style [from] that time is a huge influence. I do the flared pants, I do woolen shirts, but with this new flair. [I'm] bringing old looks into the modern world. Rachel is actually wearing one of my masks; it's inspired by Mexican folklorico dancers who wear ribbons in their hair. In our imagery, we try to bring a lot of color, something that represents Mexico in some way.
rs: What's your research process like? Do you start with an archive or a feeling?
NC: I can speak to the core collection. Collection One was inspired by Día de los Muertos. This piece, for instance [gestures towards a white woven vest], is the spine of a skeleton. For this piece, the vertical lines are the soul going to heaven. That was a breakthrough for the core collection and it stemmed from there. I went full on into exploring Día de los Muertos. The marigold is the flower of that day so that's why I decided to go into that color–the orange and the yellow and the green. It's all very representative and poetic in a sense. [It's] always building and evolving. I'm excited for the minidresses, which are drawn from the shape of the wedding dress. I'm letting the material speak for itself and seeing how I can manipulate it. They have their own personality.
rs: My partner is also really inspired by her grandmother's use of doily and lace. She's really interested in the relationship with her grandmother as what imbues meaning into the clothing.
NC: Definitely. I'm excited for that collection because it feels like the first time I really draped. I'm very strong in patterning and I've done draping, but I really wanted to explore that and use the material as inspiration.
rs: I hear you teach pattern making?
NC: I've been pattern making for 12 years and just now I'm finally getting into teaching other people. I'm all about working for it and proving yourself, putting things into practice. So the class is for people who want to do an independent study, and I teach it out of the showroom here. [It's] a ten week course that's very hands-on and depends on where your skill sets are. You do have to have a foundation in sewing. It's been awesome. [The students] get so excited when something is completed. It's not just screen printing a t-shirt and calling yourself a designer, but putting in the hours to become a designer. Right now, one of my students is a drag queen, and I see queens being high-key designers all the time.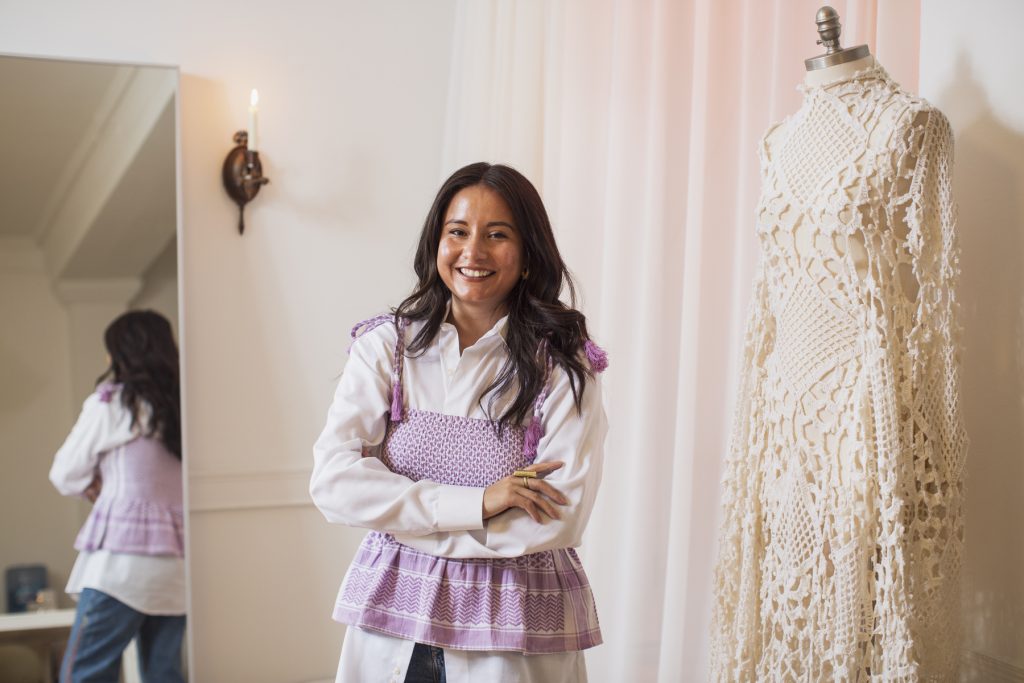 rs: One of my questions is about producing in Chicago. How has that been so far?
NC: I think there is so much talent in Chicago as well as a community of hands-on artisans here that we like to support. If you look hard enough, you will find these manufacturers. There's definitely a community here and we just need to keep striving and exchanging information and supporting each other. It could get there one day, but community-wise we definitely need to be more helpful to one other. Let's say another designer is like, "hey, where can I get this manufactured?" I'd be like, "go see this guy." Why not share the knowledge? It's kind of taking on that same philosophy that Silicon Valley takes on of helping one another. It's just about enriching each other's work and community. It's not a weird competition.
Rachel Habegger: I think when our community builds, there's going to be more of a draw. Right now, Chicago is not a fashion city. The resources and skill sets are here, they just have to be grown.
rs: The only manufacturing I know of in Chicago right now is Blue Tin Production, [run by] Hoda Katebi. How do y'all find the people who produce your work?
NC: There's one woman who I've been working with for a while, and her name is Xochil. She calls herself the Chicago Patternmaker. She knows everybody, and she's the first person I call when I need buttons, I need this, I need that. So you do have your one-off seamstresses, and then you do have these little companies like Blue Tin that are popping up and offer more of the larger quantities. We've just been doing very small batches, so it's either me and my design assistant or I'll hire maybe two or three seamstresses.
rs: Are you hoping to send work to wholesale producers?
NC: Oh yeah, we're trying to get our Direct to Consumer (D2C) very, very strong. Our D2C is our main focus. We'd like to explore wholesale as well. It's been on our radar and we're trying to figure it out.
RH: I think that's where the community really needs to come in and build up those resources for everyone.
NC: Exactly. Because, what if someone comes to us and needs 500 units? We need to ask our producers if they can handle this volume. We try to stay as local as possible. We have a meeting with someone in Cleveland that does higher production, but it's still [in] the Midwest. We used to have a manufacturing hub here [in Chicago] in Wicker Park, for textiles.
RH: There used to be a textile market.
NC: It was like a whole strip — undergarments, ladies clothing, tailoring. I don't know if Goldblatt was part of that time period, but I know [they've] been [here] forever and they're one of the last stores in Chicago that sells industrial machines. When you step in there you feel like it's been there for a really long time. This was the early 1900s, it was the garment district.
rs: Do you have a five year dream for the brand?
NC: We've kind of just been going day by day, since COVID changed everything. Rachel did our timeline through the end of the year, so we're going to try to stick to that, and I think we've been doing pretty good so far. Minidresses drop second week of June, and Collection Two will be in September. I think the minidresses are going to pivot us where we want to be. We're really trying to go into this artisanal luxury market and that's really going to speak to it–a luxury like early Margiela that's more artisanal and less sleek.
Eventually we will get to collaboration. We want to collaborate with local artists to do our tote bags. There's also a local jewelry maker who recycles plastic and I'd love to do jewelry with her. And partnering with people for pop-ups. We try to do a monthly open studio that's our version of a pop up. For Earth Day, we gave 15% off to people who brought in a garment or a piece that can be recycled through our recycling partner. [We're] trying everything to bring people in and build community.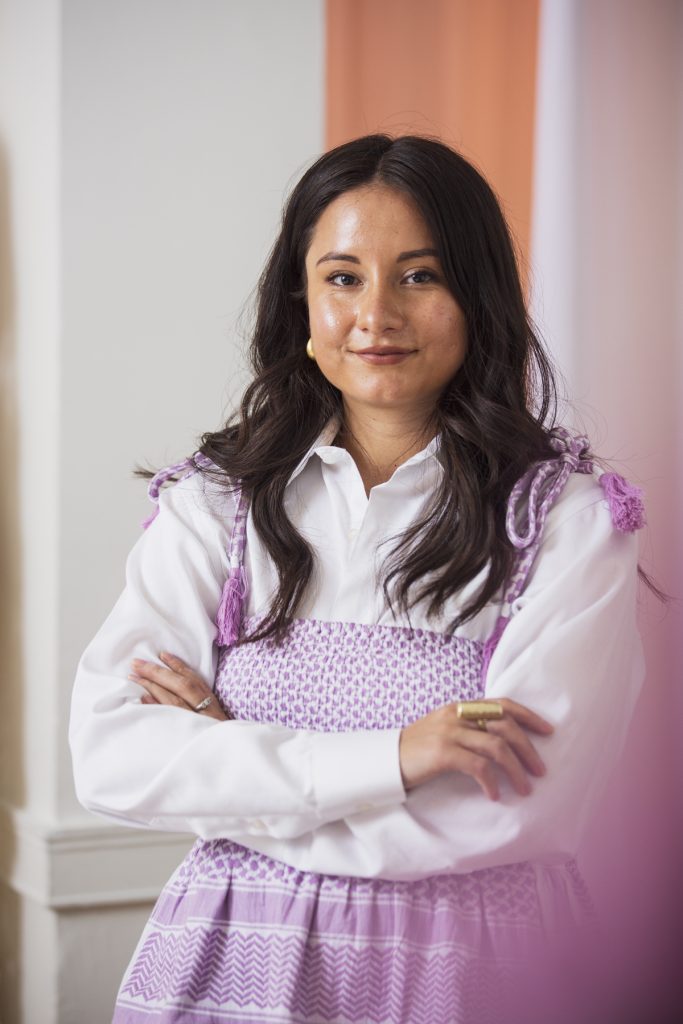 rs: How would you describe Ciprianamía in three words?
NC: Artisanal, luxury, and intentional. A lot of it — most of it — is handmade.
RH: Yeah, the skeleton vest took 40 hours to make. These are passion pieces, really.
rs: What advice would you give to emerging designers looking to source in upcycled ways?
NC: I would say, honestly, just go for it. When I first started designing I had no money at all to afford fabric, so I was just either reworking my own clothes or thrifting and reworking those clothes. It was before everyone started upcycling and it was just this thing I'd been doing since 2012. I did it with gowns, I did it with streetwear. Now I'm moving into this new market. Also, just do it repeatedly to find this new craftsmanship within it. We take apart the entire garment, we're dying it, we're distressing it, we're reweaving it. It's a totally new garment, it's not what it was before. Just go for it. You have to see what the garment is saying to you and how you can apply it to your own design. I can't tell you how many times I've turned curtains into dresses. The wedding dress itself is a table mantle and now it's a wedding dress. You have to not limit your imagination. It's always about the material.
rs: How do you address the issue of synthetics in terms of your sourcing?
NC: Every time we buy something in bulk, it has to have a sustainable element. The nylon that we use is recycled nylon made of post-consumer waste. The waxed material is a deadstock material. So it's creating that circular economy and trying to keep it moving. It's super important to us. [We recognize] that the little fibers [of polyester] end up in the water and every time you wash it or wear it it releases microplastics.
rs: What music do you have on rotation right now?
NC: La Garfield–they're from Guadalajara. I grew up listening to 90s grunge, a little bit of emo, hard rock, house. I was the art kid listening to Taking Back Sunday. I loved Circa Survive, still listen to them. Anything TLC, Aaliyah.
rs: What Chicago designers are inspiring you right now?
NC: I really love Adreain Guillory's work, they're super young and super talented. There's so many students at SAIC who's senior thesis projects are so good, super conceptual and awesome.
RH: There's a lot of streetwear designers here: Fat Tiger Workshop, Sheila Rashid. Those are the homegrown names here.
NC: That's what Chicago's known for. There's a lot of makers, too. One of my friends, Aylin, she also practices upcycling, she's been doing these custom fleeces and they're super dope. There's a lot of small makers like that. My friend Nicole, her brand is The Order, makes all black ready to wear and lingerie. I want to see more people doing something different, and I think people are craving it. People come in here loving the funky fashion.
rs: Chopova Lowena reminds me of your niche. I bought one of their dresses for a wedding and then returned it. I just wanted to feel it on my body. House of Aama is also an upcycled, 70s-inspired Black luxury brand based out of New York. And a collective out of Palestine called Nöl Collective does politicized artisanal luxury that highlights Palestinian cultural heritage and textile manufacturing methods.
NC: Yeah, Rachel is obsessed with Chopova Lowena. They're one of the best in the upcycled movement. I would really like to price things a little more accessibly, but it's really the time that it takes to construct everything. That's how we do our pricing.
Beyond that, I like to design with empathy. I try to think of who's going to wear this and I try to be very size inclusive as well. My sample size is a large and it can go higher or lower than that — I think the standard is like a size two, which is insane. We do have pieces that are available for custom, so either you come in here and get sized or it's already in your size. [We're] just trying to have a different variety. Some pieces are available for no additional charge for tailoring, and if you want something custom that's different.
RH: I would say in the media we choose the models, and the shoots are [all] very inclusive.
rs: Didn't you do a public call for models?
NC: Yeah, we had all types of amazing people in here. We had a line around the hallway, it was nuts. Everyone came out for it, we were not expecting that at all. We were like, oh my god, there's so many people out there, what are we gonna do? We had our intern out there taking down people's emails. As we move forward with our direction, we'll see what comes next. We're only six months old.
RH: And what we've been able to accomplish is because of the intentionality.
NC: The community has been very supportive.
rs: How do your ancestors show up in your work?
NC: I think it's about exploring my own culture. I feel like Mexico is so rich in everything — different ecosystems, languages, tribes. So much that I don't even know. I think it's more about the hunger of exploring.
rs: I think that interior work has to happen, internal storytelling and not external exploitation.
NC: Definitely, I feel like it's changed the way I design. I feel like I was always designing for what everyone else wanted, and it didn't feel personal. You try to separate since it's still business, but now it feels better, authentic, and more rewarding.
Featured image: Nelissa Carrillo is looking down, holding the sleeve of a multi-colored jacket with a large orange patch. The jacket is on a rack of garments from Ciprianamía that take up the right side of the photo, ranging from green jeans to a yellow knit to glimpses of white sweater vests and more denim. Photo by Kristie Kahns.
---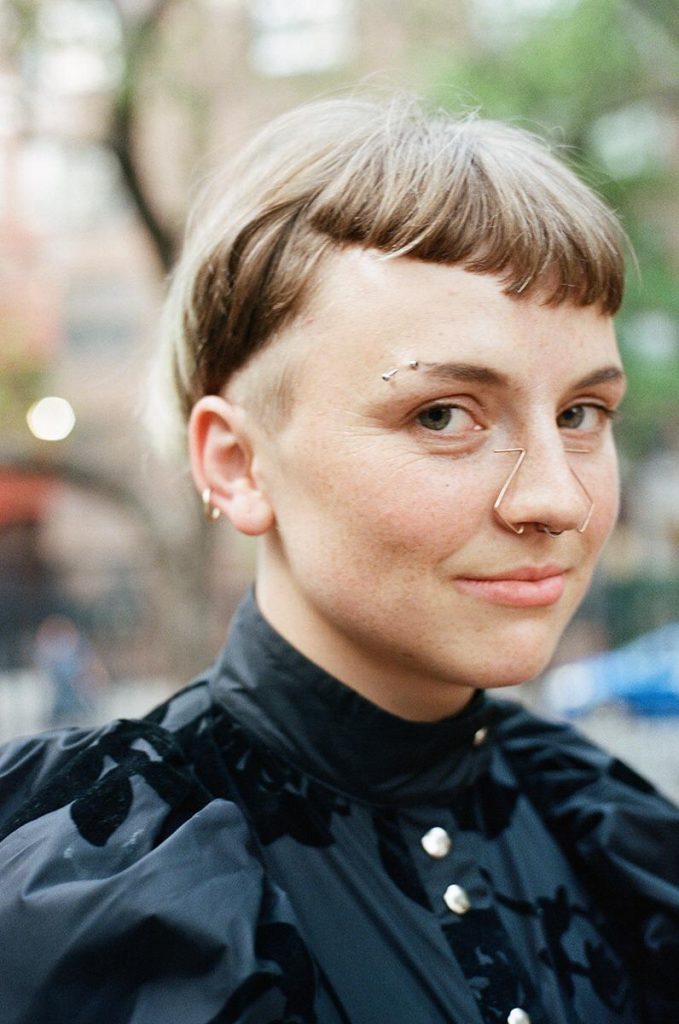 row särkelä is an organizer, artist, and white settler raised in tiwaland and living in zhigaagoong. in "fold unfold," row addresses the seepages between fashion and social movement organizing, surfacing the work of designers and artists who shape and intervene in chicago's vestiary landscapes. row considers taste to be a political project and investigates how design and dress unfold in relation to local forms of racial capitalism.