FOLD/UNFOLD: Interview with Gilda of Gilda Designer Thrift Boutique
In this iteration of FOLD/UNFOLD, row särkelä talks with Gilda Norris of Gilda Designer Thrift Boutique in Hyde Park. Gilda creates a hub of energy that allows people to tap in to their style dreams, to connect with other fashion lovers, and even to create a daytime place to see and be seen.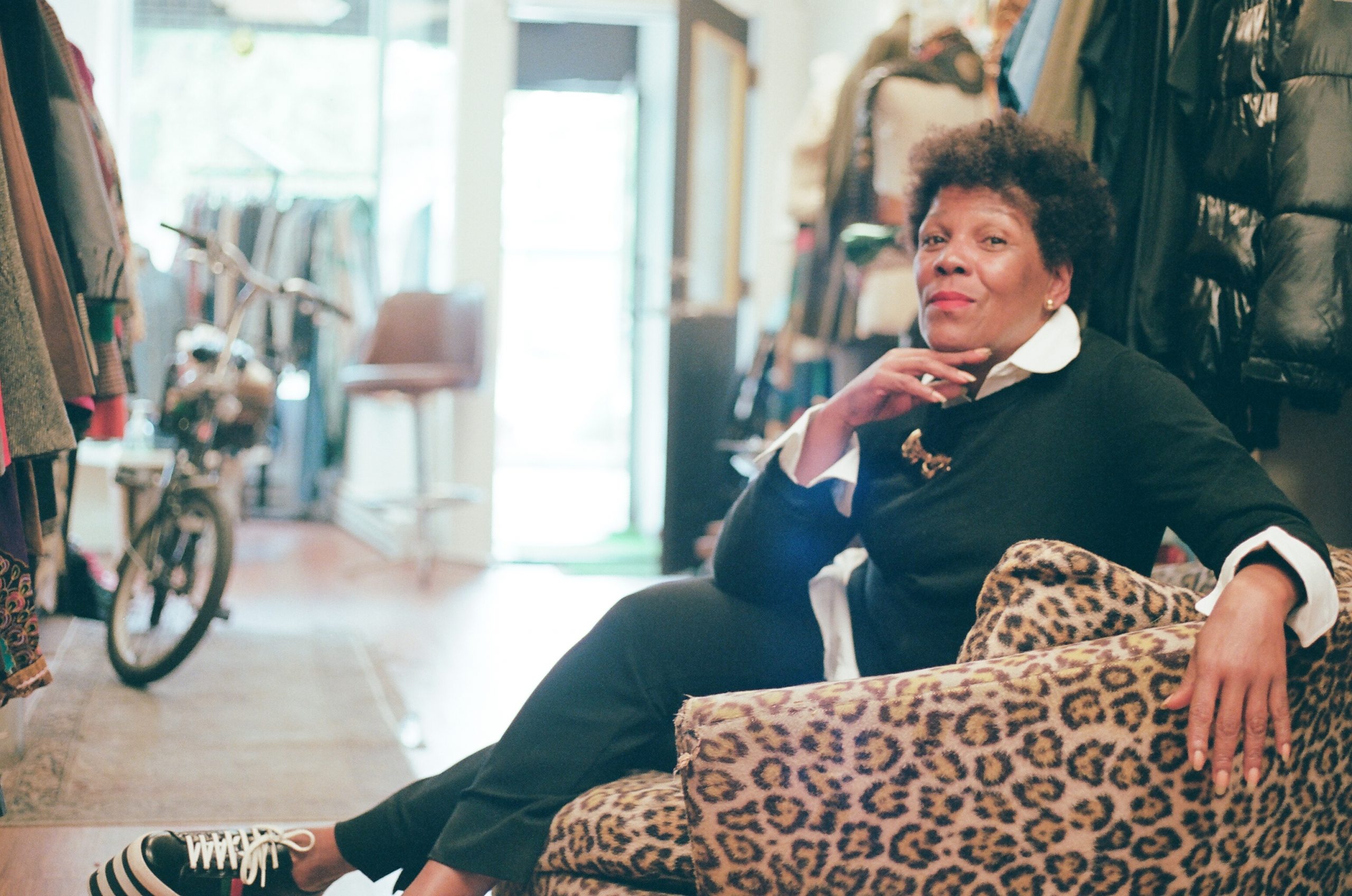 Gilda Norris is a Hyde Park fixture. Customers stream in and out of her Hyde Park Boulevard storefront, coming as much to chew the fat with Gilda as they're there to hunt down a vintage piece. Coming up the block to the shop for the first time since she moved from her 55th St location, I look for Gilda's signature looping gold logo on the window and am greeted with Jackson 5's "I'll Be There" as I walk in. Gilda invited me to come in on a regular day in the shop, and this interview is interspersed with the richness of the community that she's assembled around her vintage offerings at Gilda Designer Thrift Boutique. It's a whole world. Long time friends stop by looking for special new items, local customers come back with their cash and their dogs, groups of friends come in to get ready for events together, and people off the street come in for the party and stay for Gilda's warmth. Gilda is one of those people who hold down a neighborhood and make it feel like nowhere else in the world.
I love the swirls and loops of our conversation because it feels like a snapshot of Gilda's universe, and not an advertisement for anything in particular. Gilda is an incredible storyteller. She deftly weaves together stories of wild nights out with her sisters in New York, histories of the way her people migrated up North and created collective financing schemes to buy houses for the whole family, and captivating descriptions of the Black feminist legacies she's carrying on from her grandmother and great grandmother — all while keeping an eye on customers and finding them the pieces and deals that they came there for. Gilda has been crafting her styling practice since she was a little girl — and it shows. Her passion for making people feel good through their garments animates the entire space. To me, Gilda is one of the reasons that Hyde Park continues to be a place to go to be inspired stylistically. She creates a hub of energy that allows people to tap in to their style dreams, to connect with other fashion lovers, and even to create a daytime place to see and be seen. Despite my better judgment, I couldn't help but start pulling out coats and dresses that caught my eye.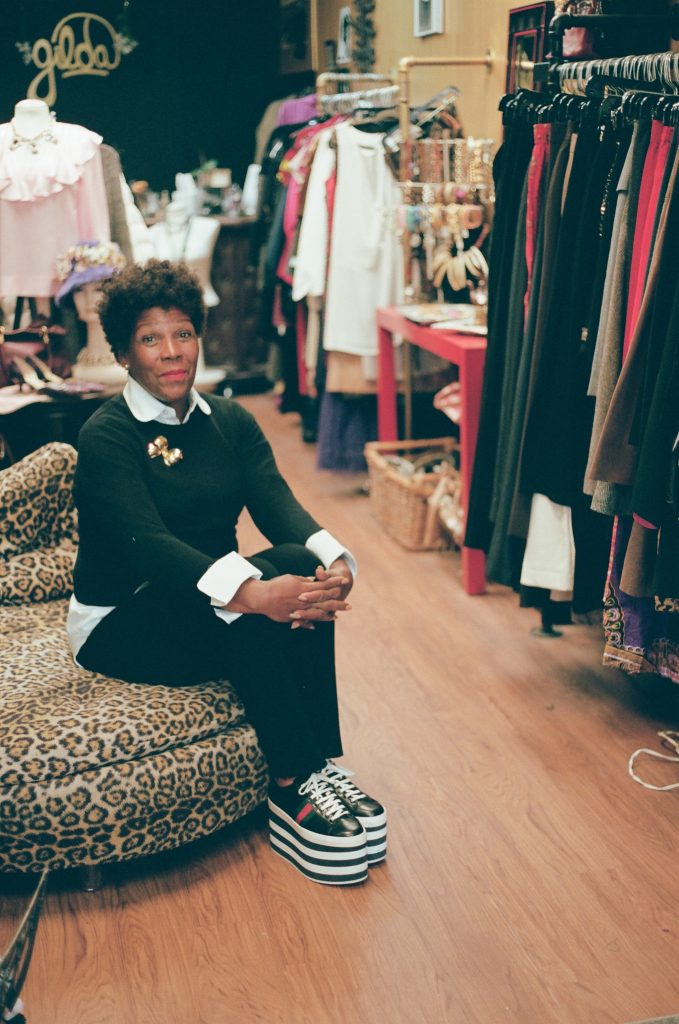 rs: [Looking around the shop] What's this coat?
GN: It's a shearling, but it's a long hair shearling. Most the time you see the hair shorter. [Gesturing at the coat] This one's gorgeous. Furs are just popping up in the shop recently. I bought myself one, too. This girl comes in here to sell a fur, and I'm looking at it and looking at it. And this was in the summertime.
[Looks at customer] Okay, that's much better. You see, those are adorable.
[Customer 1]: These are everything, right?
GN: That's perfect. Perfect. But this girl comes in here, asked me did I want to look at a mink coat. I'm like, 'What the hell do you need with a mink coat, Gilda?' So of course… [laughs] I mean, it's Christian Dior. She only charged me $500 for a Christian Dior mink coat. The cut of it is so simple but so cute. And my boyfriend's like, when you're going to wear it? I said, every day walking to work. He said you're going to walk down Hyde Park Boulevard in your — I said yes, I am! They could try to rob me if they want to, they won't find a dime! [laughs] And they better not take my coat! That's for sure. Nuh-uh.
rs: How has this new location been?
GN: Great. I love it. I have more exposure. I have better windows, and windows are my thing. I do the best windows in Hyde Park, okay? So the windows I can do, I can be more creative. I have more exposure. I'm not saying that the foot traffic is more—I thought it was gonna be, but over there on 55th they had a lot of foot traffic. I think because it was down in the basement, that people just seriously never paid any attention to it. Right? So this is much better. It's more space. I just love it. I can do more things here. I walk or ride my bike here. The only time I drive the car is when I have to load things here or load things away from here. Even when it's really cold outside, I still walk. My friend and I just this morning were saying that Hyde Park is the best neighborhood in Chicago.
[To Customer 1] That's cute. That's your size.
GN: It's the best neighborhood because of the lake and the nature trails. I love nature trails. I showed my friend a spot, and I told her if she told anybody I was going to beat her up [laughs]. Like, you can go here, but don't tell anybody!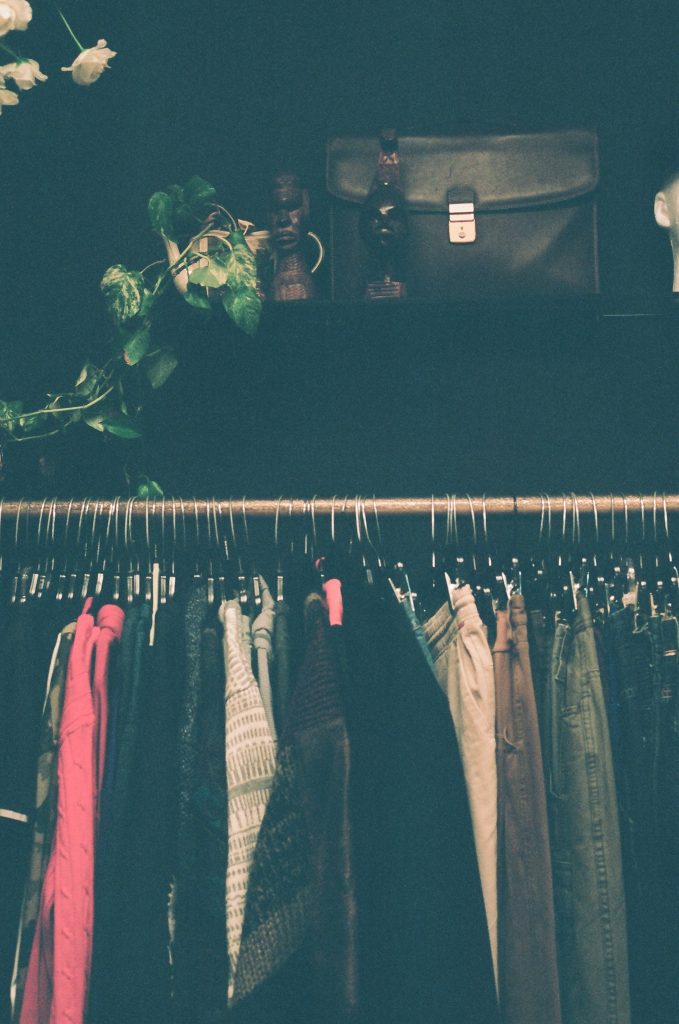 rs: How has this year felt so far for the business?
GN: This past month was really slow. And I don't know if it's because of COVID. When I first came over here, I was rolling. And then Christmas time, it went dead. Then in March, April, I was rolling again. And now in August it went dead. They do their thing downtown, Sundays on State. So maybe everybody's down there. I've done that event, and I made a lot of money, but it's exhausting. I can't do it every single week. It costs me a lot of money to go down there.
rs: Have you been back to New York recently?
GN: No, I was there in June. I usually go Labor Day weekend 'cause they have the West Indian Day Parade. But they're not even doing it this year. Last year was the first time they haven't done it in, like, 50 years. It's wild. It's so much partying. One time I went—this was so funny. First of all, we at the beach all day. So we go home to my sister's house in the Bronx. And we take a nap, but I couldn't sleep because I was just too excited. So then we go to a Jumba party. Jumba is when they go from house to house to house, and they're just partying and jumping like Caribbean style. By one o'clock, we went to a different Jumba party. And I had been living in D.C., so I tell them, "Listen, I am not used to this." They're all, "Come on, girl," blah, blah, blah. I'm sitting there, I'm drinking this punch, and it was blue, okay? So I'm drinking it thinking it's Koolaid, because that's what we do, and it wasn't Koolaid! I was messed up! Messed up. I'm literally watching this guy and he's doing house music, he's dancing—he literally put his feet like this up on the fence and did a flip. I said, "Am I trippin?" So my sister goes, "No, he really did that." I said, "Make him do it again, I don't believe my eyes." So she says, "Could you do that again please?" Literally walking on the wall! Does a flip and comes down dancing! We left that party at 12 o'clock in the afternoon.
So my sister Ayana proceeds to drive because I'm too drunk. That girl can't drive for shit. We ended up in a parking lot in a plant, somewhere over in the Bronx! I said, "Ayana, where are we?" She said, "I don't know!" I'm like, "You live in the Bronx!" She says, "I don't know, let me look around," and she sees a highway. I am not exaggerating—it took her 45 minutes to merge onto the highway. All these cars are beeping at us, screaming, cursing us out. Some of them found a way to go around us. Ayana said, "I'm not going on until I'm ready." [Laughs] I said, "Get out of this car! Get out, get out!" That's when I sobered up. I'm the oldest sister, and I said get out before I beat your ass. So she gets out, and I get behind the wheel. And I said, "See, Ayana?" and just took off. And she told me how to get home. I will never forget that West Indian Day in my life! [Laughs]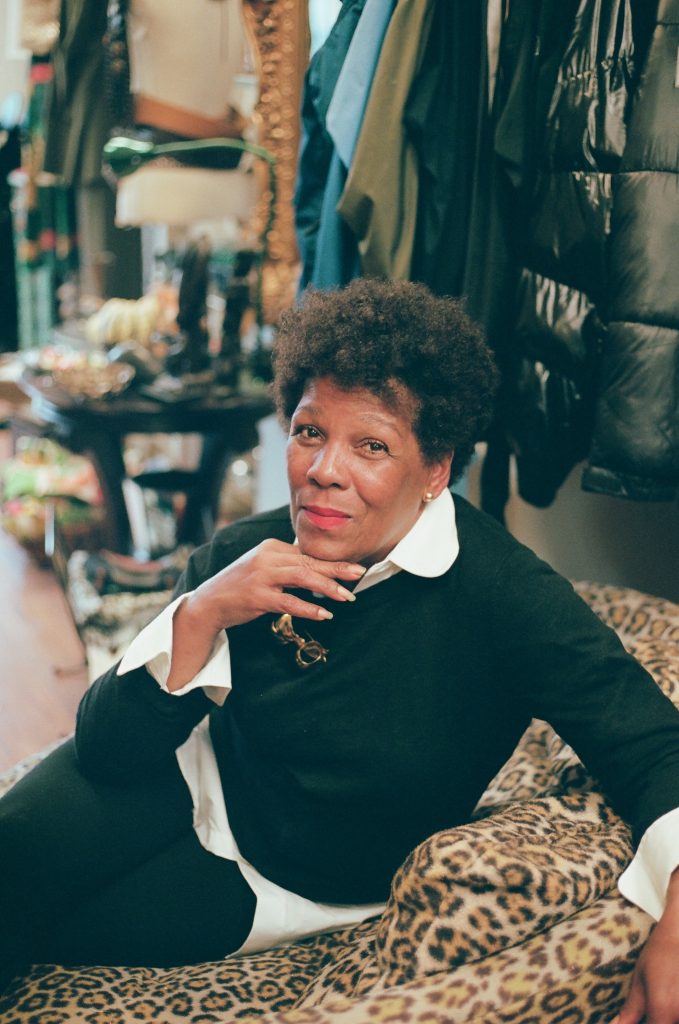 rs: Did you grow up in the Bronx?
GN: No, I grew up on Long Island. My sister lives in the Bronx and my other sister lives in Brooklyn. My mother and brother live on Long Island. My grandmother used to live on Long Island. It's just really weird how they did that thing. We used to live on Staten Island. My mother grew up in Brooklyn, her mother and her siblings moved to Staten Island. And when they moved to Staten Island, my mother got married to my father. It was during the Great Migration, so one by one my father's siblings left the South and lived with us for a while until they got their own place, until the last one went. That was in the 60s. Then the next phase of the Great Migration was to buy property. So on my mother's side everybody pitched in and threw money in the kitty to buy a home. So the oldest one got the home first, and you put more money in the kitty for the next one. My grandmother was the last one, she says she'll be the last one and she got the biggest house, too. We literally all lived within a mile on Long Island and can walk to each other's houses.
rs: Wow. And you'd all contributed to buying the houses?
GN: To buy the house, everybody had to pitch in. And they agreed, from the oldest to the youngest. My grandmother said, "I'm gonna go last." My father's mother was very granny-like, but my mother's mother wasn't. For a Black woman to travel the world when she did was almost unheard of. She used to go to Hawaii a lot. She loved Morocco. She went to Paris. She went to the islands, of course. But she made me promise that before I die, I go to Morocco.
rs: Why Morocco?
GN: My grandmother used to be a pattern maker, so she loved the fabrics. She loved the spices–even though she couldn't cook for real. [Laughs] Sorry! She can make pies, though! She loved the fabrics, mostly. She liked the way the men treated the women. She said, "They're all over me." She liked that. She was tall, slim. She used to drive a pink convertible Cadillac. Yes, she did. She was something. I said, "Go ahead, Rosa." And every time she went on a trip—back then, they had traveler's checks, so nobody steals your money—so every time she went on a trip, whatever money she had left in traveler's checks, she used to spend on me and my sister. I swear to God.
rs: Were you the first grandchild?
GN: No, but I'm the one that really liked clothes, though. She liked going shopping. Everybody else could care less. I was the first one that really loved to go shopping, so she would take me shopping.
rs: Did she ever take you to Morocco?
GN: No. She would go with friends. She was going to take me. I was a freshman in college when she died. She had cancer. So she definitely was taking me.
rs: She sounds iconic.
GN: Girl—bracelets up to here, a ring on every single finger, and she only wore pant suits. She wore dresses to church only. She wore pantsuits, so we used to call her city grandma. She lived in Brooklyn, but she grew up in the South—South Carolina, Orange County, near Charleston. She grew up there.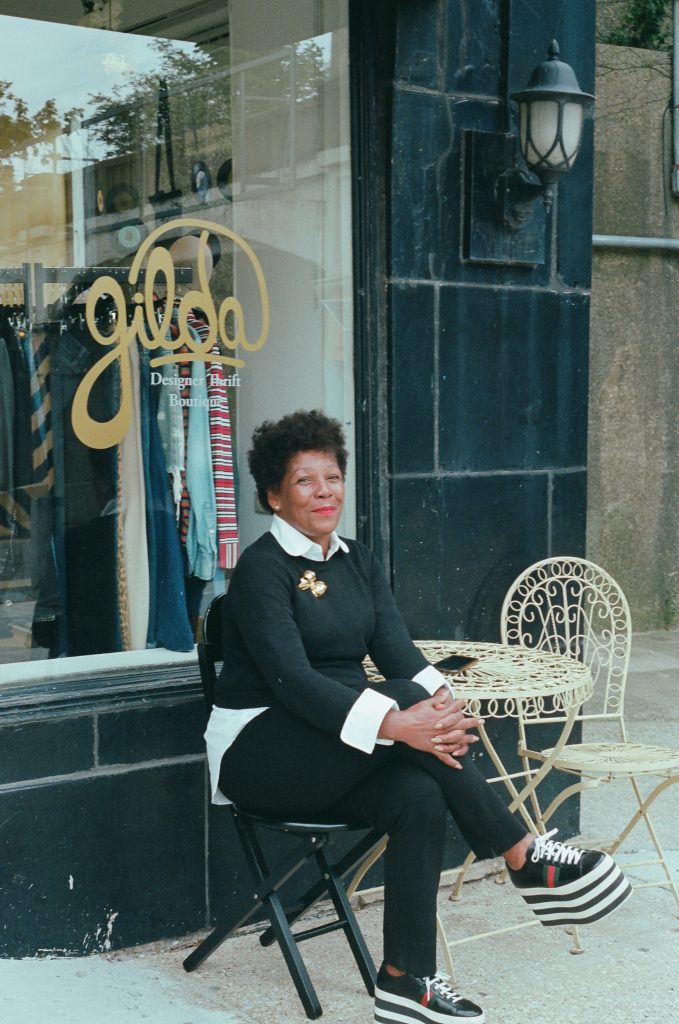 rs: How'd she get to New York?
GN: You had to leave. You had to leave the South. She really had to go. Her mother was an entrepreneur in South Carolina. Her mother owned a hair salon and this, that, and the other thing. And the Ku Klux Klan used to literally come to her house and burn crosses on her lawn because she was her own businesswoman. They would come on horses. And that's why my grandmother had to go. Because of her mother. When her mother passed away—and my mother's named after her mother—it was rough for real for real. My great grandmother, the entrepreneur—she made clothes for people. Her business was making clothes, doing hair, making dinners and cooking, and ironing clothes for people. And she made a really good living back then. My mother is so much like that. My mother was born in South Carolina but she left when she was two because my grandmother literally had to go.
GN: [To customer 2] What kind of dog is this?
[Customer 2]: He's a yorkie.
GN: Is he? Why did I think Yorkies look different?
[Customer 3]: He looks part Australian terrier!
GN: Is he a puppy?
[Customer 2]: No, he's two or three—
GN: He's just spoiled. Mommy's baby. What's his name?
[Customer 2]: Tank.
GN: Tank! [Laughs]. He is something!
[Customer 3]: Do you buy Coach?
GN: Not really, unless it's vintage. That's what customers are looking for.
rs: When did you know you wanted to be in the fashion world?
GN: I really didn't know that I was gonna do this, it really wasn't my intention. I wanted to be a child psychologist. I had always loved clothes. I got 'Best Dressed' in high school. When I was in college I started working in a boutique. They started asking me, "Oh, Gilda, should we get this for the store and that for the store?" And then I started styling people at school. I went to Howard. And, honey, it's a fashion show up in there. When you go in the yard, you better come correct, okay, or just don't come at all. And my friends weren't good at styling themselves. So I styled them and they paid me. They were paying me in ways like, dinner, books. That was a hookup. So I just got more and more into boutiques and I became a buyer before I graduated from college for this store called Commander Salamander. It was in Georgetown, in D.C. They were a punk rock store. So I would go to Patricia Field's, who's very famous, and the clothes that she used to make were really wild, very S&M. Wendy would buy them for the store. Betsey Johnson back in the day was really wild. We would go to those showrooms and buy for the store. So that's when I really, really got into it. Patricia Field is the one who did the styling for Sex and the City. Tearing it up! Now she's like 75 years old and she consults for another show, Run the World—it's a Black person's answer to Sex and the City.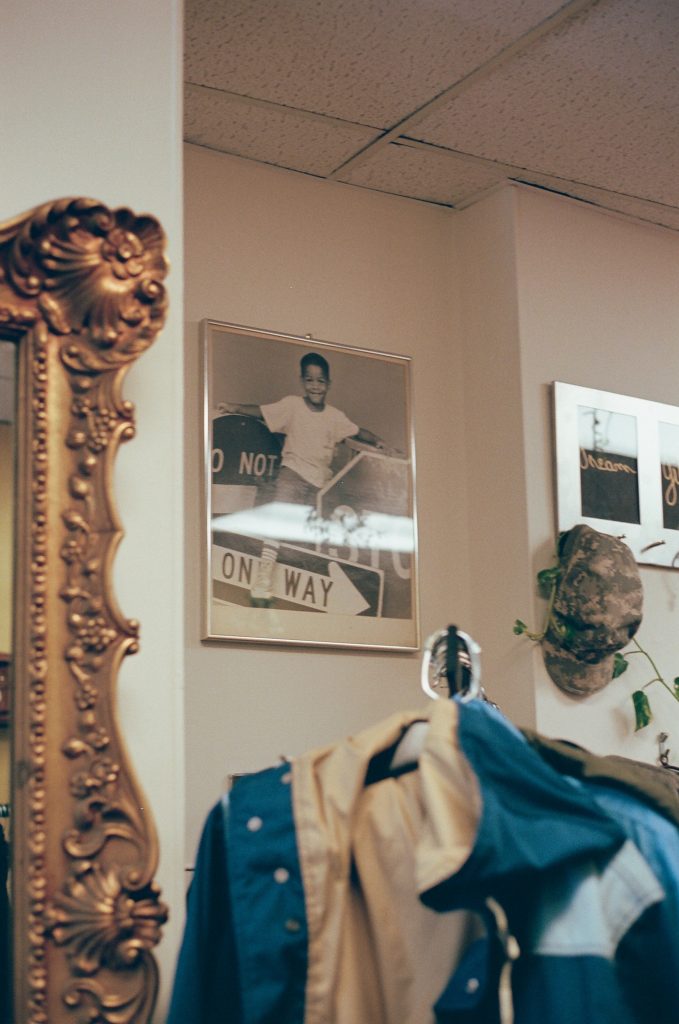 [Gilda's friend, Mary, comes in.]
GN: We were just talking about Commander Salamander. I stayed there a couple years. Then I graduated and got pregnant and got married.
Mary: You got all your coats out?
GN: No, just the new ones. Did you see that Marimekko dress?
Mary: I don't need no more coats, I can't fit them in my closet. I always want another one! You see all these beautiful coats—but I don't want to get rid of any of the ones that I have. I don't need no dresses. Where am I going? I'm not going nowhere! I feel so strange. This is the first time I've been out of the house in four days.
rs: So, Gilda, seeing all these people. What are three words you would use to describe Chicago style?
GN: Please don't ask me that.
rs: Come on. Three words to describe Chicago fashion.
GN: Let's see. [Long pause] Chicago fashion is…practical. It's warm. Folks appreciate style tips. [Laughs] It's really a matter of what the people care about. I find them to be a little too laid back. There's no pressure. Well, there's some stylists I like. This guy named Chris, he does some styling. He lives in Bronzeville. I like the way he styles. I like @salsogroovy. Different parts of Chicago are okay—well, elders in Hyde Park come from a time where you had to dress. There's this one sharp old lady…I begged this lady to let me get in her closet. She goes, "Not yet, dear." I'm like, "When?" She is sharper than sharp. She walks on 55th every single day at 10 o'clock in the morning. She must get off around five because she walks at six o'clock in the evening. When I say from head to toe—bags, shoes, everything. And you know who else is really, really sharp? [Tilts head]
rs: Mary?
GN: Mary. Mary is sharper than—she's a bum today. You should see her—I would say that Mary is the best dressed woman in Hyde Park.
rs: Mary, did you hear that? I heard you're the best dressed woman in Hyde Park!
GN: She is, she's being modest. She really is.
Mary: I stopped. I used to be. Because I don't do nothing anymore!
GN: Lately you've been looking really cute, Mary.
Mary: That's because it's almost time to put the summer stuff away. And I haven't worn nothing. So at least if I wear it for two hours, I can say, well, I wore this.
GN: Her styling is excellent. She can style. The things that she puts together, and the way that she puts it together. She's not a matchy matchy person at all.
Mary: No.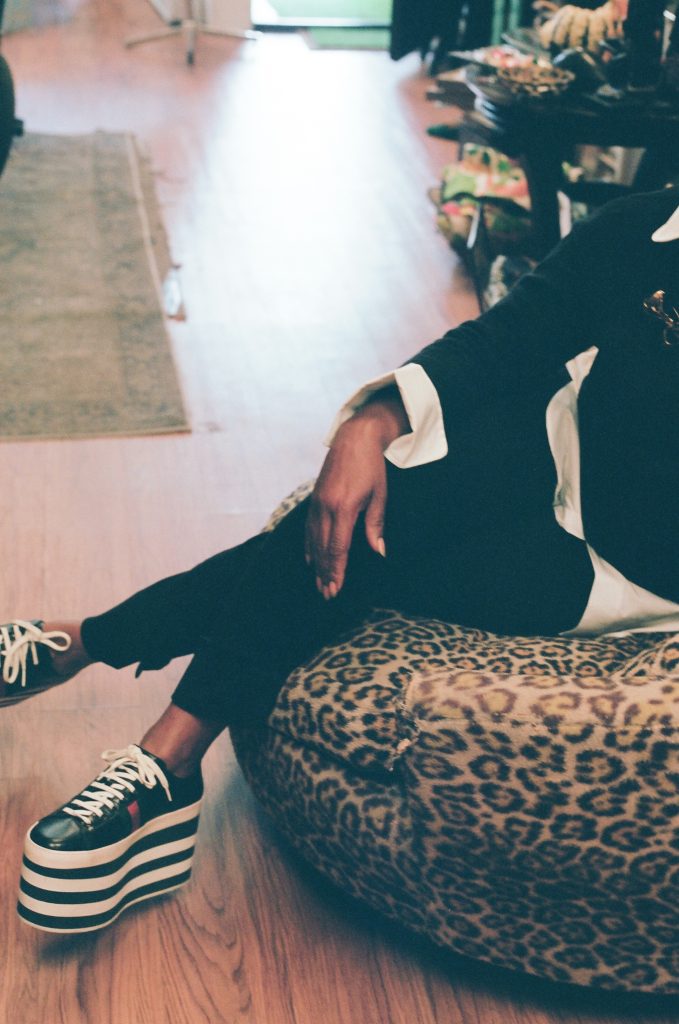 GN: She really knows how to coordinate the stuff and make it work. But it's interesting, it's not cookie cutter at all.
Mary: Well, thank you Gilda. I never looked at it like that. I appreciate that.
GN: You're welcome.
Mary: Well, I don't dress like I used to when I was working. I've been retired for 10 years. I had a job where I had to dress nice all the time. I worked for Sotheby's auction house. After I retired, I still dressed up. Gilda, I sold that Rag and Bone sweatshirt.
GN: Why?
Mary: I had it on. I wasn't going nowhere, I was just walking through my building going up to my friend's apartment. The guy on the elevator was one of the maintenance guys. He said, "Oh, I love that Rag and Bone." He said, "That is smokin'." I said, "Oh thank you." He said, "You wanna sell it?" And I said, "No!" He said, "Well, it's way too big for you." I said, "That's the whole point!" I said, "How much you pay for it?" He said, "I'll give you $100." I said, "Okay!" And luckily I had a t-shirt on up under it. I took it off and gave it to him. He said, "Stay right here, I'll go get my cash. I said, "You can Zelle me! He said, "Okay." Zelled me. So I sold it off my back. That's the first time I've sold something off my back.
GN: [to Customer 4] That's definitely an ode to 1989, that shirt.
Mary: I haven't seen a coat better than that coat I bought from you. Leather on one side, shearling on the other. It's Coach. It was off the chart. Every time I wear that coat, people stop me. Did you know it was reversible, Gilda? It is smoking, it is smoking.
GN: [to Customer 5] You ready, darling? Okay. [Checks customer out.]
Mary: [gesturing towards purple ashtray] I've got a million of these… I've been throwing my crystal ashtrays out the window.
GN: I enjoy using my ashtrays. I believe in enjoying my life to the fullest.
Mary: [to Gilda and row] You're still young. Once you get to be my age, you'll want to rid of all that shit, too. You'll be done with it, don't need it no more.
GN: I'll never be done with it. I've been like that ever since I was an itty bitty girl, I like pretty things.
Mary: I do, too, but I get tired of it.
GN: I don't ever get tired of them. That's the problem.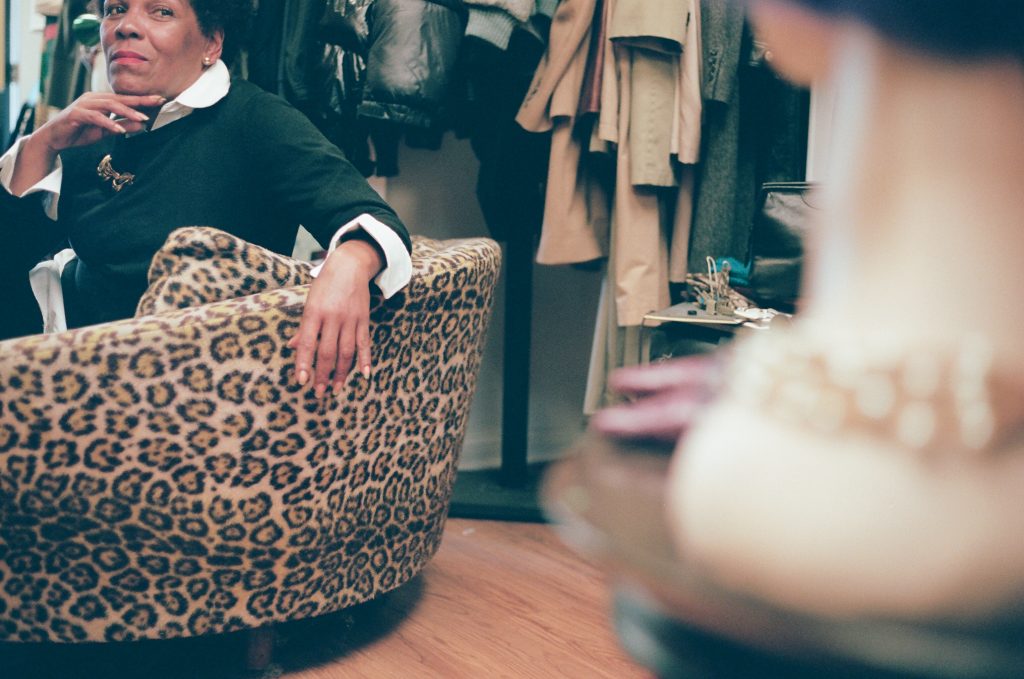 ---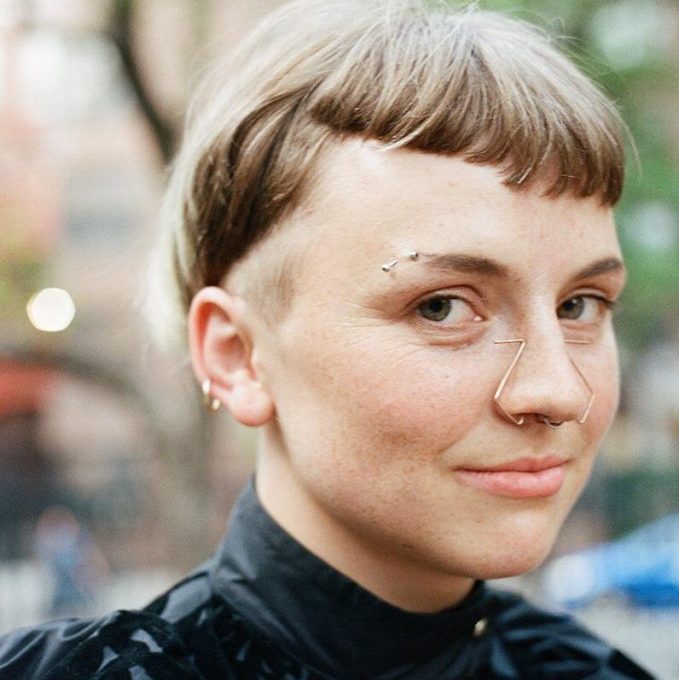 row särkelä is an organizer, artist, and white settler raised in tiwaland and living in zhigaagoong. in "fold unfold," row addresses the seepages between fashion and social movement organizing, surfacing the work of designers and artists who shape and intervene in chicago's vestiary landscapes. row considers taste to be a political project and investigates how design and dress unfold in relation to local forms of racial capitalism.