FOLD/UNFOLD: Interview with Iyomi Ho Ken
Iyomi Ho Ken discusses her new runway collection "An Exploration of Self," which acts as a layered and complex self-portrait.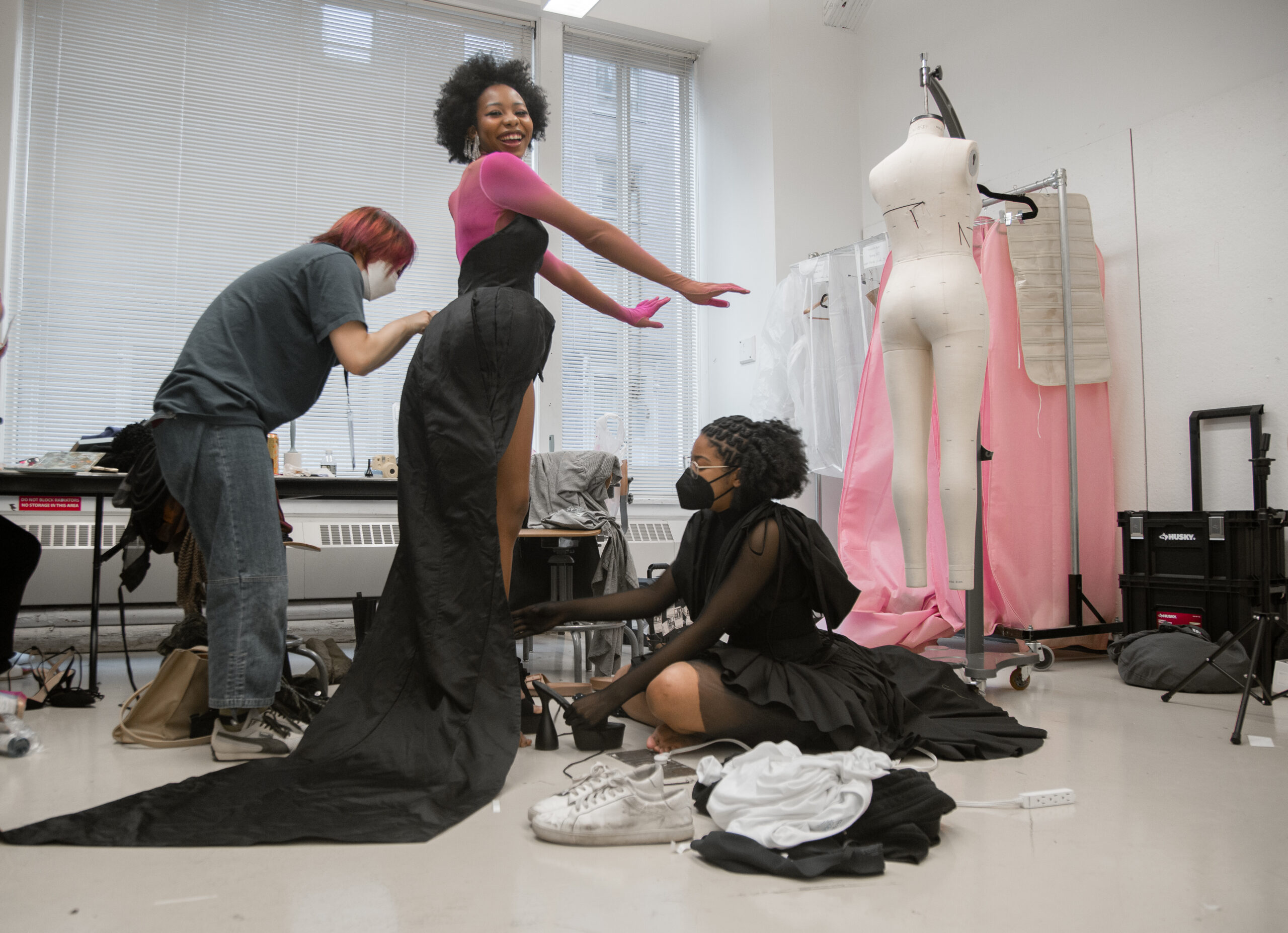 FOLD/UNFOLD: fashion designers and artists on dress, tactics, community, and power in zhegagoynak/zhigaagoong (Chicago) and beyond.
---
Fashion designer Iyomi Ho Ken's senior thesis collection, An Exploration of the Self, manages to be both sculptural and exactingly tailored while also being lustrous and sensuous. Recently completing her degree at the School of the Art Institute of Chicago (SAIC), Ho Ken achieves a collection that vulnerably dives, look by look, into her "many aspects, not good or bad," such as fear, strength, and spillage. Her work shows intent and modulation, shapeshifting between different registers of intimacy and distance at a moment's notice. In Strength, Ho Ken gestures to the almost mythical ability of the women on both sides of her family to "grab hot pans out of an oven with their bare hands and not feel a thing," with a beautifully cheeky pair of black elbow-length opera gloves.
In my favorite look of the collection, Listening, Ho Ken herself is the featured model. Listening took four months and many hands to complete, a fact that she is quick to point out in her gracious appreciation post for the garment. The look itself is inspired by Ho Ken's own ears and features a black bolero jacket with oversized, puffed-out sleeves that move like Lake Michigan at night in their rippling, hand-sewn tucks and gathers. With a pale blue bodysuit beneath and a skirt that flares in a pool at Ho Ken's feet, you can almost hear Eartha Kitt's Yzma (from the Emperor's New Groove) cackling in the photo studio. Beyond the aesthetic similarities, it is the inventive glee, theatricality, and determination that Kitt breathes into Yzma's character that feels palpable in Ho Ken's work.
Ho Ken is also a keen analyst of the current fashion system. Her senior year at SAIC was funded by prestigious scholarships from the Council of Fashion Designers of America (CFDA) but is quick to remind me that awards are all contextual and come with hidden costs like isolation or pedestalizing. Working at brands that are current fashion-world darlings can also be less than ideal in terms of unpaid internships or other forms of unsustainable business practices. For Ho Ken, these internships with top fashion brands have inspired her to create something different. In this interview, we do a deep dive into Ho Ken's process in creating the runway collection An Exploration of Self as well as discuss why rhythm is her favorite art term, the people who first inspired her toward wonder and curiosity, and her vision for a fashion line that wouldn't replicate existing dynamics. Instead, it could actually be a sustainable brand, as Ho Ken mandates, "[by] treating your employees sustainably, [as well as] yourself, the world, and how you see things." Read on for Ho Ken's searing critiques and soaring visions — and learn about some of the best designers currently in the game.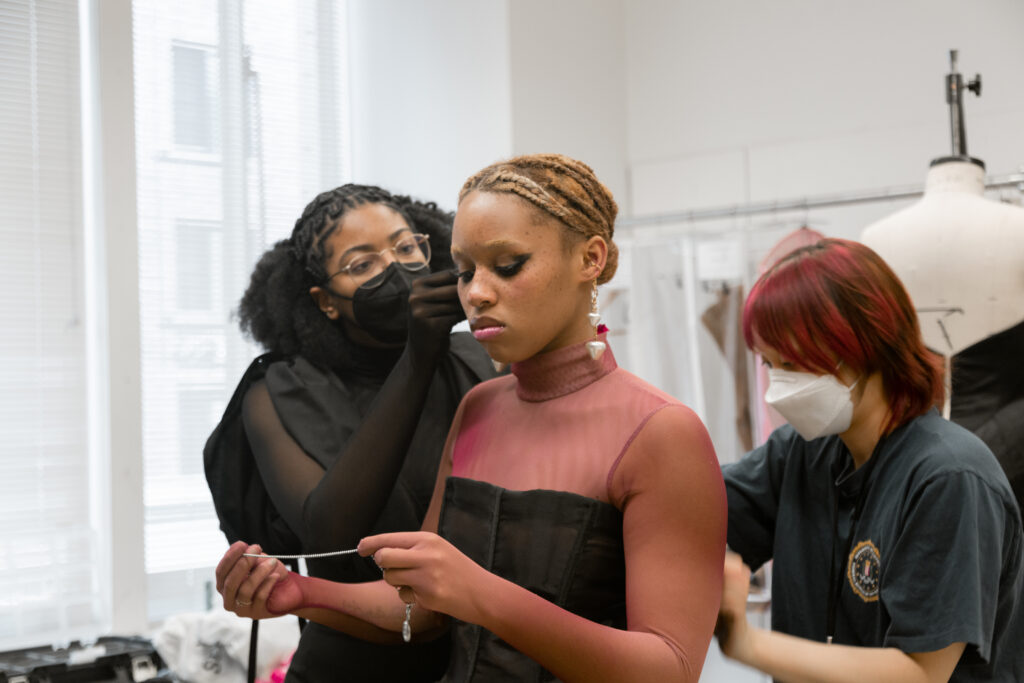 row särkelä: Tell me about your senior thesis show. Your last collection was your color theory collection. How is this collection different?
Iyomi Ho Ken: I'm essentially doing a self-portrait. Each of the looks describe an aspect of myself. I'd say none of them are good or bad, they're just aspects. The first look is Perfection, and then that goes into Fear, then Overthinking, Curiosity, Listening, The Lover, Strength, and Spillage – Spillage is a two-part look. I'm spilling into myself. I already knew I wanted to do a self-portrait, but I didn't really want to continue the color theory series in the same way. So at first, all of the looks were each going to be different colors, but that felt way too similar to what I've been doing. I knew I wanted there to be bodysuits on all of the garments because I wanted there to be an aspect of literal layers. After all, each personality or aspect is layered, and I wanted to represent that physically with the garment. I decided to make the outer, most prominent garment black. And then the bodysuit would be the color of the mood, or the color that links it to that specific aspect of myself. For example, in Perfection, the color of the bodysuit is red. And that's mostly because my mom's favorite color is red. She was seen as the most perfect person in my family. My entire family wanted me to grow up to be like her, because she was the best student and a great child — which isn't necessarily a bad thing. But perfection isn't real. It took me a while to be comfortable not being like her. My grandma would literally pull me over to a wall of pictures of her when I was younger and be like, "Look at your mom and how great she was. You need to be just like her." I grew up in Florida, and she went to high school in Florida, so she had a whole bunch of awards from Disney. She was going to be a doctor, but then she had me in college. So my grandma kind of saw me as her second chance. My mom has ended up being perfectly fine, she just had me and then decided to do her career later. She's a nurse now.
rs: Were you raised by your grandmother?
IHK: I grew up in her house, and my mom was still there. I moved around a lot when I was a kid. My parents had me when my mom was 19 and my dad, I think, was 20. We had our own place for a little bit, and then we moved in with my grandma. It was a lot of back and forth and it took us a bit to have our own home. When I was a kid, we did have our own really cute apartment and it was great. I remember that – I had my own bedroom, I was living a princess dream. But then my parents split, so my mom just couldn't afford for us to live in an apartment, which now I understand because paying rent is so expensive.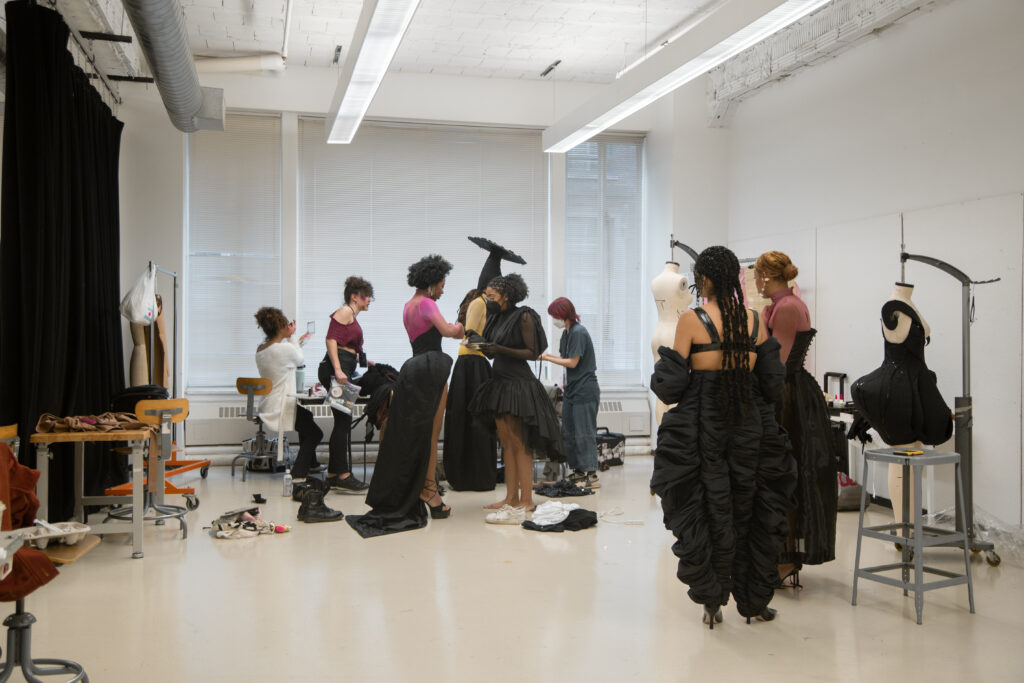 IHK: The dress for Perfection is sheer, because that leads into perfection being fake — it's not real — and you can see through it when something's trying to be perfect. In terms of perfection, after winning that CFDA Award, a lot of people treated me like I knew what I was doing. And I definitely did not. It was said to me that others look up to me, but I'm just here surviving, doing what I think I should do. I don't think people realize how it's really circumstantial when you win something. It depends on the people on your panel and if the judges connect with you. I didn't win anything from my school. We had a scholarship judging at SAIC and I didn't get anything. I didn't even get picked to be represented by my school for the CFDA, I had to apply on my own. It's not what people think. The dress for Perfection is also really round because hearing that type of response about the award made me feel so isolated from people. The dress is like a barrier from other people, but that roundness disappears and it becomes closer to the body so that people can actually get closer to seeing more parts of me.
The collection then goes into Fear because I've been very scared. Now it's a lot better, but last summer and fall I was just freaking out about graduating and having complete control over my life. I'm very independent, but I don't know what it was about graduating. I think it's mostly just a money thing because I didn't grow up with stable financials. I don't want to be put back in a certain situation. The bodysuit for Fear is green because I think of fear as my little green monster. The silhouette stems from another piece I did where it's really clustered up the neck where my anxiety is. It's all upper body, so the garment's focus is there. The next look is Overthinking, because perfection leads to fear, and fear leads to overthinking. That look centers on a big hat. The bodysuit for that one is yellow, which is interesting because yellow is my favorite color. Whenever I feel like I'm overthinking, I feel like I'm going insane, because my mind moves a million miles an hour. Overthinking goes into curiosity because, with all of the thoughts, you start to get curious about what will happen. The bodysuit for Curiosity is purple, my biological Dad's favorite color. I say biological dad because I have a stepdad and I see him very much like my dad as well. My biological dad is the one who made me curious about a lot of things, he took me to museums and got me interested in art. I would draw in all of his sketchbooks when I was a kid, around age two and three. He sparked my curiosity.
After Curiosity is Listening, because I'm hyper-aware and observant. I'm pretty quiet when I'm out in public. People need to actively listen to others, instead of just passively. I'm growing and learning that actively listening involves a lot of effort. Especially when you're neurodivergent, trying to actively listen to someone while your mind is doing five million other things is really hard, but it still means something when you try. So that one has huge ear-like sleeves. The model fitting looked exactly like the sketch I did [shows photo]. That sleeve made me cry multiple times. I worked on it starting in October, and I didn't finish it until March. I had to keep figuring out the structure because the supporting structure was so difficult to figure out. It's just crinoline. It really aggravated me when I finally figured it out because it was much simpler than what I was trying to do. I was trying to make it so complicated, but it just needed to be done in different parts and then put together.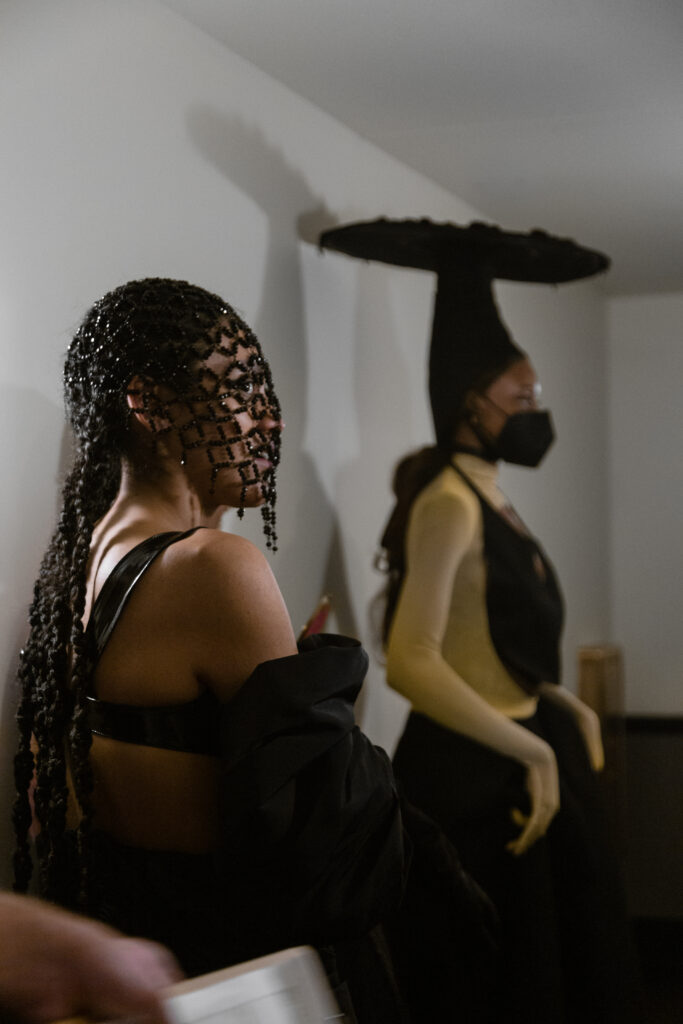 rs: Did you always know how to sew? Or did you learn in college?
IHK: I started sewing when I was seven. I even had my own knitting and jewelry business when I was a kid. It was with my friends at school and we had business cards – it was a very serious thing. I went to Office Depot with my mom and the lady thought I was cute or something and heard me talking to my mom about needing to make stuff for my clients. The lady was like, "I'm gonna make you business cards," and she made them. So we just passed them out when I was at my school — it was the three of us, including me. We would sell to teachers and other students, and we would knit and make jewelry. We would just sit during recess in a little circle and make our business and collect our money at the end of the week. I remember having a folder, but I think someone stole it — I don't remember what happened to my folder of money. So I've been selling for a bit.
College has allowed me to be a lot more obnoxious with the things I want to make just because there's more space and facilities, and there are professors who understand what I'm trying to do and can help me get there. This year, I feel like the professors I have are really taking the time to make sure I get the skills. When you're a sophomore, you learn how to make the top and skirt and you make one look at the end. I already knew how to make tops and skirts, so I was just there, but still challenging myself. And then junior year was rough because of COVID. That's the year you make blazers and jackets and pants. I'm pretty familiar with pants, but blazers are so difficult to make, lining-wise. The shell is so simple. When you have shoulder pads it becomes annoying. An armhole is so serious. If it's not comfortable, it's just not a good jacket. So your lining needs to be perfect for the shoulder pad to fit in and for you to be comfortable. You can accidentally twist your lining sleeve and then you won't be able to put your arm through it. It's a very complicated process versus pants, which are just super easy. Tops are easy, skirts are easy. However, it also depends on the kind of top/skirt/pants that you make. This year, senior year, they let us go and do whatever we wanted. They just help us when we need help. So I've been working on the same thing since August.
The bodysuit for Listening is blue because, when I was researching color, I was reading up on how blue is the most calm and serene color for most people. That's how I feel when I'm just observing. I feel very calm and serene. I'm absorbed. Blue feels like a very absorbent color. After Listening is The Lover. I have a heart on a gold platter that I made. I'm very proud because it came out very great. The makeup and everything looks so good with it. I was very impressed. The bodysuit for The Lover is pink for obvious reasons. And then Strength is the seventh look. That look is just really fun pants and a really cool latex bra.
rs: You're working with latex?
IHK: I saw these really great latex boots — at that point, I just needed a contrast of textiles. I don't really like using the same thing throughout collections. I try to make the silhouettes different and the textiles different. For Perfection, it's sheer. For Fear, it's a mix of chiffon and tulle. Overthinking is wool, Curiosity is silk faille, and Listening is a silk dupioni in a suiting blend. The Lover is duchess silk satin. The silk faille comes up again for the Strength pants because it holds shapes so beautifully. When you gather it and it puffs, it just holds up. It's so beautiful — and so expensive.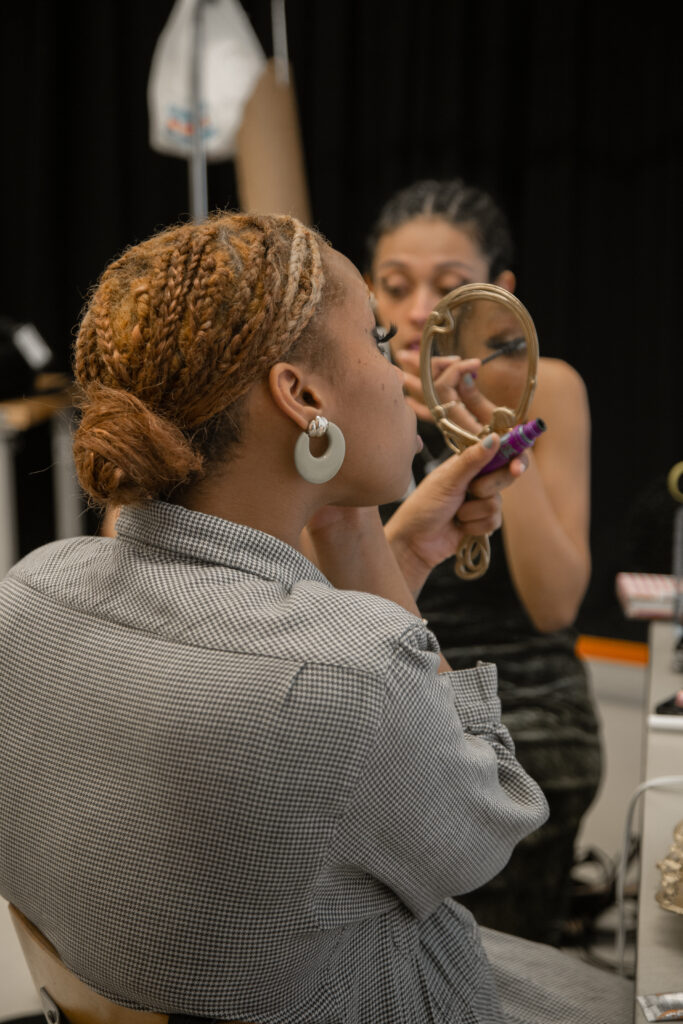 rs: How are you sourcing your materials?
IHK: Mostly online. There's a place called Preview Textiles — they have a lot of beautiful fabrics for so much cheaper, and it's also where Mood in New York buys their fabric from. I wanted to get the Duchess satin from there, but it was $120/ yard and I cannot afford that. I can barely afford the $45 that it was from Preview. I try to make sure I only get what I need. I made a mistake with my Perfection dress and ordered triple what I needed because I miscalculated my panels. It ended up working out – I had to remake the dress because it ripped [laughs]. I always order like 40 or 60 swatches at the beginning of every semester because I need to touch everything. I'll go to Textile Discount Outlet sometimes, but I like to know what my fabric is and sometimes at Textile you can't really know. I've been trying to test myself with the feel [of the fabrics]. You can feel silk sometimes. Silk, like everything, comes in so many different kinds of hands. For the longest time, I thought what I was touching was polyester, but it was actually silk. It just didn't feel that nice, it was so thin and crunchy. But silk is a really complex fabric. It's based on momme, the weight of the silk. Some silk is either longer strands or shorter stacked on top when they're making the fiber, and that dictates how something feels. And the weavings all dictate things — a twill weave versus a satin weave versus a plain weave. It's a lot! People think fashion people are just like, "La dee dah," but it's a lot of work and figuring things out and researching. If I find something in a store that I think is too expensive, I try to cross-search it and find it somewhere else. It was kind of easy to source this time because most of my things were black, versus last year, trying to color match a specific purple was so frustrating, especially with threads and closures. Sometimes it doesn't look the same in different lights and a cotton will look completely different from silk or polyester or neoprene. So it was kind of fun to not have to worry about that — it was one less stress, working with black, because even different intensities look good together.
The pants [I made for Strength] are silk faille and they're paired with these really beautiful latex boots that I found on the Real Real. I needed to make a latex bra for contrast, and I needed some pants because everything in there was different variations of bodysuit bases, corset bases, or dresses, and I don't like [creating] the same silhouette too frequently. After Strength is Spillage, and that's a two-part look. It's the first look I thought of in the collection, so it's nice that it's at the end. It's about me spilling into myself. I was thinking about how I spill into others so much — I chat a lot, I give a lot, I want things for other people so much. I want to focus on doing it for myself. It was also inspired by Frida Kahlo's double self-portrait painting. The looks are connected in that they are a pair that holds hands.
Everything doesn't have to be completely literal. I used to try to make everything as conceptual as possible and not make anything too on the nose, but that just got a little boring. Sometimes making something on the nose is more fun than trying to make a blob of an, "Oh, maybe it's — something." [Laughs] I just wanted to make what I wanted to make whether or not it seemed a certain way to someone else. [Both pieces in Spillage] don't have bodysuits because they're white and black. White and black both have very similar definitions. If you look up white, someone will say it's the absence of color. And then another person will say it's the absorption of all color, but then it's literally the same exact thing for black. It's a perfect pair. So they're both absorbing all the colors from the collection's bodysuits and interchanging all of the emotions and feelings and aspects.
rs: How does your family show up now in terms of your fashion work?
IHK: I'd say they show up in my research and shape choices. For example, my Strength pants, they're quite full-hipped. I made them that way because a lot of the strong women in my family are just built strong in the hips. I'm Chinese-Jamaican, and both sides of my family can just grab hot pans out of an oven with their bare hands and not feel a thing. And I don't understand. I can't grasp that concept. I'll touch a hot sidewalk and it doesn't work for me. I was also thinking about my mom. She was telling me that when she was my age, she was a lot more straight and slim. But when she had me, everything just came — her hips, her breasts — her butt is literally a C-shape. It's very interesting to me how our bodies change with children and with things happening over time. It's a beautiful thing.
My family also shows up in the rhythm [of my work]. I think rhythm is my favorite art term because I love it when the eyes just move around and don't stay in one place. Rhythm is an aspect in my family that determines how you move about life and how you are as a person.
Different garments of mine exude aspects of different people. For some reason, it makes me really uncomfortable to make everything feel very similar. I like things to feel like they're their own entity, but can still flow with the other pieces. I'm sure I'm going to need to work on that when I have my own line. You need to have your bread and butter pieces to stay afloat. Small compromises.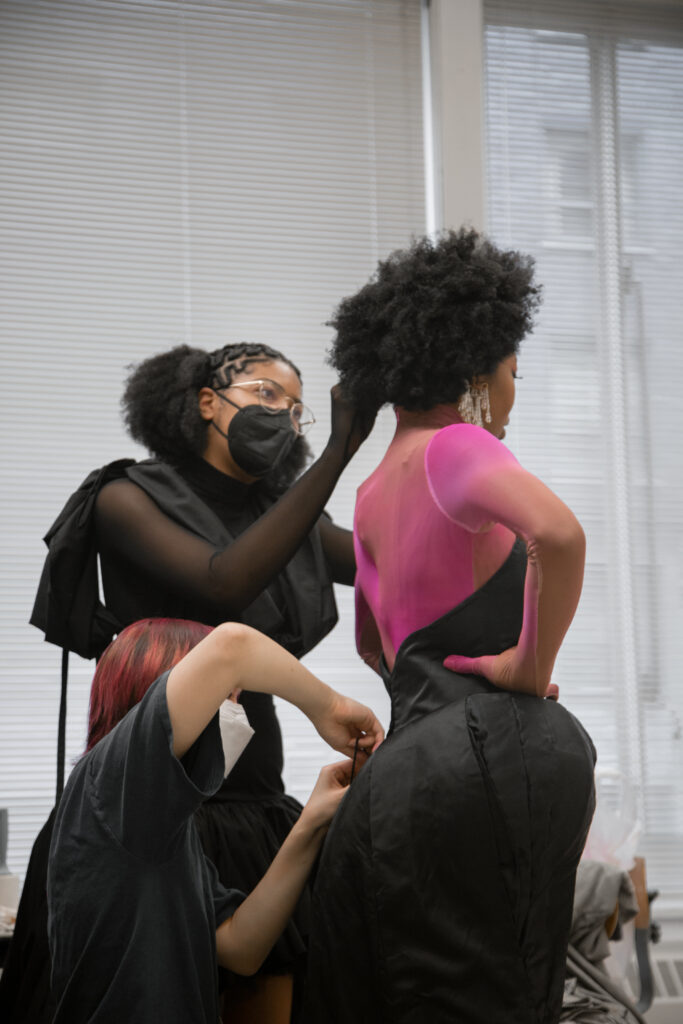 rs: Is it a goal of yours to start your own line?
IHK: I want to do it in a different way. I used to have a small business when I was in high school, selling clothes and doing made-to-measure stuff. I don't really enjoy consumers or customers – and I'm a consumer and a customer. When I used to make things with that frame of mind, nothing felt great or creative; I was just making to sell. I'd rather be the brand that makes garments for the Met Gala. I also love costume design. I want to be a fantastical brand. I've been seeing other brands do it — Area has their pretty things and then their cutesy things. Alexander McQueen. I've been seeing more people bring fashion into that realm while still having pieces that people can actually wear. You can't wear most of my pieces outside or walk in properly or sit down. [I like] figuring out where the costume elements go and where the everyday elements go and then spicing it up. I want to have an all-encompassing brand, I don't want to just do one thing. I also want it to be tied to a nonprofit aspect. With consumers, with costume design, and with a nonprofit.
rs: What would be the nonprofit aspect?
IH: It would be to supplement all of the unpaid internships. It would essentially fund the students. I've had to do unpaid internships and you're doing a literal job for free. It's very insulting. I remember I was working an internship one summer, and the person in charge of me was saying they were going to hire me as their designer because they didn't have one, she had left. I was like, well, I would need to be paid. I was already [doing the work of] their designer, I was designing shoes and sweatshirts. This brand may have been big and they may make a lot of money, but they do not have a big team. They just started getting more people. But when I was an intern there in 2020, it was just five of us and me. All of us were doing multiple jobs. If you're calling yourself a sustainable brand, you need to be treating your employees sustainably, and yourself, and the world, and how you see things. That's not how I was treated or how I watched others be treated. The word sustainability is very annoying to me because people think of it as one thing, but it should be an all-encompassing thing. Being responsible for someone's paycheck is a lot, but I watched this brand make $70k in one day from a sample sale, so…and none of the employees were literal employees, they were all freelance and working six+ days a week.
I feel like my bubble just popped. The people I interned with and I could all write an expose – and it would not go well. Those two brands I worked with skyrocketed in profits during COVID — like 400%. It was definitely a very intense learning curve, and it taught me how I don't want to treat people when I have my own company. I hope that current employees are being treated much better. I'm just hoping to be a part of that new wave of continuous change and not fake change. I'm also learning that while you want to speak up, during certain situations, you have to figure out the best space to speak up. I don't like that Black creatives are normally forced to hold their tongue more often.
rs: Are there emerging brands or people you think are doing real change?
IHK: CJR — Christopher John Rogers — love him.
rs: I don't know if I believe in doing a Target collaboration, to be honest.
IHK: I don't know about that. I appreciated the affordability aspect.
rs: I get that, but what is affordability?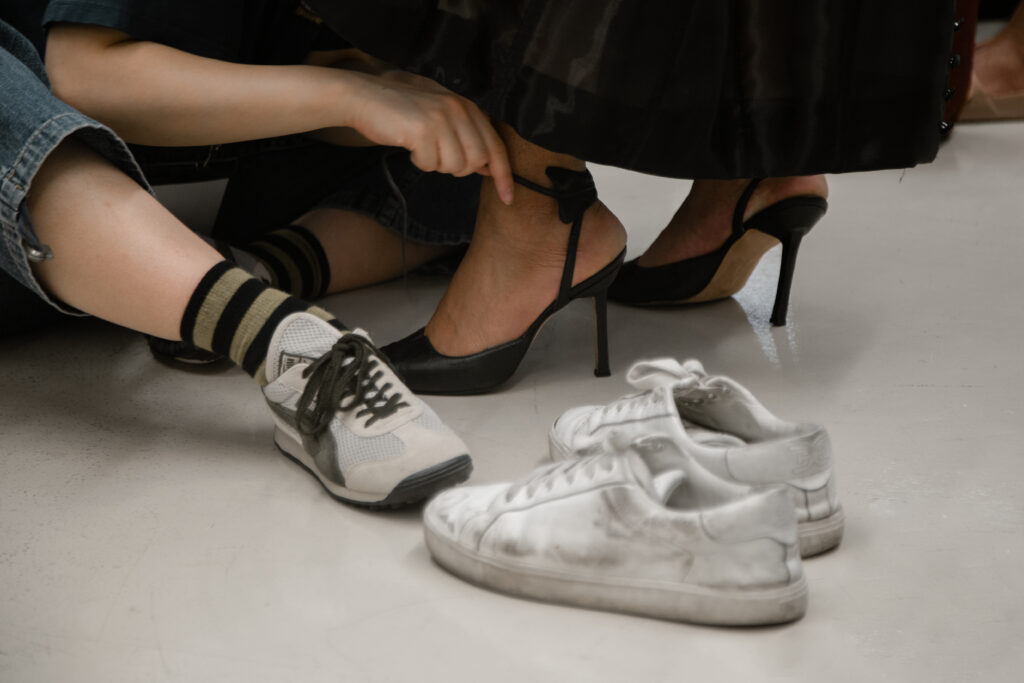 IHK: That just goes into a whole tunnel. I enjoy him mostly because he pays his interns — that's a top thing for me — and he treats people kindly. I love Jacques Agbobly, who just became a finalist for the CFDA. They're small, and they graduated from Parsons two or three years ago. I met them during my Parsons summer intensive and he's like, "You have to come here, we need more Black people." I didn't go because people were telling me that Parsons just wasn't that great anymore. Which is unfortunate, because it's so expensive.
Wiederhoeft makes beautiful silhouettes. House of Aama is amazing — I just applied for a job over there. I want to learn from a Black woman in fashion; there aren't many of them. Carly Cushnie's brand got dissolved, so it doesn't really exist anymore. Hanifa — I heard working for her is amazing. There's a girl who works at my old job in Florida, who's her assistant designer, and she works remotely. That's the dream, working wherever you want and flying in for fashion shows. She was telling me how Hanifa actually respects her work/life balance. I was wondering how she got this job, and apparently it was just meant to be. She just emailed her, they just started working together, and then she became assistant designer.
rs: Do you think these things are possible without fashion school?
IHK: I don't necessarily think you need to go to fashion school. I just think it's nice to learn from certain professors, but you don't always need to. Some colleges do provide you access to other people that you wouldn't normally get a chance to meet or access to certain things that you wouldn't normally be able to do. Since I run the Black Student Union (BSU) at school, I get to pick who comes to talk to us and I get to pick where the money goes and how much to pay people. I wouldn't be able to do these things if I was on my own. We just had the Black Experience and we were able to pay someone $1200; I wouldn't be able to do that by myself because I don't have $1200. So it's about figuring out how to use the different institutions and their money and give it back to my community. I would just say, without school, you better be a hard worker, but not a talker. I watch a lot of people say that they do fashion and they don't –but I also can't even really say that, because that to me is insensitive to other people's fashion journeys. I think it's just me getting frustrated when I hear someone say they do fashion but they're just cutting a t-shirt and then selling it for $50.
rs: What do you think doing fashion is?
IHK: I think just passion, thought, and effort. That's why I said I feel like I can't knock someone else's journey — what if that is someone else's passion, thought, and effort? And just because it's not my taste doesn't mean it's not valid. It irks me watching all of my friends work so hard working on a pattern and a concept and people not giving it the time of day, but then people see a t-shirt and they go insane. Meanwhile, I just watched this person spend 20 hours on a pattern, sew it, and do everything. I think there's levels to everything, but I wish certain levels got more attention because there are a lot of talented people that really, really try in a genuine way. Let me put it this way. Rick Owens is amazing, but a lot of my friends and I get annoyed at a group of people at my school — there's a difference between Rick Owens and just not doing a hem because you don't feel like doing a hem. That's what I mean. When you do that, and then you also don't care for the studio and you leave trash everywhere, and you're rude to people? Ooph.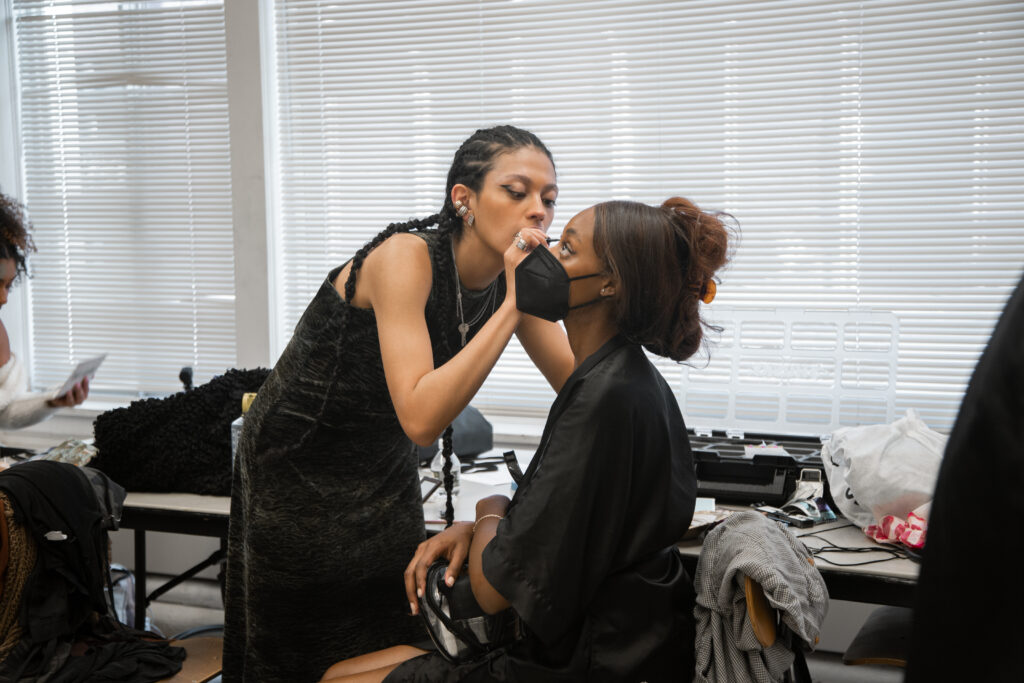 rs: I definitely think there's something about craft that demands that you work within it so that you can accurately make decisions against or around it. As someone who's having to teach themselves to sew and wasn't in art school, I get it. It's really frustrating to try to learn it the right way. It's upsetting when you see these girls on TikTok or Depop just doing whatever and everyone's going wild. There are levels to craft. You can have a really good concept and even execute it really well – but that might not be craft, and I think we can say that. It's not necessarily workmanship; it's a cool fashion idea that's going to fall apart tomorrow. And I like that, too – it's mostly what I make for myself.
IHK: It just makes me feel like a terrible person when I express that. Because of how I was raised and the lens I was put in, I never wanted to be perceived as the rude, judgy, mean Black girl – which is terrible. I had to learn how to elaborate my frustrations in a way where people would take me seriously. I think my biggest fear is being perceived as rude, so I keep a lot of things to myself because you can never control how someone else will see what you're saying. It's a strange dynamic of trying to be polite and to do the right things and to do them the right way. That was my whole thing last year — trying to do fashion the right way. But that's not real. I get that there are proper ways to do things, but it's also like math — you can get to the solution of an equation in multiple different ways. You're trying to understand what the right way is, and then figuring out that the right way can be three different ways. Even showing my assistants how to cut fabric – all of us cut fabric very differently. It doesn't mean that it's the right way. The end goal is to make your fabric be cut like your pattern. I try to tell them that they just have to get comfortable and figure out how they like to cut. I know now, I have to hold the fabric in my left hand while I'm cutting it so the excess is always in my left hand coming away. But someone else I know doesn't like to cut with pattern paper and fabric, they trace their patterns and then cut with chalk. Other people use a rotary cutter. This goes for everything — some people like to drape differently. I remember [one of my] teachers said, "Oh, you're draping?" And I was like, "Yeah, you know, the fake way." And he said, "No, not fake. It's just your way." And I realized it was mean of me to say I'm draping the fake way when I'm doing a pretty good job for a freshman. Give yourself grace and just try to understand how things work.
rs: Is the public invited to your senior fashion show?
IHK: Noooo. We were trying to have two shows, because then we could have had more people, but our budget was severely messed up. So we can only afford to do one show because we're also paying all of our models a certain rate and a lot of us didn't want to compromise their pay to be able to have more people come — even though a lot of our classmates are very pissed at us. There will be a live stream. If I had my way, it would have just been a display. I think a runway is too short for you to see certain pieces.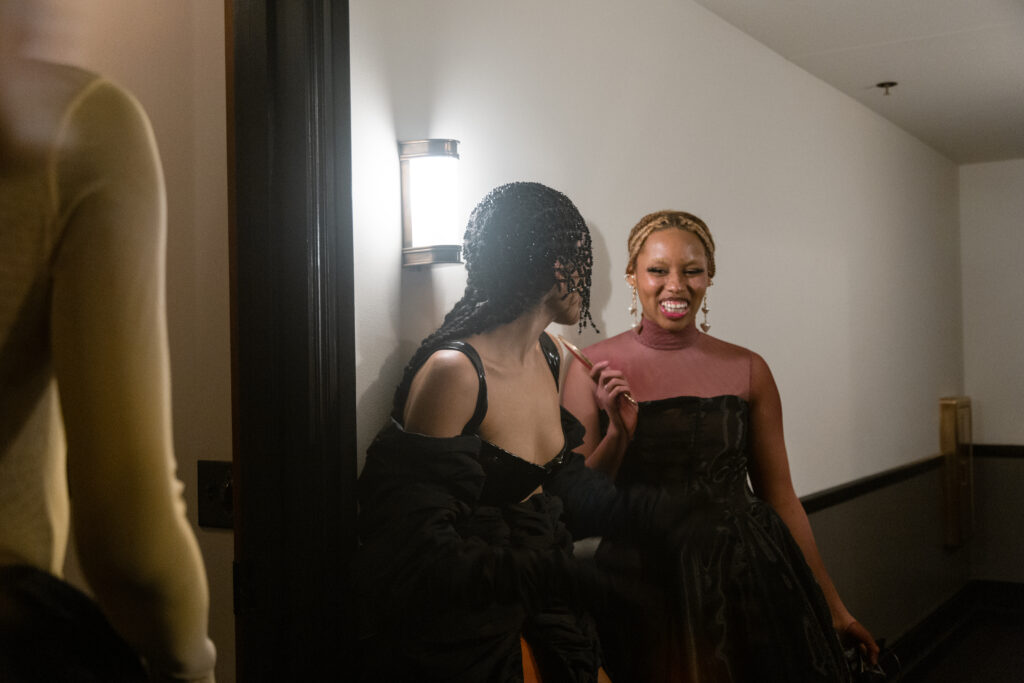 rs: Will the pieces be displayed after?
IHK: No. That's on my goal list for this year, to find a place I can display my pieces. I've been trying to figure out how to get into the art world, because that's how I like to do my fashion. I see my fashion as more of a sculptural piece than a fashion piece. During critique, Nick Cave was there and he was like, "Yeah, I don't think you're a fashion designer. I think you're more of an artist." My parents thought I was going to have a mental breakdown, but I find that being called an artist is a lot better than being called a designer. A designer feels too limiting, and an artist feels more varied. I love installations. I love building a world. Especially when it comes to my shoots — making a set is so much fun. [I love] making a space for someone to come into and be a part of my work and be in my work. That's why I feel like fashion shows are so meh because it's just two minutes versus my twelve months of work. Because, in reality, I've been working on this concept since last summer. So three minutes is very insulting to a year's worth of work. This is why my photoshoot was so important.
rs: Is there anything else you want to share?
IHK: Positivity, positivity, positivity.
---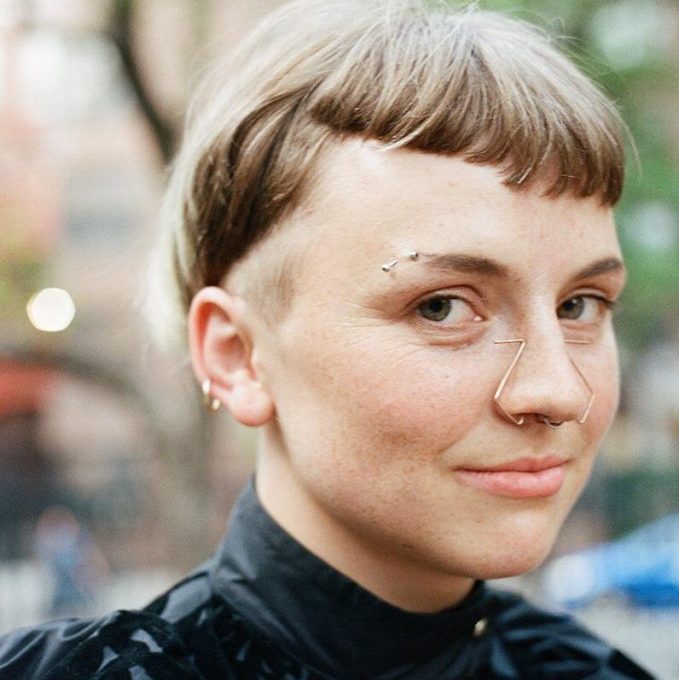 About the author: row särkelä is an organizer, artist, and white settler raised in tiwaland and living in zhigaagoong. in "fold unfold," row addresses the seepages between fashion and social movement organizing, surfacing the work of designers and artists who shape and intervene in chicago's vestiary landscapes. row considers taste to be a political project and investigates how design and dress unfold in relation to local forms of racial capitalism.
About the photographer: Abigail Teodori is a Filipino-Italian artist based in Chicago, currently studying for her BFA at the School of the Art Institute of Chicago with a focus in photography. A lover of books, poems and movies, Abi is endlessly fascinated by the practice of storytelling. Weaving images with words, time stamps, and illustrations until reaching a knot she wants to unravel, her interest lies in unearthing the stories that are lost day to day in the constant push onward.