February Art Picks
A list of exhibitions, artist talks, film screenings, performances and more happening across Chicago this month, featuring an illustration by Kiki Dupont.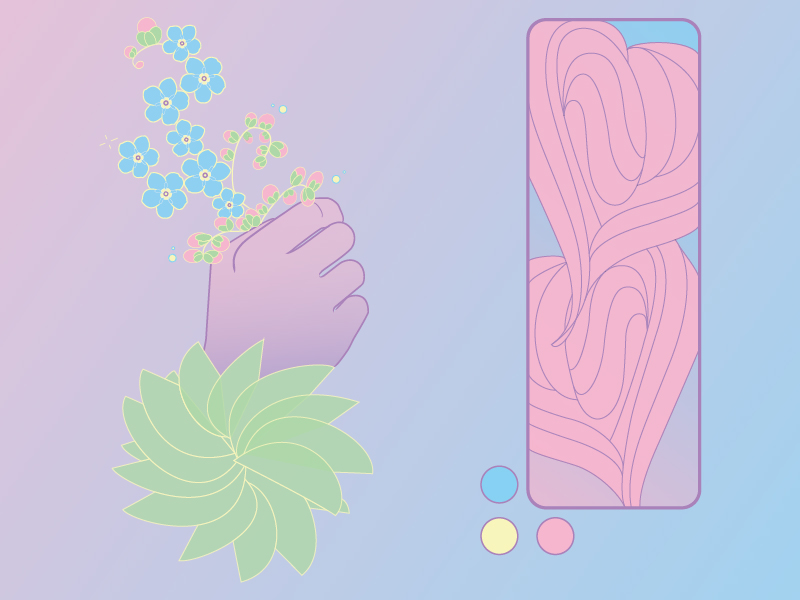 Art Picks is a monthly event calendar created in collaboration with The Visualist, Chicago's leading visual arts calendar, and cross-promoted through Windy City Times, one of the longest locally-published LGBTQ weeklies with a national reach. Click here to get our Art Picks and latest articles delivered to your inbox monthly.
The featured image was created by one of Sixty's incredibly talented illustrators, Kiki Dupont, who is a visual and culinary artist based in Chicago. In her work, she approaches topics of trauma and injustice through a lens of perceived beauty and by reflecting grief's relationship to healing. Find more of Kiki's work on Instagram @kikidupontart or on her website.
This is a growing list, so check back often for new additions.
Fri, Jan 31, 6-9pm
Aidōs
Adds Donna: 3252 W North Av
Free

Jan 30-Feb 1, 8-9pm
Ligia Lewis Water Will (in Melody)
Museum Of Contemporary Art Chicago: 220 E Chicago Ave
$10-30
Sat, Feb 1, 12-5pm
Radical Print Shop with William Estrada
PO Box Collective: 6900 N Glenwood Ave
Free
Sat, Feb 1, 1-3:30pm
Film Screening: The Peoples' Protectors and Healing Voices
Newberry Library: 60 W Walton St
Free
Sat, Feb 1, 2-4pm
Luis A. Sahagun: Both Eagle and Serpent
Chicago Cultural Center: 78 E Washington St
Free
Sat, Feb 1, 2-4pm
Discussion with José Santiago Pérez
Roman Susan: 1224 W Loyola Ave
Free
Sat, Feb 1, 3-4pm
Ronak Kapadia: Insurgent Aesthetics
The Seminary Co-op Bookstores: 5751 S Woodlawn Ave
Free
Sat, Feb 1, 4-7pm
Candida Alvarez: Estoy Bien
Moniquemeloche: 451 N Paulina St
Free
Sat, Feb 1, 6-9pm
Switching Codes of Pleasure: Panel Discussion on Sex Work in Academia and Art Institutions
High Concept Labs: 2233 S Throop St
Free
Sat, Feb 1, 8-9:30pm
Performance by Hot Hags!
Chicago Artists Coalition: 2130 W Fulton St
Free
Sat, Feb 1, 8pm-12am
Li-Ming Hu: DISCOmbobulation
Co-Prosperity Sphere: 3219 S Morgan St
Free
Sun, Feb 2, 11am-2pm
Karen Dana: Off Hours
Material: 2025 W Belmont Ave
Free
Sun, Feb 2, 2-3pm
Assaf Evron: Touch Tour
Museum of Contemporary Art Chicago: 220 E Chicago Ave
Free with admission
Sun, Feb 2, 2-4pm
AFRIFUTURI 02022020 BOOK + CAMO COAT COLLECTION LAUNCH
Blanc Gallery: 4445 S King Drive
$8
Sun, Feb 2, 4-7pm
The Long Goodbye
Selected Works Gallery: 1500 S Western Ave
Free
Mon, Feb 3, 6-7pm
Therese Quinn & Bill Ayers: FRESH AYERS
57th Street Books: 1301 E 57th St
Free
Tue, Feb 4, 12-1pm
Curator Tour: Routes and Territories
Museum of Contemporary Art Chicago: 220 E Chicago Ave
Free
Tue, Feb 4, 5-7pm
Jun Fujita: American Visionary
Newberry Library: 60 W Walton St
Free
Tue, Feb 4, 6-7:30pm
In Progress: Move Me Soul
Museum of Contemporary Art Chicago: 220 E Chicago Ave
Free
Tue, Feb 4, 6-8pm
Dragonfly Eyes
Film Row Cinema: 1104 S Wabash Ave
Free
Wed, Feb 5, 5-7pm
Tania Bruguera
Northwestern University Department of Art Theory and Practice: 1880 Campus Dr, Evanston
Free

Wed, Feb 5, 6:30pm
Video Lab with South Side Home Movie Project
Apple Store: 401 N Michigan Av
Free
Wed, Feb 5, 6-7pm
Lee Bey: Southern Exposure
The Seminary Co-op Bookstores: 5751 S Woodlawn Ave
Free
Thurs, Feb 6, 9:30am-7pm
US-China Forum 2020: The Matter of Art
Reva and David Logan Center for the Arts: 915 E 60th St
Free
Thurs, Feb 6, 5pm
Art and Materiality: Symposium
Reva and David Logan Center for the Arts: 915 E 60th St
Free
Thurs, Feb 6, 6-8pm
An Evening with Vaginal Davis
Gene Siskel Film Center of the School of the Art Institute of Chicago: 164 N State St
$5-12
Thurs, Feb 6, 6-9pm
Nikki Giovanni
The Keller Center: 1307 E 60th St
Free
Thurs, Feb 6, 7-10pm
We Tell Film Series: Body Publics
Green Line Performing Arts Center: 329 E Garfield Blvd
Free
Fri, Feb 7, 6-7pm
An Evening with Xandria Phillips & Raych Jackson
57th Street Books: 1301 E 57th St
Free
Fri, Feb 7, 6-9pm
For Memory: These Are Deities in My Eyes
Blanc Gallery: 4445 S King Dr
Free
Fri, Feb 7, 6-8pm
Alan Emerson Hicks & Angelica Campbell
Center on Halsted: 3656 N Halsted St
Free
Fri, Feb 7, 6-9pm
BIG PART small whole
ACRE Projects: 1345 W 19th St
Free
Fri, Feb 7, 6-9pm
Lucid: Closing Reception
Gallery Studio Oh!: 4839 N Damen Ave
Free
Fri, Feb 7, 6-9pm
Lukey Walden: favors
An Sylvia Exhibitions: 1154 W Lunt Ave
Free
Fri, Feb 7, 7pm
Tatsu Aoki and Myra Su: String of Echoes
Links Hall: 3111 N Western Ave
$15-20
Fri, Feb 7, 7-8:30pm
Ela Przybylo: ASEXUAL EROTICS
Women & Children First Bookstore: 5233 N Clark St
Free
Fri, Feb 7, 7-10pm
Cyborgs: Ancient & Current
Chicago Art Department: 1926 S Halsted St
Free
Sat, Feb 8, 12-1pm
Art Speaks: New Formations
Catherine Edelman Gallery: 1637 W Chicago Ave
Free
Sat, Feb 8, 4-7pm
Mara Baker: Chameleon Blind — Uptown Public Art Installation
Gerber Building: 4620 N Broadway Av
Free
Sat, Feb 8, 3-7pm
The Allure of Matter: Material Art from China
Wrightwood 659: 659 W Wrightwood Ave
Free
Sat, Feb 8, 3-7pm
The Allure of Matter: Material Art from China
The Smart Museum: 5550 S Greenwood Ave
Free
Sat, Feb 8, 5:30-7pm
Discourse: Shawn Rowe
Lillstreet Art Center: 4401 N Ravenswood Ave
Free

Sat, Feb 8, 6-9pm
curtain call-out couture: i am afraid isn't just the way it is / work by Kyle Bellucci Johanson
Bill's Auto: 3217 S Archer Av
Free
Sun, Feb 9, 4-6pm
Public Workshop
Women & Children First Bookstore: 5233 N Clark St
Free
Mon, Feb 10, 5-6:30pm
Kim TallBear: Settler Love Is Breaking My Heart
Chicago Center for Contemporary Theory (3CT): 1130 E 59th St
Free
Tue, Feb 11, 6-7:30pm
Emil Ferris
The Art Institute of Chicago: 230 S Columbus Dr
Free
Tue, Feb 11, 6-8pm
Queering the Parks
Museum of Contemporary Art Chicago: 220 E Chicago Ave
Free
Tue, Feb 11, 6:30-8:30pm
Danez Smith: Homie
American Writers Museum: 180 N Michigan Ave
$10
Wed, Feb 12, 6-7pm
Avery R. Young: neckbone
The Seminary Co-op Bookstores: 5751 S Woodlawn Ave
Free
Wed, Feb 12, 7-9pm
Three Films by Forugh Farrokhzad and Ebrahim Golestan
Block Museum of Art: 40 Arts Circle Drive
Free
Thurs, Feb 13, 6-7pm
The Bauhaus Revisited: A Round Table
The Art Institute of Chicago: 111 S Michigan Ave
Free
Thurs, Feb 13, 6-8pm
Latham Zearfoss: Very Fine On Both Sides: Exhibition Closing + Make Yourself Useful Friendraiser
Chicago Artists Coalition: 2130 W Fulton St
Free
Thurs, Feb 13, 6-8pm
Lori Felker: Intrusions and Interruptions
Gene Siskel Film Center of the School of the Art Institute of Chicago: 164 N State St
$5-10
Thurs, Feb 13, 7-10pm
Cinema 53: Gina Samuels and Eve Ewing: The Homestretch
The Harper Theater: 5238 S Harper Ave
Free
Fri, Feb 14, 12-1pm
Glenn Belverio
SAIC Sullivan Galleries: 33 S State St
Free

Fri, Feb 14, 5-7pm
The Petty Biennal.2: Closing Reception
Glass Curtain Gallery: 1104 S Wabash Ave
Free
Fri, Feb 14, 6-7:30pm
Unlearning Art History: Anti-Racist Work in PreModern Fields
Hilton Chicago Hotel: 720 S Michigan Ave
Free
Fri, Feb 14, 7-9pm
Cotton Dreams Book Launch | Performance
Links Hall: 3111 N Western Ave
Free
Fri, Feb 14, 7-9pm
Pyaasa (Thirst) (1957)
Block Museum of Art: 40 Arts Circle Drive, Evanston
Free
Sat, Feb 15, 1-2pm
Focal Point Live: Lorenzo Triburgo and Che Gossett
Museum of Contemporary Photography: 600 S Michigan Ave
Free
Sun, Feb 16, 3-4pm
Joshua Myers: We Are Worth Fighting For
The Seminary Co-op Bookstores: 5751 S Woodlawn Ave
Free
Sun, Feb 16, 4-7pm
Alexis Brocchi and Tracie Hayes: The landscape reels back: Earth's surface and figments of the mind
Roman Susan: 1224 W Loyola Ave
Free

Sun, Feb 16, 1:30-3pm
Praxis as Liberation with Maya Marshall, Ada Cheng, Natasha Mijares, and Marya Spont-Lemus
Tiger Strikes Astroid at Mana Contemporary: 2233 S Throop, #419
Free
Mon, Feb 17, 6-7:30pm
Sanya Kantarovsky
Logan Center for the Arts: 915 E 60th St
Free
Tues, Feb 18, 6-8pm
Conversations on Collecting: blakHaUS studios Final Report
Museum of Contemporary Art Chicago: 220 E Chicago Ave
Free

Wed, Feb 19, 6-7:30pm
Exclusive: Archive Your Story with Sixty Inches From Center
Apple Store: 401 N Michigan Av
Free
Thurs, Feb 20, 11am
Paola Cabal
Cleve Carney Museum of Art: 425 Fawell Blvd
Free
Thurs, Feb 20, 6-7:30pm
Dr. Eve L. Ewing: Chicago and Afrofuturism
Harold Washington Library: 400 S State St
Free
Thurs, Feb 20, 6-8pm
Avant-Noir
Gene Siskel Film Center of the School of the Art Institute of Chicago: 164 N State St
$5-10

Fri, Feb 21, 7:30-10:30pm
BIPOC Punk Takeover
Art Institute of Chicago: 159 E. Monroe
Free
Fri, Feb 21, 12-1pm
Public Tour and Gallery Talk with Leo Selvaggio
Museum of Contemporary Photography: 600 S Michigan Ave
Free
Fri, Feb 21, 12:30-2pm
Elissa Washuta & Theresa Warburton: Shapes of Native Nonfiction
UChicago Social Science: 1126 E 59th St
Free
Sat, Feb 22, 6-10pm
Something Blue
LVL3: 1542 N Milwaukee Ave
Free
Sat, Feb 22, 6-8pm
South by Southeast
Gene Siskel Film Center of the School of the Art Institute of Chicago: 164 N State St
$5-10
Sun, Feb 23, 1-4:30pm
Chicago Journalism Town Hall 2020
Free to Local Media Reps
Tue, Feb 25, 6-7:30pm
Industrial Facility
The Art Institute of Chicago: 230 S Columbus Dr
Free
Tue, Feb 25, 7pm
Poetry off the Shelf: Christian Campbell
Poetry Foundation: 61 W Superior St
Free
Thurs, Feb 27, 7-8:30pm
Re-Envisioning Masculinity: Storytelling, Workshop, and Dialogue
Women & Children First Bookstore: 5233 N Clark St
Free
Thurs, Feb 27, 5-7pm
Jean-Ulrick Désert
Northwestern University Department of Art Theory and Practice: 1880 Campus Drive, Evanston
Free
Fri, Feb 28, 6-11:30pm
Typeforce 11
Co-Prosperity Sphere: 3219 S Morgan St
Free
Sat, Feb 29, 12-4pm
Zehra Khan: Fakeries
Tiger Strikes Asteroid Chicago: 2233 S Throop St
Free
Sat, Feb 29, 2-3pm
Duro Olowu with Madeleine Grynsztejn
Museum of Contemporary Art Chicago: 220 E Chicago Ave
$8-15