December Art Picks
Our selection of events and gallery openings in Chicago and the Midwest during December, 2021.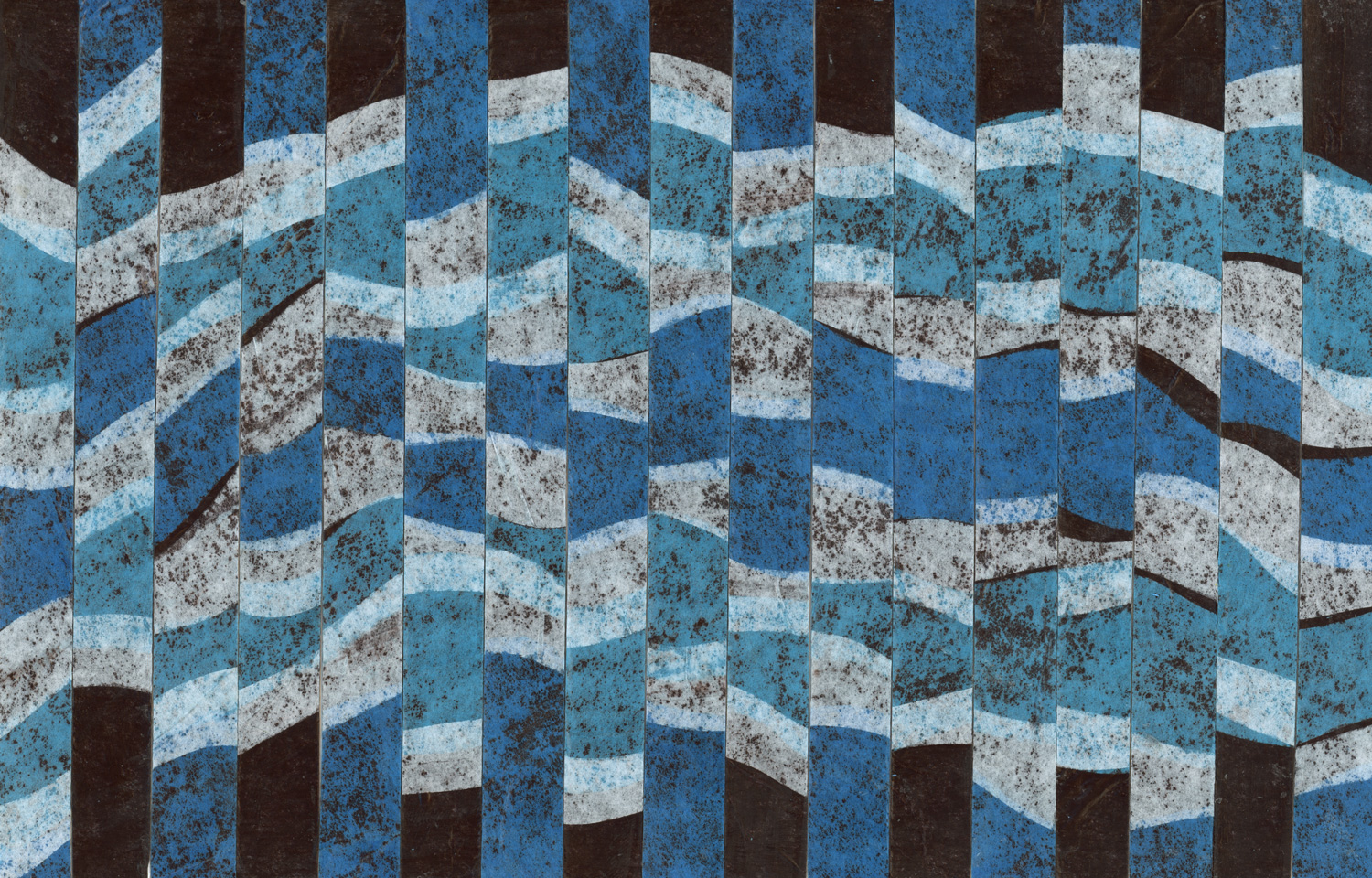 Featured image: An abstract composition of blue, white, and black shapes. Illustration by Ryan Edmund Thiel.
If you've followed us for a while, you know that our Art Picks offer a wide scope of events that are relevant to our audiences because we and the artists, cultural workers, curators, spaces, and projects we support live full lives that know no boundaries. We maintain expansive practices and work toward justice for BIPOC, LGBTQIA+, and disability communities in Chicago and the Midwest.
Created in collaboration with The Visualist, Chicago's leading visual arts calendar. Click here to get our Art Picks and latest articles delivered to your inbox monthly.
This is a growing list, so check back often with new additions.
---
The first Chicago Arts Census has been launched! The Chicago Arts Census is the first comprehensive, cross-discipline data collection effort in the city created by and with the art workers of Chicago. The Census is a collaboration between ACRE and Annas in partnership with Sixty Inches From Center, DataMade, and C.A.M.P.
If you are an arts worker or cultural worker, we encourage you to take the survey!
The Census is built to amplify our voices as art workers in Chicago, serve as an advocacy tool fighting for better working, living, and making conditions, and create opportunities for coalition-building across art sectors. Visit their website to learn more.
Sixty is excited to be an editorial partner for the Chicago Arts Census and will be producing a series of articles to explore the living, labor, and material realities of art workers in the city of Chicago. Click here to view our first installment of this editorial series.
---
Through December 2, 2021
27th Annual Black Harvest Festival
The Gene Siskel Film Center: 164 N State St, Chicago, IL
Through December 4, 2021
Monika Plioplyte: Opening of the Knot
boundary: 2334 W. 111th Place, Chicago, IL
Free
Through December 4, 2021
Our Solo Show
Engaged Projects: 864 N Ashland Ave, Chicago, IL
Free
Through December 4, 2021
Say Less
Anthony Gallery: 470 N Milwaukee Ave, Chicago, IL
Free
Through December 5, 2021
Chicago South Side Film Festival
Various Locations around Chicago, IL
Through December 5, 2021
Who Says, Who Shows, What Counts: Thinking about History with The Block's Collection
The Block Museum of Art: 40 Arts Circle Drive, Evanston, IL
Free
Through December 10, 2021
Wall of Blues: Photos by Paul Natkin
Logan Center Exhibitions: 915 E 60th St, Chicago, IL
Free
Through December 11, 2021
Bo Jackson: Esau McGhee + James Jankowiak
Cleaner Gallery + Projects: 1856 N Richmond St., Chicago, IL
Free
Through December 11, 2021
Both And
Tiger Strikes Asteroid: 2233 S Throop St, #419, Chicago, IL
Free
Through December 11, 2021
Darkness and Nothing More
The Alice Wilds: 900 S 5th St, Ste 102, Milwaukee, WI
Free
Through December 11, 2021
Crip*
Krannert Art Museum: 500 East Peabody Drive, Champaign, IL
Free
Through December 11, 2021
Young, Gifted and Black : The Lumpkin-Boccuzzi Family Collection of Contemporary Art
Gallery 400: 400 S. Peoria Street, Chicago, IL
Free
Through December 12, 2021
T.J. Dedeaux-Norris: Second Line
University Galleries, Illinois State University: 11 Uptown Circle, Suite 103,
Normal, IL
Free
Through December 12, 2021
Día de Muertos – A Time to Grieve & Remember
National Museum of Mexican Art: 1852 W 19th Street, Chicago, IL
Free
Through December 12, 2021
Carrie Mae Weems: A Land of Broken Dreams
Logan Center Exhibitions: 915 E 60th St, Chicago, IL
Free
Through December 12, 2021
A Place Away: Martina Lopez
Fort Wayne Museum of Art: 311 E Main Street, Fort Wayne, IN
$6-$8
Through December 12, 2021
PER(SISTER): INCARCERATED WOMEN OF THE UNITED STATES
MSU Broad Art Museum: 547 E Circle Dr. East Lansing, MI
Free
Through December 16, 2021
Caroline Kent: What the stars can't tell us
University Galleries, Illinois State University: 11 Uptown Circle, Suite 103, Normal, IL
Free
Through December 17, 2021
STEPH VAN DOREN & JACI WILLIS
Contemporary Art Center of Peoria: 305 SW Water St. Peoria, IL
Free
Through December 17, 2021
Stephen Yusko: The Way Things Go
The Sculpture Center: 1834 E. 123rd Street, Cleveland, OH
Free
Through December 18, 2021
Can We Get Something Sweet? Haylie Jimenez & Sydnie Jimenez
Roots & Culture: 1034 N Milwaukee Ave., Chicago, IL
Free
Through December 18, 2021
Nelson Morales: Disobedient Bodies
Filter Photo: 1821 W Hubbard St | Suite 207, Chicago, IL
Free
Through December 18, 2021
David Antonio Cruz: icutfromthemiddletogetabetterslice
Moniquemeloche: 451 N Paulina St., Chicago, IL
Free
Through December 18, 2021
I am the sky and clouds are moving through me.
ADDS DONNA: 3252 W. North Avenue, Chicago, IL
Free
Through December 18, 2021
Sara Greenberger Rafferty: Views from Somewhere
Document: 1709 W Chicago Ave., Chicago, IL
Free
Through December 18, 2021
Dan Attoe: Pandemic Paintings
Western Exhibitions: 1709 W Chicago Ave., Chicago, IL
Free
Through December 18, 2021
Jessica Campbell: Gigantomachinations
Western Exhibitions: 1709 W Chicago Ave., Chicago, IL
Free
Through December 18, 2021
Wells Chandler: Be Here Now
Andrew Rafacz: 1749 West Chicago Avenue, Chicago, IL
Free
Through December 18, 2021
Allison Wade
Devening Projects: 3039 West Carroll Ave., Chicago, IL
Free
Through December 18, 2021
Toward Common Cause: Art, Social Change, and the MacArthur Fellows Program at 40: Wendy Ewald & Amalia Mesa-Bains
Weinberg/Newton Gallery: 688 N Milwaukee Ave #101, Chicago, IL
Free
Through December 18, 2021
RAISIN
6018|North: 6018 North Kenmore Ave, Chicago, IL
Free
Through December 18, 2021
Anatomy: Paul Verdell
Library Street Collective: 1274 Library Street (Alley), Detroit, MI
Free
Through December 18, 2021
Was/Is/Ought
Carrie Secrist Gallery: 900 W. Washington #2W, Chicago, IL
Free
Through December 18, 2021
Sacred Elements
The Honeycomb Network: 2659 W. Division Chicago, IL
Free
Through December 19, 2021
Mari Eastman: Night Life
Goldfinch Gallery: 319 N. Albany, Chicago, IL
Free
Through December 19, 2021
CONNECTIONS, NEW BEGINNINGS: ARTISTS IN TRANSITION
MSU Broad Art Museum: 547 E Circle Dr. East Lansing, MI
Free
Through December 19, 2021
MARÍA MAGDALENA CAMPOS-PONS: SEA AND SELF
The Haggerty Museum of Art: 1234 W Tory Hill St, Milwaukee, WI
Free
Through December 21, 2021
JULIETTA CHEUNG: CONSONANCE
Roman Susan: 1224 W Loyola Ave, Chicago, IL
Free
Through December 22, 2021
HAL FISCHER PHOTOGRAPHS: SERIALITY, SEXUALITY, SEMIOTICS
Krannert Art Museum: 500 East Peabody Drive, Champaign, IL
Free
Through December 23, 2021
The Balm: Art for Black Women's Wellness
South Side Community Art Center: 3831 S. Michigan Avenue, Chicago, IL
Free
Through December 27, 2021
Making a Way
South Bend Museum of Art: 120 S Dr Martin Luther King Jr Blvd., South Bend, IN
Free
Through December 30, 2021
SYDNEY G. JAMES & LAMAR LANDERS
M Contemporary: 205 EAST 9 MILE, FERNDALE, MI
Free
Through December 30, 2021
Chicago Avant-Garde: Five Women Ahead of Their Time
The Newberry Library: 60 West Walton Street, Chicago, IL
Free
Through December 31, 2021
PORCELAIN UTOPIA: MID-CENTURY LUSTRON HOMES IN ILLINOIS AND BEYOND, PHOTOGRAPHS BY DIRK FLETCHER
Riverside Art Center: 32 E Quincy St, Riverside, IL
Free
Wed, December 1, 10am-4pm
2021 Visual AIDS: Day With(out) Art
Krannert Art Museum: 500 E Peabody Dr, Champaign, IL
Free
Wed, December 1, 5-7pm
Our AIDS Story Sharing at moCa Cleveland
Museum of Contemporary Art Cleveland (moCa): 11400 Euclid Ave. Cleveland, OH
Free
Wed, December 1, 6pm
Video Playlist: Water or Escape
Museum of Contemporary Photography: 600 S Michigan Ave., Chicago, Il
$12
Wed, December 1, 7pm
Angelo Madsen Minax: NORTH BY CURRENT
Block Museum of Art: 40 Arts Cir Dr, Evanston, IL
Free
Wed, December 1, 7:15-8:30pm
Study & Struggle Critical Conversation #4: Abolition Must Be International
Haymarket Books: Online
Free
Wed, December 1, 8:15pm
A CHOICE OF WEAPONS: INSPIRED BY GORDON PARKS
Gene Siskel Film Center of the School of the Art Institute of Chicago: 164 N State St., Chicago, IL
Free
Thurs, December 2, 12-1pm
Binding Our State Together: 200 Years of Canals, Railroads, Postal Service, Interurbans and Roads
Ellwood House Museum: 420 Linden Place, DeKalb, IL
Free
Thurs, December 2, 6-7pm
Virtual Talks with Video Activists: Carmen Vincent
Media Burn Archive: Online
Free
Thurs, December 2, 12:30pm
Who Says, Who Shows, What Counts: Online Curator Tour
Block Museum of Art: 40 Arts Cir Dr., Evanston, IL
Free
Thurs, December 2, 5-7pm
Basel Abbas and Ruanne Abou-Rahme in conversation with Maite Borjabad
Art Theory and Practice / Northwestern: 1880 Campus Dr., Evanston, IL
Free
Thurs, December 2, 5-6:30pm
Samuel Levi Jones in Conversation with Camille Bacon: It's in the Game
Gallery 400: Online
Free
Thurs, December 2, 6-8pm
Art, Activation, and Reflection: Black Wall Street Journey
Smart Museum of Art: 5550 S Greenwood Ave., Chicago, IL
Free
Thurs, December 2, 7-8pm
Club de lectura #7: Poeta Chileno
Pilsen Community Books: Online
Free
Thurs, December 2, 8-9pm
Live @ LOW END | Ami Dang
Bemis Center for Contemporary Arts: 724 S 12th St., Omaha, NE
Free
December 2, 2021 – March 11, 2022
Carlos Barberena: I Have Been a Stranger in my Own Land
Latino Art Inc.: 1028 S. 9th Street, Milwaukee, WI
Free
Fri, December 3, 11am-12pm
Political Violence and the Literary Subject: Salwa Ismail, Solmaz Sharif, and Roger Reeves
Pilsen Community Books: Online
Free
Fri, December 3, 12pm
Photos at Zoom Discussion Session: Martha Rosler
Museum of Contemporary Photography: Online
Free
Fri, December 3, 12:30pm
Art Talks! with Block Student Associates
Block Museum of Art: 40 Arts Cir Dr., Evanston, IL
Free
Fri, December 3, 5-8pm
A Cunning Array of Stunts
ACRE Projects at Drama Club: 2439 S Oakley Ave., Chicago, IL
Free
Fri, December 3, 6-9pm
Emanate
Epiphany Center for the Arts: 201 S Ashland Ave., Chicago, IL
Free
Fri, December 3, 6-9pm
Annual 12 x 12 Holiday Group Show
Elephant Room Gallery: 704 S Wabash Ave., Chicago, IL
Free
Fri, December 3, 6-11pm
Shape of Things
Mu Gallery: 1541 W Chicago Ave., Chicago, IL
Free
Fri, December 3, 7-10pm
For the Living, To the Dead
Parlour and Ramp: 2130 W 21st St., Chicago, IL
Free
Fri, December 3, 7:30pm
Virtual Event: THIS BRIDGE CALLED MY BACK (40th Anniversary Edition) by Cherrie Moraga
Women & Children First Bookstore: Online
Free
Fri, December 3, 7:30pm
Grossman Ensemble
Logan Center: 915 E 60th St., Chicago, IL
$20
Fri, December 3, 8:30pm
TRQPITECA w/ DJs La Spacer, Cqqchifruit, & Jared Brown
Hideout: 1354 West Wabansia Ave., Chicago, IL
$12
Sat, December 4, 10am
Listo para el museo: Las Posadas
National Museum of Mexican Art: 1852 W 19th St., Chicago, IL
Free
December 4, 2021-February 27, 2022
What Might You Do? The Art of Christian Robinson
The Leigh Yawkey Woodson Art Museum: 700 North 12th St, Wausau, WI
Free
December 4 , 2021- May 29, 2022
Art and Race Matters: The Career of Robert Colescott
Chicago Cultural Center: 78 E Washington St, Chicago, IL
Free
Sat, December 4, 12-4pm
Rituals
Ukrainian Institute of Modern Art: 2320 W Chicago Ave., Chicago, IL
Free
Sat, December 4, 12-5pm
The 32nd Annual International Small Print Exhibition & Holiday Sale
Chicago Printmakers Collaborative: 4912 N Western Ave., Chicago, IL
Free
Sat, December 4, 1pm
Every house has a door presents: 5 Beginnings ESS
Experimental Sound Studio: Online
Free
Sat, December 4, 3-6pm
ALEXIS DE CHAUNAC: Minutiae: Works on Paper
FLXST Contemporary: 2233 S Throop St., Chicago, IL
Free
Sat, December 4, 9pm
Arabic Blue Duo
Hungry Brain: 2319 W Belmont Ave, Chicago, IL
$10
Sat, December 4, 5pm
Kevin Stuart: between all saints day and halloween
Roman Susan: 1224 W Loyola Ave., Chicago, IL
Free
Sat, December 4, 6pm
ROB RUTHERFORD: COLLAGE
R.Mona: 1724 S Racine Ave., Chicago, IL
Free
Sat, December 4, 10pm
Feelgood
The Whistler: 2421 N Milwaukee Ave., Chicago, IL
Free
December 4 – February 13, 2021
Selina Trepp: I'm Thinking About Painting
Space & Time Gallery: 3307 W. Irving Park Rd, Chicago, IL
Free
Sun, December 5, 12-2pm
Mary Simpson: No Island is an Island: Closing
Haynes: 3050 S Haynes Ct., Chicago, IL
Free
Sun, December 5, 1-5pm
Chicago winter art fair
Sleeping Village: 3734 W Belmont Ave., Chicago, IL
Free
Sun, December 5, 2-3pm
Go-Go-Golem: A Performance
Heaven Gallery: 1550 N Milwaukee Ave., Chicago, IL
Free
Sun, December 5, 4pm
Homecoming Queen
Rochester Art Center: 30 Civic Center Drive SE, STE 120, Rochester, MN
Free
Sun, December 5, 5pm
Mary Lattimore with Special Guest Ana Roxanne
Wexner Center for the Arts: 1871 North High Street Columbus, Ohio
$10-$12
Sun, December 5, 9:30pm
9th Annual Krampusnacht
Sleeping Village: 3734 W Belmont Ave., Chicago, IL
$12-16
Sun, December 5, 1-5pm
Center Sundays
Hyde Park Art Center: 5020 S. Cornell Avenue Chicago, IL
Free
Mon, December 6, 6-7pm
Mark R. Warren: Willful Defiance
57th Street Books: Online
Free
Mon, December 6, 7-8pm
Eli Saslow: Voices from the Pandemic: Americans Tell Their Story of Crisis, Courage, and Resilience
57th Street Books: Online
Free
Tues, December 7, 6-7pm
Preti Taneja: Aftermath
57th Street Books: Online
Free
Tues, December 7, 6:30pm
Book Launch: The Allure of Matter: Materiality Across Chinese Art
Smart Museum of Art: 5550 S Greenwood Ave., Chicago, IL
Free
Tues, December 7, 7-8pm
Annie Leibovitz: Wonderland
Harris Theater for Music and Dance: 205 E Randolph St., Chicago, IL
$0-225
Tues, December 7, 7pm
Sandy Ewen, Damon Smith, Lisa Cameron & EMS: Live at Stray Cat Film Center
Stray Cat Film Center: 1662 Broadway Blvd, Kansas City, MO
$10
Tues, December 7, 9:30pm
Hip-Hop Tuesdays: Cruz Ocho + Just Wise w/ Cantbuydeem & Sean Doe
Hideout: 1354 West Wabansia Ave., Chicago, IL
$12
December 7-9, 10am-2pm
Silverroom x Willis Tower
320 W Jackson Blvd., Chicago, IL
Free
Wed, December 8, 7pm
Joelle Mercedes: Pensaba Que El Mundo Se Te Iba Derrumbar Encima
Nightingale Cinema: 1084 N Milwaukee Ave., Chicago, IL
Free
Wed, December 8, 5-7pm
Holiday Fine Print and Book Bazaar
Museum of Contemporary Photography: 600 S Michigan Ave., Chicago, IL
Free
Wed, December 8, 9pm
Relax Attack Jazz Series: Holloway, Hudson, Spencer
The Whistler: 2421 N Milwaukee Ave., Chicago, IL
Free
December 9, 2021-March 20, 2022
I don't know you like that: The Bodywork of Hospitality
Bemis Center for Contemporary Arts: 724 S 12th St., Omaha, NE
Free
December 9, 6pm
Fluid Futurism: A Conversation with Adrienne Huard and Coyote Park
Emerging Curators: Online
Free
Thurs, December 9, 5pm
Sistema Ravinia Winter Concert
The Kehrein Center For The Arts: 5628 W Washington Blvd., Chicago, IL
Free
Thurs, December 9, 5-6pm
A Nation of Descendants: Meet the Author Francesca Morgan
Newberry Library: Online
Free
Thurs, December 9, 6-7:30pm
To Be Young, Gifted and Black: Essence McDowell and Skylah S. Hearn
Gallery 400: Online
Free
Thurs, December 9, 6-9pm
A CONVERSATION WITH NELSON MORALES
Filter Photo: Online
Free
Thurs, December 9, 6-10pm
Successful Failures: Lumpen's 30th Birthday Party
Chicago Cultural Center: 78 E Washington St., Chicago, IL
Free
Thurs, December 9, 6-10pm
Benefit Art Auction + Dinner
PAIKKA: 550 Vandalia St, Suite 165, St. Paul, MN
Free
Fri, December 10, 9:30am
Library Book Club Online: Rita Dove
Poetry Foundation: Online
Free
Fri, December 10, 12-1:30pm
Patrick Hammie: On Being an Artist
Freeport Middle School / Jeannette Lloyd Theater: 701 W Empire St, Freeport, IL
Free
Fri, December 10, 5-8pm
The Life and Death of Charles Williams
Intuit: The Center for Intuitive and Outsider Art: 756 N Milwaukee Ave., Chicago, IL
Free
Fri, December 10, 6-7pm
Inger Burnett-Zeigler: Nobody Knows the Trouble I've Seen
57th Street Books: Online
Free
Fri, December 10, 6-9pm
Like Queer Animals – We Hold Your Gaze
Epiphany Center for the Arts: 201 S Ashland Ave., Chicago, IL
Free
Fri, December 10, 7-11pm
General Objects
Heaven Gallery: 1550 N Milwaukee Ave., Chicago, IL
Free
Fri, December 10, 7pm
Gastropoetics Dinner
FLXST Contemporary: 2233 S Throop St. Studio 601, Chicago, IL
Ticketed
December 10, 2021 – May 21, 2021
The Regional
Contemporary Arts Center: 44 E. 6th Street, Cincinnati, OH
Free
Fri, December 10, 6-10pm
Holiday cad market
Chicago Art Department: 1926 S. Halstead St., Chicago, IL
Free
Fri, December 10, 5-9pm
L1 x Retreat Friday Night Pop-Up Market
Arts + Public Life: L1 Retail Store – 319 East Garfield Blvd., Chicago, IL
Free
Fri, December 10, 7pm
Paul Branton Opening Reception
The Kulture Museum: 629 W Cermak Rd, 2nd floor, Chicago, IL
Free
December 11, 2021-February 19, 2022
Greg Breda
PATRON: 1612 W Chicago Ave., Chicago, IL
Free
Sat, December 11, 11-5pm
Holiday Tianguis
18th St. Casa de Cultura: 2057 W. 18th Street
Free
December 11, 2021 – March 7, 2022
Candor Arts: July 10, 2015 – August 31, 2021
062 Gallery: 1029 W 35st St, Chicago, IL
Free
December 11, 2021 – January 29, 2022
Emiliano Cerna-Rios: Emilianopolis
boundary: 2334 West 111th Place, Chicago, IL
Free
Sat, December 11, 11-11:30am
Reading for Young People: Janet Wong
Poetry Foundation: Online
Free
Sat, December 11, 2-4:30pm
Exhibiting Artist Panel + Performance
Bemis Center for Contemporary Arts: 724 S 12th St, Omaha, NE
Free
Sat, December 11, 3-6pm
Lydia Ourahmane & Alex Ayed: laws of confusion
THE RENAISSANCE SOCIETY: 915 E 60th St., Chicago, IL
Free
Sat, December 11, 7-9pm
Kimmel.Ali.Harris + special guest Eli Wallace (NYC)
Compound Yellow: 244 Lake St, Oak Park, IL
Free
December 12, 2021 – March 20, 2022
Dream
Hyde Park Art Center: 5020 S Cornell Ave., Chicago, IL
Free
Sun, December 12, 11am-2pm
Stacia Yeapanis: Reliquaries for Clinging and Letting Go
Material: 2025 W Belmont Ave., Chicago, IL
Free
Sun, December 12, 6-7pm
Print Club!
MSU Broad Art Museum: 547 E Circle Dr, East Circle Dr, East Lansing, MI
Free
Mon, December 13, 7-10:30pm
Colescott Night: comedy and performances curated and hosted by Melissa DuPrey
Chicago Cultural Center: 78 E. Washington St., Chicago, IL
Free
Tues, December 14, 6-7pm
Alexander Bolton & Sharece Thrower: Checks in the Balance
57th Street Books: Online
Free
Tues, December 14, 7-8pm
Open Door Reading Series Online: Lillian Gardner, Saleem Hue Penny, Precious Musa & Hayley Kolding
Poetry Foundation: Online
Free
Tues, December 14, 9:30pm
Hip-Hop Tuesdays: Anaiet Soul & Semiratruth
Hideout: 1354 West Wabansia Ave., Chicago, IL
$12
Wed, December 15, 7pm
Fruit Salad
The Martin: 2500 W Chicago Ave., Chicago, IL
Donations encouraged
Thurs, December 16, 8-9pm
Studio (in)Conversation: Parisa Ghaderi
MSU Broad Art Museum: Online
free
Thurs, December 16, 6:30pm
VIRTUAL PANEL: BEYOND BORDERS: LGBTQ+ REFUGEES, IMMIGRANTS, AND HUMAN RIGHTS TODAY
Illinois Holocaust Museum & Education Center: Online
$5
Thurs, December 16, 3pm
BMRC Opportunities for Organizations Panel
The Black Metropolis Research Consortium: Online
Free
December 16, 2021 – January 15, 2022
If This is a Dream, Please Let Me Sleep
Gallery Anthony: 470 N. Milwaukee, Chicago, IL
Free
Fri, December 17, 6pm
Mirrors and Misconceptions: Poetry Reading + Activation
Stony Island Arts Bank: 6760 S Stony Island Ave., Chicago, IL
Free
Fri, December 17, 7-11pm
SÉANCE: AN EVENING OF PERFORMANCES HOSTED BY JEFFREY GIBSON AND ÁLE CAMPOS IN CELEBRATION OF BEYOND THE HORIZON
Kavi Gupta: 219 N. Elizabeth St., Chicago, IL
Free
Sat, December 18, 12-4pm
Small Works Members Exhibition
Woman Made Gallery: 2150 S Canalport, #4A-3, Chicago, IL
Free
Fri, December 18, 11am-12pm
Digitizing Ethnic Newspapers
DANK Haus: Online & in-person at 4740 North Western Ave., Chicago, IL
Free
Fri, December 18, 9:30pm
Club Mania w/ Pixel Grip, Monāe, Club Music & None Of Your Concern
Hideout: 1354 West Wabansia Ave., Chicago, IL
$15
Ongoing
Derrick Adams: Our Time Together
Milwaukee Art Museum: 700 N. Art Museum Drive, Milwaukee, WI
Free-$22