CANJE: An exploration in cultural criticism
Introducing a new pilot project of Sixty Inches From Center: CANJE, an exploration in cultural criticism engaging five artists in the Chicago community with the intention to apply Sixty's values and ethos to an in-person dialogue, engaging artists directly to form a deeper relationship.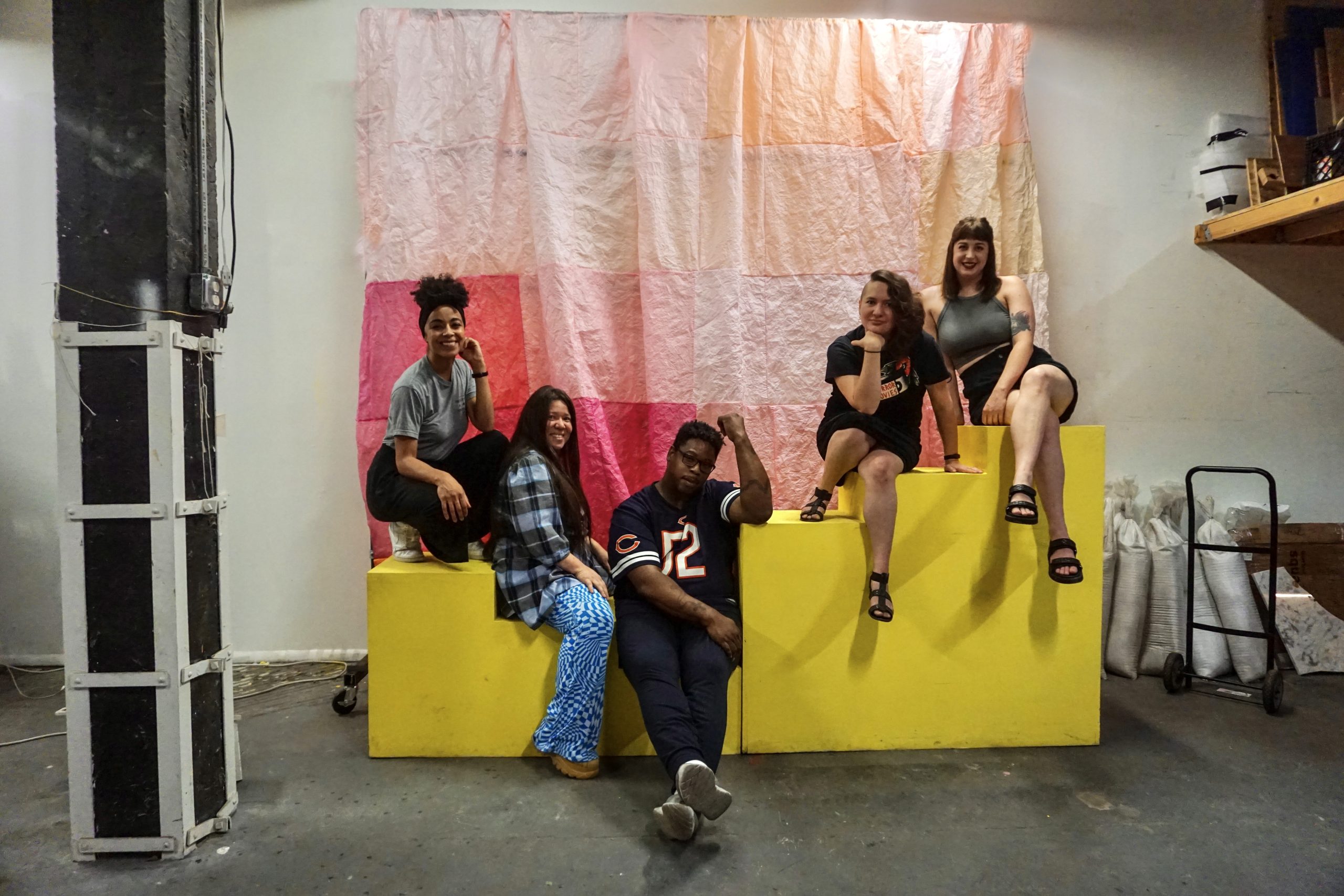 Sixty Inches From Center is thrilled to announce its first critique program, CANJE. This pilot program will bring together five Sixty team members with the intent to form a cohort that will work collaboratively to establish best practices in cultural criticism while creating a supportive critique environment that puts the artist first. The cohort's goals are to apply Sixty's values and ethos in cultural criticism to an in-person dialogue, engaging artists directly to form a deeper relationship.
Over the course of five sessions during the summer of 2022, the cohort will engage with five artists within the Chicago community who will each present a body of work to the group during a session at FORTUNA studio in Pilsen. A guest 'critic' will be joining each session.
We are pleased to introduce the first cohort: Morgan Green, EdVette Jones, Kiki Lechuga-Dupont, Christina Nafziger, and Natalia Villanueva Linares.
Morgan Green is a Chicago-based artist, writer, and engineer. Their work explores the rich ironies in tech and text, which they imagine as nested systems animated by suppressed queerness. Green's work occupies public institutions, including the Special Collections at Amherst College and the Riverside Public Library. She teaches creative computation at the University of Illinois, Chicago. Her contribution to The Critical Coding Cookbook: Intersectional Feminsit Approaches to Teaching and Learning will be published this summer.
EdVetté Wilson Jones is a Chicago-based photographer, writer and performance artist. They studied film and digital media at Illinois Institute of Art. EdVetté is the owner of Artistic Directions Inc. Their work focuses heavily on style, politics, social consciousness, and photo-therapeutic sub-conscious photography.
Kiki Lechuga-Dupont is a multidisciplinary artist based in Evanston, Illinois. She's inspired by visual memory and its capacity for emotion and perspective. Though her body of work ranges in subject matter and style, she strives to design pieces that evoke a sense of wonder and mindfulness. When she's not working, she's tasting teas, collecting cookbooks, and exploring new drawing techniques.
Christina Nafziger is an art critic, editor, and writer based in Chicago. Earning an M.A. in Contemporary Art Theory from Goldsmiths University of London, her research focuses on the effect photo collections and archiving have on memory and identity and the potential capacity these collections have in altering and editing future histories. She is an editor at Create! Magazine and Managing Editor at Sixty Inches From Center. Working with a collaborative approach to her editorial work, Nafziger's recent writing investigates the work of artists with research-based practices.
Natalia Villanueva Linares Natalia is a French + Peruvian moment maker. She graduated with honors from École Nationale Supérieure des Beaux Arts de Paris. Currently living in Chicago, working between South/North America and Europe. Natalia is the co-founder of the non-profit organization Yaku and the founder of the magazine Ukayzine, created to promote international cultural exchanges through the visual arts.
Victoria Martinez is an interdisciplinary artist who honors her Mexican-American ancestry through textile-based projects including installation, painting, and printmaking. Her work is inspired by public art, ancient sites, architecture, and the urban environment.
Kelly Kristin Jones was raised on the westside of Chicago and received her MFA from the School of the Art Institute of Chicago. Her photo-based interventions and counter monuments unsettle well-worn imperial attributes to consider alternative vocabularies. Time-based, collaborative and still works operate by blocking prevailing "master" narratives. Each action embraces the efforts to remove, reinterpret, and restore landscape. Addressing the slipperiness of both medium and myth, her photographic interruptions highlight problematic relationships around public space and memory.
Rainn Thomas (she/they) is a Black, queer writer and artist living in Chicago. Her writing explores the intersections of Black pop culture and religion, as well as Black sexuality. Her work has been published in various publications online. Rainn also hosts a queer, monthly open mic called, "Fruit Salad". Rainn's artistic work focuses on found-object installation and photography.
Susie Xiong (aka: InsomniaBird) is a Chicago-based artist who "puts a big eye on it" and accompanies the creative process with a cup of good tea. My artwork draws from nature, street art, life's challenges, and overcoming them.
Carnell Newbill (aka: Spike Rebel) is a Chicago-based multi-faceted musician, producer and painter. Carnell has a BA in music from Northern Illinois University. He has worked with many legendary artists such as Lauren Hill. He says his art is a mixture of abstract soul grounded in reality.
---
The intent of CANJE is to form a mutually beneficial exchange, for both the artist and the cohort to benefit from this dialogue and engagement. The goal is not to replicate the environment and power dynamics found within other more traditional critique spaces, but to form a space that nourishes everyone, a space that is supportive and beneficial with no hierarchical structure.
At the end of the program, the cohort will put together a zine that will include images of the artwork presented, information on the artists, and tips/best practices on cultural criticism as a way of gathering and sharing what we've learned.