Body Passages: Exploring Visual Art with Poets Lorraine Harrell and David Nekimken
This is the second article in an ongoing series about Body Passages, a partnership between Chicago Danztheatre Ensemble and The Chicago Poetry Center (the first is here). This series gives…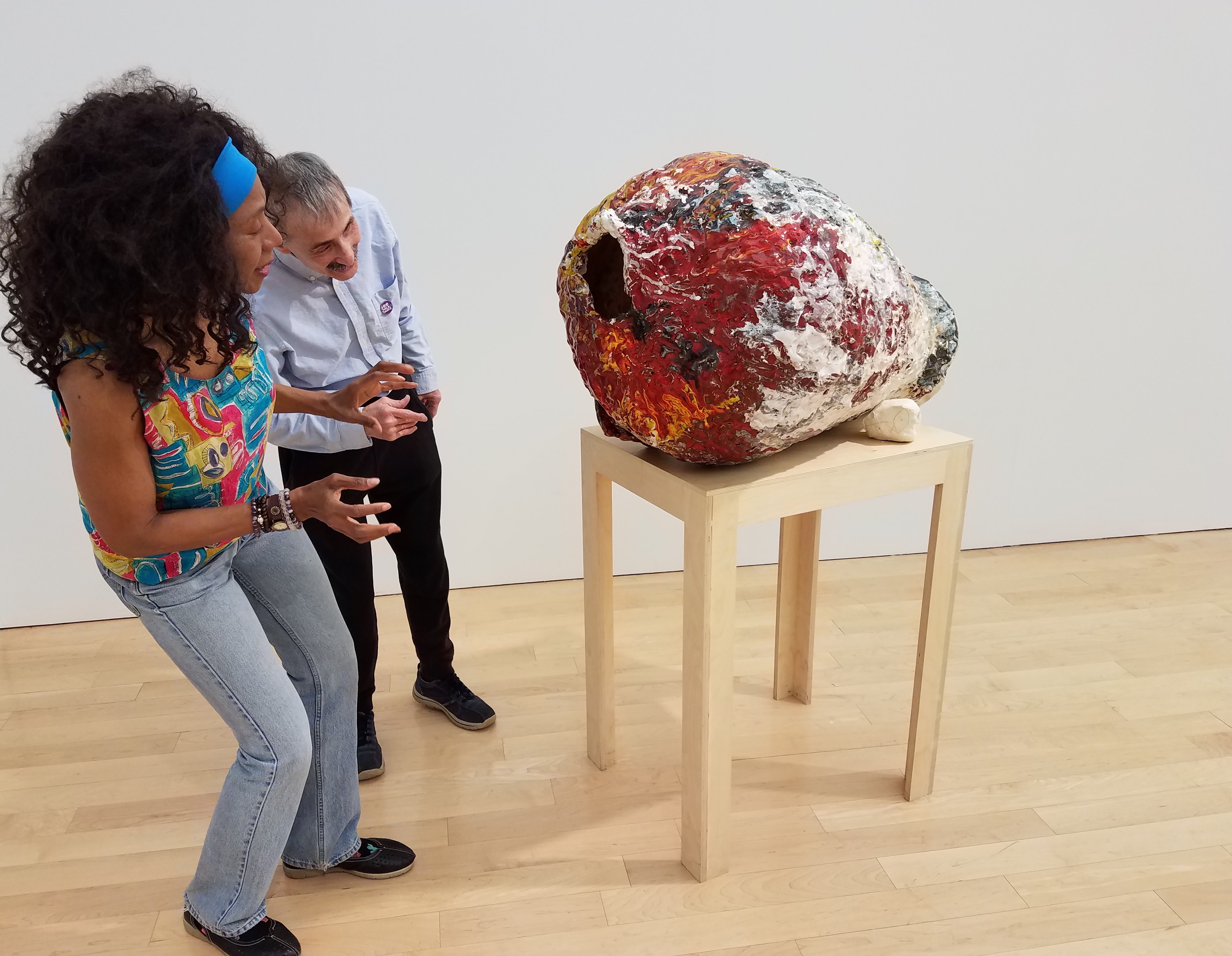 This is the second article in an ongoing series about Body Passages, a partnership between Chicago Danztheatre Ensemble and The Chicago Poetry Center (the first is here). This series gives brief looks into a 10-month, interdisciplinary creative process between Body Passages poets and dancers, documenting and reflecting on aspects of that process as it happens.
On an afternoon in early May, I showed up to watch an "open rehearsal" at the Chicago Cultural Center's dance studio only to find myself a participant. This opportunity became even more exciting when the people I was there to see—Lorraine Harrell and David Nekimken, two delightful and effervescent poets who were in residence through Body Passages—invited me to join them as they sought inspiration and inputs in the galleries. We spent an hour together exploring the Cultural Center's first-floor exhibitions, as the pair shared their observations and perspectives about visual artworks, made connections to their own lives and practices, and generated ideas for a joint creative project—an interdisciplinary, in progress work, prompted by their participation in Body Passages.
A partnership between Chicago Danztheatre Ensemble and The Chicago Poetry Center, Body Passages brings together poets and dancers over a 10-month period to create original, collaborative work engaging language and movement—this year, around the theme of "Activation." From April 30 to May 4, Body Passages—and four of its five collaborative groups—was honored with a week-long residency at the Cultural Center as part of Chicago Dance Month, thanks to See Chicago Dance. While participants used the Cultural Center residency opportunity in a range of ways—given the varying natures of their practices and processes—one common goal was to draw inspiration from the building around them as they continued to devise and develop their collective works. Final works will be performed at a concluding event in October and workshopped at public and private "in progress" showings en route. (See the first article in this series for more about the program and groups' processes.)
Along with Kimberly Dixon-Mays (not present on this day), Lorraine and David comprise one Body Passages group, both bringing with them extensive experience as poets—and artists in other respects—over many decades. Lorraine is an award-winning poet and playwright who studied with Dr. James Ragan at USC and who's been writing poetry since childhood. The oldest of six children, she remembers being eight and writing a poem in the bathtub, "because that was the only place I could find peace." She shared that her late mother, also a book lover, always used to say that Lorraine's poetry began even earlier—but the memory of writing her first poem in the bathtub is what persists for Lorraine. David has been writing poetry since high school, and has gotten especially serious about it in the last 10 to 15 years. David's passion for poetry is evidenced not least by a particular organizational tool—a spreadsheet listing more than 500 poems he has written, not including most early poems and most haiku. "If we count those too," he said, "we have a thousand poems I've written in a lifetime."
Both Lorraine and David connected to Body Passages as poets but had an interest in dance as well. Lorraine learned about the program through the e-newsletter of The Chicago Poetry Center, an organization with which she'd had "positive experiences" in the past, as a contest finalist herself and when working with youth. She said she auditioned for Body Passages as a poet, but with a history in and renewed desire to return to jazz dance, following her mother's recent passing. David heard about Body Passages from Renaissance Court, a senior center located near the Cultural Center's north entrance, and "immediately jumped on it." Why? As a poet who is also "involved with movement," David was most intrigued by "the idea of collaboration between different genres of art. They were really looking for poets who could connect with their dancers."
Beyond giving groups access to a dance studio in which to begin to stage and "embody" their developing works-in-progress, Body Passages' Cultural Center residency functioned, in part, to provide groups with various stimuli and facilitate encounters that might catalyze further connections. To this end, Lorraine and David decided to spend this afternoon—their portion of the larger Body Passages residency—exploring the galleries. Their general approach was to attend first to what "grabbed" them in each artwork (a strategy David credited to the professor of "the one art course" he took in college), then drawing those visual observations into language to unpack the piece and use it as a jumping-off point for sharing their own memories, stories, and ideas. As Lorraine and David explored, they had a wide-ranging conversation—framed by and reframing each artwork—which provided an intimate glimpse into the many sparks and unknown avenues that can factor into a creative process and eventually transform into new work.
Upon entering the gallery exhibiting Xavier Toubes' show, "Descriptions Without a Place.PushMoon4" (all works low-fire clay, glazes and lustres, from 2013-present), Lorraine beelined to "Goya Dreaming," saying, "This one's calling my name." I asked why.
Lorraine shaped the air around the sculpture with her hands as she spoke. "It reminds me of an urn, but a huge urn—and a fish. And when I think of the urn, I think of the heart-shaped urn that I have, of my mom who passed nine months ago…. And it's so colorful, and she loved colors."
Picking up on the suggestion of a fish, David pointed. "This mouth…and it's open and it's ready to suck you in…to pull in its prey."
Lorraine continued. "And I saw something different from this end. Because this mouth…looks like a heart to me." And, a moment later, repositioning herself, "And now it looks like a donut"—David laughed—"that I forbid my mom to eat. And she said 'I'm your mother' and I said 'I'm the mommy this time around.'"
"What I like about this is that the colors bleed together, there's no definition with the colors."
Lorraine nodded and affirmed, "Yes yes yes."
Reflecting on the colors of the piece, we discussed how the often-funerary colors of black and grey can be disjunctive with one's memories of a loved one. For this reason, Lorraine expressed how she and many others wore bright colors to the funeral to celebrate her mother.
In my presence, Lorraine and David communicated as I've observed family members or long-time friends often do—in a fluid, almost nonlinear fashion, speaking in overlapping clips, sometimes seeming like they're talking past each other. But then they circle back, weaving together their ideas and demonstrating that they were listening to each other the whole time. Just being in their company, and in that conversational rhythm with them, made me feel like an old friend, too. I asked how long they had known each other, apparently a very common question. As it turns out, they met at December's audition, after which they talked in a coffee shop for hours, as they each awaited their next engagement. "A conversation like we had known each other for a long time," David said, and Lorraine chipped in, "Forever! It was amazing! We just talk." When they learned they had been placed in the same group they were thrilled, and the poets' friendship soon extended beyond the Body Passages partnership to include their individual creative work. Lorraine invited David to join her in a challenge for December—writing a poem a day, to be sent by midnight—a project they have continued still, albeit at a slower pace. Reminiscing, Lorraine gushed, "Oh my god, it was so fun and challenging, wasn't it?", recalling writing David several "dissertations" of ideas for edits to his work. David said he's found himself more receptive to Lorraine's critique than that of others. Their friendship has been fostered further by a shared propensity for showing up to Body Passages meetings and events "way too early," per Lorraine, laughing. "Forty-five minutes to an hour early, because that's the way we roll."
Calling attention to another piece in the same gallery, "Lazo 018" (also by Toubes, 2018), David began describing it out loud, before shifting to reflect on larger themes and his own experiences: "…these snakelike figures…wrapping around…how they entwine. And it's really about movement! It's really about how dancers in the zone can be entwined with each other and so on." David continued, even more enthusiastically. "Here's the key: They're entangled without completely losing their own identity…. You have your identity, but you can be with another person, and be entangled, without completely losing yourself." He explained a dance project he's involved with outside of Body Passages, called "The Five Rhythms Dance," and how its approach to partnering is "not like in a regular dance. They're doing their thing and you're doing yours—you're connecting, but you're not losing your own dance."
In a third sculpture, "Exquisite Nomads," David fixated on its eyes that are "penetrating" in their absence. He noted how, as a viewer, you can peer through the empty eye sockets into darkness—while the "entity" of the sculpture has an even greater power of sight, being able to "see right through each person looking at it."
Pausing from pointing out minutiae of the differences between the sculpture's ears, Lorraine pushed, "But it can't speak—it doesn't have any lips, it doesn't have a mouth."
David stepped to look closer. "Well, it has the slightest hint of a mouth here. And a little bit of a nose. But it's really the eyes that are a central part."
We talked about how the detail that most "grabbed" David—the vacant, entrancing eyes—had not been visible from the entrance to the room. He recalled the story of "the blind men and the elephant," reflecting on how what seems to be the "central part" depends on your angle, and we discussed the relevance of that parable for experiencing performance as well as sculpture—how you can have any seat in the house and have a completely different perspective on, and interpretation of, the work. We agreed that "Exquisite Nomads," like the other objects in the room, rewarded continuous movement around it, as part of an ongoing process of discovery and rediscovery, and considered how such insights might apply to their own collective work.
Realizing how much time we had already spent in one gallery (just two doors down from the dance studio, too), we pushed onward into the next space to find an exhibition of work by Cleveland Dean entitled "Recto/Verso – The Duality Of a Fragile Ego" (all works mixed media, 2017/18). Lorraine and David halted in front of "Mercy"—a large-scale piece on the wall—then shifted and gestured in a process of active interpretation, building on each other's observations while contributing their own.
David swept his hand through the air a couple of feet from the work's surface, describing, "the movement of the colors, the gradations from really white to really black and in between. It's like it's almost 3D and it's actually moving…from one aspect to another.… At the bottom, it does not look flat, it looks embossed…like it's coming off of the painting, like puffs of white that are coming off of the bottom…"
Lorraine pointed to one section, "It almost feels like a field of some kind of flowers" and, of another area, "almost a face to me, a person lying down." They finished each other's sentences to complete a shared thought: it was almost as if you could walk right up and pluck a "puffball" of a flower from the piece's lower portion. Of literally seeing oneself in the work via its reflective, silver sheen, alongside its "somber" black paint, Lorraine concluded, "Someone releasing and going into the light…. There's always hope, even in your transition. There's always hope."
David added, "The dark is a necessary part of the light. They're necessary parts of the whole."
"Yes. Yes, it is. That's so good. Yes, it is."
I asked if this overall approach—seeking or intentionally opening oneself up to receive inspiration in artworks—was characteristic of their writing process or if it had been adopted mostly for the occasion of the residency. Both recognized the value of such prompting, while expressing the importance of not waiting for a muse. David said, "In the midst of something like this, while I know there will be inspirational thought, I don't necessarily seek it out to get that. Because I've learned"—thanks to a brown-bag poetry event a decade ago—"that I have to be open like antenna, to all around me, to hear [inspiration and ideas], to feel them, to see them. That anything can spark a poem—anything." Against the notion of waiting to write until one is "inspired," he asserted, "I can create the inspiration." Lorraine echoed this belief, listing some of the many "everyday" places and experiences through which she's found ideas for poems—buses, street signs, overheard conversations. She said she also moves around a lot when composing, "especially when I'm at the point where I feel like something is actively brewing, and I've actually written a whole line and I've said, 'Oh! Yes,' and I need to think more on my feet. That's pretty much how 'The Temple' came" (a poem she performed in the dance studio later in the week).
The opportunity of creative community facilitated by Body Passages seems to have been productive—and impactful—for both poets. Lorraine, recalling a comment by their other group member, called it one of the most "generous" collaborations she has ever been in. Lorraine described the mutual mentorship within their trio, recounting how its members encouraged and advised each other leading up to a recent performance at Uncommon Ground, even in the mere moments before going onstage. From that iteration until October's final performance, the group's piece will "keep evolving," Lorraine and David said—keeping some aspects, adding others. David reflected, "the process is almost as important as the end result, actually."
As we walked back toward the dance studio, I asked what they thought might become of the afternoon's explorations and conversations—how might the colors, words, images, stories, and concepts factor into that process?
"Well, I don't know!" David enthused. "We'll go in there and we'll just see what happens."
Read about the Body Passages program and other groups' processes here and follow Sixty for more forthcoming documentation of this ongoing process. Body Passages' next public event is an in progress showing at Women Made Gallery on Saturday, June 9, 12:30-2:30pm. The groups' final creations will be performed at Chicago Danztheatre in October.
Featured image: This is a photograph of Lorraine Harrell (left) and David Nekimken looking at a work of art: "Goya Dreaming" by Xavier Toubes (part of Toubes' show at the Chicago Cultural Center, "Descriptions Without a Place.PushMoon4"; all works low-fire clay, glazes and lustres, from 2013-present). Lorraine and David are on the left side of the frame, leaning to peer into an opening in the sculpture. The artwork is oblong in shape, with a colorful, textured surface, and a small whitish piece touching its side. It sits on a narrow wood table at an oblique angle to the camera. Photo by Marya Spont-Lemus.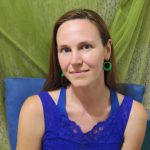 Marya Spont-Lemus (she/her/hers/Ms.) is a fiction writer, interdisciplinary artist, and educator focused on teen creative, leadership, and professional development. She lives and works on the Southwest Side of Chicago. Follow her on Twitter and Tumblr.