Anna Kunz: Color Cast at Hyde Park Art Center
In her exhibition Color Cast, Anna Kunz approximates an experience of the world from the inside of a color field painting. The artist has draped the soaring central gallery of…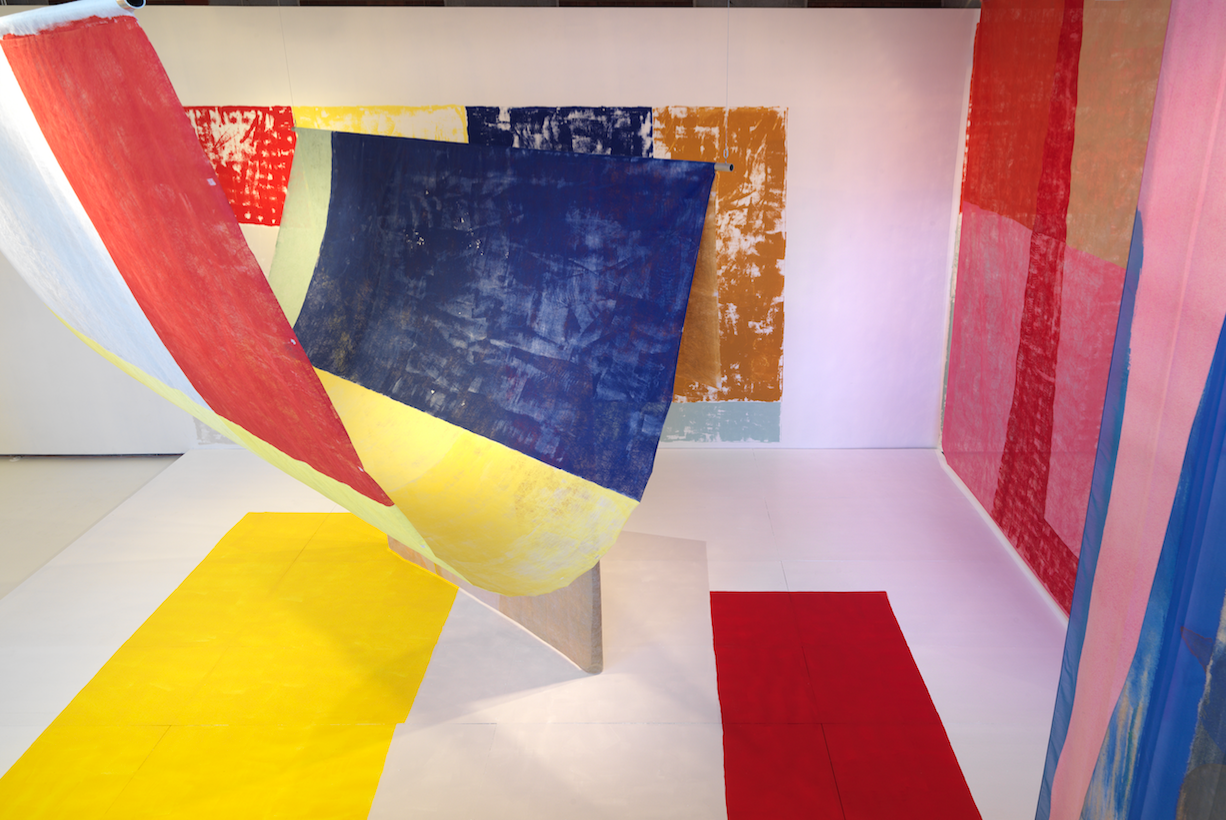 In her exhibition Color Cast, Anna Kunz approximates an experience of the world from the inside of a color field painting. The artist has draped the soaring central gallery of the Hyde Park Art Center with gauzy fabrics painted in a mottled palette of primary and secondary colors. The textiles echo—and in some cases directly index—a series of mural-sized wall paintings and paintings on the floor and in the corners and doorways, gently immersing viewers in a multisensory experience of color. Pulling apart paint and ground, color and surface, Kunz's installation opens up physical and psychic space in which to consider the haptic, affective qualities of abstract painting. It also gestures towards the medium's embeddedness in social relations and ability to reconfigure them in small but meaningful ways.
Enchanting as its visual pleasures are, Kunz's work is grounded in a rigorous concern for process. The wall paintings are actually monotypes of a sort; Kunz made them in situ by applying large pieces of porous, meshy fabric directly to the walls, then overpainting them with delicate patchworks of color. She pulled the fabrics away from the wall and suspended them from the ceiling, orchestrating a series of double images throughout the gallery. Their subtle variations and modulations are at once inviting and disorienting, encouraging a broad, environmental view but also rewarding close, sustained attention. As the colors throughout change in shifting light and the translucent textiles sway in moving air, viewers experience the instability of color, its contingency on their own perceptions and physical and temporal locatedness, as well as its relationship to colors nearby. By one entrance, a silky, photo-printed sheet shimmers holographically.
The installation evokes the pioneering color theories of the Bauhaus in tandem with Light and Space's manipulations of institutional architecture using translucent scrims. But Kunz's physical re-negotiation of these traditions is decidedly personal, perhaps even an embrace of a feminist "body ego," to use Lucy Lippard's term. The bountiful material metaphors made manifest, particularly of transfer and casting, are entirely the artist's invention. Kunz has described her body as a "tool or armature" for painting. Even without knowing the specific techniques by which the paintings were made, there is a gestural warmth in Kunz's color fields that indexes a human presence, made all the more palpable by the viewer's own physical navigations of the work.
Color Cast makes the viewer aware of their own body in other ways, too. At the heart of the exhibition is a slightly raised, 30-by-30-foot platform, painted in its own (now well-scuffed) fields of white and yellow. It's been embedded with transducers that play a deep-toned score, which can be felt as much as heard as one stands atop the work—a profoundly pleasurable experience. The viewer's entrance onto this stagelike piece, made all the more theatrical by the "curtains" that surround it, dialogues with a series of Kunz's "scores" placed in interstitial spaces of the gallery. These small-scale abstract watercolors both index Kunz's improvisational gestures that created them and also suggest a potential to be used as notations for future movement. Approaching an almost-synesthetic conception of physical experience, the connections drawn between abstraction and the body, color and movement are ultimately, though compellingly, unresolved.
Kunz is not content to think about abstract painting within its usual parameters. When we met at the Art Center, she asked if I thought there was social or political potential in what she was doing. Beyond my obvious first answer—"everything is political"—there is something paradoxically urgent in Kunz's rejection of urgency. As the demands placed on artists increasingly hew towards catharsis and essentialist symbolism, she has crafted a space for solace, slowness, contemplation, and congregation, in which visitors might gain a heightened awareness of their agency in perceiving and making sense of the world around them. Moreover, she has done this using only paint and color.
As we left the gallery, a man entered alone and began to perform a joyful, spinning, dervish-like dance for several minutes atop the vibrating platform. Kunz was delighted.
Color Cast is on view at Hyde Park Art Center through June 24.
Featured Image: This image shows Anna Kunz's exhibition "Color Cast" at the Hyde Park Art Center, in which a series of curtain-like textiles and wall paintings in red, yellow, and blue turn the gallery into an immersive experience of color, light, and physical sensation. Photo courtesy of Hyde Park Art Center.
---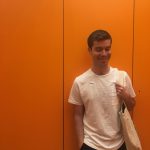 Jared Quinton is a writer, curator, and the current Marjorie Susman Curatorial Fellow at the Museum of Contemporary Art Chicago. Find more of his work on his website or follow him on Instagram.