Adaptive Re-Use: Fulton Market Gentrifies
A new neighbor in Fulton Market means big bucks to the city—but at what cost?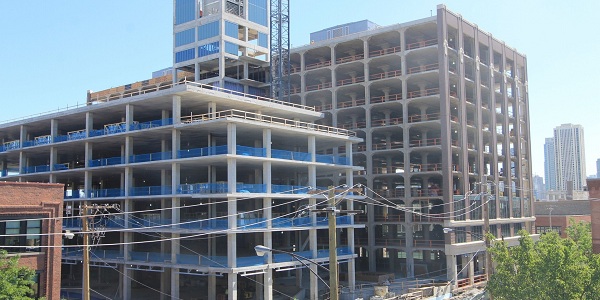 Chicago's West Loop, specifically the Fulton Market and Randolph Street Corridor, is gentrifying—fast. As Google moves their River North headquarters to the former Fulton Market cold storage warehouse at 1000 W Fulton Market (a major construction project known as1KFulton), the City of Chicago is rezoning the meatpacking district to make it hospitable for this influential and profitable corporate resident.
Last month, the City held a community meeting outlining its proposal to redistrict the neighborhood. Changes include labelling Fulton Market as the city's "innovation district," doublespeak for an area zoned with Google in mind. The proposed plan makes clear that the City is pushing out meatpacking and wholesale foods in favor of technology start-ups, boutique hotels, fine dining and big box retail. The tax money to be made from these kinds of ventures is nothing to dismiss, and of course our city needs funds to survive. But will any of this income go to the many neighborhoods in Chicago, long occupiers of the margins, that could use financial support from the City to upgrade and provide access to services that will improve quality of life?
In the case of the Fulton-Randolph district (particularly Fulton Market between Halsted and Ogden) this proposed plan might be erasing a model neighborhood. This stretch of Fulton Market is one of the few places in Chicago that matches what sociologist Jane Jacobs described in 1961: a neighborhood comprised of mixed-use buildings open and visible to the streets, occupied by residents and commuters of mixed­ ethnicities and mixed income levels, all interacting and sharing the same community services. Jacobs urged urban planners to design in response to instead of in opposition to life on the street, stressing observation and micro-planning versus major overhauls usually conceived by monopolized interests.
Instead of Jacob's vision, Fulton Market is being overhauled, rewritten as a destination neighborhood instead of a community. Destination neighborhoods make profit and create a compartmentalized city of homogenous districts, with increasingly large margins between. The proposed plan is predicated on Chicago's rather ideological identity as a city of neighborhoods, a mentality that stresses boundaries and does not include margins. The plan fails to address low-income housing, make a sincere effort at rent-control for residents or small-businesses, or actively legislate for diversity that could balance a community.
The Gentrifier
The Gentrifier (with a big G) exists at both the global and the local levels. At times, the Gentrifier is another person or entity—Google (with a big G) imposing instead of assimilating, for example. At other times, the artist is seen as the Gentrifier, working in blighted neighborhoods and therefore causing (we are told) rent hikes and neighborhood "revitalization." Revitalization falsely assumes that a neighborhood wasn't vital before we arrived.
Artists continue to be implicated in a cultural myth about gentrification. It goes like this: first come the working class, then the artists, then the yuppies, then the millionaires. The causality of this story, a retelling of artistic SoHo in the 1960s-1970s, fails to implicate homogenized urban planning and misguided governance. This myth re-inforces capitalist ideology, and makes success contingent on exploitation. And importantly, the myth places artists at the tipping point, somewhere between "damaged" and "fixed," leaving us culturally misaligned and undervalued.
Re-Claim, Re-Use, Re-Cycle

As artists in a gentrfiying Chicago, our artistic practices have become intertwined with the politics of gentrification and the shapeshifting identity of the Gentrifier. Real estate, community building, and food sharing have become important artistic forms for Chicagoans. The real estate investments of Theaster Gates, Sabina Ott's intertextual home at Terrain Exhibitions, all of Chicago's bedroom galleries, hospitality and social practice exhibits at the Smart Museum,Hull House, Glass Curtain Gallery; as well as meal-sharing and potlucks are just a few examples of works that re-veal, re-code, and re-think the Gentrifier.
Outside of installation and social practice, our choice of aesthetics and materials also confirm our desire to comprehend displacement. As Madeline Schwartz points out in her excellent article in Dissent magazine, artists and designers choose the remnants of displaced industries as source material. Edison bulbs, reclaimed woods, and cast-iron lofts, all these are materials that become re-claimed, re-cycled, and adapted for re-use.
Authenticity and Adaptive Re-Use
The 1KFulton project is being hailed by the developer, Sterling Bay, as one of the most ambitious architectural examples of "adaptive re-use" to date. Google's occupation of the behemoth building follows the aesthetic logic of gentrification at the corporate level. By moving in to the former industrial site, holding conferences in what were formerly loading docks, or riding elevators that used to move frozen meat, Google is constructing a potent symbol – that their industry is every bit as historically important as agriculture.
As artists, we are pre-disposed to adapt and re-use, and we have also been economically required to do so. We change the neighborhoods we inhabit with our presence, we make those neighborhoods desirable (read, profitable for someone else), and then often are re-marginalized, priced out of those same neighborhoods Our re-invention looks, on the surface, a lot like the Gentrifier imposing his will, displacing culture and inviting homogeneity, when really, our actions are sincere invitations for cultural exchange.
Chicago's urban planners are failing to see what they really have in the Fulton district – a diverse and functioning neighborhood inside of the Jane Jacobs' ideal sociological vision. What Jacobs describes so beautifully is a culture of assimilation and acceptance, a culture with eyes on the street, a culture of spontaneous cultural exchange. As artists we have the unique ability to preserve and encourage that kind of urban experience.
---
Meg Santisi is a writer, art and design historian, and an artist.  Beginning Fall of 2014, she will be pursuing her MA in Visual and Critical Studies at the School of the Art Institute of Chicago.  Her practice is rooted in writing and in creative explorations of text. She is fascinated by the intertextual, experiential and the performative aspects of design, often writing and making in response to the intersections of theatre, sculpture, and designed objects. In 2013 Meg graduated with her BA in Art History from Columbia College Chicago, where she focused on Modern and Contemporary Art and Design History.  Her undergraduate interests focused on avant-garde performance art, and her undergraduate thesis "Mental Landscapes: Psychological Immersion in the Work of Robert Wilson" won the 2013 Hollis Sigler Manifest Award for Art History. // www.megsantisi.virb.com.