A Response to D-Composition: Love Is…
A reflection on the wide spectrum and definitions of love presented by the D-Composed's Black composers, storytellers, and poets.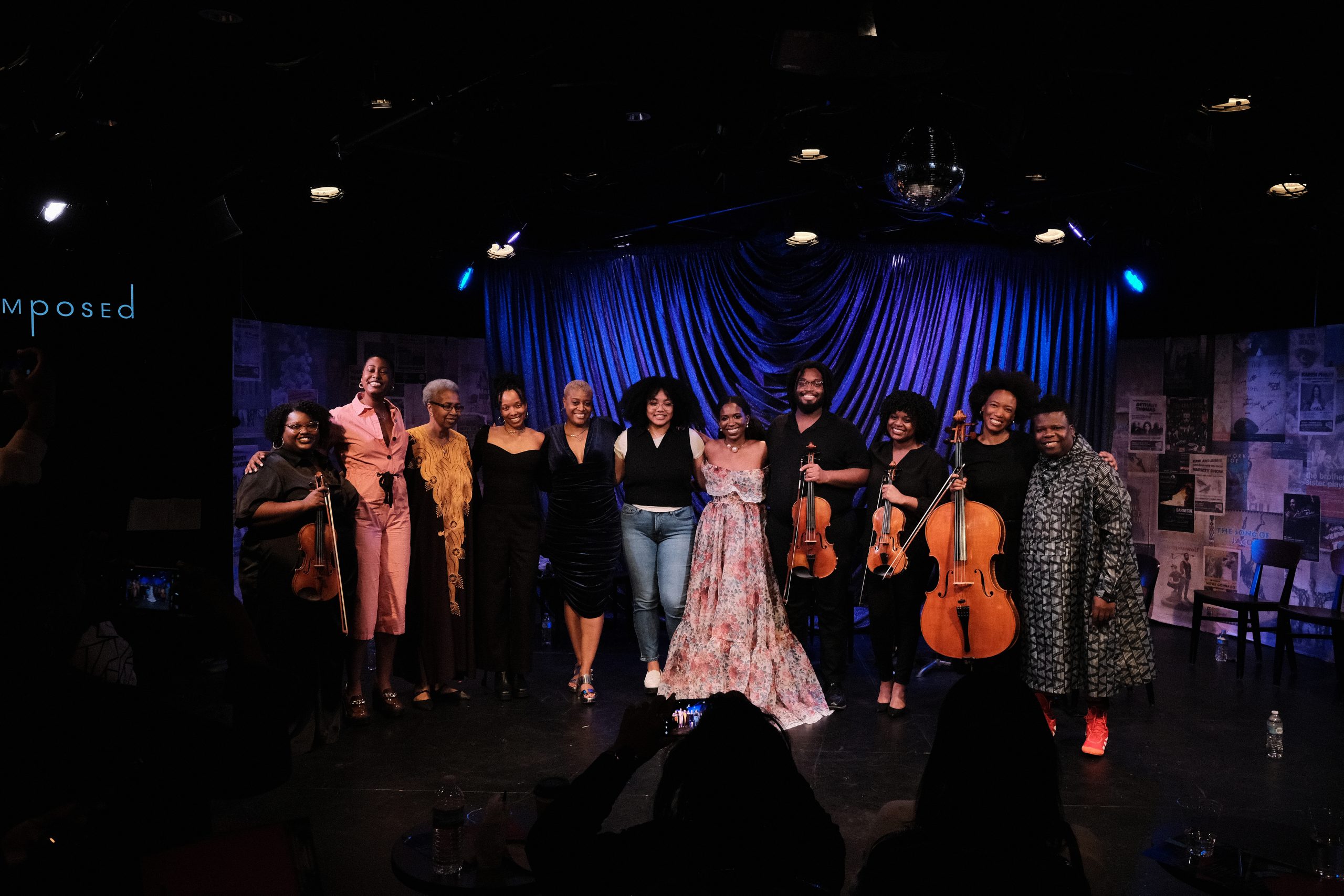 As an icebreaker, audience members are asked to consider: what is love? This question is a fitting start to an experience that will challenge me to meet love in all its forms—the sweet, earnest, confusing, messy, uncomfortable and life changing. Ultimately, I will be challenged to understand how in order to feel the depths of love, I first must be okay with coming undone. I attempt to block out the cliche and contrived definitions that have been projected onto me. Rather, I contemplate what about love compels me to trust it. More so, what compels me to love and trust myself. I settle on, Love is an action. It forces us to evolve through the seasons of our lives. While this is not novel, it remains revolutionary in my life.
Kori Coleman, founder and executive/artistic director of D-Composed, a chamber music experience that celebrates and honors Black creativity and culture through music of Black composers, introduces the intimate yet expansive show. Coleman then asks us to share our definitions of love with someone in the audience that we do not know. I turn and introduce myself to another attendee. "I hope you aren't an introvert," I joke. He kindly laughs. "I am an introvert, but I'm ready to share." For him, love is a cure, something everyone can find peace and healing from. I hold onto his earnest remark and allow it to sit beside me. We loosen up and settle in.
Love Is… explores how we experience love through music and poetry from Black Chicago creatives. This three-act, multisensory show features D-Composed's string quartet—Caitlin Edwards (violin), Khelsey Zarraga (violin), Wilfred Farquharson (viola), and Tahirah Whittington (cello)—as well as poets and storytellers Jamila Woods, avery r. young, Krista Franklin, Davon Clark, Raych Jackson, and Shanta Narullah. The spoken word and music, including pieces composed by Sharon Udoh and Ahmed Al Abaca, are accompanied by vignettes from the South Side Home Movie Project that beautifully weave in layers to the program's storytelling. 
The show begins with a reading from Jamila Woods. She reads a passage from bell hooks' "all about love" that cleans our slates: "Our confusion about what we mean when we use the word 'love' is the source of our difficulty in loving." The lack of a shared definition muddles what love is, how it looks, and how we can embody and share it with ourselves and each other. This excerpt nudges me to not seek a single definition but rather welcome the wide spectrum that love encompasses.
Act I is thoughtfully accompanied by two musical pieces, "String Quartet in G Major II, Andante Moderato" by Florence Price and "Where to Begin" by Udoh. Perhaps, like my fellow attendee claimed, love is a cure. And right now, love is healing. I feel the weight of my week untangle itself from my spine. The music tells me I am safe to just be in this moment so I settle into myself. I let my eyes close and my body and mind be moved by the serene pulls of the strings. I think about how I want to stay open to sharing and receiving love without the promise of its future. So I welcome the triumphant notes and submit to being spliced from the center by the swelling sound. And just when I think the music has ended, it transitions into something I can only describe as inquisitive and curious. Through Price and Udoh's pieces, we pull back the curtain and examine love's calming, expanding qualities. The sense that it could fill us from the inside and tear us in half at once showcases love's multitudes.
The second act presents two contemporary pieces, "Love Drought" by Beyoncé and "Don't Judge Me" by Janelle Monáe, which shed light on the complex ways we are in relation with ourselves and each other. yelley taylor offers a calling in their arrangement of these pieces—can we trust love? Love asks us to move beyond ourselves, sit with our tangled emotions, and find a way through its labyrinth. Can we bear witness to the messy parts of love especially when it is uncomfortable? While there often is not a right way to go about it, the navigation is a vital piece of the journey.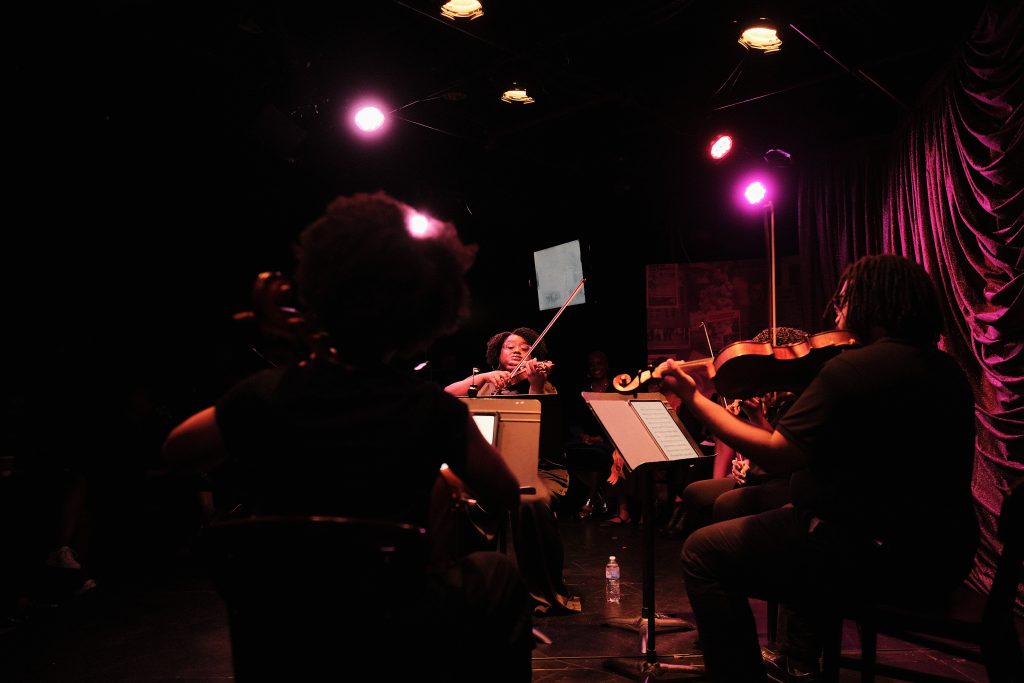 Krista Franklin reads her poem "Extrapolating Motherhood", which illustrates the relationship between a mother and child and highlights how our relationships and roles change over time. As Franklin concludes her reading, I think about how all stories, especially the ones that do not fit neatly into boxes, are deserving of space. avery r. young follows, challenging us to discipline with love rather than violence or fear in his poem, "but de rod." He calls us to question what possibilities we could allow ourselves if we lived in a world where that was the norm. Love, especially familial love, can be one of the most complex relationships in which we find ourselves grappling with and these pieces tenderly remind us that we are all learning how to love and be loved in our families.
The final stretch of the night arrives—Act III: Love Is…Self-ish. A celebration ensures. The musicians play "Strum" by Jessie Montgomery, a rhythmic, textured piece that reels me back from my thoughts to the present; "String Quartet No. 5 Rosa Parks, III. Isorhythmiclationistic" by Daniel Bernard Roumain; and "Bittersweet" by Lianne La Havas arranged by taylor and music by Al Abaca. I find myself smiling.
I am transported into a vibrant, plentiful garden by Davon Clark, who reads the poem, "I Die, But Everything I've Planted Keeps Growing." He emphatically recites his account of cultivating life from his own two hands. Lives he has sustained that live beyond him.
I think back to a few months ago when I experienced my first Chicago winter. The weeks on end of gray and gloom magnified the bleak state of the world. The frustration I felt when I could not bring myself to operate at the capacity I wanted evolved into numbness. Clark's words remind me how much that version of myself deserved space to just be—tired, sad, and empty. And how throughout my apartment, the one that was once just a dream not so long ago, I—like Clark—had plants scattered about. And their existence was something I nurtured. If watering my plants was the largest task I could muster on a melancholic Chicago winter day, that was plenty.
Raych Jackson follows Clark with her poem "I forgive myself", a stunning piece on self-love that I want to share with every person I have ever loved. I feel myself swell with vigor. I want to love myself deeply just as I am. I am deserving of that. I want to take up space and live loudly despite my grief. I want to fall in love with places and people and moments even if it hurts and becomes uncontained. Because, as Jackson smiles and breathes out, "tomorrow the mirror/will be smooth and I'll be happy."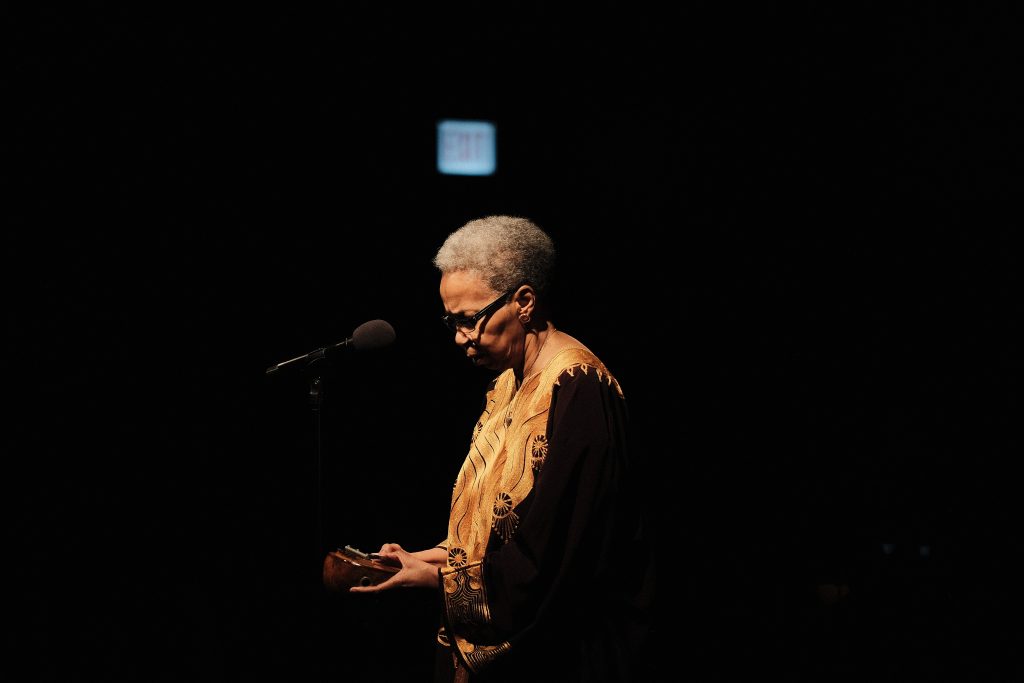 The final reading of the night is from Shanta Nurullah. Her gift as a storyteller and musician strikes clear as she recites a story I have already begun sharing with my own loved ones. She introduces us to a girl, Monkaye, who is, simply put, very lonely. Nurullah explains that Monkaye has heard of friendship but has never had a friend. One day, she heads down to the water and sees someone there. She looks them in the eyes and smiles—her first experience with the beautiful idea of friendship. Except, the audience quickly realizes, sweet Monkaye has been smiling at her own reflection in the water. I can not help but think about the countless days I held my own hand at the shores of Lake Michigan, how in my loneliest hours I found solace in something so much larger than myself. To understand that I am always in my own company gives me strength to know even in loneliness, there is the possibility of deep love and friendship.
This night celebrates love, but specifically Black love. A show composed entirely of Black artists sharing how they express love with themselves, their community, and their lineage. It is a clear depiction of how love feels so expansive. In fact, it feels like more love has been born in this space. As a Tamil-American woman who was born and raised as a child of diaspora, I have always wrestled with my sense of belonging and identity. I am constantly feeling like I am too much and not enough; this all-too-common feeling makes it difficult to open up and receive love from myself and others. However, despite the gray area I often have felt I am in, the Black community I have had in my life has always shown me deep, regenerative love. Whether it was as a child at my local Boys & Girls Club or in Chicago's poetry community, my whole self has been held tenderly and fiercely celebrated in invaluable ways. Time and time again, I have been invited to join the table and a seat has been saved for me. And when I sit at that table, every exchange breathes, "come and stay as you are".
I have received love from Black communities in Chicago and beyond. And I have been communitied. Like love, I have learned community is an action. And to be on the receiving end allows you to understand just how important it is to continue the action. As I have found my footing in Chicago, it is not lost on me how special and welcoming the Black creative community has been to me. From being embraced at open mics to making friends who want to read my work and champion my projects, I have felt seen and supported and am inspired to continue that in all spaces I encounter.
From driving a new friend to the airport at sunrise to mailing an old friend a signed copy of a book from an author they introduced me to, I want to love loudly and heavily even when there is no promise of what kind of love will find me. I want to love in abundance because there is plenty to go around. And plenty will find me.
I walk out of the theater not claiming to understand love in its entirety—or really even a fraction of it. Rather, I walk out reminded that love, at its core, is expansive. There is too much goodness in life to even consider loving lightly. Because love is an endless, abundant multitude, even just between two strangers who are thawing from another Chicago winter.
---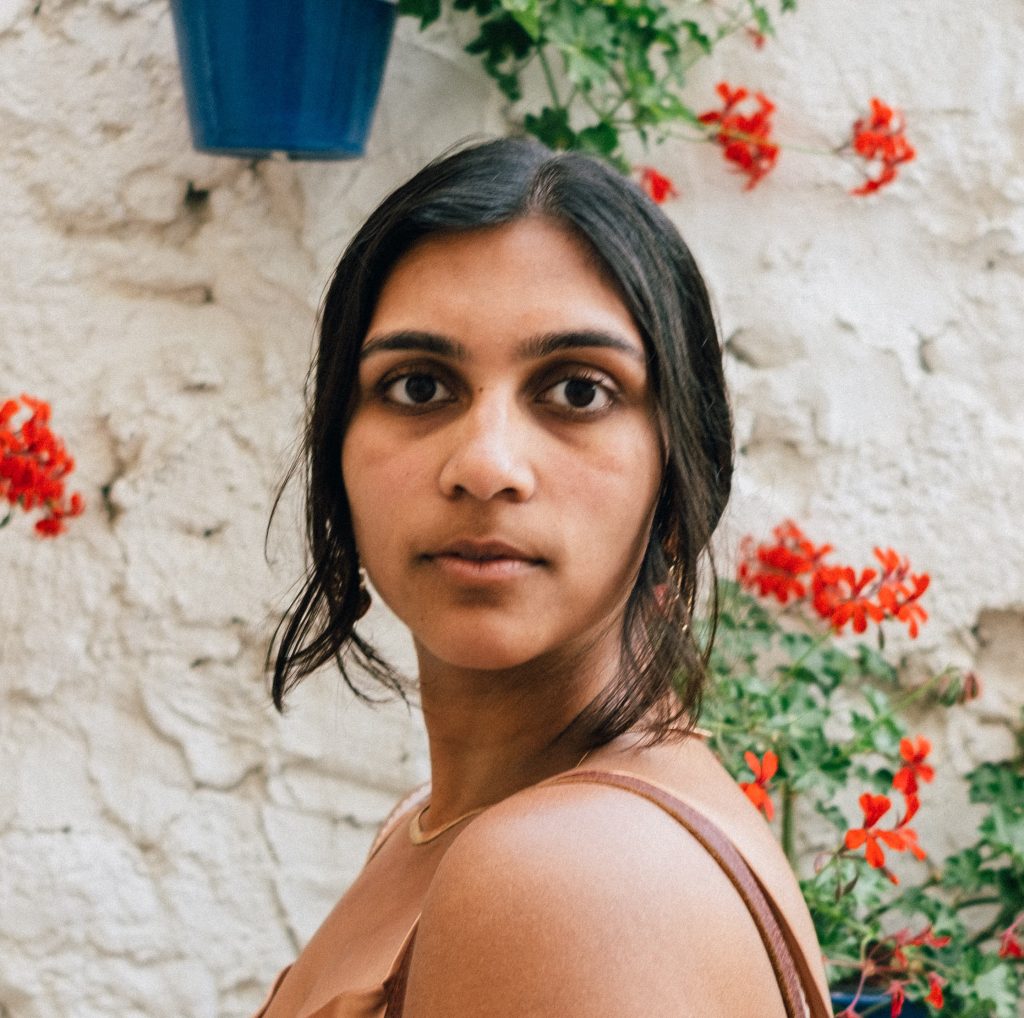 About the author: Shivani Kumar is a poet from Worcester, Massachusetts. Her work is guided by her passion of connection to destinations, opportunities, and self. Her poems pull a reader into a world where they can find themselves arriving to emotions and memories that are limitless and can nurture healing in a world that often does not create the necessary time and space for such renewal. She is currently working on her first poetry book that holds themes of community, belonging, grief, and identity as a Tamil-American woman. Her work can be found in Vagabond City Lit, Chicago's South Side Weekly's The Exchange column, Sixty Inches from Center, and forthcoming in Sarka Publishing. She resides in Chicago, Illinois where you can find her attending poetry open mics, buying yet again another book, or exploring the breathtaking lake front.