A Place You Can Go, an at-home performance by Jeffrey Michael Austin
Featured image: Jeffrey Michael Austin in their home studio performing A Place You Can Go. They are playing a keyboard and seated in front of three windows, which are illuminating…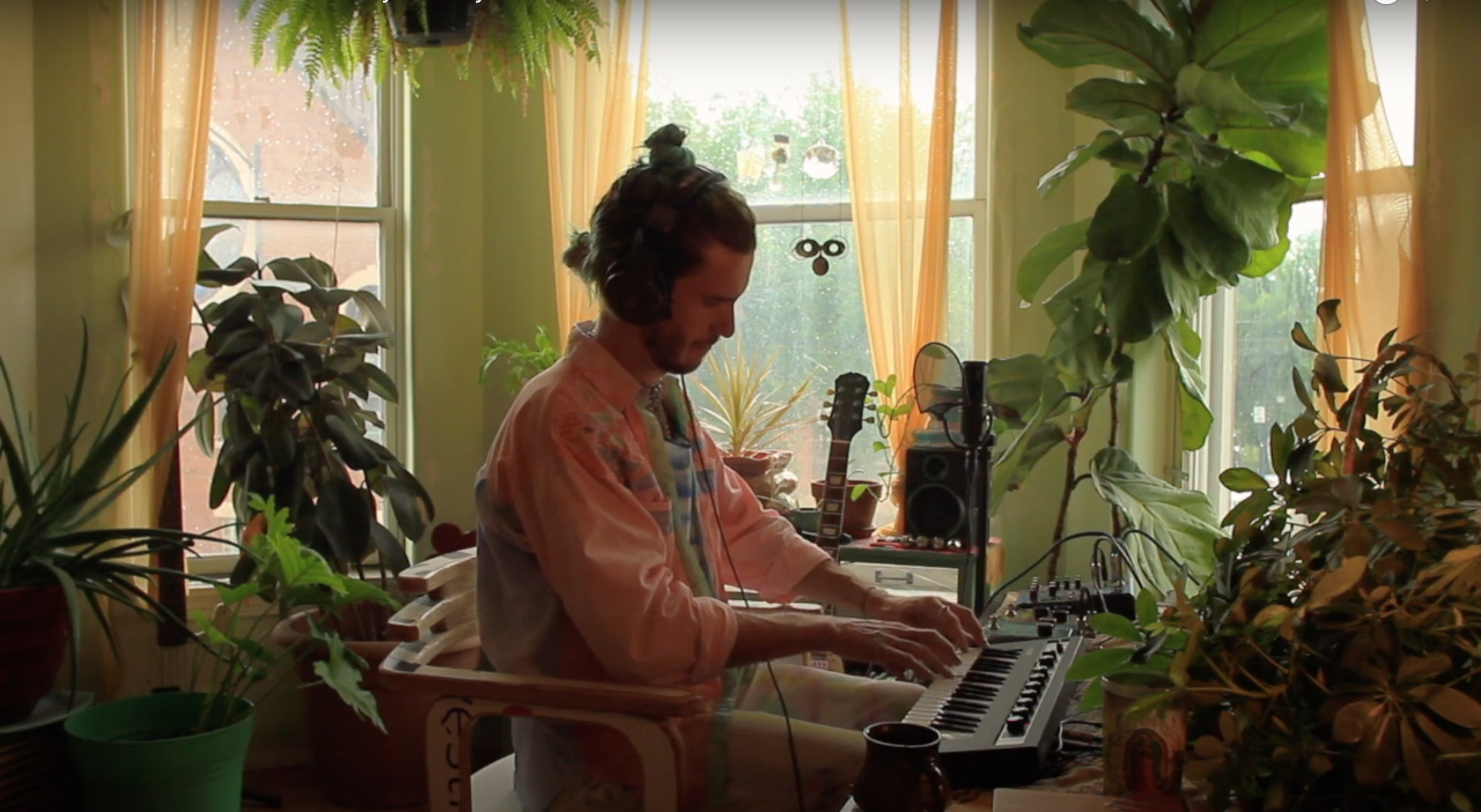 Featured image: Jeffrey Michael Austin in their home studio performing A Place You Can Go. They are playing a keyboard and seated in front of three windows, which are illuminating the room with natural light. The space around Jeffrey is filled with different types of houseplants.
Jeffrey Michael Austin is an artist, musician, and maker living in Pilsen, Chicago. As a musician, they compose, perform, and produce for Growing Concerns Poetry Collective (in collaboration with McKenzie Chinn and Mykele Deville), Daisy Days (in collaboration with EJ Hill), and under the solo moniker Young Elder.
Their at-home performance, A Place You Can Go, was performed and recorded during the summer of 2021. Alongside this featured performance, we asked Jeffrey a few questions about its creation.
---
Jeffrey Michael Austin
Cancer Sun / Cancer Moon / Leo Ascendant
Residence: Pilsen, Chicago
Sixty Inches From Center: Is there a story, path, or journey that you were thinking about while creating your at-home performance, A Place You Can Go?
Jeffrey Michael Austin: Much of the process of producing this video felt like a reflection on the traumas and transformations of the past two years. Our collective relationship to music and performance and cultural engagement of any kind has really been tested and reoriented through this time. And as much as I love and miss performing live, the notion of personally gathering an in-person audience still sits uneasily with me at this stage of the pandemic. So when Luminarts Cultural Foundation approached me with the invitation to produce a home concert video, it felt like a perfect opportunity not only to share a bit of the music I've produced in the past two years, but also to give an honest glimpse into what my home practice and solo process look like.
SIFC: How would you describe your music?
JMA: Honestly, the title of this video – A Place You Can Go – is itself a phrase that came up in my attempt to describe my music. Since I first started producing seriously around age 16, my music has always had a strong visual quality and the energy/presence of something like a film score – a kind of gently unfolding emotional landscape that you're being invited to travel through. It's a place where things slow down and soften. And after considering a number of different approaches and possibilities, the decision to produce a video less as a formal performance and more as a candid view into my home studio practice was based in my recognition that this had become the place I could go daily to help process and ease and release the ongoing grief and grievances of this time.
SIFC: Where can we find more of your art and music?
JMA: You can listen to I Want It Too, the debut EP by Daisy Days that dropped in February 2021. You can listen to BIG DARK BRIGHT FUTURES, the full-length LP by Growing Concerns Poetry Collective that dropped in October 2020. You can see my past exhibitions at jeffreymichaelaustin.com and you can find me sharing new work and pursuing dopamine on Instagram.