Chicago Home Theater Festival Profiles: Mykele Deville
An interview with musician and actor Mykele Deville about his West Side roots, the range of roles he takes, and what it means to start and maintain cultural spaces in Pilsen.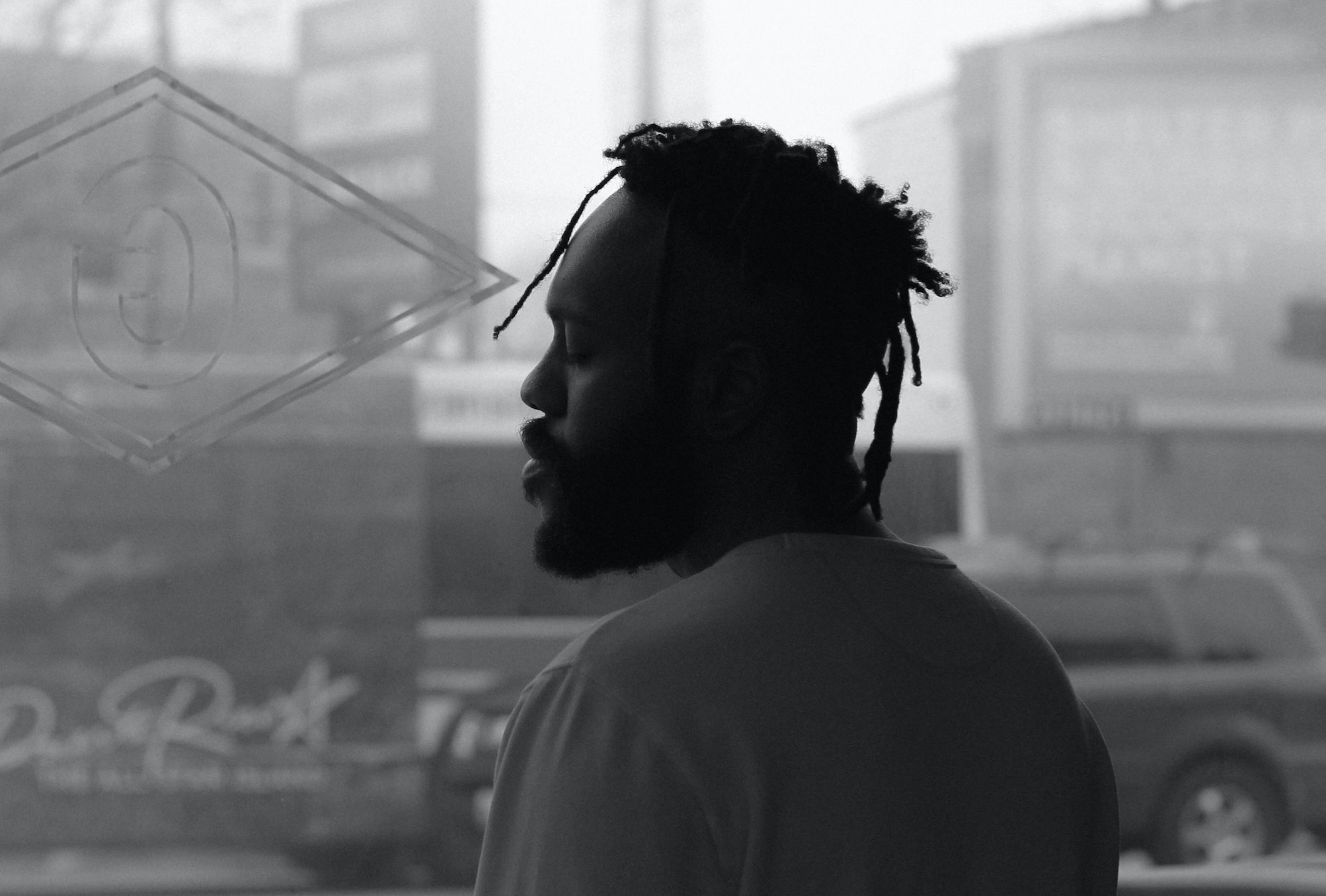 This interview is a collaboration between Sixty and Chicago Home Theater Festival, a festival that invites strangers into each other's homes to share a communal meal, experience transformative art, and build intentional community across lines of difference. CHTF centers the leadership of women and femmes, artists of color, immigrants and refugees, LGBTQ folks, and artists with disabilities whose creative practice disrupts injustice and paves cultural safe passages across our hyper-segregated city.
Mykele Deville is a musician, actor, and life-long West Sider who currently lives in Pilsen. As part of Chicago Home Theater Festival he is hosting a night at Eco that's artistically produced by
Tempestt Hazel: Where do you currently live in Chicago?
Mykele Deville: I live on 21st and Damen.
TH: How did you come to live there?
MD: It's kind of complicated. I started a DIY venue.
TH: What is it called?
MD: The Dojo.
TH: Oh, you started that? Are you not part of it anymore? Who runs it now?
MD: DK, Alex Palma, Samantha, Emily Woods, and Selena Boyer. The six of us founded it; I was one of the core founders with my other two roommates, DK and Alex Palma, and we ran/curated an art space there for about a year. The entire house, from my room to the basement to the yard, was utilized as the space, drawing in artists from around the city and from this neighborhood in particular.
There was a big push to try to get as many people from the neighborhood [to be part of the space]—people from just the artistic and interdisciplinary scenes and spaces. [We wanted a space] where the painters could hang out with the writers and the comedians and the dancers. It wasn't just about throwing music shows in our basement. My room was the installation room so I had to move my bed out and my clothes and all my furniture into the basement and line the walls with everything I owned maybe twice or three times a week. We did a lot. We let people come in and paint or drill holes in the walls. We wanted one installation artist a week to create a three dimensional kind of piece. The downstairs was for performances—poets, the bands, rappers, dancers, and singers. The yard was for graffiti artists and live painters. It was part of the charm of the space that somebody was willing to give up their living quarters for someone to go in and do [what they do]. But needless to say, it drove me insane eventually. I loved it for so long and my roommates were very gracious. They said, "you don't gotta do this" and I would say, "no, I gotta do this." But eventually I had to take my leave, mostly because I needed to start over as an artist. I spent so much time helping people do their art and it was beautiful, but you never really get to play on the stage that you helped build and that you let everyone else play on. So I started to take the music more seriously and moved into Eco, which is the space I live in now, as a vagabond sleeping in the guest loft for a couple of months.
I haven't been a resident of Pilsen for very long, but Pilsen is such a beautiful space with such history. And the makeup of it, to be completely honest, is ever-changing now. I'm a native here; I've lived a stone's throw away from Pilsen all my life. I've traveled in and shopped in Pilsen all my life. I'm from the West Side so I used to come over here all the time with my dad and mom.
TH: That leads me to my next question. Where did you grow up?
MD: I grew up on the West Side. I grew up in the Austin community right on the border of Oak Park. I grew up in all those neighborhoods: K-town, I lived there, lived close to Garfield Park, lived on Augusta, Ferdinand, Hubbard, and eventually ended up by Laramie, Harrison and Laramie. Went to Michele Clark Middle School and Michele Clark High School; all my family went to Marshall High School, Austin sometimes and alternative high schools. I'm really steeped in West Side culture.
TH: You kind of touched on this a little bit already but what has changed that you've seen about this neighborhood?
MD: My idea about how a neighborhood is changing is reflected by how fast even more neighborhoods are being created. The idea of "near west" and the line of the west side being pushed back or a neighborhood like "West Haven." And I'm thinking, "this the West Side, what are you talking about?"
I love the spirit [of Pilsen] and I not only came over here for artistic reasons and affordability, but I also wanted to be in a neighborhood of color. I wanted to be in a neighborhood around people who it felt like home. But instead of having a very general idea of how [the neighborhood is], I wanted to learn something about the neighborhood, the people, and actually try to be a fixture to the community without making generalizations about how people live. And when I got over here, it didn't feel like I was being stared at like when I lived up north in Rogers Park, Wicker Park, or Bucktown. Over here we have neighbors that we talk to. Even though we speak different languages, everybody is super friendly and family oriented. Block club parties pop off. It really reminds me of my home. And for me it's a validation of how connected family and identity that exists between Black and Brown culture. I think the relationships [between peoples] are portrayed in such hostile ways sometimes. Like growing up near this area and near other folk of color, what you hear in the media and on tv [depicts] such a hostile relationship but it really ain't that once you get to know people and once you figure that thing out. I wanted to investigate it for myself instead of having these generalizations thrown at me.
I think what's changing is that it's not a very original idea. It's a very contagious idea and can also be a very dangerous idea. I think there are a lot of people who only get to a certain step when [thinking through] accountability when it comes to where they move.
TH: What step is that?
MD: That step is asking themselves, "How will I change the makeup of this neighborhood? When I move into it, what how do my personal identity and actions [interact with] the people who have generations in this neighborhood?" [The people] who've always lived here and now see this new thing—how are you going to interact with these folk? If I'm starting some sort of venue, am I talking to my neighbors and making sure that's okay? What is their relationship with police? What is my relationship with police? How can we talk about these things in order to open up these spaces to the people around us so they can understand that they are invited when we have [events so our work doesn't become a] self-congratulatory thing that says, "we're the artist community; we're moving in."
They talk about it a lot at Eco, which is a space that's primarily white folk. But this collective has been around a long time; they've tried many different ways of outreach and now I think they're very smart about thinking about in-reach and asking how can we not just throw parties and events and expect people to just come to this thing that we created that services the queer communities and not the one around us? How can we be with the community and be visible ourselves—go to the church next door, go to the food drive, do what we can do so they can understand that we're part of the community too even though we don't look the same, we don't speak the same. I believe in that level of intersectionality and work being done.
TH: I completely agree with you on the coming into an area and rather than thinking that the people there are just a captive audience for your ideas. It's important to learn about where you're going into and what's already thriving there—especially when it comes to opening a space.
MD: Like DIY things, yeah.
TH: Or even commercial things. You've got to listen and be aware of when your presence there and maybe the community of people that you bring with you is potentially problematic.
MD: Hazardous to the ecosystem of the neighborhood.
TH: It can be dangerous to have the mentality that you're bringing something of value and not evaluating your understanding of value in different contexts. Or thinking, "why aren't people coming, I'm bringing something, I'm offering something that the people need or want…"
MD: And what is the want you're bringing? Are you bringing a want that's indigenous to a different kind of mindset, a different kind of clientele? Why would they resonate in an arts space? Especially a makeshift one that brings people that don't speak their language, don't go to their schools, don't give to businesses, don't try to make an effort to be visible whatsoever, they just kind of go to their classes and go to their spaces. It's a really interesting kind of question when you live in such a segregationist town because this kind of conversation will happen wherever you are unless you live in a predominantly white neighborhood, where this kind of conversation isn't really happening unless they're talking about other neighborhoods.
All these conversations—sometimes it makes you want to throw your hands up in the air, especially as an artist who wants to facilitate space, live in an affordable way, and invest in community. People are impatient and they want to do things in the ways that they want to do them. I was like that and I take responsibility for that. I started an arts venue in a neighborhood that does not look like me. I brought in folk that just thought that's how it is—you know, make cool things, people flock down and see these cool things and then say, "Oh, I should be here. This is where all the cool folk are." That inevitably changes the neighborhood. But there are ways to play with that and figure it out; you have to steer these people who are coming in and have no idea about the etiquette of this neighborhood; you have to teach them that before they even get to the door. When they get to this neighborhood they have to realize that just because [access to DIY spaces] is clandestine, don't think this neighborhood is invisible.
[At Dojo and Eco] we did and do our damnedest to respond to the other venues that were mostly homogenous and white playing punk music and to be welcoming. It changes the conversation when people get in immediately and they see it's an intersectional space based in Pilsen, based in a historically homogenous place with its own language, its own attitude.
You have to understand the resonance of how these places work. I'm still learning. I'm still very new to it. It's the most interesting place; at least if you're a person of color and you're also figuring these things out and trying to be visible in the community in a specific way and trying to meet who's around and patronizing [local neighborhood] places and figuring that out. I'm doing my best not to damage anything. And as I get older, and as an artist, I'm like, "Don't touch anything, don't break nothing. [If you do], that's on you." But also not to be delicate with this neighborhood. As I said, it's very reminiscent of my home. It ain't a delicate place, ain't no flower gonna wilt if you breathe on it, but it will take offense if you try to change it drastically.
TH: Well that leads to the next question. What's endured; what's stayed the same?
MD: Mostly the support and camaraderie of the people of the small businesses, like support Working Bikes that's been around forever. Or Wheel Of Time that's right in the middle of 18th. Even though you got places like Thalia Hall and Simone's, there are many neighborhood bars that are filled and packed up. They have open mics that you can tell have been in the neighborhood forever. You have Jumping Bean and La Cafecito that just opened up on the Pink Line. When people open businesses up in the neighborhood, or even the straight up, straight out of their home taco pop-ups, they're my favorite because it reminds me of being on the West Side and going into Leroy's backyard and his grandma cooking. That doesn't go away; people revere it. This doesn't happen in the Loop or in too many neighborhoods—the trust that this person is from this neighborhood, on the block, and they're out here trying to make money. And whether [the business is] legal or not, if I see them on the block, I'll say hello and also probably pay for some [food].
The support for art and activism around here hasn't left. There's a very stark awareness about how to support, where to support, and why to support. I think people are also willing to do that and that doesn't seem like it's changed. The only thing that's kind of changed is the different types of people that are in Pilsen now. Hopefully people will still keep coming to La Catrina and funding this place and keeping places like this open and chill and nice.
TH: So in this year and half, at what point did you feel at home in Pilsen and was there a piece of home that you brought with you being from the far West Side when you came here? Was there a carryover of a West Side affiliation?
MD: The moment I moved into Pilsen I felt straight up at home, because of how many neighborhoods I'd lived in where I did not feel at home. I've always lived on main big blocks, like North and Kedzie, where you don't have a sense of community or know who even lives here or there.
When I moved into Pilsen, I had given up a ten year career in acting to do this idea with my friends [the Dojo]. We wanted to talk to the community and see if it was okay to have gatherings and bring some intersectionality between the acting scene and a couple other scenes we respected. And so [between] those conversations, walking around the neighborhood, and seeing the architecture of the houses and how similar they were to the places where I grew up reminded me of the West Side all over again, of my childhood self that used to come over here and play on the playgrounds over on 18th and stuff. Everywhere else I went I felt like I lived in a big city but here I feel at home immediately.
Over the last year and half I've been figuring out ways not to leave even when my living situation was in flux or whatever. I can't move out of Pilsen; it's where my heart is right now. I want to do everything in my power going forward [to work through] the politics of what it means to have responsibility and accountability of who you bring into the neighborhood because of what you do. I was taught that lesson here. But I also refute the idea that the only art that is relevant is that made outside the crib where you were born. I think you can play with this idea of moving space and what it looks like to leave some sort of imprint on the neighborhood. Because you're different, you did move out of the hood, or the West Side or whatever, and you did get to a point where you had to find things that would be conducive to what you create and finding an environment that is conducive to what you create is so important. I've always felt at home here for about a year and a half. And your second question was like—
TH: You answered it within it—the question was about how you connect where you grew up and this place where you live now.
MD: For me specifically that's loaded because I have a lot of feelings about where I grew up and I don't get to address those most of the time because it's very complex and I'm still unpacking it. Just as a person of color growing up in a periphery of the city doesn't mean that there wasn't love and beauty and ritual and reverence. I had to find those things in order to keep going. But a big idea in some of those times was to leave the place. Leave this place to help your family out. As I go out into the world I realize, "Woah, you went through something where survival and death were very prevalent." A lot of people never really grow up with those things in their lives. [Coming out of that], I have this strange reverence for it; you know how you always romanticize these things, the memories of the thing, and I'm curious about what I can do to help it. It was such a pressure cooker living in it; now that I'm out of it I'm sharpening my tools in other neighborhoods with people who came out of those neighborhoods and figuring out how to speak, how to talk, how to organize, so I can help the place in which my mom and sister and brother still live in. It's a stone's throw away.
I'm always taking that with me as I move into places sometimes of privilege, or places without privilege that are similar or slightly nicer than where I came up, like this place. How can I bring this idea that, not that it's worse somewhere else, but that beauty exists everywhere; intersectionality can exist everywhere; non-normative experiences can be normalized in ways and improved upon so we don't all feel invisible. I try to talk to my roommates about that and have them understand that. And they do, but you could always understand more. I mean, y'all with white bodies, with this beautiful stacked environmentally conscious space—how is that bleeding over into where we are and how we choose to hold events, and which events we choose? How do I invite the community in? How do I make people from outside the community feel welcome and have reverence and understand the language of the community? So that's why I've always had the Chicago Home Theater Festival on my bird, even since I was back in the Dojo; if I could get a shot at that, it'll really be an effort to figure everything out.
TH: How do you feel when people ask you where you're from? There are many ways to answer it so you can choose to answer it considering different contexts. When you're around the city or even when you're traveling outside the city, what comes up for you? Or what's your response when people ask you where you're from?
MD: Man, that's a good question. I get asked that by many types of people with many intentions. And yes, it does flavor how I respond but it doesn't change how I respond. Always with pride and joy I say the West Side. I'm a native to this city. Most of the time people I see when I work in the Loop say, "You got an accent. You got a slightly… are you from the South? Where are you from?" And it may even equate to "You sound educated. Where did you go? Did you go to school out of state? Did you grow up here? Are you a native?" And for me it's like, "Yeah, I grew up on the West Side of Chicago…" The reaction to that that always tickles me to see.
[There are] all these negative associations unless you know somebody from the West Side. When you have some sort of positive experience of it, there's a singular beautiful reaction. And you can embody that, which is a beautiful thing sometimes, when you can explain "I'm from here." I think only peripheries elicit that kind of wonder and puzzlement like, "So what the hell you doing in Ukrainian Village," you know what I mean. It comes with a story every time you get to say it.
TH: Then, what do you think people assume about the places you've lived and the people who live there?
MD: Either you're some sort of reformed thug or a prodigy. They think in extremes because that place is extreme. Or a question mark comes across lots of people's faces who have never really been there.
You hear about the South Side all the time but you don't hear anything about the West Side. Things happen and it doesn't get reported. And what does get reported are scary stories or stories that become tales of very negative things. Or you hear about the black site, Homan [Square]. In my head, I'm always thinking they just expect nobody to come out of this place. And if they do, [that person] must have come through so much hardship. And yeah, most of the time, but not all of the time.
TH: What's something you want people to know about this place, whether they've been here or not.
MD: I'd say, in places like Pilsen, you can go to any coffee shop and hear people talking about important work that will revolutionize and change the city; real politics, real structure. The microcosm and macrocosm of the city, if not the country is happening in [neighborhoods like this]. And these neighborhoods are springing forth grassroots art and activism. There's grassroots educating of folks about respecting home and having a sense of home even in a city that's so compressed, and filled with so many issues. There's a respect for cleanliness, a respect for work here; people work hard in Pilsen to keep their business, their barbershop, to promote it. This is this kind of a brand new mecca or Brooklyn, you know what I mean? It's Pilsen. There is vested interest from other parts of the city to be in Pilsen right now. And because of that, I'm not saying the neighborhood is safer or better or anything like that, but the fact that it's changing does something to the environment and gives a level of adjustment in order to accommodate other folk and to accommodate a cash flow that may be coming in. [But] if you're not coming into these places to understand, you are an occupier; you are this person coming just to occupy for the sake of voyeurism. And that's rejected in this neighborhood—hard. I feel at home because I'm doing my best to combat my own privilege and my own ideas and I feel the support in that. Like, "Ay, if you're doing the homework, you can be here."
TH: I've never heard anybody say they feel a Brooklyn air in Pilsen.
MD: Yeah, hopefully it doesn't get as Brooklyn as Brooklyn is; I'm saying on a very micro level. That crossover is starting to happen here. Now we've seen it accelerated in neighborhoods like Wicker Park, accelerated in neighborhoods like Humboldt Park, Logan Square. It has not been able to do it at such an accelerated rate in Pilsen because of the support of everything local in the space and the reverence of that. The reason I say Brooklyn is because it means something whether you've been there or not. So many cool folk, so much art happening; you'd never know until you step into one of the buildings. You'll see God in a cafe somewhere, some beautiful art, and that happens predominantly in spaces where the intersections are just meeting and trying to hold each other accountable. I love that about this place.
TH: Is there a person that's quintessential to you within this neighborhood?
MD: I gotta say my old collective, because they're growing, they're learning as well; we were all cutting our teeth on figuring out all of this identity stuff in this neighborhood. Somebody who once criticized our space back in the day, who I totally respect and I really mess with now and understand where he's coming from because he's native to this area, is Ricardo Gamboa. Just wonderful, thoughtful, and asks the hard questions to your face. I love that. Now that I've gotten to know him a lot more and understand, I'm really doing my best to try to not just be in this neighborhood.
At Eco I'm really grateful to those cats because it really changed my perception of what I thought white occupiers in spaces like this think about and took it to a different level. Every day they're trying to think about how to best approach the invisible and how to actually help. It's a real delicate conversation that we've had. I'm this person of color from straight up the West Side, like learning my place in Pilsen as well with them, but not the same as them.
TH: If there were other people here that are not necessarily in the arts that are some neighborhood mainstays–maybe like the owner of your favorite spot that you frequent, maybe like the grocery store or you know, anywhere, where you get your haircut–who are those people?
MD: I like the homies over at Steak n Egger. They are the funniest staff in the world and they've been over here for a minute. They stay open til like five in the morning. Sometimes you need that, specifically after little parties; you go to Steak n Egger and they always hook you up. Also Raymond's. Raymond's Taco Joint; man they move so quick, they're so nice in there. That's like my go-to restaurant. I'm always chatting it up with my homies in there. The people at La Catrina Cafe every morning. And I'm only specifically saying restaurants because I spend a lot of my time in restaurants like writing or drinking and stuff like that. Obviously I don't get my hair cut. I wish I knew barbershops; there's a lot of barbershops over here but none that I necessarily go to. I just shave.
The people at The Barrel, they facilitate so many people kind of coming in. Like, they always order the games and stuff like that; it's a real tiny little bar if you've ever been in. It's super tiny but they got all the cocktails in the world. They even have a super extensive beer list and the dudes at the bar are super friendly. Then on the corner is Pilsen Outpost. I love that place. They do pop up shops for folk in the neighborhood. You go in there and it's completely different every time and I always want to go in there and figure out who is that running the space. I can say also folk at Simone's or folk at the big art building over here, Lacuna, I know they were designed by the same person who designed Simone's. Mana is over there. And I only say these places because I'm an artist and I love being in the neighborhood and seeing some straight up art over here.
TH: To change direction a little bit to your individual practices…Growing Concerns Poetry Collective is a trio that you recently started with Jeff Austin and McKenzie Chinn, right?
MD: Yeah.
TH: What concerns are growing?
MD: Oh man, we got a lot of concerns. It just started with me and Jeff. It's only like three months old in the iteration it is now. It was only one month old before that, with just me and Jeff. I'm a rapper and a poet and an actor—a curator at the time when I started this, and I always had journals of poetry that I couldn't transpose to music. So I wanted to have this non-pressure group where Jeff could kind of just play his stuff and I actually could read and not be so performative. But it started to feel really egotistical when it was just me. I know McKenzie through acting and the Salonathon community. I saw a piece of hers one night and I cried and thought, "That's a voice that I'm willing to explore with." And I reached out to her and she showed up. And I mean that's the thing, to just show up. She brought ideas of how to make it a conversation in tandem. The whole group is about listening—being in spaces where people are not listening, where we want to hone people's focus back to the literary, hone people's focus back to the many forms of the literary. We address a myriad of very personal things. Right now it's very much an identity-based group between me and McKenzie understanding our Blackness or how important that role is to maintain a structure that we've been creating in under for so long. And Jeff is a very great ally [through] these really wonderful rhythms that he's creating. He's a storyteller; his role is hearing what we're doing and finding the right thing to lace underneath or layer on top. It didn't start that way—my rants about psychosis, and my inability as a poly person to maintain relationships—these very micro things. McKenzie came and brought the macro to it. It really has solidified the voice of the group in a very pure way.

TH: What is the difference between Growing Concerns and your solo music? Where does it separate?
MD: [My solo albums are usually] concept albums. They're albums with a massive overarching point, and every song is an episode reaching to that point in some sort of way and expanding that point. It has its own ecosystem or environment to exist within. Growing Concerns wanes and waxes between this; it's not just my voice. I'm not the lead and that changes everything. Even though I collaborate with everybody on my solo rap career, I'm a rapper. In that, there is poetry but the poetry takes a back seat. In Growing Concerns, I can be narrative, I can be lyrical, I can be wordy, I can be very short, I can listen, you know what I mean. I can help to use a physical vocabulary that assists Jeff while McKenzie is standing up and speaking to an experience that I have no idea about. And both of us have this wealth of experiences and lots of poetry. She outdoes me in every step of the way. She's constantly writing every time we go to practice.
Rap feels to me like a social, political point of myself, of my own healing, of my own selfish need for therapy. [I use] the stage in a public way to go through things that I've repressed growing up. I get to wander in Growing Concerns. It's beautiful because it's still growing right now.
TH: So then what does practice look like?
MD: It's funny because as a rapper I don't really practice, which is a bad thing to say. But I write and I perform so much, and because I was in a DIY space for so long and helped to create DIY space for so long, there's a sense of non-preciousness to my music. I even say when I get on stage, "I'm gonna fuck up your favorite song because I'm going through it." I'm learning to have certain levels of diction when I'm up there.
I've been part of lots of groups; this is the only one where it feels nonintrusive because there's not a bunch of equipment. It's just Jeff sitting on top of a cajón with his loop pedal, and then it's me and McKenzie with a bunch of notebooks. We don't memorize anything; we do hold journals. I think we are listening very intently to the other person when we not talking. So the idea of playing this kind of psychological game of focused attention—you give and I take, I take and you give—is constantly in place. We're tuning a bunch of muscles. We're finding this kind of common language and then some of these pieces solidify and become anchors so that when we eventually record an album, they will be on there. All of this is trial and error right now. We're just trying different kinds of pieces.
We have all these ideas because of the amount of material we have. It's a really exciting space. We'll meet like twice a week, which I never got time for but I make time for this because we always get ourselves dinner and talk about our days for a while and then we get to the art. It's a really kind of beautiful, fearless space. And we know we love each other; we're each other's biggest fans.
TH: Such an interesting dynamic, the three of you, because all three are very different world views and experiences and ways of operating in the word coming together in one place. There's something about the fact that there's the words piece, words and narratives and ideas that are being articulated and communicated, and then there's the instrumental piece, where Jeff is a storyteller through music but there's a kind of syncopation that you have to have happen, a knowledge, a listening you have to do to glean what it is he's trying to say. So in a way, I don't want to say he's silenced but his language isn't as immediate at the two of you. I'm interested in that dynamic. I don't think I have a question there, just an observation. It's interesting that you call him an ally within the situation. It seems like an interesting way to position him. What he's adding or how he's helping to support the compositions makes me think about the ways people are able to support each other's stories and what they're bringing to the table. Or the ways in which different people, particularly white folks working with people of color to relay these charged stories, get to support or make space.
MD: 'Cause he's literally doing that, taking a knowledge and capacity of privilege that he's had to learn very painstakingly probably his entire life playing multiple instruments. McKenzie says all three of us come from a very motivated sense of self-worth and we come to the table and have a conversation about how we can package it all together. Because we respect each other's shit. I know Jeff ain't just got like a Yamaha and a bunch of beats he programmed. He plays the cajón, I've seen him whistle into a box and record that, and later on a cajón and later a flute and later put into a machine; I walk into the room and he's on the computer program and he'll show us the way he made them. I ask him, "If you ever want to do poetry or something about an experience that you want to speak on, you have space in this space." I think we're all trying to learn each other's shit and Jeff's there helping figure it out. I give him kudos because we talk about some hard shit sometimes and he's there for it. He's been here since the beginning. He co-founded the group with me because he believed in what I was saying in my own personal music.
TH: I'm curious, where does that fit? You're doing Growing Concerns but it's not like you've released a lot of music as a rapper at this point.
MD: Yeah, I've only been rapping for about a year.
TH: These things happen are happening so fast. The week you have a show as a rapper, you'll probably do some Growing Concerns performance. Having these things simultaneously, how do you keep both sides distinct? Or what kind of shift in energy do you have to maintain? Because it seems like you channel a different Mykele in Growing Concerns.
MD: And this not even to mention stepping back into curatorial Mykele. When I left the Dojo and had been out of acting for a year, this beautiful, poetic play come across my desk by Kristiana Rae Colon, about poetry, which felt very aligned, and I was able to utilize all these skills I had been so, so frantic about for so long. And I'm now also a poetry, movement, and rhythm coach for their next production in tandem with the Yard Theatre and Jackalope Theater. It's for students in high school and they're putting the production on in the Loop. So that brain is on now too. It just kind of clicks. But how do you do all of this and keep it fresh and rhythmic?
My last two albums I wrote under duress. I know I can get it out under a crunch instead of sitting on it meditating; I can figure it out. I have three weeks to write nine to eleven songs. I tell myself, "you can do it; you wrote sixteen songs in a week for your last album. The one before that you did the whole thing in a month." I am going crazy of course but it's really tantalizing because lots of times in your life you go through such an artistic desert looking and hoping and searching for an opportunity. Sometimes it's very even and other times it's like this. I find you can define yourself as an artist very quickly when you are overwhelmed.
With Growing Concerns, in two months, we've been able to be in spaces that are conducive to what we do on the stage. So as a poet, I get excited knowing that my homes are good and I'm good and we're all working hard to make this good. And we all got other lives too. Lots of other lives, other things going on right now. So you know, it will be a point where it all crashes in; it always finally does that where it's like, I can't be a poet and it's frustrating and it affects my rap and I can't rap because I can't be a poet. But such is trying to be a full artist out here. This is the third time this week that I've been asked this question, like how do you balance, or what do you mainly categorize yourself as, and I don't think I want to [categorize myself].
TH: I don't like like the category question because it's so limiting.
MD: Yeah, it makes me feel like I gotta be more of a rapper, that I gotta be more of another human than I am. I started rapping about a year ago. I've been a poet my whole life. Also they work in tandem. And I've been acting longer than that.
TH: I'm always curious when those questions are asked, who is that for? Who is that actually benefitting for you to put yourself in some kind of category?
MD: Like, which fanbase do you want me [to tap into]… because most people who know me for my raps want to go see the poetry thing because I'm not the meat of it and they want to see how I give over power and space to brilliant, brilliant human beings to do what they do. And they become a fan of the group and not just me. So I can't just say that I'm just this or just that because that isolates—even thinking about fans. That isolates those who have been supporting me as a curator and actor. I've got rare fans that have been supporting me since I was like, in acting school all the way until now. They're probably wondering, "what else you gonna so, some sculpting and shit?" And I'm like, "yeah man, maybe…if I get too tired with this [artform] I may pick up another one." I'm trying to prove to myself that I'm not just one thing. For so long I was just one thing and I thought I was just it. I'm artistically inclined, not just an artist, not just an actor or poet or anything. My opinion is artistic, so no matter what I pick up, it's gonna be some form of art.
Featured Image: Portrait of Mykele Deville by Zakkiyyah Najeebah.
---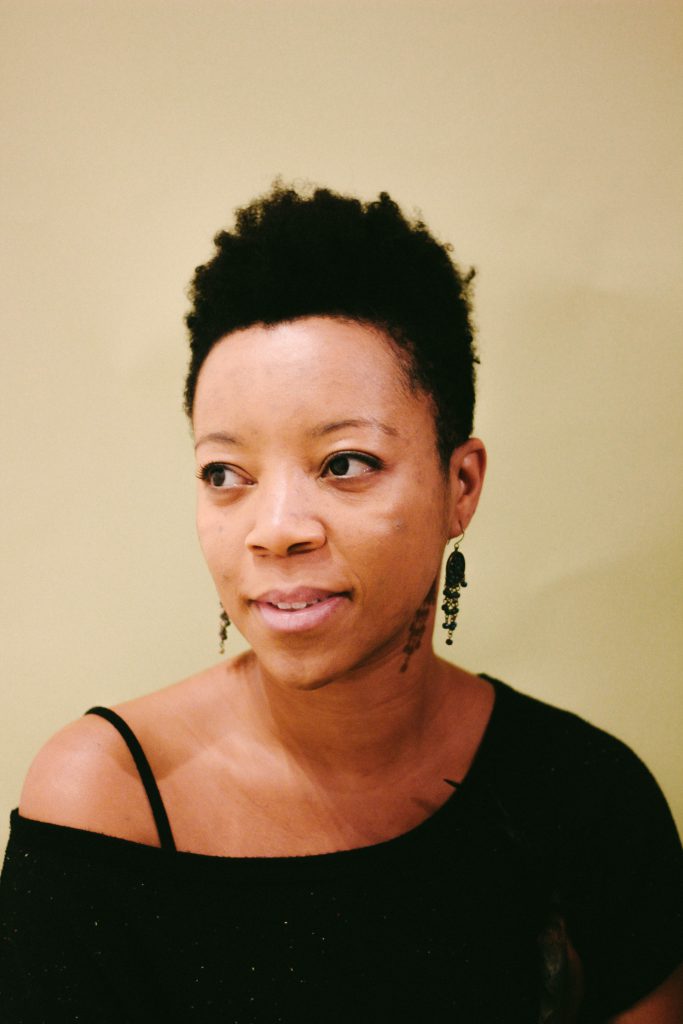 Tempestt Hazel is a curator, writer, and founding editor of Sixty Inches From Center. Her writing has been published by Hyde Park Art Center and the Broad Museum (Lansing), in Support Networks: Chicago Social Practice History Series, Contact Sheet: Light Work Annual, Unfurling: Explorations In Art, Activism and Archiving, on Artslant, as well as various monographs of artists, including an upcoming book by Cecil McDonald, Jr. published by Candor Arts. Find more of her work at tempestthazel.com. (Photo by Zakkiyyah Najeebah.)