Writing at The Club: A Look at The State of The Dance Circle
On October 11, 2016, artist, writer, performer, and DJ, Juliana Huxtable, gave a lecture at the Art Institute of Chicago as part of the Visiting Artists series at SAIC. The…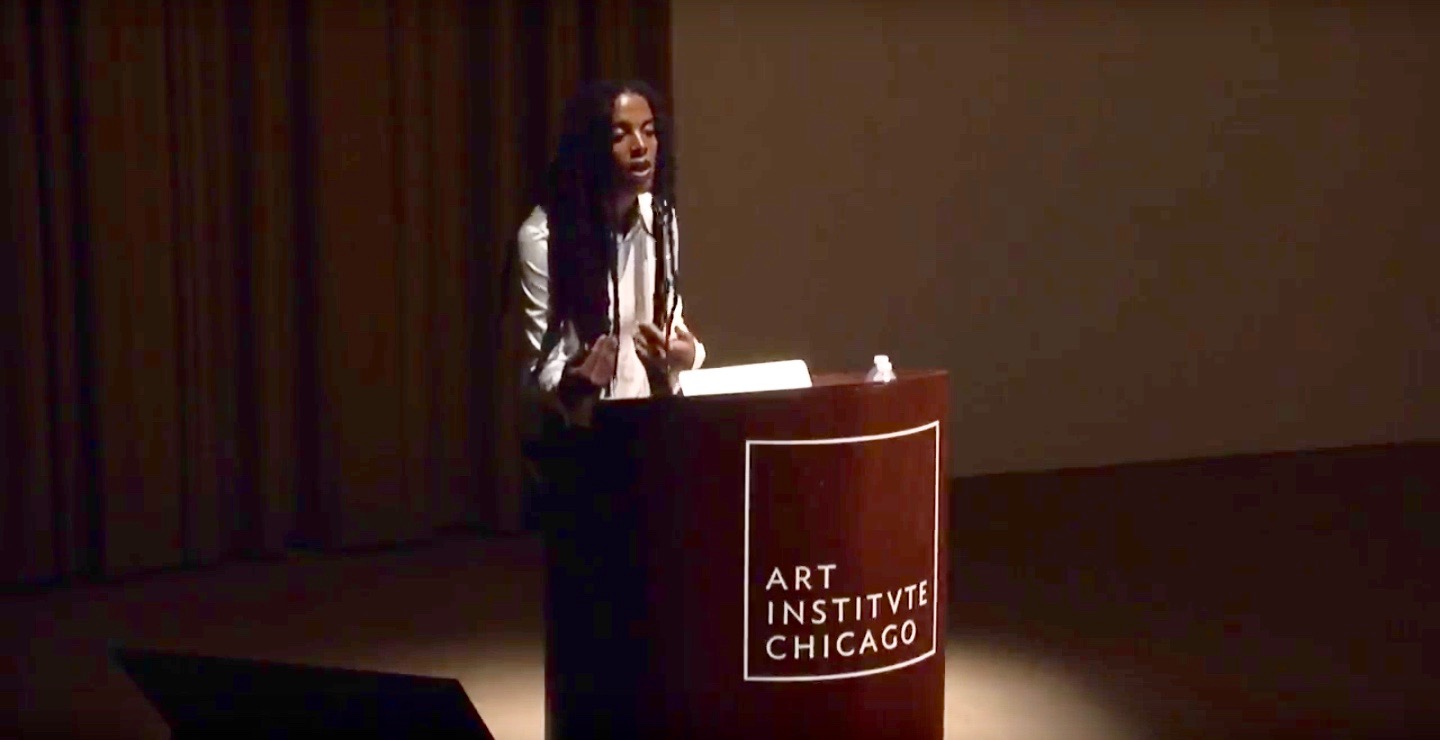 On October 11, 2016, artist, writer, performer, and DJ, Juliana Huxtable, gave a lecture at the Art Institute of Chicago as part of the Visiting Artists series at SAIC. The lecture was a look into her practice and she mentioned everything from her love of Geocities, liberation theologies, and the Mesozoic era. It's been over a year since this lecture took place and one of the echoes that has remained in my mind from that evening is Huxtable's view on the "dance circle."
We can see forms of dance circles in nature enacted through many processes. On the cellular level, "cooperative binding" is used to construct well-defined assemblies of cells and is used to transfer information. Possibly the greatest dancers of all, bees, take part in what is called "the waggle dance" which appears to be a method by which the direction and distance of a food source is communicated among individuals.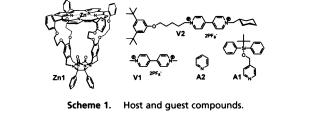 A scientific drawing of cooperative binding. Courtesy of the National Academy of Sciences.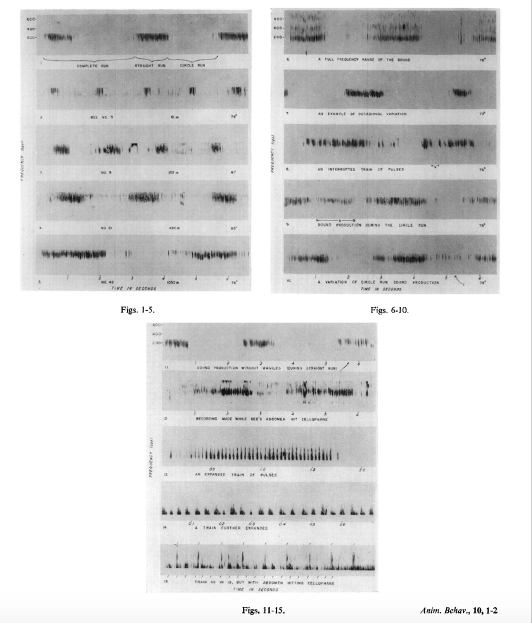 Images of sound recordings of a bee's waggle dance. Courtesy of The Department of Zoology, University of Michigan. 
The persistence of the circle as a major mode of communication through the body is heightened in dance. As our bodies become more digitized in our current time, how are dance circles affected by this change? Huxtable noted in her lecture that "the visual economy replaced text as the primary way of transmitting information."
Huxtable supports many nightlife projects and has one of her own called Shock Value, given DJing is a major part of her practice. She blends solemn moods with upbeat tracks that scream for revolution. Her book, Mucus in my Pineal Gland, touches on many topics that flow in and out of Huxtable's work, including club culture. In her section NIGHT, she writes:
'THE SOUNDTRACK WAS AN EMBLEMATIC PASTICHE OF ACID HOUSE, HOUSE OF LADOSHA, HOME-SPUN TRIP HOP, AND GENRES-DECLARATIONS-OF A MOMENT IN WHICH BLACK QUEENS HAD TAKEN THEIR RIGHTFUL PLACE AT THE THRONE OF CULTURAL PRODUCTION WITH THE SUPPLEMENTARY FACT THAT MARKY MARK, VANILLA ICE, EMINEM, AND THE NOTABLE LIST OF CAUCASOID MEN ASSUMING THE POS­TURE OF WHAT ANY 7TH GRADER MIGHT CALL A `WIGGER' MET THEIR MATCH IN THE SLEW OF WHITE WOMEN PERFORMERS WHO WERE EQUALLY BRAZEN IN THEIR ATTEMPTS TO FIGHT THE NASAL QUAL­ITY OF THEIR OWN VOICES AND EQUALLY SHORT EXPIRATION DATES, SAVE A FEW NOTABLE MOMENTS OF PROVOCATIVE FASHION. DISSO­NANT AND ATOPAL HYBRIDS OF MILDLY DATED HIP-HOP/R&B, INDUS­TRIAL CLUB AND AMBIENT MEDITATIONS ON THE GREYER AND UN­SETTLING POTENTIALS OF DANCE MADE THEIR WAY FROM THE WEST VIA SOUNDCLOUD TO THE SPEAKERS OF THE CITY. THE DEMOCRATIC NATURE OF ELECTRONIC MUSIC PRODUCTION AND ACCESSIBILITY ATTACKED THE WHITE-WASHED LEGACY OF MISSHAPES, PITCHFORK, AND RUFF CLUB WITH A BASS-DRIVEN SIEGE FROM THE WRETCHED
OF THE EARTH, BOTH ABROAD AND WITHIN CITY LIMITS.*
*Spotify has backed out of talks to acquire Soundcloud"
Huxtable mentioned The Wretched of the Earth in her lecture as part of what informs her ideas of dance and the "dance circle." Huxtable agrees with Frantz Fanon's notion that "the dance circle is a permissive circle. It protects and empowers. At a fixed time and a fixed date men and women assemble in a given place, and under the solemn gaze of the tribe launch themselves into a seemingly disarticulated, but in fact extremely ritualized, pantomime where the exorcism, liberation, and expression of a community are grandiosely and spontaneously played out through shaking of the head, and back, and forward thrusts of the body."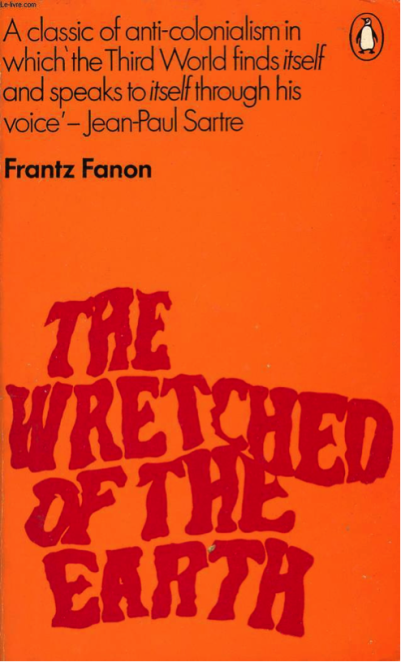 Orange book cover of Frantz Fanon's "The Wretched of the Earth." Courtesy of Penguin Books. 
The permissiveness of the circle is something that seems to be under siege in our current culture as our methods of meeting, interacting, and moving through spaces require more and more mediation. In response to physical and cyber brutality, there has been more of an effort to declare spaces as inclusive and "safe" for the ritual of dance but, more often than not, the circle seems to get lost as a way of upholding inclusion.
One force that is challenging the current state of the dance circle is the fluid landscape of group consciousness via performance. For example, Chez Deep, a performance group that celebrates "super futuristic androgynous performers," is emblematic of the style that we're seeing more and more of. Drag has been broken and what has come out of it is the performance of the nonhuman and the conceptualization of that aesthetic.
Video of "Common Visions" by Chez Deep. Courtesy of the artists. 
The cast of characters in Chez Deep involve themselves in punk, dance, writing, and more. In their performance, Common Visions, each member of the group serves face in an individualistic fashion. The space is tableau-like and it presents a salon-style reverence for poise and style to the audience.
This atmosphere is very unlike Rashaad Newsome's performance, Shade Compositions, which links each performer visually and sonically. The chorus-like formation and syncopated rhythm of the participants' clicks, grunts, and speech creates a miming effect as noted in The Wretched of the Earth. The book opens with a preface by Jean-Paul Sartre where he states: "The colonized, therefore, in his obsession, shuns his deep desires by inflicting on himself odd rites that monopolize him at every moment. They Dance: that keeps them occupied; it relaxes their painfully contracted muscles, and what's more, the dance secretly mimes, often unbeknownst to them."
These modes of vogue performativity show opposing approaches to group representation and have varying outcomes. Chez Deep's performance uses self-narratives to portray the qualities of a group while Newsome uses a group narrative to portray the qualities of a group. The latter more concretely aligns itself with the idea of a dance circle because it supports dynamism between each participants' body in order for the entire rhythm to be reached as opposed to selfie-ready exchanges. Both styles are needed to express the range that vogue performativity offers, but the position of the dance circle remains as a Newton's cradle as opposed to a fulcrum.
Video of  "Shade Compositions" by Rashaad Newsome. Courtesy of SFMOMA. 
Like voguing, breakdancing has experienced a newfound relevance, and the style embraces the dance circle at its core. It is only natural since the performer gains velocity through the circle formation. The unity and centeredness of breakdancing can also be attributed to its public visibility. While performance venues can often range from indoor to outdoor spaces and its membership has opened throughout the years, it started as a predominately male practice out in the playgrounds of the Bronx.
Voguing routines are prepared by individuals for the most part and are only performed in spaces in which queer bodies can gather without persecution, which is not always guaranteed. This points to the importance of increasing the visibility of voguing outside of its nascent structures. We see efforts to reach out in performers like Leggoh, but dance cannot just live on a social media timeline, there needs to be an active exchange with IRL public space. The reason for this lack of outdoor visibility is because there are still issues to address within those nascent structures. In the resurgence of voguing and the assurance of safe spaces is the breaking of the male gaze.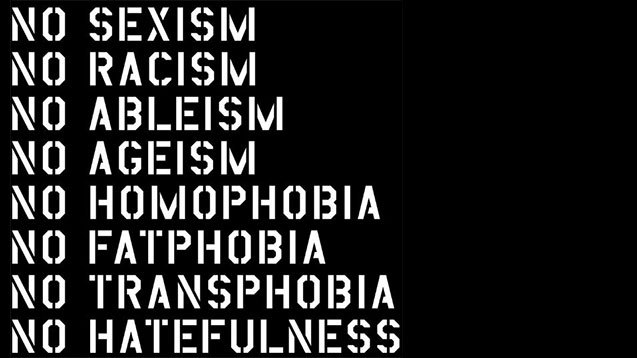 A black-and-white sign from Afropunk London 2017 that reads "NO SEXISM, NO RACISM, NO ABLEISM, NO AGEISM, NO HOMOPHOBIA, NO FATPHOBIA, NO TRANSPHOBIA, NO HATEFULNESS"
We see Chicago artists contributing to the conversation of nightlife institutions such as Smartbar. I reached out to several artists to talk about the club and many did not even want to comment. One DJ, who chose to remain anonymous, said that "no one wants to go on record to criticize this place – it is the epitome of a power imbalance, and especially if you have a marginalized voice, there is a fear of punishment."
The only person I contacted who was interested in talking about this openly was the DJ and artist, aCeb00mbaP. About a year ago, he posted a conversation thread on Twitter about how the long-standing Northside club primarily supported only white artists,
I had built up quite an internet following because of the work I did with the queer rap group, Banjee Report. Smartbar never gave me a residency, they gave me a junior residency, they were doing funny games like that, they would give me a Wednesday instead of a Friday/Saturday.

At the time, I saw them as opportunities, not realizing that the odds were stacked against me. You get this blighted opportunity, and it's really just throwing someone a bone. I worked closely with Marea Stamper [The Black Madonna], she was the booking agent. I decided last year that my Instagram was only going to be a gallery of temporary posts. Sometimes it would last 30 seconds and I would take it down, sometimes it would last four days. I used it because of who was following me and I used it to push conversations that needed to be had.

So I went to Twitter and just demanded answers for why, in a city like Chicago, Smartbar is just constantly pushing up white artists? Whose story are you telling? The programming is not reflective of the city. We went back and forth and I wasn't even really fighting for myself, I did not want a residency there and I still don't but I made recommendations because they just said, 'oh, well we're just not knowledgeable about these things,' and that's a tool of the oppressor: 'I just didn't know.' So I filled in that blank.
aCeb00mbaP mentioned queer favorites such as TRQPITECA and Lezbefriends. The most noticeable changes to Smartbar in the last couple years is their switch to gender-neutral bathrooms along with their Daphne series, which is a month-long program showcasing women and non-binary artists, and their recent spotlight on the Discwoman series. aCeb00mbaP added that, "I believe that they've operated out of trend instead of knowledge because of the simple fact that trans and woman of color are not working in the inner offices of that institution. Until that happens, until their graphic designer, their promoter, until those jobs go to the marginalized communities, we will only be used as the entertainment factor in that institution and will never really rise up."
Huxtable depicts this reality in her book as well: "Shanika Wilson is a young black woman in need of an income. She learns of a club where white folks can experience the fantasy of a sanitized idealized version of the old slave days. However, she can make more money there in a week than she used to make in a month as a receptionist. So she signs a contract and is transported to the club where she is auctioned off to successive owners to be used as a sex slave."
These problems have been at play in Chicago and all over the world when we go to clubs and dance in a circle with friends, neighbors, strangers. People are feeling a need for more conversation around these issues in order for our circles to be renewed, relived, and revived. Structural changes have been born from these conversations. Festivals such as Wigwood, inspired by NYC's Bushwig, are having panel discussions about these very issues so that intentions can be set before entering the party itself.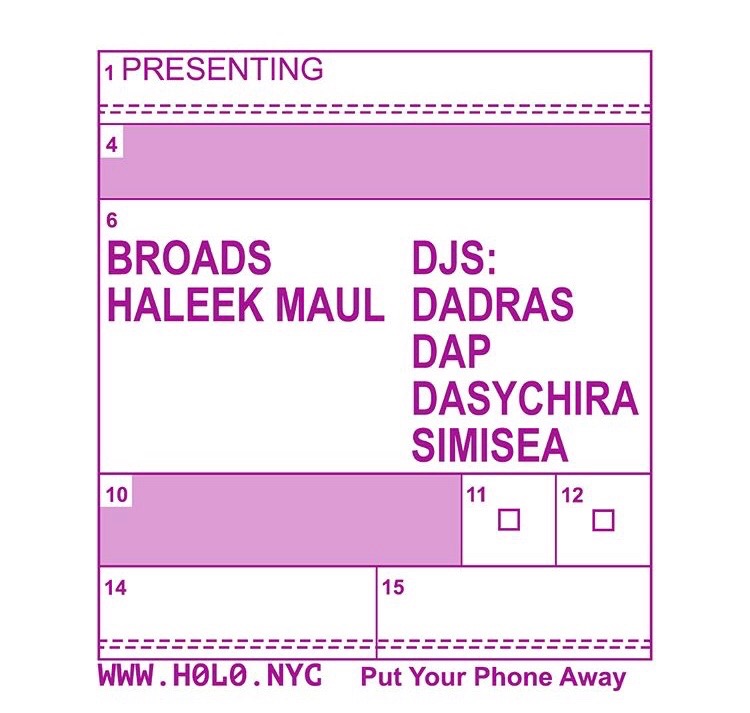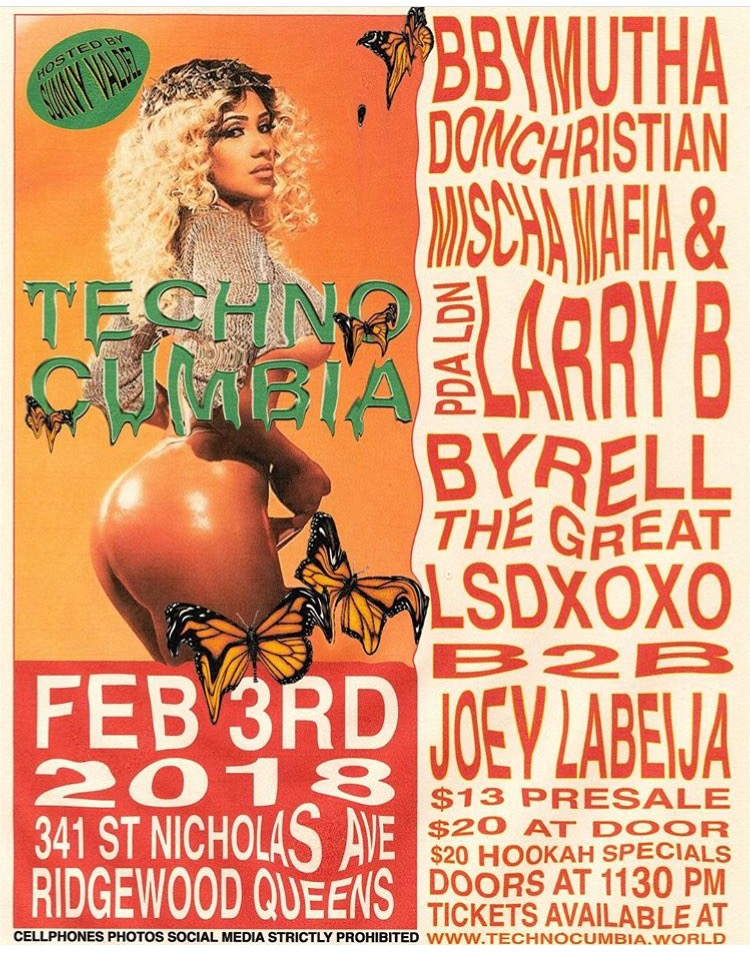 Two show flyers that both mention cellphone use. The first one is white and purple and says "Put Your Phone Away." The second is beige and orange and says "CELLPHONE PHOTOS SOCIAL MEDIA STRICTLY PROHIBITED." Courtesy of h0l0 NYC and Don Christian.  
As attempts are made to be intentional in creating dance spaces, we see more parties emphasizing banned or restricted cellphone use in order to eliminate the mediating factors that are causing us to lose communication in our movement. Preservation and generation go hand in hand. The dance circle can fend off hazard if we realize that it's about venue, mindset, and mode, and if we recognize that, through active change, we can dance these issues off, but not away.
Featured Image: Juliana Huxtable delivering her lecture at The Art Institute of Chicago. Photo by Natasha Mijares. 

---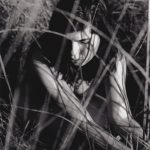 Natasha Mijares is an artist, writer, curator, and teacher. She received her MFA in Writing from The School of the Art Institute of Chicago. She has been published in Container, Calamity, Vinyl Poetry, Bear Review, and has work forthcoming from Hypertext Magazine.