Weekly Picks: March 31 – April 6
While a new Sixty Inches from Center is in the making, please enjoy our weekly calendar, a list of visual art related events happening in Chicago. Events are chosen based on…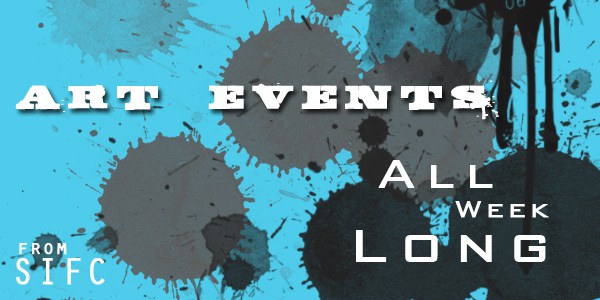 While a new Sixty Inches from Center is in the making, please enjoy our weekly calendar, a list of visual art related events happening in Chicago. Events are chosen based on the information that is put in front of us. If you would like to take advantage of having your event listed on our website please send a press release to reuben.westmaas@sixtyinchesfromcenter.org
Monday || March 31
Do Not Submit: A Storytelling Open Mic
7:30 to 10 p.m.; sign-up starts at 7 p.m.
Powell's Bookstore
2850 N Lincoln Ave
Chicago, IL 60657
Free

If you have been wanting to dip a toe into storytelling without facing a sold-out Moth Slam audience, this is the place to experiment.  If you are an experienced writer/performer looking to hone your live lit skills, this is the place to put the work in.  Not interested in telling?  Come experience the process, and see how the polished stories on stage tomorrow are being shaped, tested and reworked today.
Tuesday || April 1
Two Cookie Minimum Reading Series Celebrates Chicago's Polish Writers
9 p.m.
The Hungry Brain
2319 W. Belmont Ave.
Chicago  Illinois  60618
Free

Two Cookie Minimum is taking April to celebrate local Polish Writers. Chicago bills itself as one of the largest Polish cities outside of Poland. Polish is also the third largest speaking language in Chicago behind English and Spanish. Therefore, this month's reading will showcase work by Kate Sierzputowski, Daniela Olszewska, Joshua Piotrowski, and Adam Lizakowski. As always, there will be free cookies.
Wednesday || April 2
Synapse Arts Open Company Class: Matthew McMunn
10:30 a.m.
Links Hall at Constellation
3111 N. Western Avenue
Chicago, IL 60618
$10 suggested donation
In celebration of the 2014/15 tenth anniversary season, Synapse Arts invites intermediate and advanced movers to ten open company classes. Synapse contemporary dance technique classes focus on dynamic clarity, comfort with the floor, and freeing one's momentum by first understanding core strength. Choreographic combinations allow the dancer to exercise their artistic license. Company classes will feature live accompaniment by percussionist Peter Manheim. Matthew McMunn's class will include a thorough warm up, an exploration of discovering and expressing character through corporal mime techniques, a progressing dance combination, and guided somatic rest/recovery work.
Thursday || April 3
Privacy, Disability, and Fame
7 p.m.
Intuit: The Center for Intuitive and Outsider Art
756 N Milwaukee Avenue
Chicago, Illinois 60642
Free

Randy M. Vick will address these three terms—privacy, disability, and fame—and examine how they come together in the context of studios that support the work of artists with disabilities. These core concepts represent a kind of tension between the clinical world and the commercial art world and between the medical and social models of disability.
Friday || April 4
Snakes and Ladders
6 p.m. to 9 p.m.
Chicago Artists Coalition
217 N. Carpenter Street
Chicago, IL 60607
Free
Snakes and Ladders, a solo exhibition by resident Reut Avisar, presents a peek into a multidisciplinary practice that investigates the circulation of culturally loaded objects and artifacts through time, place, and political forces. Avisar's playful and poetic gestures give the work a physical quality and aims to provide a direct, unmediated experience of the exhibition space. The sculptures in this show are all frozen moments, fragile structures that are constantly on the verge of collapse. Snakes and Ladders holds a strong potential energy that creates a tension as if one is walking between carefully balanced architectures.
Saturday || April 5
Artist Talk with Nicholas Barron
2 p.m. to 3 p.m.
Elephant Room Gallery
704 South Wabash Avenue
Chicago  Illinois  60605
Free

"Autobiographical" is a body of work that has been selected by both the artist and the gallery director during a wintery studio visit. The co-curation is an important part of the process as the exhibition is a representation of Nicholas Barron's strong techniques and emotional process. Barron puts oil pastels to wood panels in order to get the most out of the vibrancy of color and definition of lines. Being both a passionate artist and Soul and Blues musician, Barron's visual art ebbs and flows much like music. Figures and objects begin to come through the busy canvas as the viewer's eyes move through each rhythmic piece. Says Barron, "I work from the subconscious and so my paintings are very figurative and based on what I am feeling in that particular moment. Like my songs, they capture what is happening emotionally right then."
Sunday || April 6
Napkin Poetry
7 p.m. to 9 p.m.
Uncharted Books
2630 N. Milwaukee Ave
Chicago, IL 60647
April's Napkin Poetry event will feature two amazing poets & will be all about Exile. Read writing by writers who have been literally exiled from their countries or write about being in an exiled state of mind. Read writing that talks about alienation and desire as it relates to exile (creepy love letters tostrangers), writing that talks about claiming communities/countries/people/families that no longer claim us as theirs, exile as it relates to depression, exiling out bad people in our lives, being fired, etc. Exile in political, personal, romantic, spiritual and poetry terms. Exiled poetry being poetry of alienation, leaving one's body, "speaking from your tomb" being exiled from life or happiness, exile as a state of being.