Weekly Picks: April 7 – April 13
While a new Sixty Inches from Center is in the making, please enjoy our weekly calendar, a list of visual art related events happening in Chicago. Events are chosen based on the information that is put in front of us.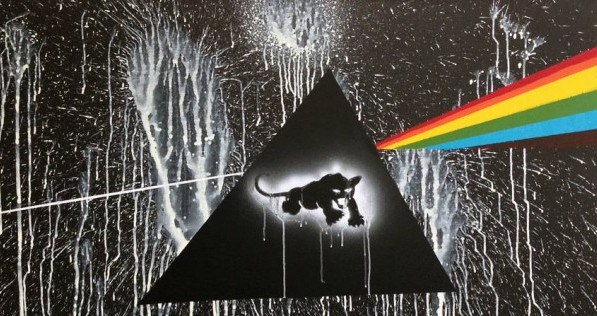 While a new Sixty Inches from Center is in the making, please enjoy our weekly calendar, a list of visual art related events happening in Chicago. Events are chosen based on the information that is put in front of us. If you would like to take advantage of having your event listed on our website please send a press release to reuben.westmaas@sixtyinchesfromcenter.org.
Opening in the President's Gallery at Harold Washington College, one of the City Colleges of Chicago, is the collaborative exhibition "Where Appetites Find Shapes." For this show, Harold Washington College partnered with ACRE (Artists' Cooperative Residency & Exhibitions), a volunteer-run non-profit based in Chicago devoted to  providing an affordable, cooperative, and dialogue-oriented residency program and other supports for emerging artists. The exhibition features pieces by three artists who spent the summer working in rural Wisconsin including an audio piece with accompanying video, photographs, paintings, and a site-specific sculpture created for the President's Gallery.
Artists Liz Heller, Macon Reed and Madsen Minax participated in the ACRE residency program on a farm in Steuben, Wis., last summer and in this exhibition present experimental projects begun during that time. Throughout the residency, artists meet and form collaborations with like-minded peers, learn new skills, and discuss ideas with a group of dedicated, talented makers. This exhibition features three artists linked by their talents for transforming objects, ideas, and affects. Though each artist created their works independently, the pieces reflect influences from other artists in the show.
Harold Washington College – President's Gallery
30 E. Lake St.
Open 10am – 5pm, Monday through Friday
Exhibition runs through May 15th
Free
Larry Chait's exhibition of prints at Old Town Art Center will have an opening reception on April 13th from 2-5 pm, but the show will officially be open for viewing Tuesday from 10:00am-5:00pm.  Chait has been creating images of imaginary spherical objects through what he calls an alchemical process.  By incorporating flaws and imperfections into the works he highlights the "relative subtlety of the flaws."
Old Town Art Center
1763 N North Park Av.
Exhibition runs through May 1st
Opening Reception: April 13th, 2pm – 5pm
Free
FORM: ART + Floral is a one day exhibition that showcases the talents of local artists, each paired with a Chicago florist. Artists present an original work of art to the florists who in turn create an arrangement inspired by their interpretation of the piece of art. The resulting collaboration is an exhibit of unique and intriguing dialogue between two distinct and creative fields. This year's combination of artists and florists will be inspired by a geometric style.  All proceeds this year will go to support Snow City Arts, a Chicago non-profit organization that provides arts education to children in hospitals. A salon style wall of art work by the children of Snow City Arts will also be on display as part of the fundraising efforts of FORM: ART + floral.
Room 1520
301 N. Justine St.
6:00 pm – 9:00pm
$10 donation to support Snow City Arts
If you are looking to get out of the city this Thursday afternoon, head over to the College of DuPage for the Annual Student Juried Art Exhibit. On display in the Cleve Carney Art Gallery, the show will have an opening reception at 4:00pm, and it will run through May 17th.
Cleve Carney Art Gallery / McAninch Arts Center
425 Fawell Blvd., Glen Ellyn, IL 60137
4pm – 6pm
Free
The Water Street Studios Spring Show will have an opening reception this Friday, with the Best Of Show announcement coming at 7:00 pm.  The exhibition will run from April 11th to June 28th, and one of our top Sixty contributors, Jenny Lam, will be the guest juror.  Artists with work in the show include Bart Woodstrup, Steve Clevenger, James Jenkins, Margie Glass-Sula, Matt Hosey, Christina Warzecha, Karen Gubitz, Doug DeWitt , Nancy Reid, Geovani Galvez, Erika LaRocco, Sarah Jantzi, Sherri Denault, Jenna Goeringer, Mel Kistner, Stephen Signa-Avilés, Peter Kenar, Joseph Ahn, and Matthew Litteken.
Water Street Studios
160 S. Water Street, Batavia, IL 60510
6pm – 10pm
Free
David Leggett is interested in contrasting and colliding images in order to create new meanings. Often humorous and brilliantly acid-tongued, Leggett's paintings, drawings and prints target all aspects of contemporary life. From celebrities to art history, personal to political, the artist brings all the contradictions of life together, but never in a way that seeks resolution. We laugh with Leggett but also wince when we identify with the pain and honesty he shares. Exhibition runs through May 10th.
65 Grand
1369 W. Grand
6pm – 9pm
Free
On Saturday, come out to Oakton Community College for a one day symposium that will examine what it means to create politically engaged art.  Hear from a wide range of artists and activists as they discuss the ways in which activism and protest have shaped their work, the challenges they face, and how art can transform communities.  Creating Justice will help artists, activists, community organizers, educators, and students learn from each other and develop alliances that strengthen their work. A keynote address from Nicolas Lampert, author of A People's Art History of the United States and member of the JustSeeds Artists' Cooperative will be followed by musical performances, panel discussions, and workshops.
Oakton Community College
704 South Wabash Av., Des Plaines, IL
1pm – 8pm
Free with dinner and refreshments!  REGISTER HERE
Intertwining spectacle and site, John Preus' "The Beast," becomes a new space for cultural inquiry, public dialogue and creative production within the Hyde Park Art Center, April 13 – August 3. Fabricating a large structure from harvested materials including upholstery leather and discarded wood and furniture from recently closed Chicago Public Schools, Preus will transform the gallery's interior with a complex architectural framework inspired by the form of a dead steer, emblematic of violence and sacrifice. The gallery will exist as an artist-run space throughout the span of the exhibition, and will be activated through corresponding performances, discussions and educational offerings programmed by Preus and various collaborators.
Hyde Park Art Center
5020 S. Cornell Av.
3pm – 5pm
Free