We Series: Food
Journeys and weavings that we explore through cooking, eating, and sharing food. Sharing food with ourselves, our loved ones, and the ghosts we carry. What is the comfort zone you…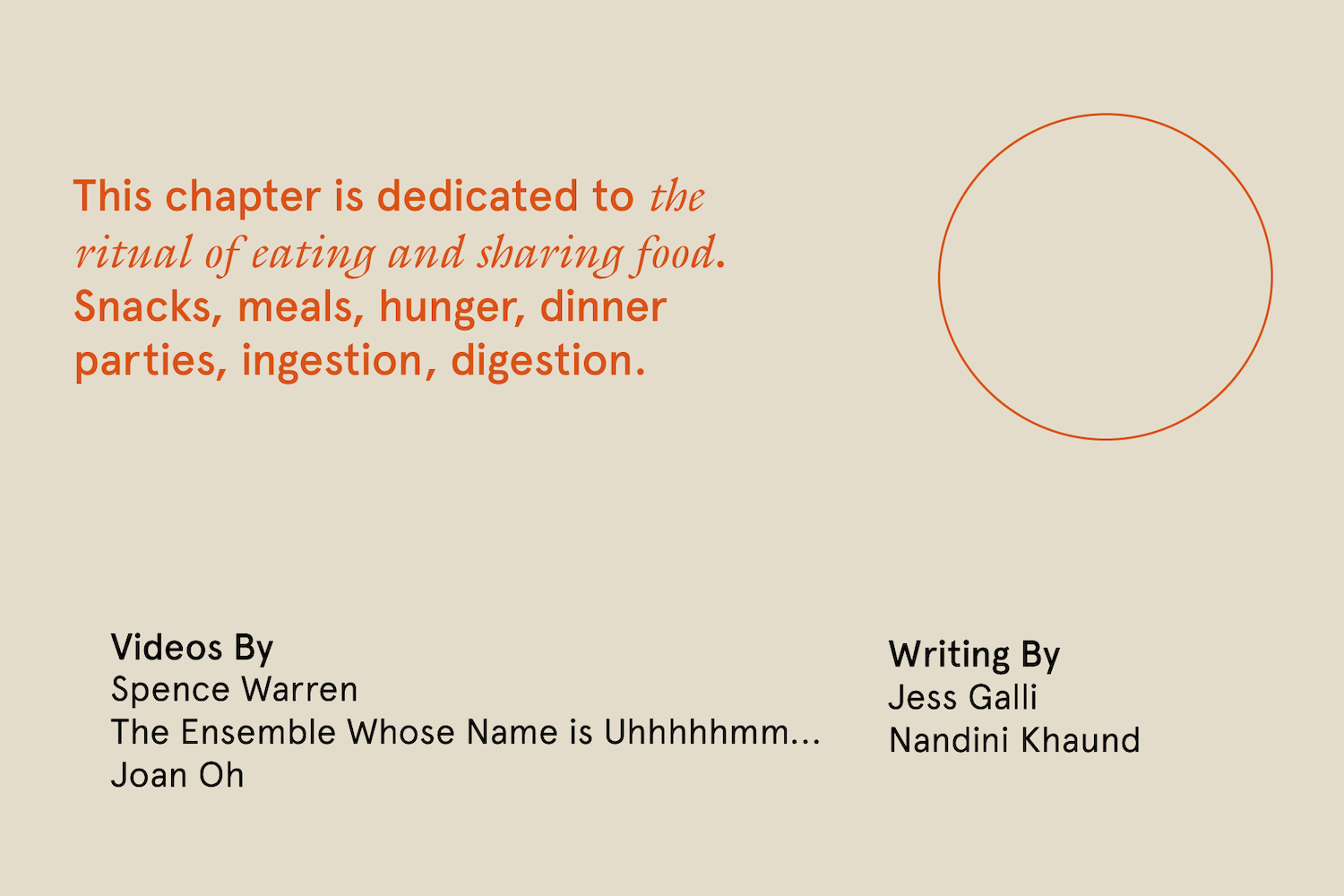 Presented by Elastic Arts in collaboration with Sixty Inches From Center, the We Series presents live art that blurs the line between performance and reality, with a soft spot for the participatory, ceremonial, ritualistic, immersive, and tutorial. The performances in this series will debut every Tuesday evening in January 2021. In tandem, Sixty will be publishing written companion pieces on the same day, authored by poets, playwrights, designers, musicians, bakers, and more. The We Series is co-curated by Deidre Huckabay and Lia Irene Kohl.

The first text-based collaboration is created by Nandini Khaund and Jess Galli on the theme of Food.
The adjacent performances can be streamed here.

Journeys and weavings that we explore through cooking, eating, and sharing food. Sharing food with ourselves, our loved ones, and the ghosts we carry.
What is the comfort zone you need to create in order to take that journey?
//////////////////////////////////
The Beginning of the recipe starts at the table bickering with your family.
The Beginning of the recipe starts sprawled across a plush couch when a long twisting aromatic thread travels from the kitchen and tugs at your impatient hunger.
The Beginning of the recipe starts buried in a memory you left to tumble around in your mind and is now a glistening Fable.
As we peer at our Fable,
Into the PRIMORDIAL SOUP of our creation
Infinite worlds begin to form
Some give us comfort
[wrapped in the wafts of atmospheric nostalgia]
While others are w h i s p e r s of possibilities
[adrift in the escapism of dreams]
*Coalescing and creating a symphony of FUCKING DELICIOUSNESS*


TAP, TAP, TAP. Are we ready?
Layer your atmosphere
– a low hiss of a pilot coiling lit
– creaking floorboards under your tippy toes RE"EEEEEE"ACHING for the bowl
– bubbling butter solids crunching liquids into a fatty steam. [i smell nutmeg]
– the playlist your sister made you, a driveby bass, the neighbor's chatter.
– a full bottle pop.
+ place the tropigoth crown you made the night before upon your hair
+ burn the copal
+ light the bowl
HOLY SMOKE(s)!
now she ready
MASH IT
MELT IT
MIX IT

IF EVER LOST:
w h i s p e r *
"What do you want?"
feel
look
*This will sound like a long loud slurp lips lapping batter, pinching + pulling + poking
HOLD
TRUST, IT WILL TELL YOU
WHAT THE SECRET INGREDIENT IS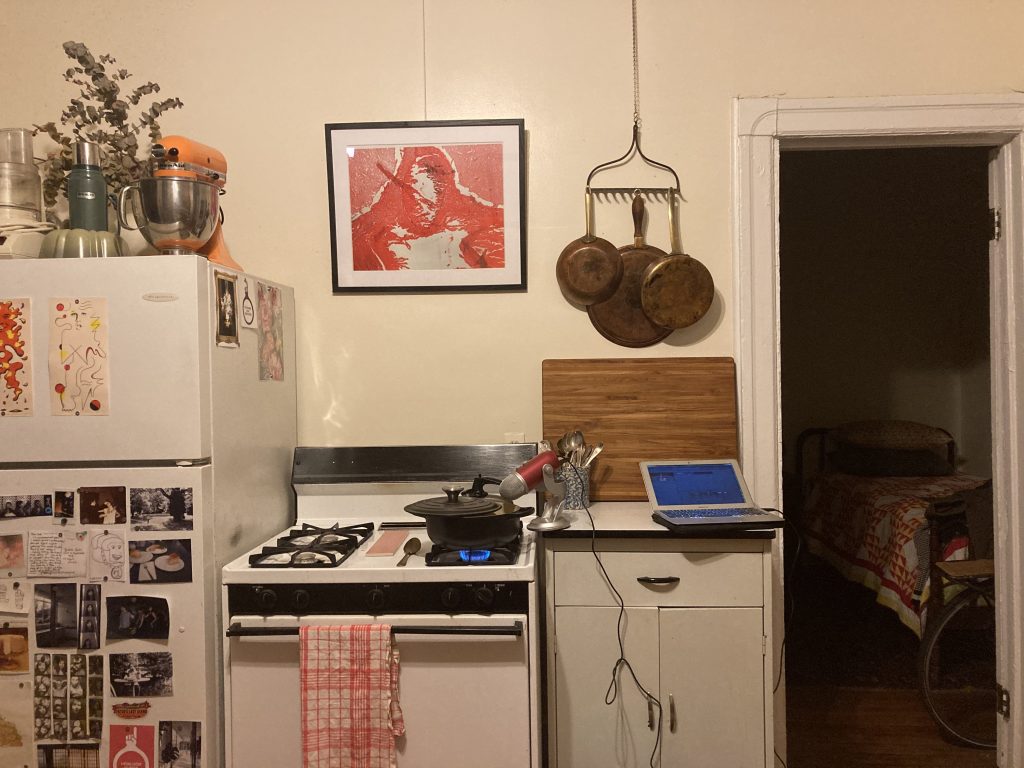 * * *
POTATO LEEK SOUP RECIPE
by Jess Galli
Ingredients:
1 leek, whites & light greens, sliced into ½ inch half-moons
3 gold potato sliced into ½ inch quart & half-moons (depending on the size of the potato)
4 peeled garlic cloves cut into chunky pieces
2 tbsp. olive oil
6 c. chicken broth
¼ c. white rice
A good splash of dry white wine (maybe a ¼ c.)
1 bay leaf
A couple pinches of dry herbs
1 in. parm rind
½ c. finely shredded parm & probably more
Salt & pepper
Lemon wedge
Directions:

Heat olive oil in a soup pot. Add leeks, cook until they are just soft. Add rice. Stir around to toast a bit then add white wine. Once the smell mellows, add potato. Toss around then add broth, bay leaf, herbs, parm rind and a couple hearty pinches of salt. Bring to a boil then reduce to a simmer. Partially cover with a lid. Simmer until rice is full & expressive and potatoes are tender. Season with salt & pepper to taste. Add finely shredded parm, enough to smell in the soup steam. Squeeze the lemon wedge over the soup and then toss in the rind. Stir. Serve with fresh shaved parm on top.
* * *
BANANANANA BREAD RECIPE
by Nandini Khaund
Inspired by the brilliant colors, scents and tastes of Oaxaca, this ubiquitous quarantine comfort blooms and swirls with flavor and escapism. My 3 year old nephew took a piece and zoned out in wonder while he ate it.
Ingredients:
3 brown ass bananas (2 mashed, 1 sliced)
½ c. melted butter
½ c. granulated sugar
½ c. light brown sugar
2 eggs
2 tsp. vanilla
½ c. greek yogurt
1 tsp. baking soda
Around 1 tsp. kosher salt or slightly less himalayan pink salt
1 ½ c. all purpose flour
1 c. dark chocolate chips
½ c. oaxacan chocolate shavings
½ c. chopped hazelnuts (toasted, de-skinned)
Directions:
Preheat oven to 350. In a medium bowl, mash 2 bananas. Thinly slice the 3rd, reserve. In a large bowl, mix the butter and sugar…. Then add eggs and vanilla and mix. Add yogurt, mashed bananas, baking soda and salt and keep mixing. Add flour and mix. Then add your sliced bananas, chocolates, and hazelnuts. Grease a 9 x 5 loaf pan, place a strip of parchment across it (making handles for easier removal). Bake for around 60+ min, until a chopstick comes out mostly clean except for the triple chocolatey goodness.
Chocomole Ganache
Ingredients:
¼ c. milk
2 tb. unsalted butter
1 heaping tb. Negra Almendrado mole paste, reconstituted in a pot with 2 tb. water over med heat, smashed with a ladle spoon
3-4 oz. chopped chocolate (I used a bar with toffee)
Directions:
Heat milk and butter in a small saucepan over med heat for 3 min, until you have tiny bubbles. Pour milk over mole mix and chocolate and let sit until it thickens. Smear it all over your bananana bread.
Optional but aesthetically recommended: Add edible gold sparkles
* * *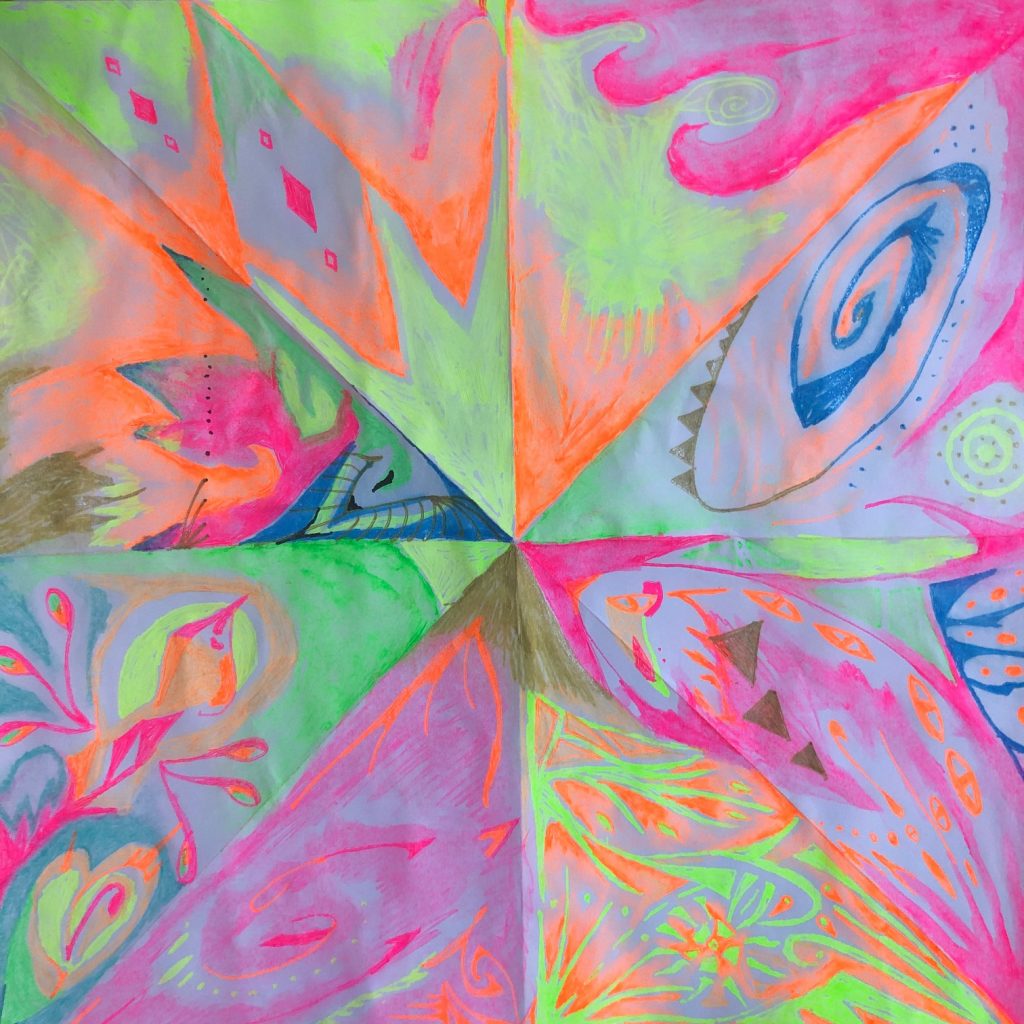 drawing ether
by Nandini Khaund

++++++++
Becoming, growing, expanding.
A universe of possibilities,
And we hope it hits you the same way it did us through the rituals of our practice.

I made a double batch of Jess's soup listening to her meditative audio and fed my family with it…
"It felt like I was a wandering and weary traveler that found a warm welcome" – my brother-in-law

This piece, inspired by Alebrije hummingbirds (Mexican folk art of brightly painted wood) and landscapes of Oaxaca, represents the time and space where the elements and intentions of our recipes swirl in the practical magic of baking or simmering.

It has since been folded into a paper crane and given to the voices in the drawing audio – Isaac, age 3, and Nora, age 6:
Featured image: A graphic that gives information about the Food iteration of the We Series. Created by Lindsay Zae Summers.

---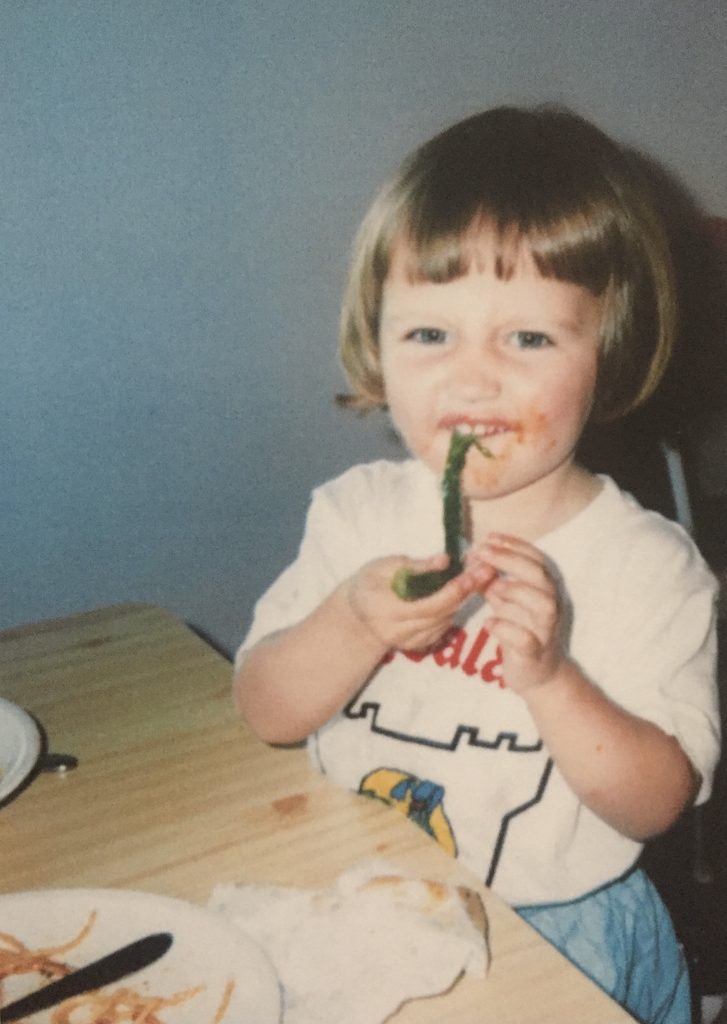 Jess Galli is a Chicago based baker specializing in naturally leavened bread, local grain economies and dough whispering. She attends births when duty calls as a certified Labor & Postpartum Doula. As a native-born bay area lady, she wanders around her local Humboldt Park in awe of the first snow. Jess loves eating soup in the winter and tacos in the summer. She eagerly awaits a time when she can dine-in at her local Korean grocery store, spontaneously meet a friend for a drink and host a big dinner party for no particular reason. Till then, she'll continue cooking for those she loves anyway she safely can.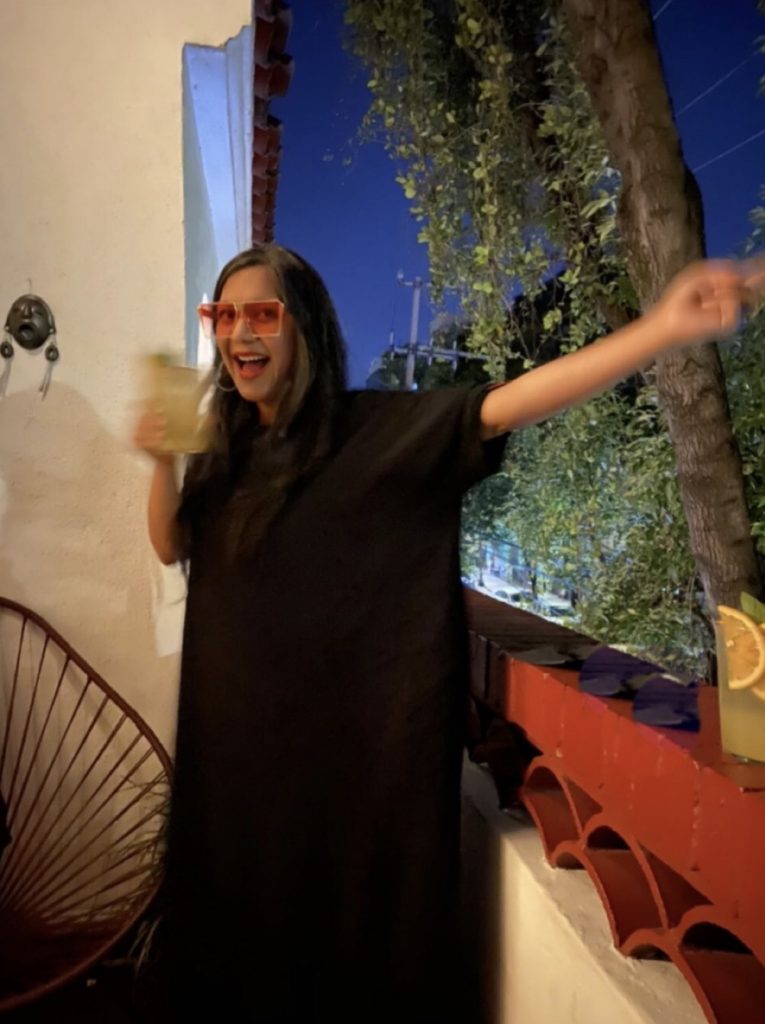 Driven by rituals of magic/science, Nandini Khaund imbues her potions with histories and narrative fantasy, drawing from the ethnobotanical study of spirits. Before the pandemic, she thrived on the design of drinks, menus, and "atmospheric wizardry", but of course…such things are on pause. She has used our dystopian reality to immerse herself in more spacious creative experiments, and drives best practices for emerging talent as a cuntsultant, having most recently helped launch Three Floyds Distillery. She enjoys her work with non-profit organizations, serving on the philanthropic grants committee of Tales of the Cocktail Foundation and on an advisory board for Speed Rack, an international bartending competition for womxn that raises money for breast cancer research.