Un/Published with Andrea Alessi and Joel Kuennen of ArtSlant
As ArtSlant sunsets, we spoke with closing editors of the publication about the beginnings of the publication and where it will go from here.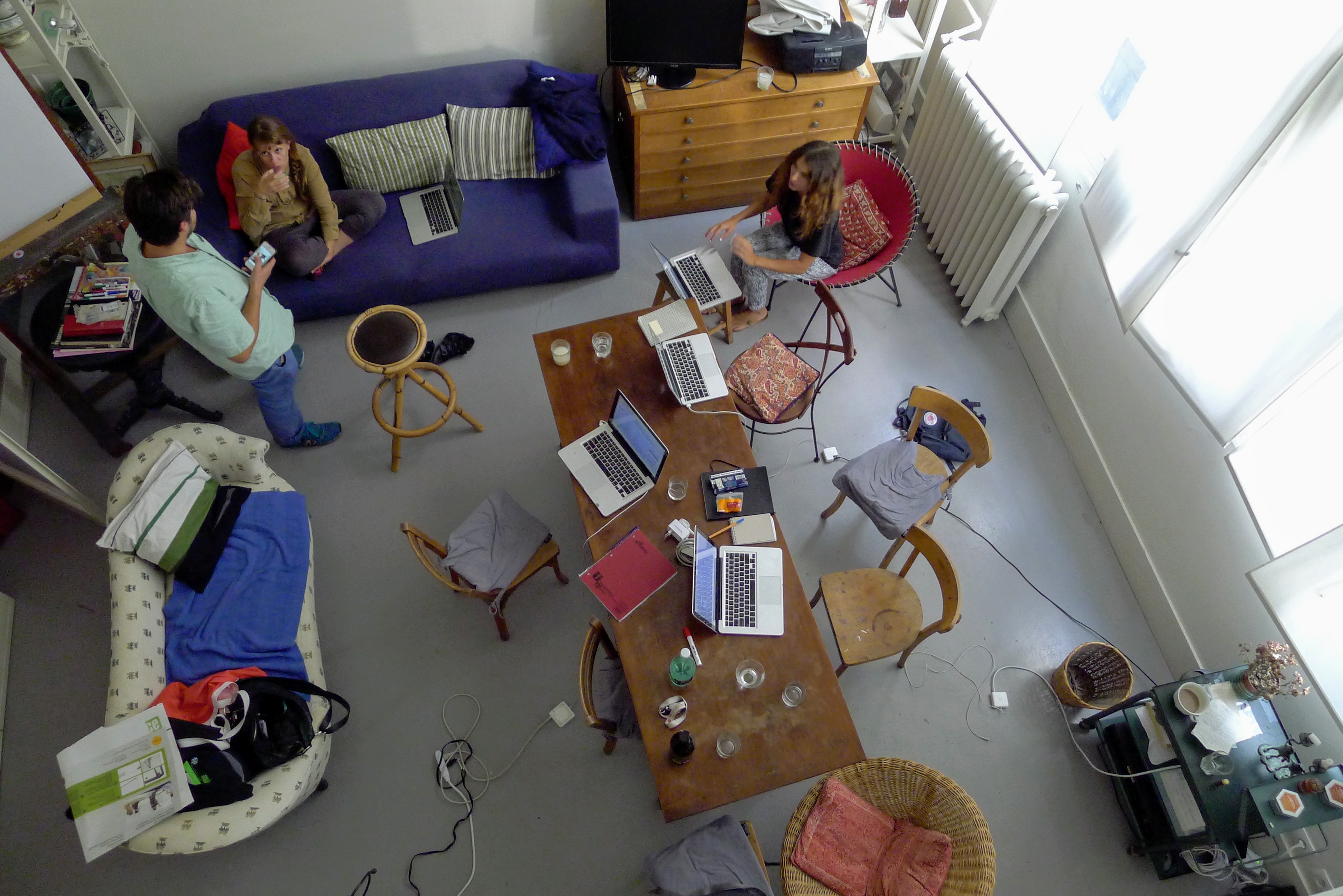 Running an arts publication is not easy. Often a labor of love and volunteer energy, many platforms are started by those who recognize a gap in coverage for art being produced by the artists whose work often misses the pages of local newspapers, global arts magazines, and online cultural publications.

Although many of us can name several publications doing this work or have been featured in their physical and digital pages, the efforts that make these platforms possible go largely unseen. Un/Published was created as a way to acknowledge the minds behind the platforms, to illuminate the role they play in propping up the corners of cultural production that are largely undercovered, and call attention to the back-end challenges of sustaining an arts publication at a time when the media is in crisis, with decreased mainstream coverage of culture and a decrease in jobs available for those writers. Un/Published will act as a place to dig into this work and will include a series of interviews highlighting arts publications that critique, document, archive, and support the cultural production happening in Chicago and across the nation.
In this interview we take a look at ArtSlant, a publication that started in Los Angeles in 2007 with a focus on putting a social slant on art and drawing connections between art, its various media, and the communities it is created for. Founded by Catherine Ruggles and the late Georgia Fee, ArtSlant published arts writing from contributors across the globe and also ran an annual ArtSlant Prize, hosted the Georgia Fee Artist and Writer Residency in Paris, and had a searchable database of profiles for more than 200,000 artists, curators, and other arts professionals worldwide. After twelve years of operations and expanding to over fifteen cities and countries, ArtSlant shut down and took the necessary steps to preserve their content to the Library of Congress and the web archive collections of the New York Resources Consortium.

In this collaborative interview I spoke with two of ArtSlant's last editors Andrea Alessi and Joel Kuennen about some of their most memorable moments with the publication, what led to them deciding to shut down, and what they see for their futures and the future of art's written commentary.
This interview has been edited for clarity and length, with each question answered collaboratively by Joel and Andrea, unless stated otherwise.
---
Tempestt Hazel: What is the origin story of ArtSlant? How and why did it get started and how did you become involved?
Andrea Alessi and Joel Kuennan: In 2007 Georgia Fee and Catherine Ruggles launched ArtSlant as an online social network for artists in Los Angeles. The goal was to create an open platform for their friends to post exhibition listings and promote their art and events. The story goes that Georgia and Catherine went on vacation and when they came back a couple weeks later, the site had blown up—people were uploading loads of art and exhibitions! It was then that they realized ArtSlant could become an actual business.
At its core, ArtSlant was (and remains) a massive database of artists, artworks, art spaces, exhibition listings, and criticism. Much of that content was user generated, but the editorial platform—ArtSlant Magazine—was maintained by staff and contributing writers. From its LA origins, the site ultimately expanded to cover art in cities around the world with fifteen regional hubs.
We both joined as writers—Andrea in Amsterdam in 2009, Joel in Chicago in 2010—and, as for many of our colleagues, ArtSlant was one of our first arts writing gigs. ArtSlant gave me (Andrea) a foothold in the Dutch art scene when I moved to the Netherlands. There was so little English-language criticism about continental European art being written at the time. Everything was about NYC and LA, and ArtSlant offered a unique opportunity to give more visibility to art outside of those cities. Joel was recruited by his classmate, Abraham Ritchie, who was then the Chicago Editor. In time, we each became the editors for our respective cities. Andrea closed out her time as Managing Editor and Joel was COO.
TH: What was ArtSlant's focus and what type of publishing do you do (styles of writing, specific kinds of writers, frequency, print and/or digital)?
AA + JK: ArtSlant focused on supporting emerging critics and artists. It maintained a commission-based model of art criticism centered on, at its peak, fifteen regions (cities or countries). Each region had an editor who would commission local writers to review exhibitions, conduct artist interviews, and comment on art and culture. Voices and styles varied greatly as we wanted to give writers the freedom to experiment. ArtSlant was mostly a digital publication with a daily publication schedule. It also printed catalogues of commissioned essays for its ArtSlant Prize exhibitions.
TH: How had its focus shifted over the years and why did you make those shifts?
AA + JK: ArtSlant was really meant to be a resource for artists and art lovers. Early on, writers would submit what we called a "gallery hop": a trio of short reviews and cultural recommendations (like a choice bite to eat near their favorite gallery). Georgia was generous about writers' freedom and assignments. As Editor-in-Chief, she always encouraged us to experiment—maybe writing in prose or even poetry. Early reviews could cover Golden Age still lifes, a Modern Art blockbuster, or a fledgling artist's first solo show. Georgia encouraged us to cover art that we felt passionate about—rather than review shows that we felt we should be writing about. She wanted us to have fun and she wanted it to show!
Georgia passed away in 2012 and our colleague Natalie Hegert took over the editorial helm. Natalie was already the founder of ArtSlant Street, a sister website dedicated to chronicling street art and giving it the critical attention it deserved. We kept Georgia's spirit of experimentation alive, but we also shifted the editorial focus to be more contemporary. We even tried our hand at adding broader cultural news, but there was too much competition. The online art news and criticism space was getting crowded. Specialization, it turns out, was a better strategy for us than widening our scope. At the same time, we incorporated ArtSlant Street back into the main ArtSlant website, with the thinking that relegating street art to a niche site would only reinforce it as something "other."
For the last five or so years, since Natalie's departure, we focused exclusively on contemporary art and artists, particularly with a "social slant." Editorial was downsized at this time and we switched from City Editors to a small, centralized team of three. Our colleague Charlotte Jansen was instrumental in shifting coverage to young woman-identifying artists and digital artists. We made it our mission to amplify the work of underrepresented artists working in social, political, or environmental registers within new media.
TH: What were some critical moments, projects, or collaborations that stand out most to you from ArtSlant's run?
AA + JK: There are too many to count, but we're particularly proud of the ArtSlant Prize, which ran for nine years. Artists submitted artwork online and had their work evaluated by respected gallerists and curators. We exhibited winners' work at Aqua Art Miami and for the last two years in New York City at SPRING/BREAK Art Show. Over the run of the Prize, we saw the calibre of work submitted get better and better. And the exhibitions we staged got more ambitious. Some of the arts writing we're most proud of have been essays we commissioned for the exhibition catalogues. Many Prize winners, like Edra Soto in Chicago, have gone on to have major gallery representation, museum acquisitions, and exhibit their artwork widely.
From 2013–2018, we also hosted the Georgia Fee Artist and Writer Residency in Paris. The residency was founded to commemorate Georgia after her passing and it was really an opportunity to honor her legacy while supporting a new generation of artists. The artists and writers (one in winter, one in summer) focused on a project of their choosing, but also maintained a residency blog, where they had the chance to experiment with text and image on the ArtSlant website.
One surprising place where we really saw our work echo into contemporary culture, was a 2014 April Fool's Day article written by Natalie in which we claimed the Museum of Modern Art (MoMA) planned "to give the museum over exclusively to women artists for the entire year of 2015." Many including the Guerrilla Girls themselves saw the joke for the institutional critique it was—but for some, it cut too close to the bone: the post was called "in poor taste," "unconscionable," and "a 'slap on the ass' to women artists." This story took on a life of its own and started a conversation that continued in publications beyond ArtSlant, including The New York Times and artnews. With MoMA currently closed to reevaluate its collection and exhibition strategy, we can't help but think we were part of the necessary and ongoing dialogue that got them there.
TH: When ArtSlant was active, how did you keep things going?
AA + JK: We tried a lot of things: developing strategic partnerships with other publications to content share, diversifying our outreach channels to increase the reach of our content, changing the editorial slant to be more focused on socially engaged work, coming up with new ways of bringing in money through subscriptions (i.e., artist websites), and downsizing to the bare bones. It was a difficult period for the site and its loose team of cultural producers but we squeezed by for a few more years and were able to keep producing criticism at a high level.
TH: What were the circumstances leading to your shutting down? And what questions did you ask yourselves before making that decision?
AA + JK: ArtSlant always ran on a razor's edge. The owner contributed greatly by keeping the site going but as we looked to turn ArtSlant into a self-sustaining company, we were caught in an overall downturn in publication profitability. Publishing in the arts is extremely difficult. Advertising comes from two major sources: luxury brands and galleries. With the rise of the art fair, galleries spent less and less on advertising, taking their marketing budget and using it to purchase a fair booth. Luxury brands, on the other hand, weren't as interested in a platform that catered to cultural producers rather than buyers.
Advertising revenue continuously declined during our tenure (and ArtSlant was not alone in experiencing this shift) so we decided to bolster the subscription models on the site. The hard truth was that criticism didn't produce revenue directly and though we knew it was important for the overall mission of the site, it was a constant battle to justify its costs. The year before we shut down, Catherine Ruggles decided to end the editorial and Artslant Prize programs and that's when Joel left. The site remained live for about a year after that, continuing to host user-generated artist profiles and exhibition listings.
TH: You wrote about this briefly in your announcement of ArtSlant shutting down, but can you talk more about how are you preserving access to all of the content that ArtSlant has created?
AA + JK: We wanted to find a way to keep tens of thousands of articles available for future reference as they were often the first review an artist received or the first article a writer wrote. In addition, ArtSlant's event listings and artist profiles function as an archive of artistic activity in major cities in the US, Europe, and Asia. Joel reached out to The Library of Congress and NYARC upon hearing that the owner was going to shut the platform down, hoping to find a way to keep the site and its hundreds of thousands of pages available online. ArtSlant had such a mass of data that we felt it could only be handled by large archiving institutions. We are honored that both institutions agreed to archive the site, a process which will take about one year.
TH: What are the biggest, obvious challenges you've faced along the way while running ArtSlant?
AA + JK: The biggest challenge was keeping it financially viable. Arts organizations, despite little government funding in the United States, are generally geared to run on grants. As a private company, we had to rely on developing revenue streams as we didn't generally qualify for cultural grants. This put us in a position where we found it difficult to expand or invest in key sectors where we thought there might be potential for growth. Other organizations like Artsy, had the benefit of investment capital from the likes of Wendi Murdoch and Roman Abramovich to aggressively invest and expand their operations. In general, this start-up model of investment capital disadvantages companies who are trying to run an even balance sheet.
TH: What are some of the more invisible challenges and hard decisions that folks are generally unaware of?
AA + JK: At the end, there was a staff of three people running the entire site. We'd often come face to face with this assumption that, because of ArtSlant's reach and longevity, the company must have a large staff like any other faceless corporation. But at its height, there were only eight full-time staff and a disparate crew of freelancers. The site survived because those few laborers gave much more time than they were asked, a situation that was discomforting to us but nevertheless seemed like the only option to keep things going in an industry where underpaying is rampant. To be clear, we always paid our staff and writers, which is by no means a given in this industry. Many thanks to ALL those who kept working at the site through the years, truly pouring their time and ambition into this community experiment.
TH: What role do you think arts writing plays in the ecosystem of art, in general?
AA + JK: There are two answers to this question. One, it plays into a valuation system for luxury items. Two, it can help artists and viewers see work in new ways, complicating the act of cultural production so as to encourage more demanding and critical work. We preferred to focus on this second role.
Our audience at ArtSlant was mostly artists. Arts writing for artists allows for an exchange of ideas, setting up a system of healthy, dialogical production where art is produced, critiqued, discussed, and then more work is produced. Having this critical feedback loop is essential to a mode of cultural production that advocates social progress.
However, it is also important for art and arts writing to have a presence in popular culture. Newspapers rarely spend the money on cultural criticism outside of major cities which greatly diminishes art's role in broader cultural conversations. Cultural criticism is definitely alive and well but the role of visual art in driving these conversations has been marginalized, perhaps rightfully so if the works that get the most coverage outside of our niche are nothing more than shiny balloon animals.
TH: Who are some of your peers in this coverage and in what ways were you occupying a space that was distinct?
AA + JK: We knew we were something different from the rest in that we had a more experimental approach to the work we would publish, but we shared readership with sites like Hyperallergic, ArtForum, Art in America, Frieze, and eventually Artsy when they came on the scene. Artsy's database-style model was similar to aspirations we had, but they truly embraced the rarification inherent in the art market and constructed an invite-only profile system while investing heavily on gallery outreach.
Internally, we cultivated some competition with these sites but ultimately we always ran into the fact that we were very small and only had so many hours in a day. We had to find a niche, not compete with behemoths that had been doing this much longer or had a lot of capital behind them. What we ended up settling into was something similar to where we had started: focusing on work that was ignored, artists who were marginalized, and voices without a platform.
TH: Where do you think there is room for growth within the landscape of arts writing?
JK: I don't know honestly. I see a lot of interesting criticism, not necessarily writing, happen on social platforms like Instagram and I suppose there will always be a specialty market for it within academia and the art market which will keep arts publishing alive. But the hopes and dreams of a wide-open, nascent internet platform being able to sustain a community without mining that community for data to sell forward seem like a long-lost pipe dream.
As for arts writing, I hope it can maintain an independence from market forces as a majority of outlets now tend to focus on PR-heavy, criticism-lite puff pieces. Now, I'm not advocating for more negative writing; I believe criticism can write positively about work, encouraging and amplifying aspects that work well while still calling out problematic parts. "Call out culture" has an important place within arts criticism and allows us to grow towards our shared values but let us not forget that we are trying to build something here, together.
AA: I couldn't agree more. I would add: there is more arts writing and criticism happening now than ever before, so it's "growing" whether there's room for it or not. But I think the most meaningful growth is probably happening in increasingly niche spaces. There are always going to be smart, creative people who are generous with their time, feedback, and criticism. And they are always going to carve a space in the newest platforms, regardless of format or medium. Whether these critics are getting paid for that work is another question.
TH: What do you wish people understood better about running and sustaining an arts publication?
AA + JK: That it's actually very hard! Lol. The arts, in general, lack funding chiefly because of the trope that people do it out of love, so why pay them? And sure, there are a lot of well-off people in the art world who don't have to worry about money, but what we found through interacting with our community over the years was that many artists were just scraping by. The body of the iceberg is poor and overworked and they are still making work because they need to. This has lead to labor exploitation rampant throughout the industry as the anonymous google sheet of art salaries makes clear. There are so many "opportunities" in the arts that require artists and writers to foot the bill, be it a residency that asks you to pay rent or an exhibition opportunity that requires you to eat the cost of shipping. We were only able to do around twenty exhibitions as ArtSlant but we always paid for shipping, hosting, etc. Running an ethical business in an unethical sector is very difficult.
TH: Now that you're no longer doing ArtSlant, what are you up to and how can people stay connected to your work?
JK: I'm writing art criticism, making work, and curating in Providence, RI. I've come to start focusing more on Bioart as the field emerges from its experimental punk rock days into a necessary field for experimenting with bioengineering technologies. You can follow my work on my website, www.joelkuennen.com, or on instagram @joelkuennen.
AA: Sadly, I'm not currently working in the arts. I'm still working fulltime as an editor, but I'm under the radar with no byline, which is where I've always been most comfortable.
TH: What is a piece of writing that you always go back to? Or what is something you've read lately that you would recommend to others? This can be arts writing or anything
AA: I love the idea of really diving into a piece of writing and returning to it. But to be honest, I never do. There are just too many things I want to read, so I'm always moving on to something new.
It's five years old now, but I recently read Elizabeth Kolbert's The Sixth Extinction: An Unnatural History. Topically, it's more important than ever, but the thing that really captured my imagination is how there was no concept of extinction until the turn of the 19th century. The idea that species could cease to exist was unfathomable. It makes me dream about new paradigm shifts that could completely upturn how we think about the world. Perhaps the naming of the Anthropocene is that shift.

JK: I'm currently reading The Mushroom at the End of the World by Anna Tsing, Animacies by Mel Y. Chen, and Donna Haraway's Staying with the Trouble: Making Kin in the Chthulucene.
__
Featured Image: An overhead view of Joel Kuennen with then Editor-in-Chief Natalie Hegert, and Editor Charlotte Jansen, together at a team meeting in Paris in 2014. Joel is standing to the left of the image with the other two seated in a blue couch and red chair. Photo courtesy of ArtSlant.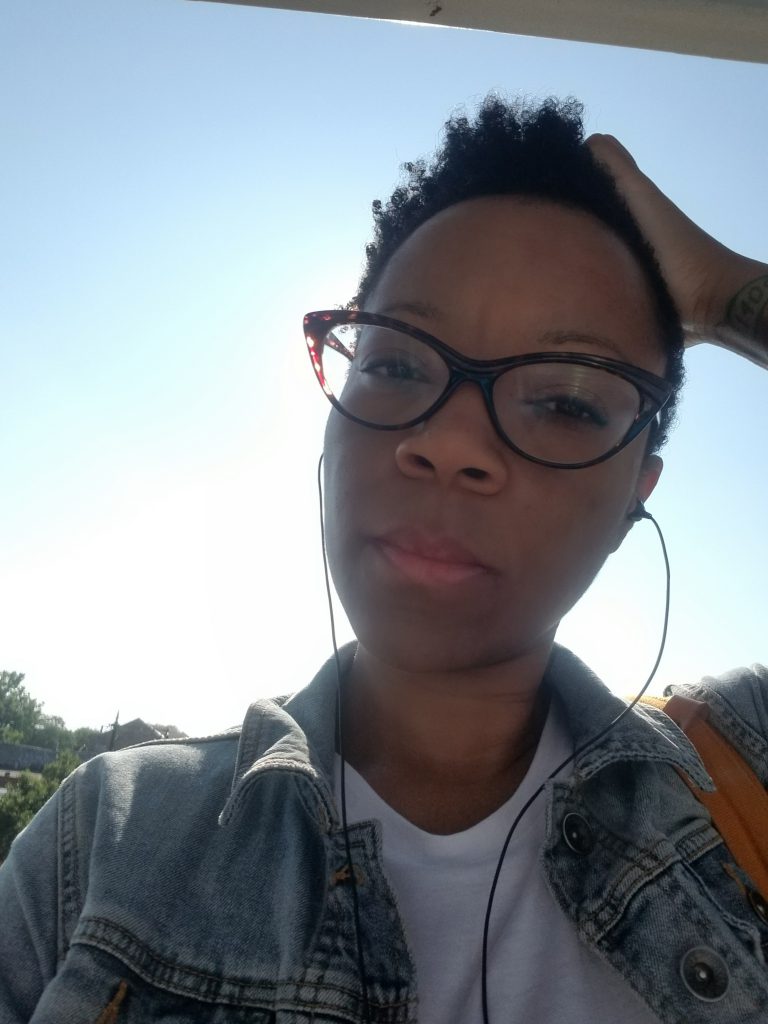 Tempestt Hazel is a curator, writer, and director/co-founder of Sixty Inches From Center. Her writing has been published by Hyde Park Art Center the Broad Museum (Lansing), in Support Networks: Chicago Social Practice History Series, Contact Sheet: Light Work Annual, Unfurling: Explorations In Art, Activism and Archiving, on Artslant, as well as various monographs of artists, including Cecil McDonald, Jr.'s In the Company of Black published by Candor Arts. You can also read her writing in the Art AIDS America Chicago catalogue and the online journal Exhibitions on the Cusp by Tremaine Foundation. Find more of her work at tempestthazel.com. Photo by Darryl DeAngelo Terrell.