Transition To Power Inauguration Day Screening + Action Session at Mana Contemporary
Get a first look at the episodes of Transition To Power, the latest documentary film series by On The Real Film on artists in the election aftermath.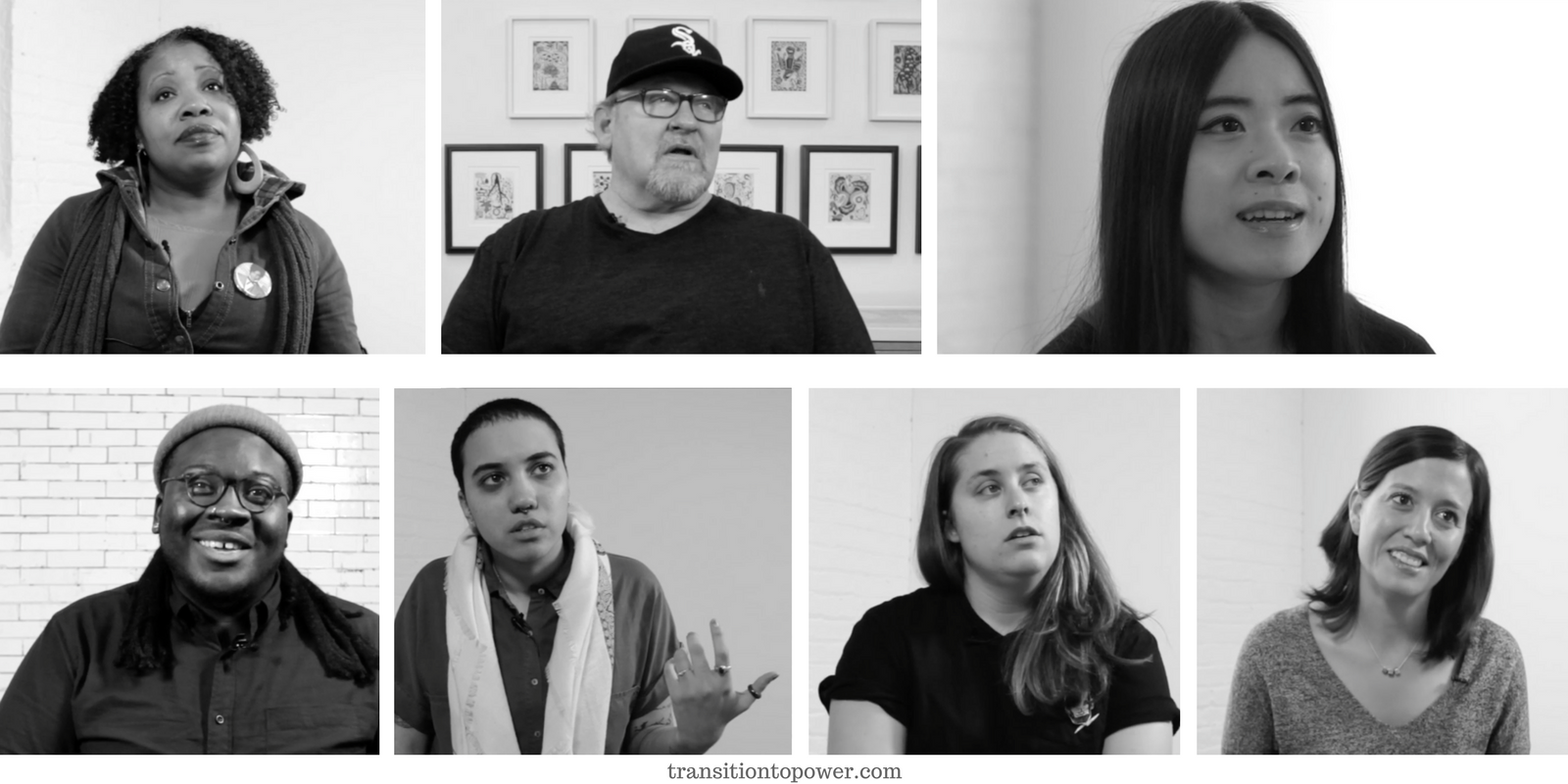 Fri, Jan 20, 2017; 7-9pm
Mana Contemporary, 5th Floor (2233 S Throop)
RSVP
HOST AN ACTION SESSION  | VIEW PRESENTATION
On The Real Film and Sixty Inches From Center present an Inauguration Day screening of unreleased episodes of Transition To Power, an ongoing documentary web series of interviews with Chicago artists that focuses on how artists are responding in the aftermath of the presidential election.
Following the screening, we will deliver a hand-picked list and crash course in local and national efforts for equity, cultural uplift, community care, and social justice that provide options for where artists, writers, filmmakers, and cultural producers can channel their energy and efforts in the years ahead beyond the studio space.
This event will be the kick off of #OurFirst100Days, a social media campaign that pulls together and makes visible the individual and collective efforts that artists, activists, and organizers are starting or continuing in the streets, studios and gathering spaces in Chicago and beyond in the first three months of the new administration.
The event will feature custom cocktails and snacks by Guerrilla Smiles.
Free and open to the public.
Mana Contemporary is wheelchair accessible. For details, please contact michael@ontherealfilm.com. You can also find a map of the entrance here. All episodes of Transition to Power are captioned. 
---
Latest Episodes
Watch from the beginning at TransitionToPower.com.
EPISODE 6: We Have To Talk About It
with Hannah Welever
EPISODE 5: It's All About Us
with Paola Aguirre
If you're an artist, musician, curator, cultural producer, or writer interested in being interviewed, contact On The Real Film here.
Image: Stills from interviews with [left to right, top to bottom] Felicia Holman (interdisciplinary artist), Tony Fitzpatrick (artist, writer, actor), Jenny Lam (writer, curator, artist), James T. Green (designer, audio producer, artist), RA (poet), Hannah Welever (filmmaker), and Paola Aguirre (urban designer).