The Party Politic: Creating Movements through Movement [Video]
A discussion on how gatherings that harness the energy of party and club environments become spaces for empowerment, resistance and inclusion.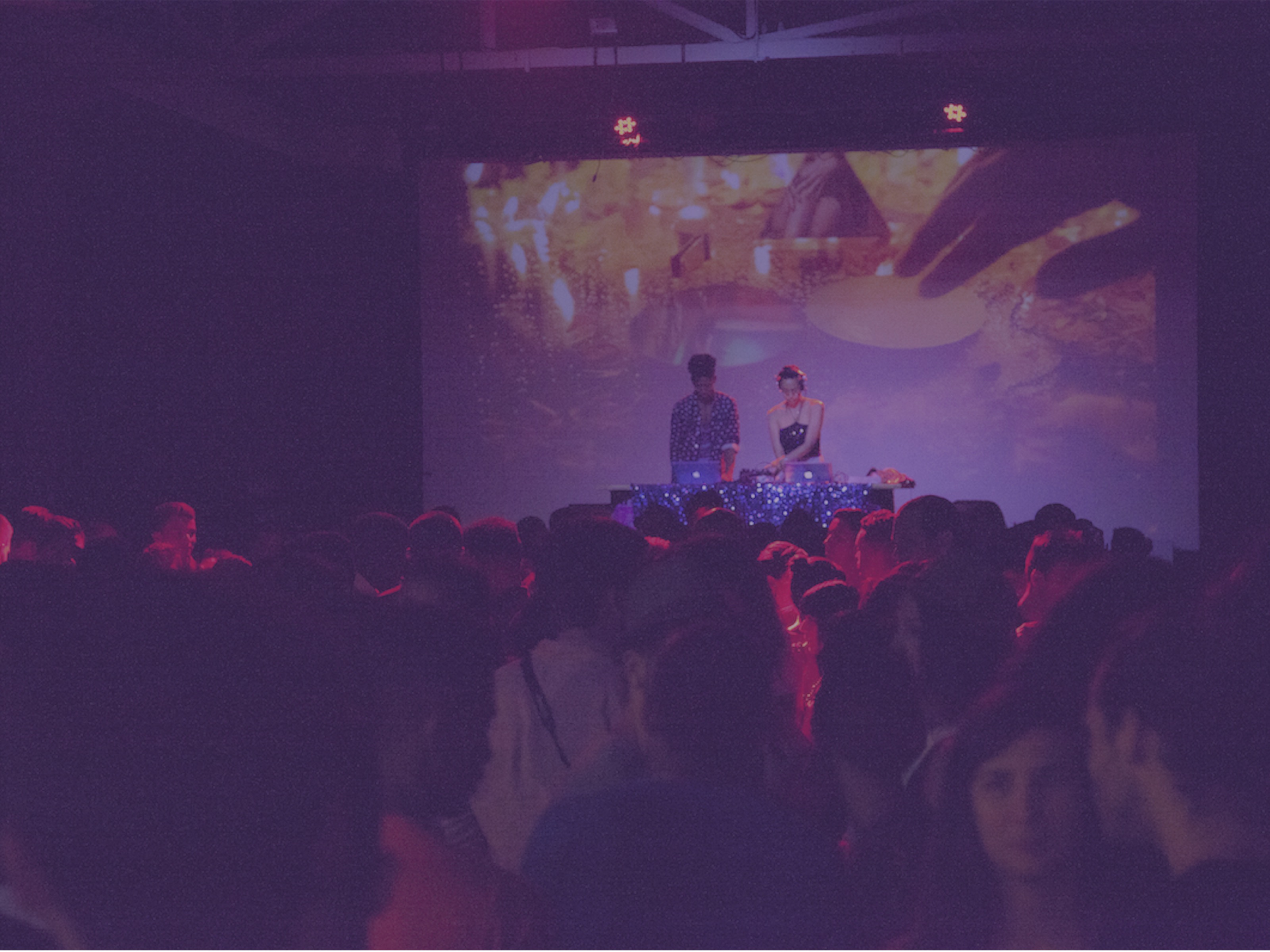 The Party Politic: Creating Movements through Movement is a discussion on how gatherings that harness the energy of party and club environments are cultivated and naturally become spaces for empowerment, resistance and inclusion. This conversation highlights those who have been creating these types of spaces for years as well as the newly established projects making waves around the city. These founders will discuss why they started, how they built their followings, the political threads they see emerging alongside their projects, and the significant role this work plays in maintaining creative communities.
Speakers include Jane Beachy (Salonathon), Rae Chardonnay (Party Noire), Ciera McKissick (AMFM), Aay Preston Myint (Chances Dances), Eric Williams (The Silver Room). Moderated by Abra Johnson of Honey Pot Performance.
__
ABOUT THE SPEAKERS
Jane Beachy is the founder and Artistic Director of Salonathon (est. July 2011), as well as the Program Manager for Art at Illinois Humanities, where she founded the Elective Studies series for artists.  She has produced events, performances, residencies and retreats at and/or with the University of Chicago (Chicago Performance Lab), Museum of Contemporary Art, Chicago's Department of Cultural Affairs and Special Events (OnEdge, SummerDance), Steppenwolf Garage, Metro Chicago, The Empty Bottle, Thalia Hall, The Promontory, Land and Sea Dept., The Inconvenience, The Neo-Futurists, Columbia College, MAKE Magazine, Printer's Ball, Bottom Lounge, Berlin Nightclub, Chicago Reader, Slideluck and more.  She also runs Camp Salondawega, an artistic retreat at the acclaimed Camp Wandawega in Wisconsin, and teaches in the Theater and Performance Studies Department at the University of Chicago.  She has served on grant-making panels at DCASE, Illinois Humanities, and the Charlotte Street Foundation in Kansas City, and recently spoke on a panel about place-making at the Art Institute of Chicago.  Prior to founding Salonathon, Jane served as the Marketing Director at About Face Theatre, Account Executive at TheaterMania in New York City, Program Manager of the Community School of the Arts at Kansas City Young Audiences, and as a Teaching Artist and Drama School staff member at Seattle Children's Theatre.  She graduated Phi Beta Kappa from the University of Iowa. salonathon.org
Rae Chardonnay is a DJ and event organizer with a ten year background in Arts and Entertainment Management. She is a Co-Founder of Party Noire and the Founder of Black Eutopia, a program series intended to cultivate space for marginalized communities. Rae utilizes her passion for activism to create community outreach and development strategies through event coordination. She is dedicated to encouraging a life of open-minded learning and expression in order for others to learn to create and/or find their own peace. For the last three years she's facilitated DIY media courses for youth across the city of Chicago including DJing and Podcasting. Rae Chardonnay's musical explorations include House from around the world, Soul, Funk, Disco, Hip Hop and R&B from the new and old school. Recently noted as Chicago's Best DJ by the Chicago Reader, she is dedicated to making backs sweat on the dance floor. thepartynoire.com

Abra M. Johnson is the Education and Dramaturgical Coordinator, as well as a co-founding member of Honey Pot Performance (HPP). A proud Chicagoan and Westsider, she has held a variety of local educational activist posts for two decades including working at Gallery 37 City of Chicago Inter-arts Summer Program, AmeriCorps Project Y.E.S Arts-Integrated Education Program at Wells Academy and Northwestern University Settlement House, Chicago Legal Advocacy for Incarcerated Mothers, and in the Office of Academic Enhancement at DePaul University's Discover Chicago First Year Students program. Currently, she is a tenured, Assistant Professor of Sociology and co-chair of Social Sciences at Malcolm X College, one of the City Colleges of Chicago (CCC), and a faculty member within the CCC/DePaul Bridge Program, where she teaches a seminar on racial and ethnic relations for CCC and DePaul students. Having spent the last decade teaching sociology while creating performance art, her scholarly interests center the convergence of race, gender, class, sexuality, and, recently, age, in pop cultural media, that, on one hand, coalesce into both a creolized national language and a meta-cultural dialogue regarding these paradigms of difference, and, on the other hand, emerge as both marginalizing and galvanizing political culture discourses, particularly within the music- and movement-driven genres and cultures of Hip-Hop and (Chicago) House. honeypotperformance.com
Aay Preston-Myint is an artist, printmaker, and educator based in Chicago, USA. His practice employs both visual and collaborative strategies to investigate memory and kinship, often within the specific context of queer community and history. In addition to his own work in interdisciplinary media, he is a founder of No Coast, an artist partnership that prints and distributes affordable contemporary artwork, serves as a DJ and organizer for Chances Dances, a party that supports and showcases the work of queer artists in Chicago, and is editor-in-chief of an online and print journal called Monsters and Dust. Chances Dances is a queer dance party and safer space for all gender expressions, bringing together the varied LGBTIQ communities of Chicago since 2005. Our practice includes night life events, community microgranting and providing exhibition platforms for contemporary queer art and activism. chancesdances.org
Ciera McKissick is the founder of AMFM, a lifestyle brand that publishes web content featuring emerging and established artists and creatives across the globe. AMFM seeks to promote artists and creatives in the arts, music and fashion spheres through their in depth Q&A's and monthly events combining art, music, fashion, community, and social causes. Currently hubbed in Pilsen, AMFM operates a gallery, co-working space and shop. Ciera Mckissick also currently has a residency at the Chicago Art Department. Projects and events for AMFM have been featured in The Chicago Reader, The Chicago Sun Times, Gapers Block, Southside Weekly, Afropunk, and DapperQ, The Milwaukee Business Journal, and Milwaukee Neighborhood News. amfm.life
Eric Williams is an award-winning entrepreneur and store owner pushing the boundaries of traditional retail. A former stock broker turned street vendor, Williams opened a community-based boutique where art, culture, and community are the pillars of business and engagement. The Silver Room has become much more than a store selling jewelry and accessories over the past 19 years. It's a hub for creativity, entertainment, and an incubator for supporting local business enterprises. Williams also founded the annual Silver Room Sound System Block Party in 2003 and welcomed over 15,000 attendees last year. Additionally, he is a consulting partner with the University of Chicago specializing in creating experiences that cultivate community engagement such as the Harper Court Summer Music Series and Connect Hyde Park Art Festival. Williams has guest lectured to hundreds of students from middle school to graduate school and serves on several non-profit boards in Chicago. Recently, he received the 2017 Men of Excellence Award from the Chicago Defender, Southeast Chicago Commission (SECC) Award for Community Impact and contribution, the GlobalMixx Game Changer Award, and named among the Design 50: Who Shape Chicago by NewCity. Williams holds a B.S. in Finance from the University of Illinois Chicago. thesilverroom.com
__
This panel was presented by Sixty Inches From Center on April 22, 2017 in partnership with the Department of Cultural Affairs and Special Events' Lake FX CreativeCon. The video was produced by On The Real Film.
ABOUT LAKE FX
This discussion was part of the 3rd annual Lake FX CreativeCon presented by Google between April 21 and 22, 2017. Lake FX is the region's largest FREE conference for emerging artists and creatives and is designed to connect, inform and inspire "makers" in the music, dance, design, theater, and arts fields. In addition to keynote speakers, the event will feature professional development workshops, an interactive resource fair, networking opportunities, auditions in front of leading A&R label executives for selected musicians and much more. Learn more at lakefxchicago.us and follow the hashtag #LakeFX.