Featured image: Esau McGhee, Untitled Environmental Portrait #9, 2017. Found paper, screen print, and ink on archival paper, framed in poplar and maple by the artist, 24 x 24″. A framed, geometric piece of art that is made of of criss-crossing black lines on a white surface. The piece hangs on a white wall. Image courtesy of the artist.
Below are my musings about how the artwork featured in the 2021 film Candyman does not just exist in the background, but also feeds into the development of the plot. Spoilers ahead. You have been warned.
PREVIEWS
How are Halloween movies still viable? Didn't Jaime Lee Curtis cut off the head of her boogeyman brother, Michael, in the 90s? White people are their own Boogeyman and ours too.
THE MEET CUTE
Nia Da Costa's Candyman opens to a salon style installation of several Chicago-based (or formerly based) artists: Damon Locks, Esau McGhee, Cameron Sprately, myself, and others. Here, we find a struggling creative couple. Artist Anthony McCoy (played by Yahya Abdul Mateen II) is trying to produce objects while his curator-gallerist partner, Briana Cartwright (played by Teyonah Parris), is trying to sell objects. Both have tasted the attention and success of the art world but they want more. They want to be adored by critics, historians, and collectors. Most of all, they want to be respected by the market. Obviously, they can't have it all.
While desperately trying to meet the demands of his gallerist, who refers to him as the "Great Black Hope" of the Chicago art scene, Anthony makes a pitch to create work about the myth of Candyman. The urban legend is a catch all for themes the white art market loves: violence against bodies of color, disenfranchisement, figuration, and a lil' sumthin sumthin extra… a big Black man to fear and desire.
Anthony makes his way to what's left of Cabrini-Green to take photos and seek inspiration. He is stung by a bee and his obsession (or prophecy) begins. And Voila! Within a few minutes, the world of Candyman is set. Violence, rewritten histories, a precarious present, the politics of race, class, and hustle.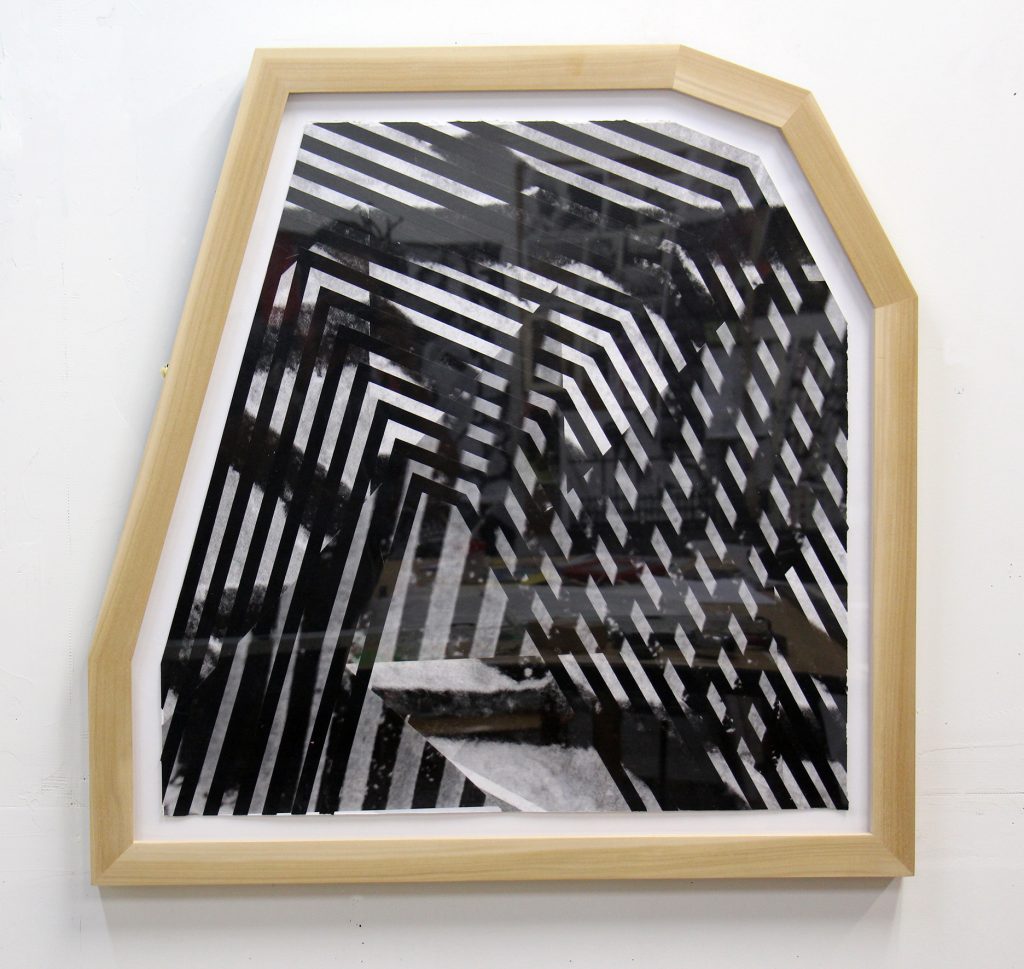 Their apartment is cute and kush. As a foil to the Cabrini housing projects referenced throughout the film, the space is assumed to be clean, safe, and acceptable. Perhaps newly built, it has an open floor plan, large windows and not enough kitchen space. The couple probably has access to more than two trains and six buses. We are made to believe that their space is not only a signal for their success but their hustle–and with this hustle comes art. There are no blank walls and much of the work highlighted in this section of the film interrogates space, narrative, and cultural artifacts. For instance, Esau McGhee's mixed media works are peppered throughout the space. As they span painting, sculpture, and collage, McGhee's work utilizes found objects of the urban landscape and mark making to explore the (de)construction of an image.
Alexandria Eregbu's work Cosmic Seed hangs quietly at a transition point between two spaces in the home. The indigo-dyed linen tapestry has a zodiac wheel at its center, with images taken by Eregbu's great-grandfather, Milford Shelton, adhered to the surface. Fittingly, Eregbu's practice reimagines familial memories, ancestral tales, and how these themes intersect with the collective. In this work, Eregbu explores drawing and indigo as a material link used throughout the African Diaspora while simultaneously sharing the work of an ancestor. Interestingly, this movement between the past, present, and generational artistry comes into play later on in the film.
And this is where our protagonists meet their fate.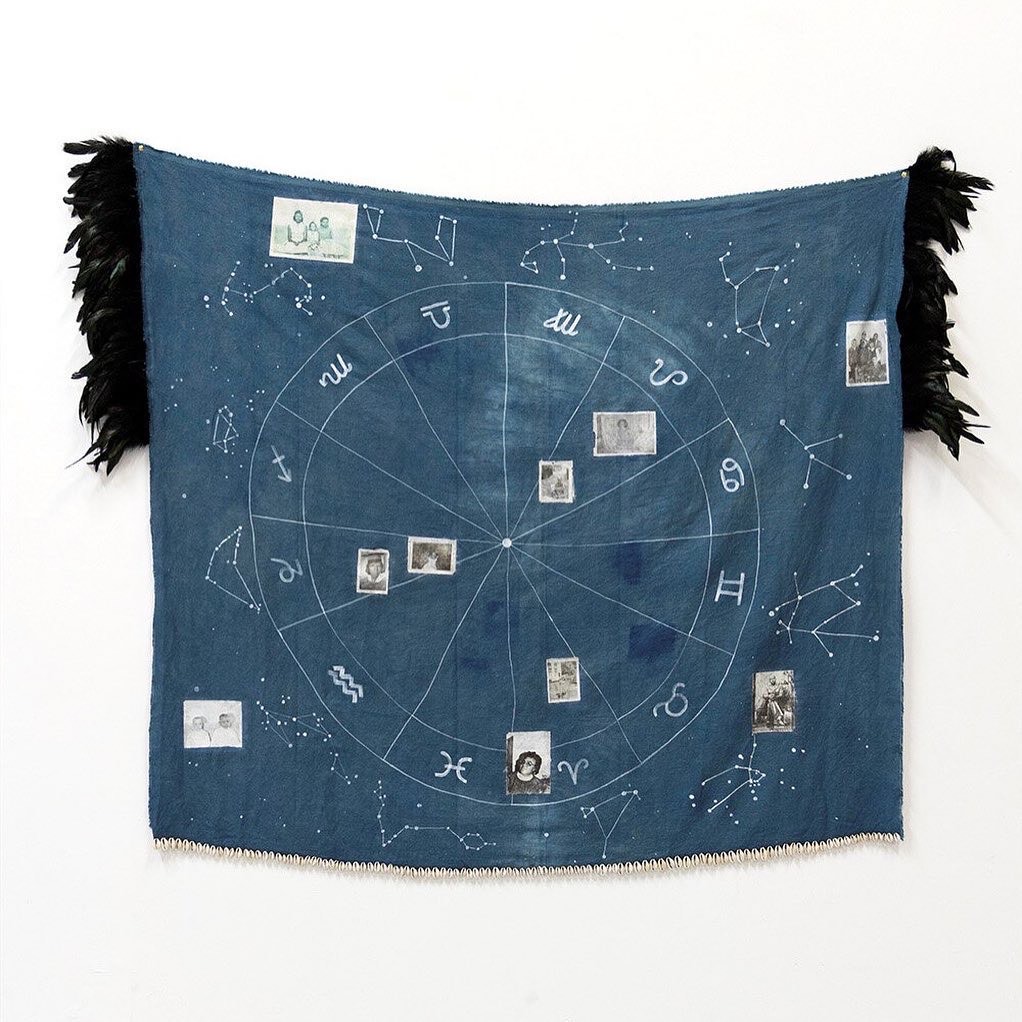 PUSH & PULL
The push and pull of a story is why we go to the movies, why we buy books, or why we listen to our friends' relationship woes. In most romance stories, it is the moment one character becomes enamored by something in the other character, until those feelings are reciprocated and they finally fall in love. In this case, it is the moment Anthony actively incorporates the legend of Candyman into his artwork in the hopes of gaining notoriety. And like any good relationship, Candyman reciprocates this intention as he too wants to be eternal.
In the fictitious art gallery, Anthony's work (created by artist Cameron Sprately) is on display alongside art world giants Torkwase Dyson, Arnold Kemp, Theaster Gates, TUBS, and Tony Lewis. He invites viewers to stare into the reflective surface of his object and say the name Candyman five times to summon the spirit. Anthony desperately lurks near his artwork, trying to convince a critic of its value. She dismisses the work as too didactic and blames the art market's love for trauma on Black people. It is only after the white gallerist and intern summon the supernatural killer as a means of foreplay and are subsequently killed in front of Anthony's piece that the once uninterested critic reconsiders the work.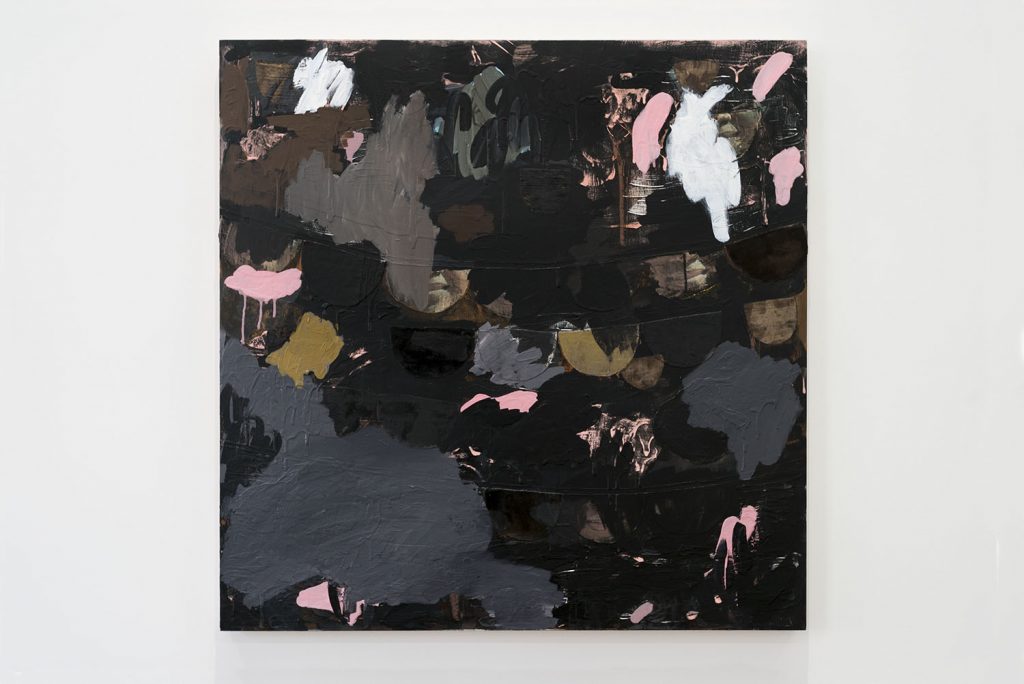 Mirrors and reflective surfaces become portals between the present and the world in which Candyman resides. Pushing his way into this world, he moans in the dead of night, haunts Briana's dreams, and contributes to the rapid decline of the artist. After awakening from a dream about her father in which he commits suicide, she sees Candyman reflected on the window. Calling out for Anthony, she catches him in the bathroom mirror, staring off into the distance. The work of Ayanah Moor appears in an earlier scene in which the couple cuddles happily. But by the time we see the work here, the couple is struggling with a spirit in the dark. Moor states, "My work is abstract, and it appears that abstraction is a theme of transformation in the story. For me, [Briana's] bedroom and my paintings establish the site as a liminal space. Interestingly, the dream/sleep state is also a prevalent motif in the first Candyman film (1992) where the main character, Helen, mostly sees Candyman when she falls into a dream/sleep state and is waking up."
As one half of our tragic couple is lost in a dream, the other half is in the bathroom pulling himself back into reality. Behind him hangs Brittney Leeanne Williams's work, Mommy and Me. The painting features two bodies, belly to back, draped over one another in a pink surreal atmosphere. The figures in Williams's work are often melding into one another, torquing, wrestling, leaning, and always facially inaccessible to the viewer. On one hand, the work is a metaphor for the couple. On the other hand, the red bodies floating together can be seen as an illustration for Anthony's relationship with Candyman. However, who is carrying whom is up for debate.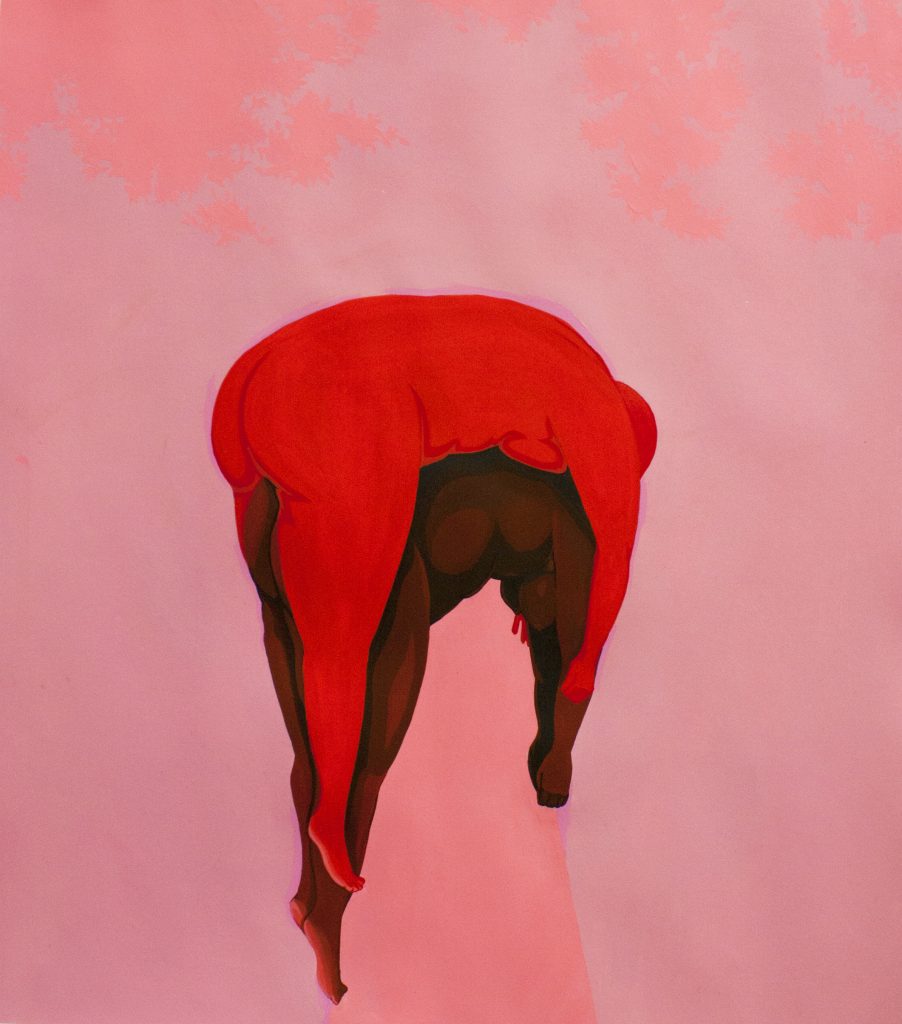 RAISING THE STAKES
Anthony becomes obsessed, unable to resist the pull of Candyman. And the price for this is high. White people (or white passing) summon Candyman in bathroom mirrors after having said something bigoted. Bodies drop. Infections spread and arms rot. The Artist becomes entranced between two worlds, unable to concentrate at dinner or on the elevator. In the studio, he drools while he's painting. Fiendishly scraping, rubbing, and mixing while he paints. He loses time. Possessed.
One night, Anthony is invited to the critic's apartment to discuss the recent killing in front of his work at the gallery. In the critic's apartment, filled with hard edge abstractions, the Artist sees himself in the mirror as Candyman. Hook hand, bees, and wool coat. He realizes what has happened and runs for his life.
Through a series of events, he learns that Candyman is a system of victims that he is destined to join, each killed over an idea or assumption. We've heard it all before. Many of us knew of these stories before the pandemic. He looked suspicious… thought to have been stealing… thought to have a gun… etc, etc, etc. The Candymen are now a supernatural seven days group with portraits that may live on for eternity.
It is during this section of the film that Anthony makes the connection between his enthralled studio creations, prophecy, and the Candymen. The once well lit, clean and orderly space is chaotic. The paintings and drawings created by Sherwin Ovid are portraits of the Candymen. They line the space from ceiling to floor as a mirror to the dissolution of Anthony's sanity while welcoming him into the fold. Ovid's use of color and seeming frantic mark-making, push and pull the abstracted portraits revealing layers of the body. Skin, blood, muscle, bone.
The mugshot framed, wet-in-the-wet abstracted portraits illustrate the end of lives. Beaten, burned, lynched, stung, doused in honey. Ovid's paintings illustrate Anthony's battle between memory and history (in what Toni Morrison coined as rememory). Anthony realizes that he has been marked by something beyond himself and that he had already lost the game before it truly began.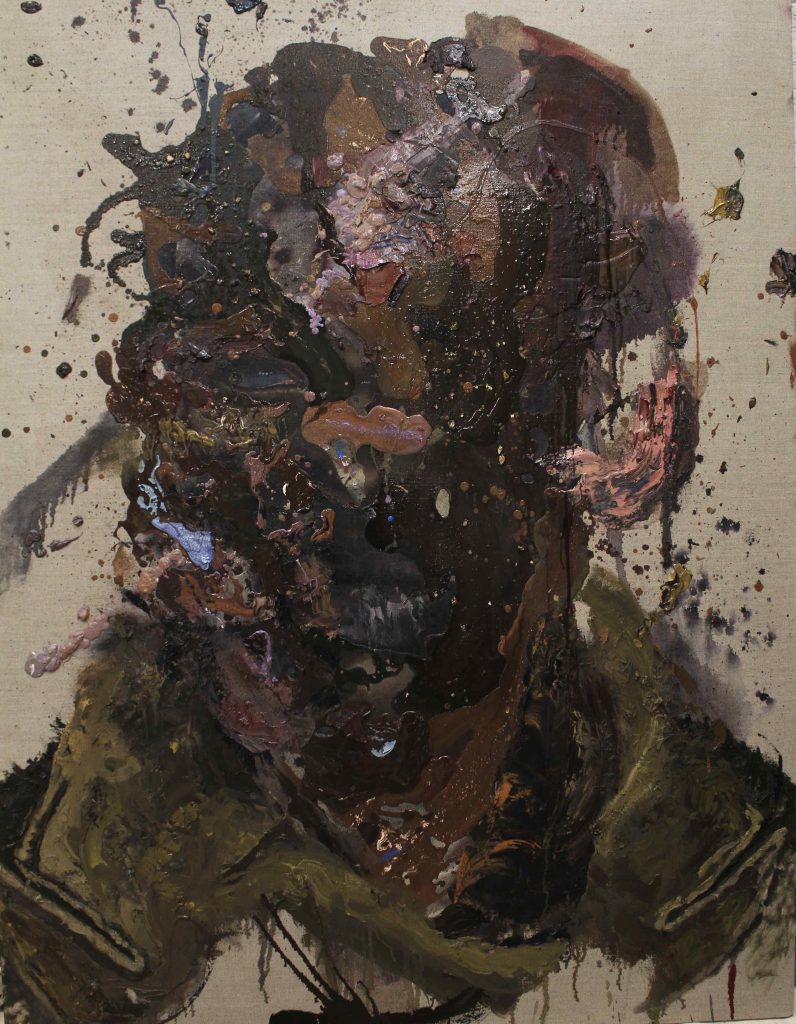 FOREVER AFTER
The conceptual tendrils of Candyman are layered. You have the artworld and its desire for the other, by hook or crook. You have the artists who want to be recognized, but who don't necessarily want to play that game. Yet, many of us try anyway. And while we are entertainment for a largely white audience in this arena, we are still fighting another game. We are still hustling to make rent, make objects, have meaningful relationships, and be respected. And even still (!), there is another system at play that consumes us anyway, sometimes while we are asleep in our beds…
The artwork in this film speaks to these tendrils in addition to the plot. None of this work is meant to function as decor and the artists behind these pieces are creating with a higher purpose with complex interests. Whether it is an investigation of urban space or the conjuring of ancestral narratives, the work is that extra spice you can't quite place.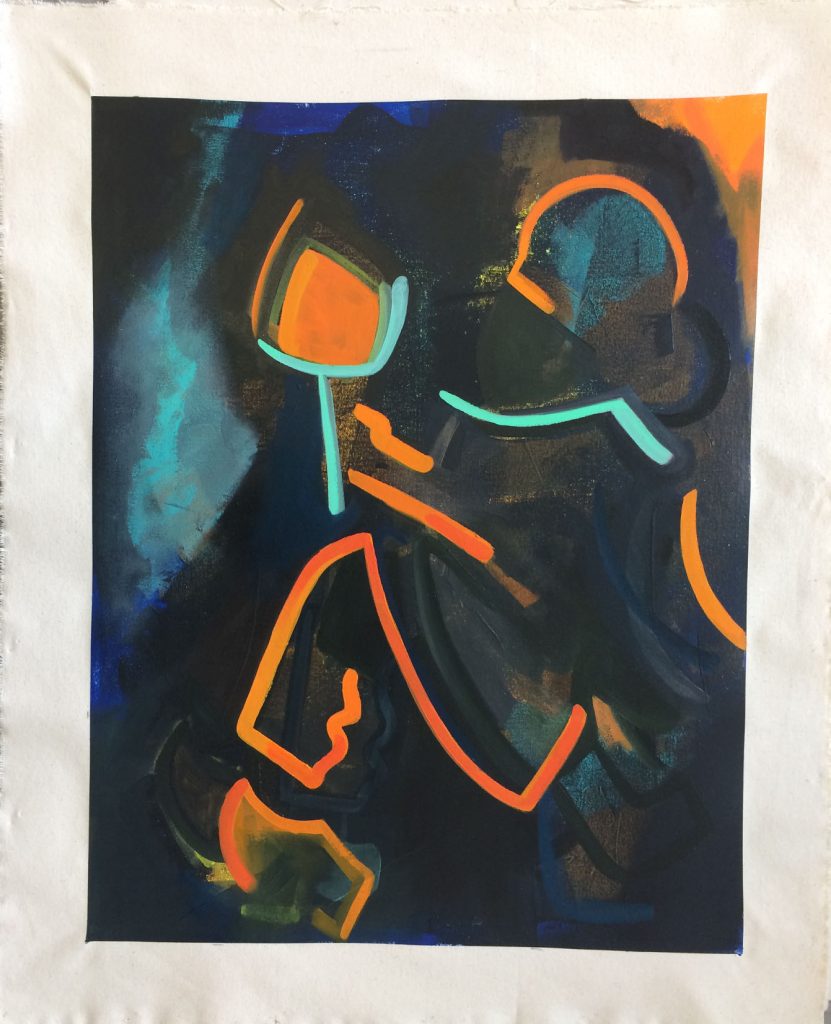 ---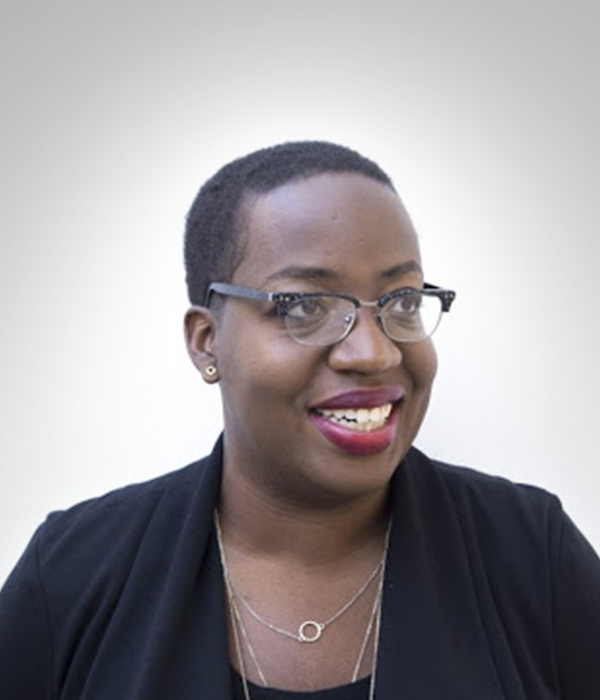 Carris Adams is an artist currently based in Houston, Texas. Her work explores the signs/signifiers that mark our landscapes. Through the materiality of painting, drawing, and printmaking Adams attempts to embody the sense, shape, and experience of these markers. Her work describes the appearance of subjects found during her day-to-day travels, while also reflecting the various social, cultural, political, and economic circumstances under which we labor. Adams received her BFA from the University of Texas at Austin (2013) and her MFA from the University of Chicago (2015). Adams's work has been exhibited at The Studio Museum in Harlem ( New York, NY), The Logan Center Exhibitions at The University of Chicago (Chicago, IL), Produce Model Gallery (Chicago, IL) Tiger Strikes Asteroid Gallery (Chicago, IL) and The Courtyard Gallery at The University of Texas at Austin (Austin, TX).